6 Best Gaming Chairs in Malaysia
Source: Ella Don via Unsplash
If you're a gamer and you've already invested a lot on your gaming rig, but still feel like you're missing something, it may be a high-quality gaming chair. The best gaming chairs in Malaysia can give you comfort and mobility for prolonged hours of gaming.
Any random chair in the house definitely isn't cut out for gaming. They can leave you with an aching waist and back, and maybe even a numb behind. These don't only affect your gaming, but also have detrimental long-term effects on your health.
So what should you be using, exactly? If you're not sure which gaming chair to get, below are the things you should be looking for in a gaming chair.
Choosing the Right Gaming Chair
Gaming chairs can go for up to thousands of ringgit. Investing in an expensive but high-quality gaming chair can be daunting, especially if you're also saving up for better gaming equipment.
To save you from spending on something you'll end up being unsatisfied with, it's important to make sure that what you're buying will last and is the perfect match for you.
To guide you on your gaming chair purchase, we suggest you should strongly consider the ABC's of gaming chairs below.
1. Adjustability
It is important to judge a gaming chair's overall adjustability. This includes the height, armrests, wheels, rotation, recline as well as neck and lumbar pillow adjustability.
When you purchase any item, most of the components are fixed in place. However, adjustable features help you customise it to best fit your physiology.
For gaming chairs, armrest adjustability, smooth wheels, and a greater maximum rotation allow you to move better as you play. Furthermore, height, recline and neck and lumbar pillow adjustability keep you comfortable.
2. Build
The best gaming chairs in Malaysia all have valid claims on why they're the best. However, certain gaming chairs might still not be the best for you for many different reasons.
Some things to consider are the height and width of a gaming chair, as well as the weight it can hold. With different types of people in the gaming scene, there should also be vast height, size, and weight differences.
Some gaming chair makers can only cater to a small set of people at a time, so it is best to check out the dimensions of the gaming chair before you make a purchase, especially if it is online.
3. Comfort
The springiness of the seat and backrest will do wonders for your gaming experience. These should give you ample support and, at the same time, keep you seated comfortably for longer.
Another thing to consider is the breathability of the fabrics used. Especially in a hot, humid country like Malaysia, you'll need a gaming chair that won't have you sweating buckets after a few hours of gaming.
Feeling hot while you're in a game may affect your performance. Surely you don't want to deal with that after spending a lot of money on an otherwise good gaming chair, right?
The Best Gaming Chairs in Malaysia
Just keep in mind the ABC's of gaming laptops and you should be all set to find the best gaming chair for you.
We have below a quick list of some of the best gaming chairs in Malaysia. This should help you begin your search for your ideal gaming chair. Check them out!
1. Secretlab TITAN 2020 Series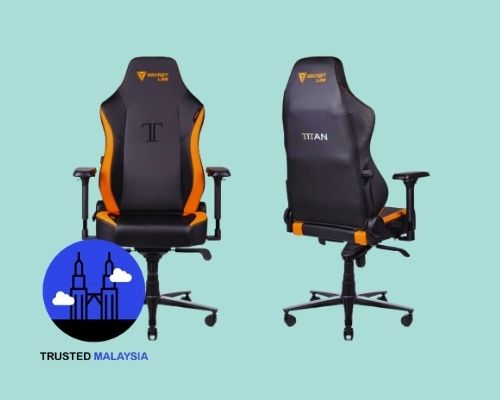 Price: RM1,930 – RM2,225
For gamers who want to bring their rig up to the next level, the Secretlab TITAN 2020 Series is the best gaming chair in Malaysia.
This gaming chair is sturdy yet ultra-comfortable, offering great support on the waist and back. While other gaming chairs only have lumbar pillows, the Secretlab TITAN 2020 Series features a knob for adjusting the lumbar area to provide you with maximum comfort and support.
For neck and head support, you get SecretLab's signature memory foam pillow, which comes with a coating of cooling gel to help you keep cool during long gaming sessions. What's more, the best gaming chair in Malaysia comes in three kinds of upholstery for your comfort—PU leather, NAPA leather, and SoftWeave® fabric.
For maximum mobility, the Secretlab TITAN 2020 Series has a quick-tilt mechanism and is able to recline from 80 to almost 180 degrees. The armrest can also be moved back and forth, forward and backward, as well as inward and outward.
With a higher build, this gaming chair is made for taller gamers. It can also support weights of up to 130 kilograms.
Pros
Unique lumbar and head and neck support
Choice of three kinds of upholstery
Quick-tilt
Movable armrests
Cons
Liquids can stain leather material
Not for shorter individuals
Customer Reviews
The SecretLab TITAN 2020 Series is one of the most popular gaming chairs among gamers. As such, there are many positive reviews praising this gaming chair. One review reads:
"I was having back pain once we moved to 100% telework and sitting at the computer for 16 hours a day was starting to take its toll… My Secretlab chair has been amazing… it has just enough comfort to feel OK but enough firmness to support you all day without the back pain. Love it."
2. IKEA Markus Office Chair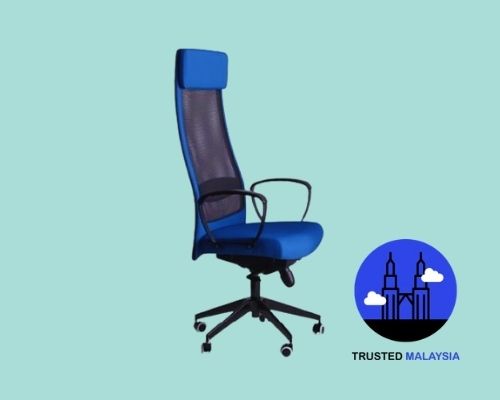 Price: RM549
An office chair that can easily double as a gaming chair for your relaxation time, IKEA's Markus Office Chair proves itself to be a great investment.
The chair is designed to be ergonomic. It can be adjusted to suit your height and is equipped with built-in lumbar support to ease the stress on your back during long days or work or gaming.
While the armrests are not adjustable, they can be removed in case you're not a fan of them. It also has wheels which add to your mobility.
Plus, the mesh back also enables more air circulation for your body—a feature that's fitting in a climate like Malaysia's, especially during the summer.
This best gaming chair in Malaysia has undergone rigorous testing to make sure it endures challenges and lasts you a long time. It can support weights up to almost 110 kilograms.
Pros
Adjustable height
Removable armrests
Mesh back
Cons
Fixed lumbar support
Not targeted for gaming
Customer Reviews
Here's a review from GamingScan:
"The IKEA MARKUS is a solid budget option for a new office chair. Perhaps, it is one of the best budget office chairs out there today."
3. Cassa Figgo Back Ergonomic Office Chair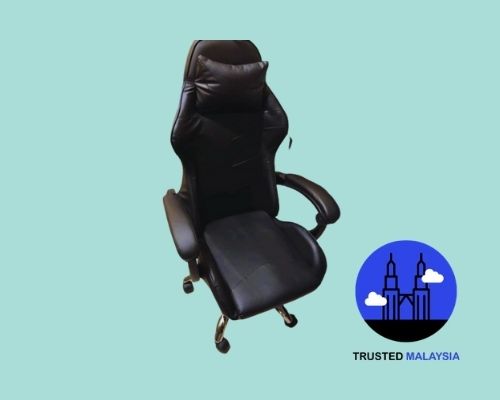 Price: RM699
The Cassa Figgo Back Ergonomic Office Chair is created for long hours of sitting, making it an ideal gaming chair.
Its curved backrest fits the body's natural curves and its elastic cushioning supports the waist to reduce stress on these areas. It can also recline from 90 to 145 degrees, with the ability to lock at any angle.
The best gaming chair in Malaysia is height-adjustable with relaxed armrests for your comfort. If that's still not enough, it even comes with a free adjustable lumbar pillow and a head/neck pillow.
Using load-bearing steel, high-quality faux leather, and high density foam filling, this chair is sure to last you a long time. Its multi-direction wheels also glide smoothly on surfaces, protecting your floors from scratches.
This gaming chair can only support a weight of up to 90 kilograms.
Pros
Backrest fits body's natural curves
90-145 degree recline, lockable at any angle
Height-adjustable
Free adjustable lumbar pillow and a head/neck pillow
Smooth-gliding, multi-direction wheels
Cons
Can only support up to 90 kilograms
Customer Reviews
A satisfied Shopee customer shared this review of one of the best gaming chair in Malaysia:
"Chair quality nice with this price, easy installation with instructions given, good value for money, purchased and deliver within 3 days."
4. TTRacing Duo V3 Gaming Chair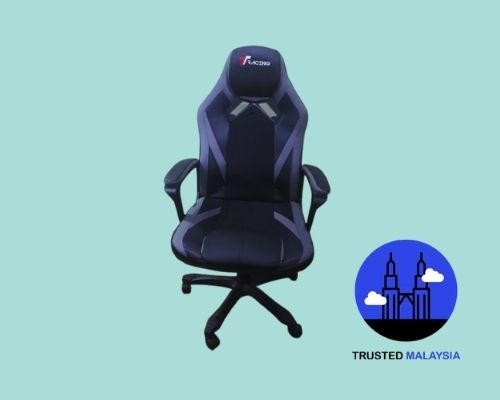 Price: RM599
Premium is a word that best describes the TTRacing Duo V3 Gaming Chair. It has a sleek design and uses top-quality faux leather.
As one of the best gaming chairs in Malaysia, it also feels as good as it looks. The Italian elastic cloth that covers the center of the backrest is very breathable, providing comfort on long days of gaming.
The chair itself can tilt up to 155 degrees to prevent body ache and can rotate 360 degrees for maximum mobility. The wheels are covered with a rubber material so as not to scratch surfaces.
Made with durable materials, it can support weights up to 130 kilograms. However, it's taller structure best suits taller gamers.
Pros
Breathable backrest
Tilts up to 155 degrees
360-degree rotation
Wheels don't scratch your floors
Cons
Not for shorter gamers
Leather material can be a hassle during hot days
Customer Reviews
Ryan G., a TTracing Duo V3 Gaming Chair user, said:
"To be honest, I'm really satisfied with the chair. The cushion is unbelievably comforting despite of the cheap price for a gaming chair. The item is delivered in 6 days and its really fast. I completely recommend anyone who wants to find a cheap but good quality gaming chair."
5. Vertagear SL4000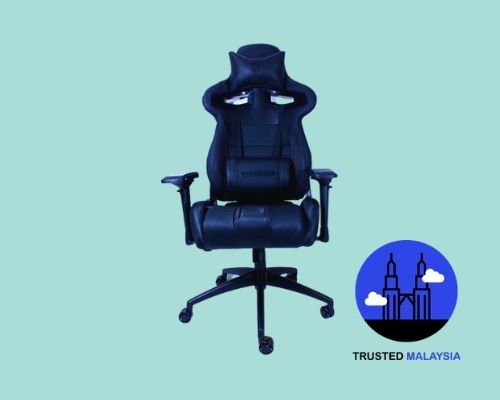 Price: RM1,559
The Vertagear SL4000 is the best gaming chair in Malaysia for its adjustability and the comfort that this brings.
The chair reclines to 140 degrees, allowing you to sit back and relax. Its height can also be adjusted to fit your table height.
Not only that, its armrest and neck and lumbar pillows can also be adjusted to your liking. This gaming chair can also handle weights up to 150 kilograms.
The Vertagear SL4000 feels comfortable and perfect for long gaming sessions. The contoured shape of its backrest and the high-density filling effectively reduces the strain caused by long hours of inactivity.
The only downside of this chair is in its mobility. The chair can only rotate to 45 degrees. The width around the legs and shoulders can also be small for taller gamers.
Pros
Adjustable armrest and neck and lumbar pillows
Up to 150 weight
Contoured backrest and high-density filling
Cons
Can only rotate up to 45 degrees
Not for tall gamers
Customer Review
Anton, a satisfied customer, has this to say about the Vertagear SL4000:
"The assembly of the chair is not hard. The instructions are clear so all you have to do is follow it. It looks really cool and it really completes my red/black setup."
6. Cooler Master Caliber X1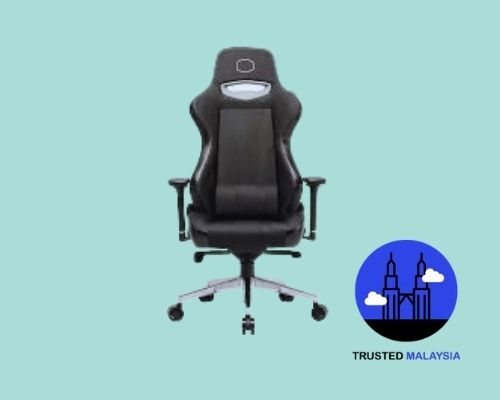 Price: RM1,299
With its height and long backrest, the Caliber X1 from Cooler Master might just be the best gaming chair in Malaysia for tall gamers.
Beyond that, it's also one of the cosiest gaming chairs. It's covered with a breathable fabric and has soft seat cushions for prolonged hours of gaming. It even comes with a head pillow and an adjustable lumbar cushion to add to your comfort.
For your utmost relaxation, the backrest can recline to a sleeping position at 180 degrees. However, its most unique feature would be its adjustable armrest which can be moved back, forth, as well as left and right.
This best gaming chair in Malaysia can support up to 150 kilograms but is best for people with smaller frames due to its narrow build.
Pros
Breathable fabric, soft cushion
Adjustable lumbar cushion
Reclines to 180 degrees
Armrest adjusts 4 ways
Supports up to 150 kilograms
Cons
Not for short gamers
Narrow build
Customer Reviews
Check out this review from a tech reviewer from Funkykit:
"Claim your throne with the X1 gaming chair, the perfect combination of style and comfort. Fusing premium carbon fiber fabric with an ergonomic design, this is a true power-chair for serious gaming enthusiasts."
By keeping you comfortable during long hours of gaming, the best gaming chairs in Malaysia will surely help you achieve the top ranks.
Were you able to find the best gaming chair for you in our list? If you did, share your top pick with us in the comments below.
Do you know other gaming chairs you can suggest to other gamers? Let us know in the comments and we'll check them out.
If you're also looking for a device you can use to play your games on the go, check out our list of the best gaming laptops in Malaysia.