The 5 Best Fridges in Malaysia
Replacing your fridge for a new one? You're on the right page as we collated a list of the top fridges in Malaysia for you to use!
There are heaps of fridges on the market differing in type, size, and features. So then, how do you know which one to pick from them?
This is why we included a buying guide section in the article further below. You can start with this part or explore our featured products first—whichever you prefer.
The Best Fridges in Malaysia
And if you're ready, we now present to you our list of the best fridges in Malaysia!
1) Hitachi French Door Fridge 586L (R-W720P7M)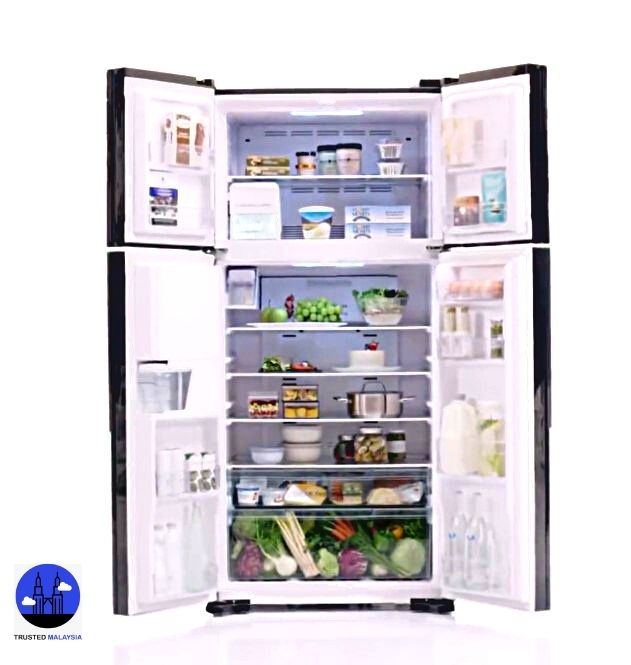 Price: RM3,399
Model number
R-W720P7M
Capacity
586L
Features
Dual sensing control (Eco Thermo Sensor), water dispenser, touch screen controller, nano titanium filter, and door alarm
Dimensions
855 x 1835 x 737mm (with handle)
855 x 1835 x 727mm (without handle)
Warranty
10-year compressor warranty
If you have a big family and lots of groceries to store in the refrigerator, you might want to get yourself a Hitachi French Door Fridge (R-W720P7M), which has a gross capacity of 586L!
It's as great as its size all thanks to its inverter compressor enabling optimum cooling throughout the fridge. With dual-sensing fans, the chiller and freezer compartments can remain at the ideal temperature constantly, whilst only using the required energy.
Each shelf is made of tempered glass that resists heat and scratches. Because of its inherent strength, it can hold items up to 100kg, so feel free to place kitchen pots and crockery on it.
There are two drawer compartments in the chiller—one for fresh produce, dairy, or meat and the other exclusively for vegetables. In the latter, the drawer is roofed by a moisture guard so the vegetables can stay fresh and flavourful.
Also, the French door fridge has a range of other nifty features including a touch screen control, door alarm, nano titanium filter, and water dispenser.
Aside from that, this inverter-equipped fridge is great to have because of its safety features.
Firstly, it's designed to still work amidst high voltage fluctuations and features 24-hour cooling retention, where in the event of a power outage, the freezer temperature will remain the same for a day.
As for the downsides, this product takes up a lot of kitchen space and comes at a premium price. But, concerning the fridge's performance and usability, it's one of the best fridges in Malaysia.
Also, it comes with a 10-year inverter compressor warranty for your peace of mind. Thus, if it breaks down within that period, it can be repaired or replaced for you for no charge at all.
Inverter compressor
Energy-saving
Packed with useful features
Massive capacity
24-hour cooling retention
10-year compressor warranty
Can be bulky at home
Premium price
Shorter compressor warranty period
Customer Reviews
Very spacious and reliable fridge door alert
"Have used it over a month now and it works well. Very spacious too. I love the fact that the inner compartments are large enough to fit bulky juice bottles unlike other brands that didn't consider on this. Also loving the intelligence of the fridge, it alert user if left idle, or if you have a toddler that likes to open it and left it open after 😄 all in all it was a good buy" -Hazrina H.
Wonderful features
"I really love this fridge and it is really wonderful with its features. Thanks, Hitachi and Shopee." -Dizah
2) Hisense Top Freezer Fridge 240L (RT256N4CGN)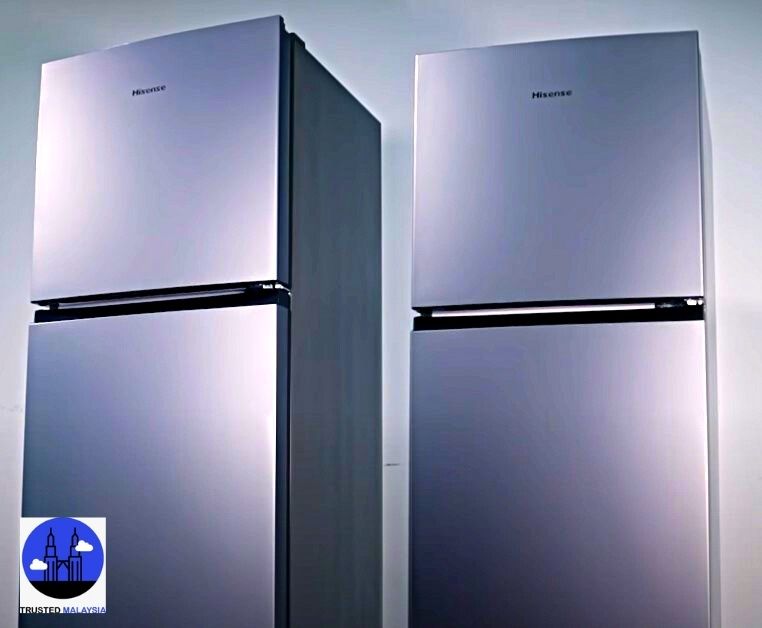 Price: RM918
| | |
| --- | --- |
| Model number | RT256N4CGN |
| Capacity | 240L |
| Features | Total no frost, electronic control, one-line handle, 90° door design |
| Dimensions | 550 x 1456 x 562mm |
| Warranty | 12-year compressor warranty |
The Hisense Top-Freezer Fridge (RT256N4CGN) is a budget-friendly fridge that's perfect for small studio homes, pantries, and kitchen layouts.
Although its volume is only 240L, it maximises the available space in the freezer and fridge. It has six tiers in total with a bottom vegetable and fruit box and side racks for holding milk cartons, juice bottles, and dairies like eggs and cheese slices.
The main feature of the classic fridge is its no-frost technology. Essentially, this helps to circulate the cool air around the unit and prevent ice crystals or deserts, which you will need to thaw to keep its operation smooth.
Next is the sleek and discreet one-line handle for both the chiller and fridge. You would only have to reach your hand on one spot to pull out and open either of the doors.
Another great feature is that its doors open to a full 90 degrees. So that gives you more room whenever you're taking out food to cook meals or are organising the food inside.
While it doesn't have all the bells and whistles, it has the essential features that most people need in a fridge. And we also think that the price is good and fair.
The Hisense refrigerator is an inverter compressor model, allowing it to cool food fast and be maintained at your preferred temperature.
You can find the temperature control inside the fridge, by the way. It has clear labels and a dial which you can set to cold, mid, and colder from 1 to 7.
Inverter refrigerators are more durable than conventional ones. And indeed, this Hisense fridge can last long, as proven by its long manufacturer's warranty of up to 12 years!
Affordable
Simple and maximised design
No-frost feature
90-degree fridge doors
12-year compressor warranty
Small fridge capacity
Only has basic features
Customer Reviews
Beautiful and clean fridge design
"Neat and beautiful design. Suitable for medium size family. Fast delivery. Highly recommended to buy from this seller." -irnasar
Not as durable but works fine
"Fast delivery. Excellent condition. The shipping person very nice. It not as tough as I expected but working just fine. Hope can last long. Thanks! 👍🏻" -Shopee buyer
3) Samsung Inverter Refrigerator 500L (RT38K501JS8/ME)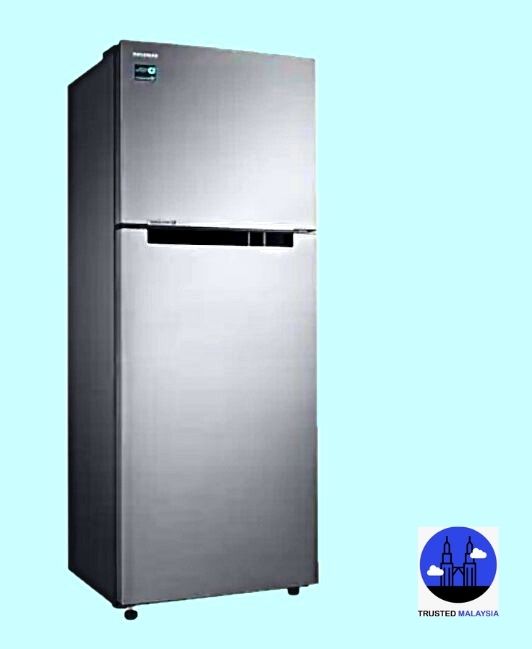 Price: RM1,699
| | |
| --- | --- |
| Model number | RT38K501JS8/ME |
| Capacity | 500L |
| Features | No frost, all-around cooling, Big Guard door storage, multi-flow, deodorizer |
| Dimensions | 675 x 1785 x 668mm |
| Warranty | 10-year compressor warranty |
For a bigger fridge at a fair rate, you might be interested in this Samsung Inverter Refrigerator. It's a simple and long-lasting fridge but without the extra fancy features.
Its inverter compressor system allows it to cool the chiller and freezer in every corner. The benefit of this fridge is minimising its energy use, evident in its A+ energy-efficiency grade.
Additionally, it operates silently and won't distract you and your family from doing work, studying, or enjoying.
Being a top-mounted unit, it has 500L of space for fresh and frozen food that's perfect for the whole family.
It features a Big Guard holder on the side for tall and wide beverages as well as two rows of small shelves for small cans and condiments.
Furthermore, it comes with a deodoriser to eliminate the mixed scent of foods when you open the fridge, unlike older fridges.
Having a silver and compact design, it can blend in most kitchen decors. Compared to the previous fridge, this one is bigger and taller, and thus can take up more space.
And on top of that, Samsung backs up this product's compressor with a decade of warranty for your assurance.
Therefore, for a capacious, energy-efficient, and value-giving fridge, the Samsung Inverter Refrigerator (RT38K501JS8/ME) must be one of the best fridges in Malaysia!
Excellent A+ energy efficiency
Capacious size
Quiet operation
Gives value for money
10-year compressor warranty
Higher price compared to others
Takes up a larger space
Limited features
4) Panasonic ECONAVI Fridge Inverter 358L (NR-BC360XSMY)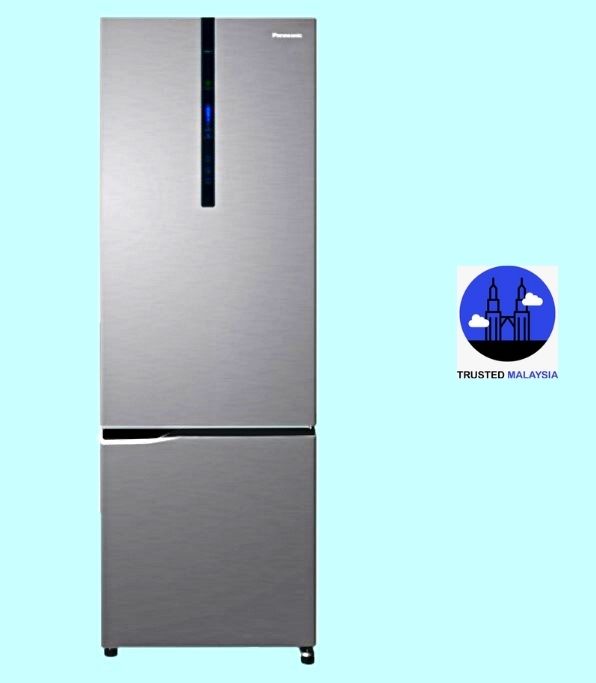 Price: RM1,959.00 – RM2,019
| | |
| --- | --- |
| Model number | NR-BC360XSMY |
| Capacity | 358L |
| Features | Electrostatic touch panel, Prime Fresh+, quick freezing, door alarm, Ag air filter |
| Dimensions | 601 x 656 x 1785mm |
| Warranty | 12-month warranty |
The Panasonic Econavi Fridge is a smart modern fridge that can cool and freeze foods effectively. As you will see, it's easily one of the best fridges in Malaysia with high demand.
This bottom-mount fridge is powered by an inverter compressor that automatically adjusts to the load in your fridge, helping you to save energy. Working with this is their trademark ECONAVI sensors that cool the fridge as needed based on your needs and lifestyle patterns.
Its distinctive feature is the Prime Fresh+ in which meat and fish can be softly frozen to -3℃ in the container. You can take out their plastic and place them directly on the tray; and when you take them out, they are soft to slice and easily soak up sauces or flavours.
The air blown out by the fan has gone through an Ag air filter allowing it to suppress odours and neutralize 99.9% bacteria—a feature that other fridges don't have or pale in comparison with.
Also, the door alarm feature is handy to inform you that the door is open. This is a useful feature, especially, if you have children who take food often from the fridge and don't close the door well.
Nicely designed in the middle of the fridge is a touch screen control for you to be able to change or customise its settings. Therefore, you won't have to open the door and reach inside to alter the temperature.
Despite the awesome features and compressor of this product, we feel that its warranty of 12 months from the seller is too short. But, its premium price point is justified and sensible.
The Panasonic NR-BC360XSMY can keep food up to a volume of 358L. And we think that the fridge is great for families, busy people, chefs, foodies, and more.
ECONAVI inverter
Spacious storage
Removes up to 99% bacteria through Ag filter
Prime Fresh+ gently freezes food
Stylish touch panel
4-star energy rating
Premium price
Short warranty period
5) Electrolux Nutrifresh Inverter Refrigerator 275L (ETB2802H-A)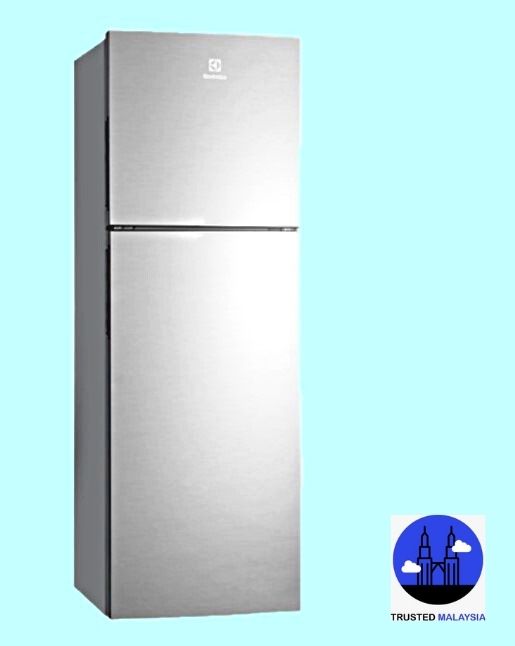 Price: RM1,358
| | |
| --- | --- |
| Model number | ETB2802H-A |
| Capacity | 275L |
| Features | 360° cooling, Fast Cooling, FlexStor storage, TasteGuard |
| Dimensions | 540 x 1605 x 615mm |
| Warranty | 10-year compressor warranty |
Sure, this fridge doesn't have a huge capacity, smart touch controls, or a door alarm, but it has its strengths such as being flexible and affordable.
The Panasonic 275L Inverter Fridge features FlexStor door bins which can be modified in multiple ways to store your snacks and beverages from a pineapple jam to sparkling wine.
It features TasteGuard that deactivates 99.8% of bacteria and odours so you can rest assured that the food is hygienic and safe.
Furthermore, there's a special enclosed shelf inside called the chill room where you can put sandwiches, treats, salad, fruit, or others. Since this cools them at a lower temperature, they can remain fresh and taste wonderful.
The fridge is equipped with a NutriFresh inverter for even and consistent cooling throughout the shelves. It also greatly reduces the wear-and-tear of the machine, and thus, can last longer.
As evidence of its quality, this fridge comes with a 10-year manufacturer's warranty. Should something go wrong with the motor, you can get it sorted by Electrolux technicians.
The fridge is in arctic silver and we like this since it's pleasant to the eye and doesn't get dirty fast. Also, its slim size of 540 x 1605 x 615mm should fit in your kitchen without any problem.
NutriFresh inverter
Flexible and adjustable racks
Features 360° cooling
Eliminates 99.8% bacteria
10-year compressor warranty
Smaller capacity
Features are only basic
Not that energy-efficient
Customer Reviews
Kept fruits and vegetables fresh
"This fridge was my only option as the dimensions fit my limited space in the kitchen.
It is working well and kept my vegetables and fruits fresh. I am happy with my purchase. Good value for money." -Ada
Quality and spacious product
"I had used an Electrolux 2-door inverter in our Apartment in the province since the Covid lockdown and it served as well with its spacious built, easy twist ice-cube maker, and the fact that the indoor smell of food is well controlled—almost unnoticed.
I know too well that besides having simple and yet elegant design that the product is of quality.
It would have just been better if there's an additional egg tray and LED light for the freezer. Not to mention, additional shelf would have been appreciated." -Victor
What to Consider When Buying a Fridge
Since a fridge is expensive and you'll be using it for many years, you should consider these factors when buying one:
1) Type
A refrigerator comes in several types. Below we will take a look at the different fridge types and detail their pros and cons.
A top-mount fridge is also called a top-freezer fridge. This is a traditional and common refrigerator type used in Malaysia.
Its highlights are that it is affordable, easy to use, and relatively small. So it can't store as much food and beverage as other types of fridges.
It's the direct opposite of top-mount refrigerators. Since the freezer is set at the bottom, it can hold more frozen goods and is also easier for shorter people to take them out.
Likewise, tall people would find it easier to grab fresh foods from the chiller without the need to bend down.
In terms of price, though, bottom-mount styles are more expensive to buy.
Side-by-side have two vertical doors for the fridge and chiller. Since the door takes a lesser space opening sideways, it might be a good option for kitchen spaces with narrow paths.
This is a sleek fridge wherein the left freezer side has an external water dispenser. Its storage design is minimalist and organised, but large dishes, large cake boxes, or kitchenware might not fit in it.
The price for this can cost double than that of a top-mounted fridge. Also, it uses up more power than other kinds.
Another classy style you can find online is a French door fridge. This is a composite of a top or bottom-mounted fridge and a side-by-side fridge.
Certainly, this fridge can hold more stock, such as sandwiches, yoghurts, sodas, fruit juices, and ketchup bottles on the left and right sides, and meat, fruits and vegetables on the main side.
When arranging food, you can open only one door and leave the other closed. Given its size, it goes without saying that this fridge uses up more energy and is a lot costlier as well.
2) Size
Before shopping for a fridge, try to think of how much food you need to store or groceries you get every week. For what purpose do you need the fridge—will you need it for work or home?
After that, measure the area where you plan to place it. Take into account how much space the fridge door needs to open and the depth of the unit.
And don't forget that the installer will need to move the refrigerator into your house door, hallway, and kitchen. Find one that can fit through these areas.
3) Capacity
Refrigerators come in various sizes that can be suitable or not for your house. For an average-sized family of 4 or 5, fridges that are between 350 and 500L are ideal.
So if you have a larger family, we suggest getting one from 500 to 600L plus.
4) Features
The features make a fridge exciting and convenient to use. These can make your kitchen work or leisure life so much easier.
Choose a fridge with as many features as you need. Here are the most common ones:
Temperature control
Digital touch panel
Air purifier
24-hour cooling retention
Vacation mode
Water/ice dispenser
Child-safety lock
5) Energy-Efficiency
You'd want to get an energy-efficient fridge. Not only does this reduce your energy use, but your bills will also be lower than if you use a power-hungry refrigerator.
For this, you can just check its energy star rating. The higher the stars, the more energy-efficient the fridge is.
6) Warranty
When you buy a fridge, always make sure that it has a compressor warranty. It should be at least 10 years or up so if through those years the motor fails, you can have it repaired or replaced for free.
FAQs about the Top Fridges in Malaysia
---
And that concludes our list of the very best fridges in Malaysia! These are great choices given their excellent inverter compressors and reliable features.
Do you have any questions or comments about them? If so, don't hesitate to send them over to us and we'll get back to you promptly.
Has your fridge shown any issues? Don't give up on it as the best fridge repair services in Malaysia can get it back up and running for you.