The 5 Best Engagement Rings in Malaysia
Featured Image Source from Bridal Musings
Plan to propose to your long-time girlfriend but don't have a ring yet? No worries, as we put together our own list here of the best engagement rings in Malaysia!
In this article, we'll walk you through our top options and the reasons we chose them. Further down it, we also have a short guide to help you make a smart choice when buying a ring.
If you're all set, let's begin!
The Average Cost of Engagement Rings in Malaysia
The average cost of engagement rings in Malaysia is RM6,065.25 as per Tailored Jewel. In most online stores, prices can range from RM2,580 to RM41,418.
A lot of factors can affect their prices. Among them are the qualities of the ring such as the carat and colour and also the size and style.
Consequently, two similar-looking rings can differ greatly in cost, because it will depend on the individual specs of the ring.
For a price overview of the products in this list, kindly view the table below. Take note that customisation may increase the cost of the ring.
| | |
| --- | --- |
| Product | Cost |
| Lia 6 Prongs Engagement Ring | RM1,647.08 |
| Wera Diamond Ring | RM5,299 |
| Polaris Blythe Diamond Ring | RM5,650 |
| Fancy Twisted Blue Sapphire Diamond Ring | RM955 |
| Promise (Slim) Diamond Engagement Ring | From RM 14,968 |
The Best Engagement Rings in Malaysia
With the cost section done, let's now move on to the best engagement rings in Malaysia!
1) Lia 6 Prongs Engagement Ring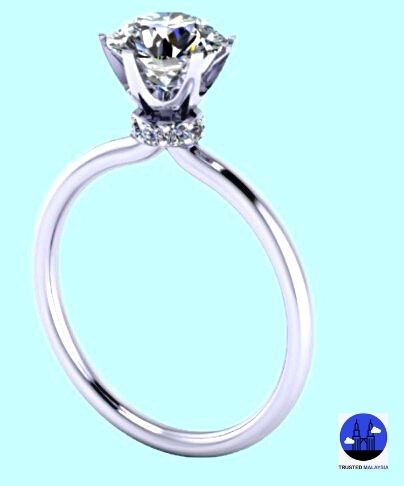 | | |
| --- | --- |
| Product model | EZ1003 |
| Diamond | 1 CT |
| Metal | 18 K White Gold 18 K Rose Gold 18 K Yellow Gold |
| Width | 2 mm |
| Size | 6 – 24 |
| Price | RM1,647.08 |
Not sure what engagement ring to get for your girlfriend? We suggest ordering the Lia 6-Prong Engagement Ring from trusted jewellery company ZCOVA.
Having a plain round shank, the ring is simple yet timeless and sophisticated. The pictured diamond has 6 prongs and weighs 1 carat, making it bedazzling for those who see it from nearby.
You have three different metal options to choose from including 18 K White Gold, 18 K Rose Gold, and 18 K Yellow Gold. The diamond can also be custom-selected in different shapes and sizes.
Furthermore, the diamond has dual certifications from GemEx and GIA. So, you have a full report about the diamond's quality and 4Cs, which also proves that the ring is 100% authentic.
Found a lower-priced diamond of the same kind? ZCOVA also offers a price-match guarantee, however, certain conditions apply.
Lastly, this can ship between 2 and 5 days only in Malaysia, and you don't have to pay for the GST. So, with this ring, all is to your benefit.
Fully customisable design
GIA & GemEx-certified diamonds
Can match competitors' diamond price
2 to 5 days Malaysia delivery
Comes with a lifetime warranty
Low diamond carat (0.3)
Plain design
2) Wera Diamond Ring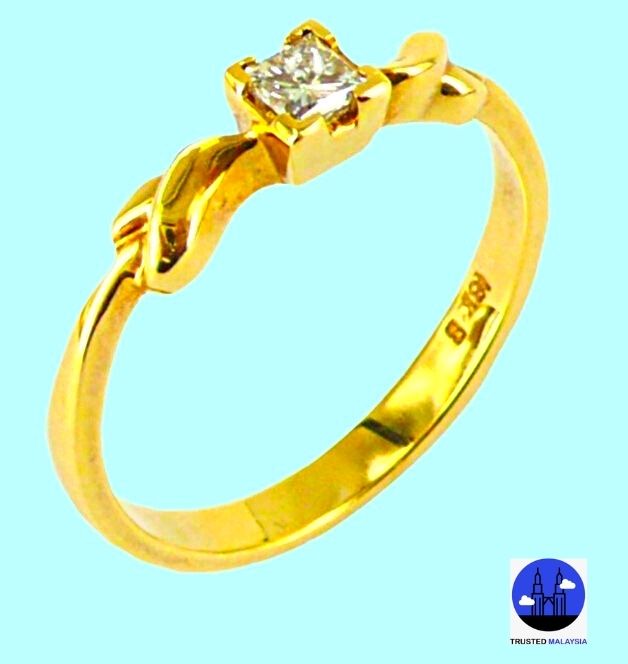 | | |
| --- | --- |
| Product model | SPAA20NELDR |
| Diamond | 0.17 CT |
| Metal | 18 K Gold |
| Price | RM5,299 |
For a golden ring with a touch of classiness and creativity, the Wera Diamond Ring might be a great option!
Although its diamond is merely 0.17 carats and its design can't be customised, this engagement ring is budget-friendly. Even if it isn't that luxurious, it could express how much you love your special someone.
During working hours, you can call their knowledgeable ring consultants who can provide you with the essential grades of this ring in terms of cut, clarity, colour, and carat.
The team received rave reviews on Facebook, with most people praising their friendly staff and service.
Delivery is available for this ring throughout Malaysia. However, if the ring doesn't live up to your expectations, you can return it to them without any problem, provided that certain conditions apply.
Of all the available designs in the Radiance store, we went with Wera Engagement Ring as it is appealing, elegant, and of sheer value for money.
Classy and unique design
Certified diamond product
Accommodating customer service
Great price
Low diamond carat (0.17)
Only one variant is available
No warranty indicated
3)   Polaris Blythe Diamond Ring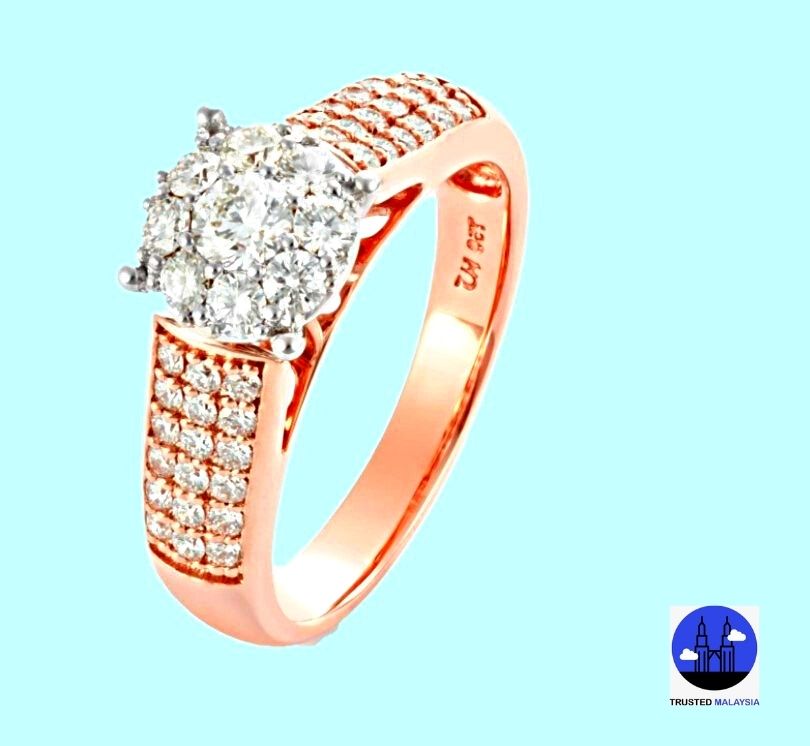 | | |
| --- | --- |
| Product model | 24805 |
| Diamond | 0.90 CT |
| Metal | 750/18 K (White and Rose Gold) |
| Width | 8 mm |
| Size | 13 |
| Price | RM5,650 |
The Polaris Blythe Diamond Ring has an impressive and sparkling design with clusters of diamonds on the centre and a set of smaller ones around the sides.
Its specs include 0.90-carat weight, an 18 K gold metal structure, and a width of 8 millimetres. Best of all, it won't cost you a fortune as it has a reasonable price like the other two rings above.
However, you can't customise this engagement ring when you buy online. But you can come to their store in Selangor for a one-on-one session for a bespoke ring for your soulmate.
Unlike other stores, their in-house staff offers chat support through WhatsApp to answer your questions about the ring, whether it's about the grade, certificate, or warranty.
Furthermore, the Polaris Blythe ships free across Malaysia to your address and is presented in a lovely fuchsia Habib case.
So without a doubt, it's one of the loveliest and best engagement rings in Malaysia right now. Also, note that this product is size 13.
Exquisite pavé engagement ring
Weightier diamond
Gives live chat support through WhatsApp
Reasonable price and free shipping
Can't be modified online
No warranty indicated
Only 1 size is available
4)   Fancy Twisted Blue Sapphire Diamond Ring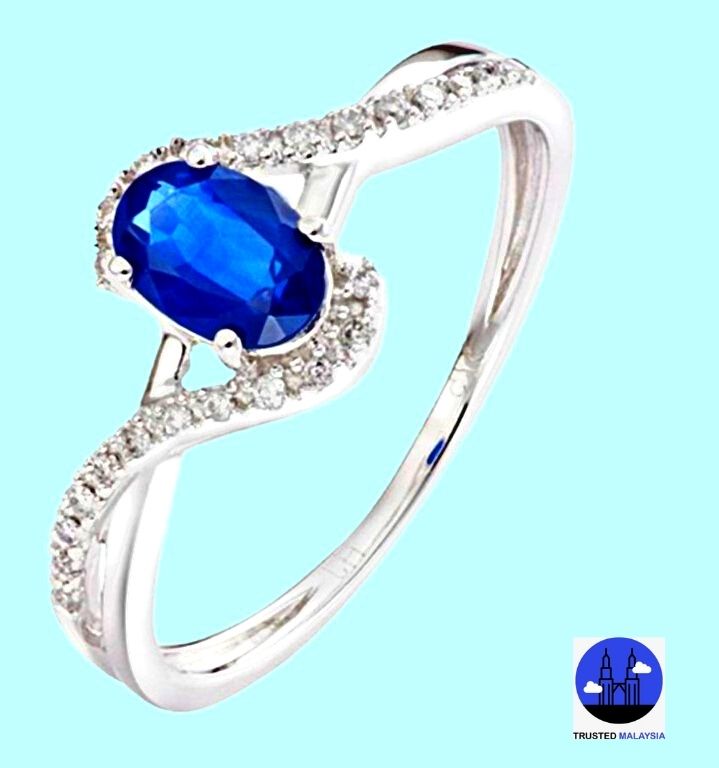 | | |
| --- | --- |
| Product model | 24887 |
| Sapphire/Diamond | 0.55/0.08 CT |
| Metal | 375/9 K (White Gold) |
| Size | 10, 11, 12, 15, 18 |
| Price | RM955 |
Modern and stylish, this sapphire engagement ring is another of the best engagement rings in Malaysia.
It has a royal blue sapphire set in a claw setting accented by small light diamonds around it. Moreover, it has a twisted shank that has sort of a graceful and romantic outline.
The blue gemstone weighs 0.55 carats and the diamonds are 0.08 carats. Meanwhile, the ring metal comes only in one variant of 9 K White Gold.
The available sizes for this engagement ring include 10, 11, 12, 15, and 18. Thus, these can fit the ring fingers of a wide range of people.
If your girlfriend likes modern styles rather than traditional ones, the ring may be a great option. Its price is so affordable that you can buy another one for both of you to wear.
Our con for this product is since it's only a simple and light ring, it may fall below your partner's standards. Still, love is love, and if she truly loves you then this proposal ring would probably be fine.
Available on Habib's website, you can get in touch with their ring experts by WhatsApp. You can send your inquiries 24/7 and they'll come back to you without any delay.
Modern and stylish look
Affordable price
Free shipping
Gives live chat support through WhatsApp
Uses very light diamonds
Can't be modified online
No warranty indicated
5)   Promise (Slim) Diamond Engagement Ring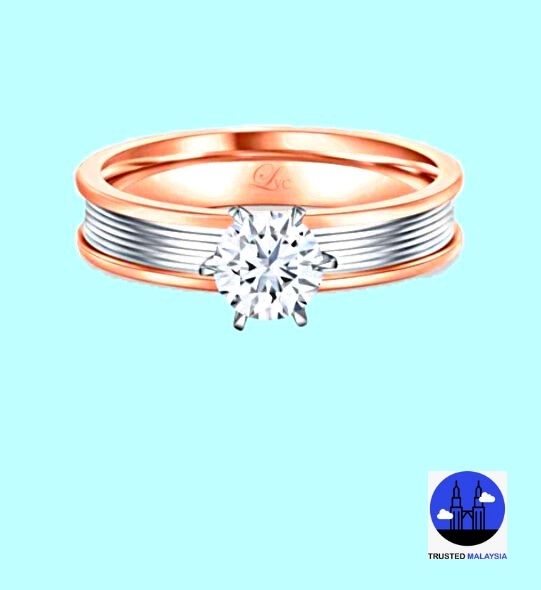 | | |
| --- | --- |
| Product model | LCR498 |
| Diamond | 0.5 CT |
| Metal | 18 K Rose Gold |
| Price | From RM 14,968 |
If you love the person with all your heart, it makes sense to give her a ring that perfectly embodies that. So you might want to consider the Promise Diamond Engagement Ring.
It's designed in lovely rose gold that's 18 K meaning it's closer to the true gold of 24 K. It is a solitaire ring with an awe-inspiring six-pronged diamond of 0.5 carats.
The diamond has an excellent cut rating, which means that it offers maximum fire and brilliance. In simple terms, it has relatively good colour and colourless hues that are emitted from the stone.
What we love about this ring is the unique silver lines amid the rose gold metal. And if you look closer, you can see an engraving of Love & Co's logo in the back interior of the ring.
You can get this ring modified in terms of clarity only, as the other two, carats and price, are already standard.
On top of that, you get Love & Co. service perks. These include free shipping, complimentary cleaning, and a 7-day return and exchange warranty.
It may have a lofty price, but it's an extremely beautiful and unique ring to give to your partner. And that is why we included it in our list of the best engagement rings in Malaysia!
Has an excellent cut rating
Customisable ring
Free delivery within West Malaysia
Offers a 7-day ring exchange and return
Gives membership discounts
Expensive rates
Only customisable option is its clarity
What to Consider When Buying An Engagement Ring
Here are the essential factors you need to consider when buying an engagement ring:
1) Certification
A diamond's value is based on the 4Cs: cut, colour, clarity, and carat. Each of these aspects is evaluated and given an industry-grade recognized in the world by principally GIA and AGS.
These are stated in the certificate of the diamond ring you are buying. Its purpose is to make you aware of the diamond's characteristics to be certain that you're getting your money's worth.
While the diamond's grading is mostly consistent, it can sometimes be different between one ring and another. For instance, the rings can vary in colour even though they have the same grade.
There are some things that a certificate can't explain. For this reason, you can also ask a qualified expert when buying a ring to explain its diamond features accurately.
2) Design
There's a multitude of ring designs on the market. You may think that a diamond only differs by carat weight and shape but there's more to them.
Again, this comes down to the 4Cs, which we will explain below this time.
Many people believe that a cut refers to the shape of the diamond. But it's actually more than that as it represents the brilliance, fire, facets, proportion, and angles of the diamond.
Among other aspects, the cut will have the largest effect on the diamond's appearance. The higher the cut grade, the more beautiful and sparkling it is.
The colour is responsible for giving the diamond its hue. The grade for this ranges from D to Z, with the former being transparent while the latter having a yellow or brown colour.
When looking at a diamond, you should measure its transparency against the ring setting's colour. Or you can hold a different ring beside it to know if it is the colour you want.
Not all diamonds are made perfect whether internally or externally. In diamond terms, you call internal flaws inclusions and exterior flaws blemishes.
If the flaws are severe, they can affect the light passing through the diamond, which can make it less appealing. That's why it's important to look at the clarity grade, which ranges from Flawless to Inclusions 2.
A carat is not the size of the diamond but its weight. One carat measures 0.2 grams, roughly the size of one-fourth of a raisin.
Generally, the higher this is the more expensive the engagement ring will be. However, the other Cs are also at play here, thus you may find that higher-carat rings cost less than lower-carat ones.
3) Diamond
Besides looking at the grade, you should see if you like the diamond and if you like it for the person you'll give it to. After all, it's what will matter the most.
You can find different diamond ring styles like solitaire, clustered, creative, plain, and so forth. Once you've considered the 4Cs, it's very easy to pick the diamond you want.
By the way, the diamond is already set on the ring for most stores. However, others let you nicely customise it with the size, colour, and style of your choice.
4) Guarantee
As an engagement ring costs a fortune to buy, you should look for one that has a guarantee for many years or throughout the life of the product.
It's also important to ensure you can return the ring in case it doesn't fit the wearer, or if other issues come up.
5) Price
You also have to consider the price whether before you view the specs or afterwards. The average cost for a 0.4-carat engagement ring in Malaysia is RM6,065.25, according to Tailored Jewel.
For the low and high-end costs, most jewellery stores sell rings for RM2,580 to RM41,418. So there are plenty of options that will accommodate most budgets and needs.
FAQs about the Best Engagement Rings in Malaysia
---
And those were the best engagement rings in Malaysia! Not only are they spectacular and certified but they're also affordable to buy.
Did you find anything you like or have a question about our featured products? If so, feel free to send us a message and we'll get right back to you.
Also, if you're planning to propose, make sure to accompany your ring with a lovely bouquet. For this, you can order soon from the best flower delivery options in Penang!