The 13 Best Digital Marketing Agencies in Malaysia
In this fast-paced world, to boost your sales and lure in more clients, you've got to learn how to keep up with the modern trends—specifically in the online world. Thankfully, there are the best digital marketing agencies in Malaysia to help you!
Establishing a brand goes hand-in-hand with marketing. This way, your customers will know what your business stands for and what you're trying to sell.
To further improve the products and sales of your business, check out our list below for the best digital marketing agencies in Malaysia. Rest assured that they will provide you with everything you need to expand your business, including SaaS tools, roadmap tools, website feedback widgets, and more!
1. Marketing Signal Lab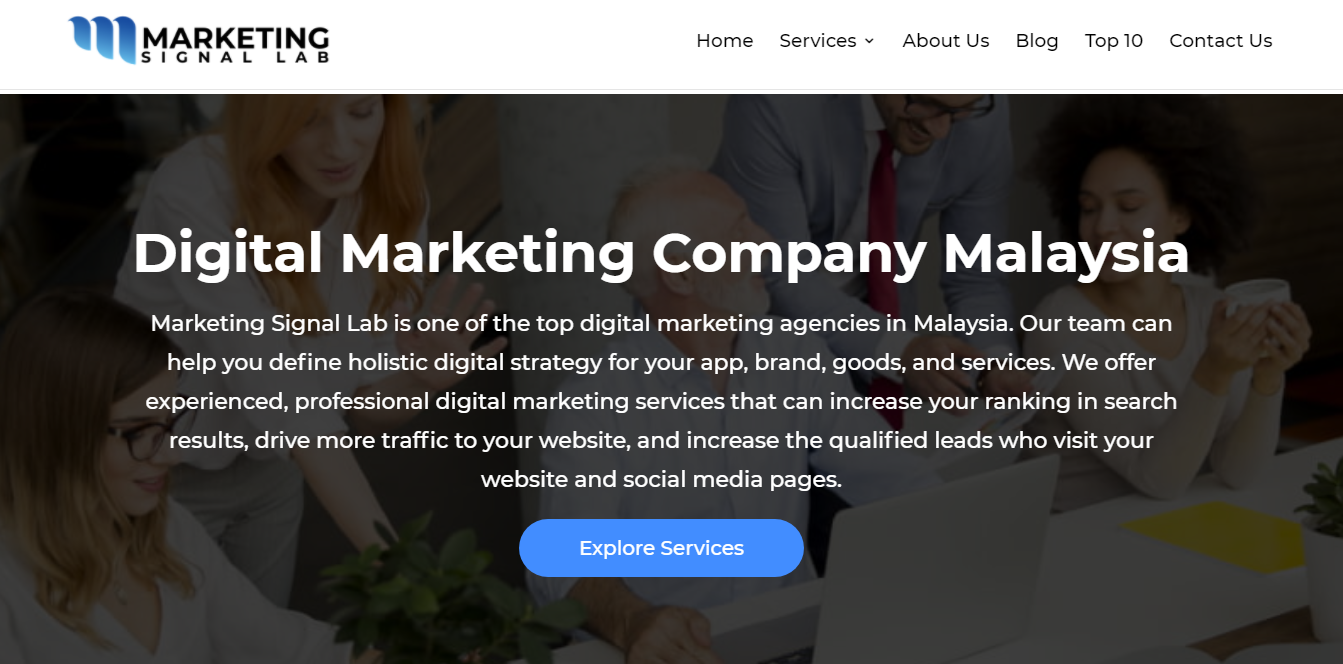 BEST FOR 
Digital Marketing and SEO Strategies
PRODUCTS
Local Seo
Web Design
Social Media
WEBSITE
https://marketingsignallab.com
ADDRESS

24-2, Jalan Pudu Hulu, Batu 3 1/2
Jalan Cheras
56100, Kuala Lumpur

CONTACT DETAILS

Phone 601-2390-3978Email [email protected]

OPERATING HOURS
Mon – Fri : 9am – 6pm
The first entry on our list is a digital marketing agency considered to be one of the best in Malaysia: Marketing Signal Lab
Marketing Signal Lab endeavours to help clients experience organic growth with the help of bespoke digital marketing services. The agency is known for working with businesses of any size, as well as catering to clients from a broad range of sectors and industries.
The team at Marketing Signal Lab consists of highly skilled individuals whose specialities lie in local SEO, web design, and social media. They take the time to consult with each client extensively, learning more about the clients' brands, goals, and target audiences before moving forth with any strategy.
During the years of its service, Marketing Signal Lab has steadily built up a reputation for service excellence.
Their SEO strategies are tested and proven; the web design modern, eye-catching and functional; and social media marketing working to draw in more customers from various platforms.
Clients who are interested can reach Marketing Signal Lab through phone or email. The agency also has a dedicated form that gives clients the ability to note down their marketing goals and needs. 
Highlights
Search engine optimisation (SEO)
UI/UX development & mobile UI/UX design
Customer Reviews
Here are some comments left by previous clients of MarketingSignalLab:
"Le Cheng and his team had helped me to sell 1,000 boxes of mooncakes and CNY gift sets. Return of Ad Spent (ROAS) is 8! Strongly recommend working with their teams"
"Marketing Signal Lab had helped my property agency to generate average 100 quality leads every month and I am able to close 4-5 deals every month. They even provide free consultation on how to approach prospects."
2.   Demojo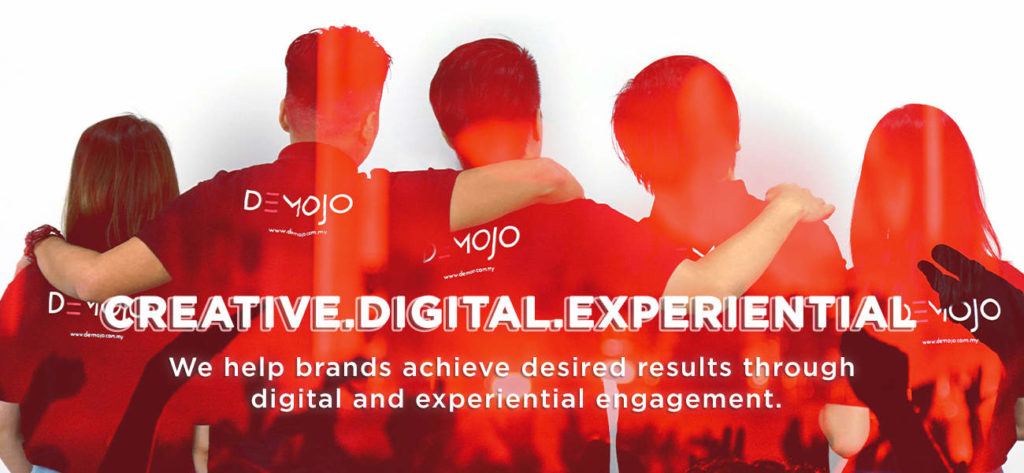 SERVICES
Advertising agency, Creative Agency Digital marketing, Social Media Marketing, and Event management
WEBSITE
https://demojo.co
ADDRESS
16-10 Infinity Tower, Jalan SS6/3, 47301
Petaling Jaya, Selangor Darul Ehsan, Malaysia.
CONTACT DETAILS
+60 12 419 6090 | 

[email protected]

OPERATING HOURS
Monday – Friday, 9:30 AM – 6:30 PM
Demojo provides one of the best digital marketing services in Malaysia producing quality work. They offer a wide variety of services in the production, design, strategic, and creative agency which mainly involves event management, advertising agency, creative agency, website development, environmental, and graphic design. 
The greatest perk of working with Demojo is their outstanding customer service. You may speak with either the catalyst director or the experience director directly to find out how they can use their creative and original ideas to propel your business to new heights.
You may be confident that your cooperation will be fruitful since The Fun Empire has listed them as one of Malaysia's top creative firms. Demojo is a fantastic choice to add flavor to your digital marketing strategy.
Great customer communication
Fresh and intricate designs
Offers a lot of services
Customer Reviews
Professional Team
"Professional team, definitely will engage them for more projects." – Raymond Wong
Beyond our Expectations
"Demojo's creativity always impressed us. The outstanding result is always beyond our expectations. Demojo is a trustworthy agency that is worth a try." – Doreen Ng
3.   Light Up 7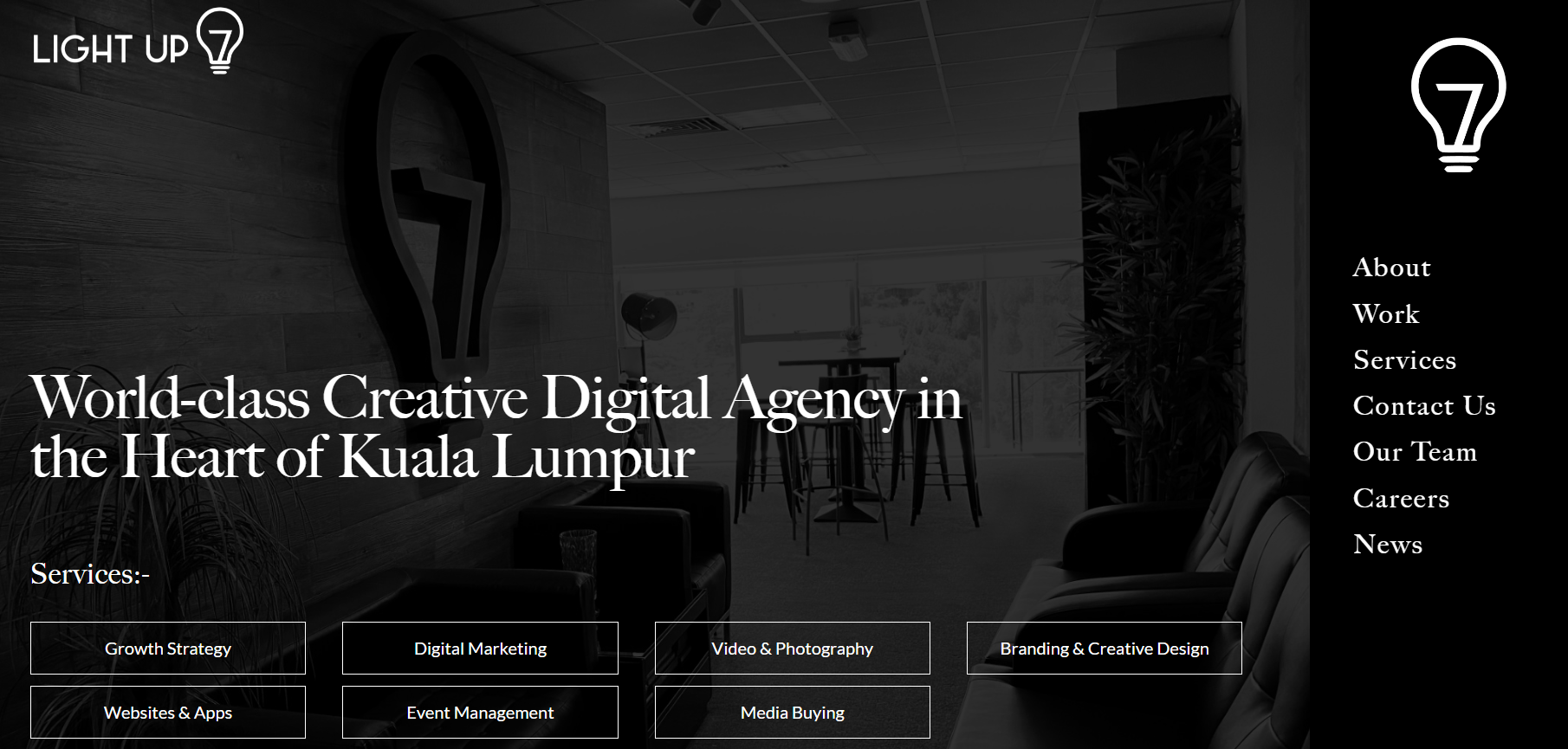 WEBSITE
https://www.lightup7.com/
SERVICES
Growth Strategy
Digital Marketing
Video & Photography
And More
OFFICE HOURS
Contact for more details
ADDRESS
East Wing Mezzanine Floor,
Bangunan ECM Libra,
No. 8 Jalan Damansara Endah, Damansara Heights,
50490 Kuala Lumpur, Malaysia
CONTACT INFORMATION

[email protected]


+603-2011 1931
+6014-267 7472
Light Up 7 is an integrated creative digital agency specialising in brand strategy, digital marketing and multimedia production. They help brands transform and grow their businesses.
In this digital age, they create customer experiences that best meets the needs and preferences of their clients and that of their customers. They do this by combining strong strategic and creative thinking with expert data analysis and a deep understanding of current and emerging technologies.
Has a served various distinguished clients over the years
Creates gold-standard digital experiences that drive substantial revenue and growth
Rates are unavailable online
Customer Review
Here's what people are saying about Light Up 7:
"Light Up 7 is the most professional company I've worked with! From their production, sound crew & even their management. Everything was well organized & their cameras are super HD. Editing is top notch & really value for money. As a business, we compared quotations with other companies & there is no other company which could offer the value like Light Up 7."
"Been working with them for years and never failed to impress me. thank you light up 7 for being the best agency to work with."
4. Shock Media Studio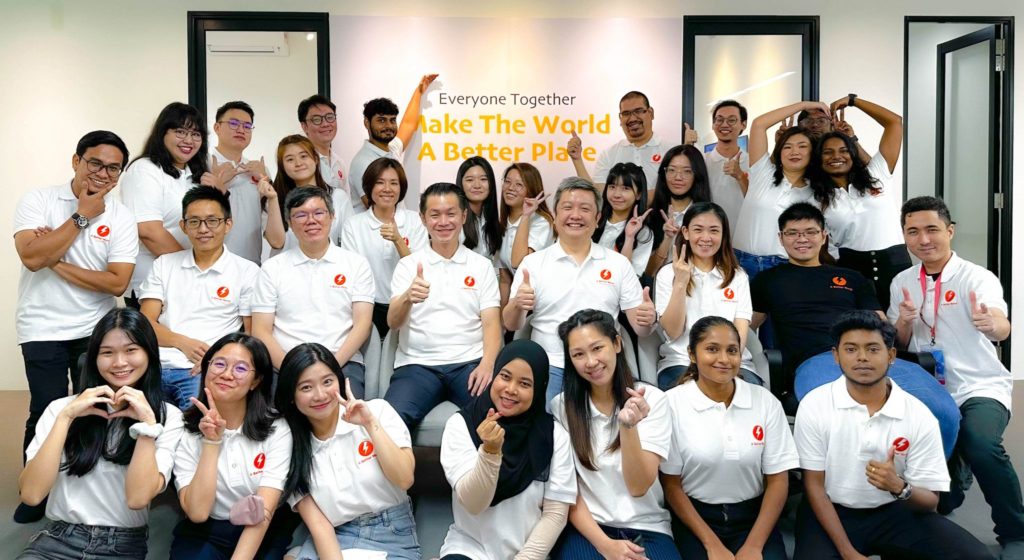 SERVICES 
Search engine marketing, search engine optimization, Facebook marketing, retargeting, conversion rate optimization, and website design. 
WEBSITE
http://www.shockmediastudio.com/ 
ADDRESS
9D, Level 3, Nadayu28 Dagang, Jalan PJS 11/7, Bandar Sunway, 47500, Subang Jaya, Selangor
CONTACT DETAILS
03 5882 7008011 5505 6023 (for inquiry)
[email protected]
[email protected]
OPERATING HOURS
Monday – Friday, 8:00 AM – 5 PM
If you want an all-in-one digital marketing agency that can enable you to transform the way you market and operate, then Shock Media Studio may be the best agency in Malaysia for you. 
They have the greater goal of making the world a better place by promoting brands that can make a change. With a grander goal comes better passion, this shows how dedicated they are to providing data-driven lead-generation strategies.  
Being your one-stop shop for digital marketing services they offer search engine marketing, search engine optimization, Facebook marketing, and many more. Among these services, their search engine marketing is the backbone for most of their client's digital marketing campaigns. 
With over 102 years of experience, 1523 projects, and 694 clients & counting, we genuinely believe that Shock Media Studio is one of the best digital marketing agencies in Malaysia for their price range. 
Check them out to save RM 5,000 in digital marketing expenses through their collaboration with MDEC – SME Digitalisation Grant.
Result-driven approach
Great customer communication
Provides free strategic marketing audit
Rates are not specified online
Customer Reviews
My company leads have increased even during the pandemic
"Great experience in working with Shock Media on my website, SEO, SEM, GA and more! My company leads have increased even during the pandemic thanks to Shock team! They are responsive and quick in action. Really like their teamwork and jobs " – Fionna Tong
SMS was responsive in assisting me to manage the website
"Great team of folks.  They were entasked to create a website for my fledging company and they did it on time and on budget.  SMS was also responsive in assisting  me to manage the website as I am new to this.  Highly recommended."  – Reza Mutalib
5. Resolute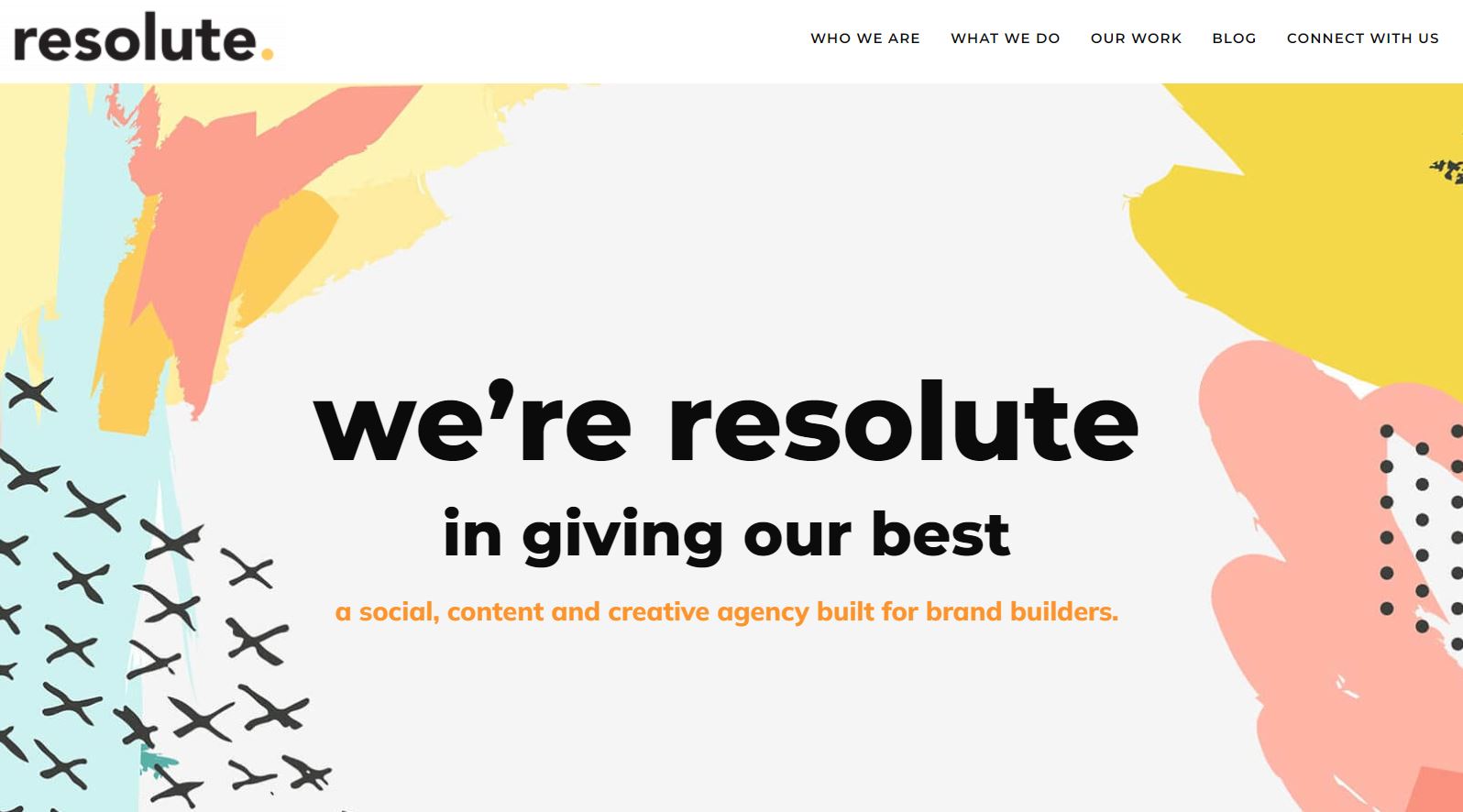 | | |
| --- | --- |
| SERVICES  | Video & commercials, social media advertising, influencer marketing, 360° campaign, creatives & content, ROI, ui/ux design, web development, and livestreaming & virtual events.  |
| WEBSITE | |
| ADDRESS | Level 5, Vertical Business Suite, Jalan Kerinchi, Bangsar South, 59200 Kuala Lumpur, Wilayah Persekutuan Kuala Lumpur, Malaysia |
| CONTACT DETAILS | +60 12-941 1151 |
| OPERATING HOURS | Monday – Friday, 9:00 AM – 6 PM |
Do you want your brand to be seen as great story tellers portraying the mission and vision of your company? In that case, Resolute could be the best digital marketing agency for you. 
They are a widely credited agency known for their creative works from their commercials and campaigns to their live streaming and virtual events. They can handle about anything related to digital marketing.
A company created by trust, they have provided consistent quality service and created an immaculate track record in order to build a solid bedrock for their future clients to rely on. 
Being a creativity-driven company, we like how they are able to take risks that are worth taking in order to elevate their clients into new heights. Furthermore, they would gladly stake their personal and professional reputations to make sure that they are fully accountable for both good and bad works. 
We think that they are the best digital marketing agency to partner with if you want an internet-breaking campaign or commercial that would be known all throughout Malaysia. 
Pros
Creative-driven service

Seasoned staff

Great customer support 

Full transparency 
Cons
Closed on Weekends

Estimated rates are not available online
Customer Reviews
Creative service and results
"We were always pleasantly surprised in our collaboration with Resolute. They have time and again shown us how willing they are to perform in every aspect – creativity, service and results. They've shown us what above and beyond truly means." – RISA TSUJI, Marketing Manager Yakult
Exciting and engaging, from start to finish.
"The FB Live that this amazing team did for us went well, and garnered hundreds of comments. The entire show was exciting and engaging, from start to finish. After this, we are looking forward to working with you all again in the future."  – PARIPOORANI SUBRAMANIAM, Marketing Manager Diabegard
6.   Brand 360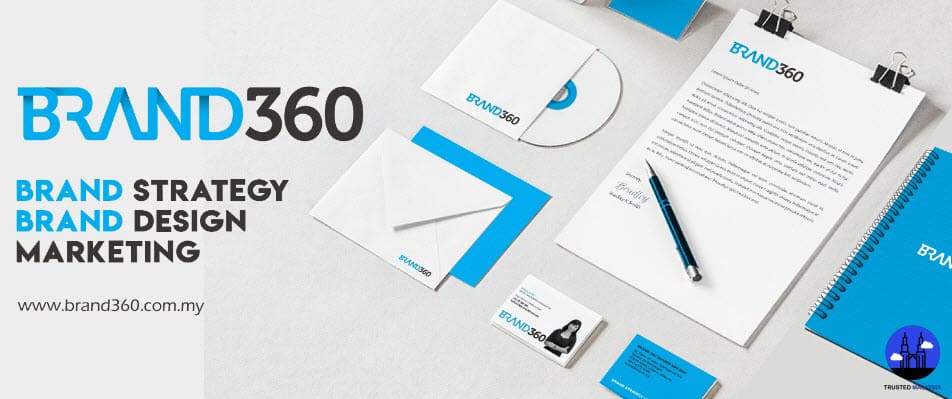 WEBSITE
brand360.com.my, Facebook
SERVICES
Brand design, brand strategy, marketing
OFFICE HOURS
Monday – Friday: 9:00AM – 7:00PM
Saturday – Sunday: Closed
ADDRESS
1st Floor, 15 Jalan Tembaga SD 5/2, Bandar Sri Damansara, 52200 Kuala Lumpur, Malaysia
CONTACT INFORMATION
Email:

[email protected]

 
Contact Number: +603-6272 3299
Brand 360 is a company that can help you build and enhance your brand identity. So if you have an existing brand that could use some improvements, you should give this agency a call.
Their main processes start with conceptualizing a good strategy, creating beautiful designs, and marketing your brand to the right audience. They specialize in creating brands, rebranding existing brands, and even offer brand extensions.
Aside from branding services, they also offer digital marketing campaigns to attract market attention, generate leads, and ultimately increase sales. Campaigns can also work well if you have a product that you want to launch to the public.
If you want your brand to grow, Brand 360 has the creative services to make it happen.
Specializes in branding services
Offers workshops
Offers comprehensive packages
7.   Graphic LAB Malaysia (GLM)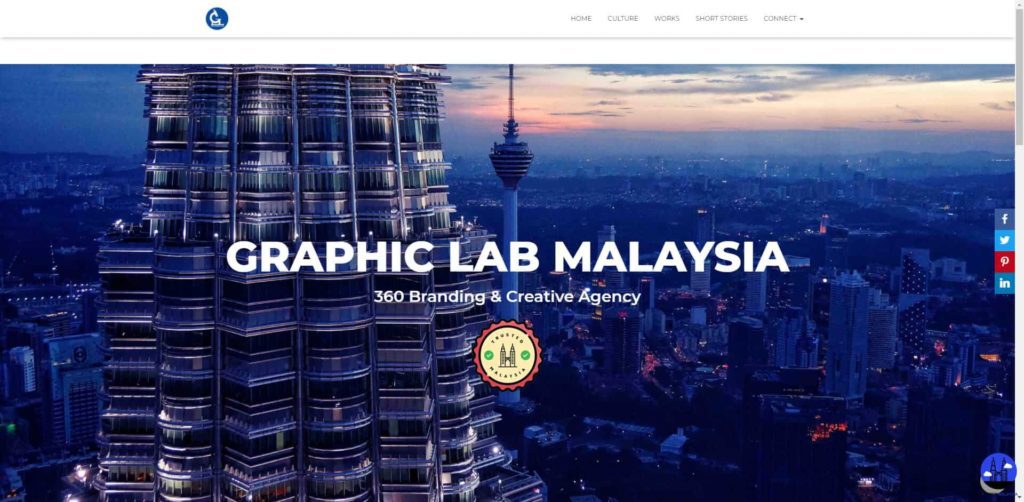 WEBSITE
graphiclabmalaysia.com, Facebook
SERVICES
Branding, advertising, digital marketing
OFFICE HOURS
Monday – Friday: 9:00AM – 6:00PM
Saturday – Sunday: Closed
ADDRESS
L01-02. Saville @ Kajang, Jalan Reko, 43000 Kajang, Selangor, Malaysia
CONTACT INFORMATION
Email:

[email protected]

 
Contact Number: +603-8740 7102
Graphic Lab Malaysia (GLM) is a comprehensive branding and creative agency that was established in 2011. As a leading creative agency in Malaysia, they solve business problems through creative designs and advertising strategies.
They provide branding, advertising, and digital services that can help your business differentiate itself from competitors. Their process involves understanding your current branding position, building your brand identity, and incorporating all the designs and strategies together to boost your business.
Put simply, GLM can help you rediscover the meaning of your business and communicate it to the right audience. If you want to tell the story behind your brand, GLM is the right creative agency for you.
Offers detailed price lists of their services
Offers a wide array of affordable creative services
Does not specify prices for packaged services
Customer Review
One of their customers, Abdul Halim, wrote this comment:
"The best graphic design company. Looking forward to deal another major project in future."
8.   Clover Creative & Communications Sdn Bhd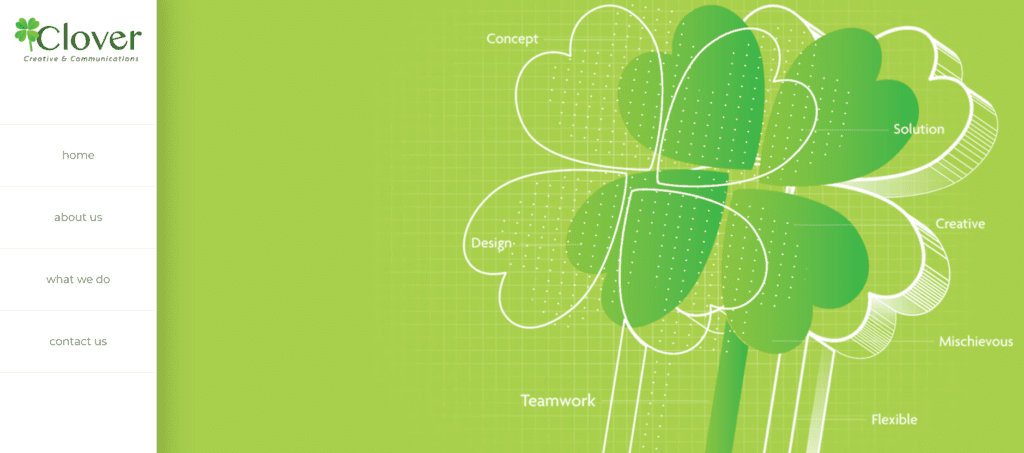 WEBSITE
https://clovercreative.com.my/
SERVICES
Branding, Digital Solutions (Social Media Marketing, Website, Mobile App, Multimedia), Print (BTL, Collateral Design, Reports, Custom Design, Festive Packs, Packaging), Events, Corporate Gifts,
OFFICE HOURS
Monday to Friday: 9:30am – 6:30pm
ADDRESS
31-8, Level 8, The Boulevard, Mid Valley City, Lingkaran Syed Putra, 59200 Kuala Lumpur
CONTACT INFORMATION
03 2283 6260
[email protected]
Clover Creative & Communications Sdn Bhd has over 18 years of experience of creative design in advertising, serving a healthy mix of industries.
They believe in a holistic approach in working with their clients to fulfill business needs with their comprehensive creative solutions. This enable their clients to enjoy value-added services that are hassle-free and cost-saving.
This vast array of services offered is made possible with their ever-reliable partners and vendors who have been with them for more than a decade.
Creative advertisement that works for you
A creative agency
Providing a unique blend of ideas and concepts
Comprehensive value-added services
Rates are unavailable online
Customer Review
Here's what some people have to say about them:
"Collect the #Angpowpackets that i win this morning 11:58 A:M ❤ The Staff at here. Very Friendly."
9.   ZStar Global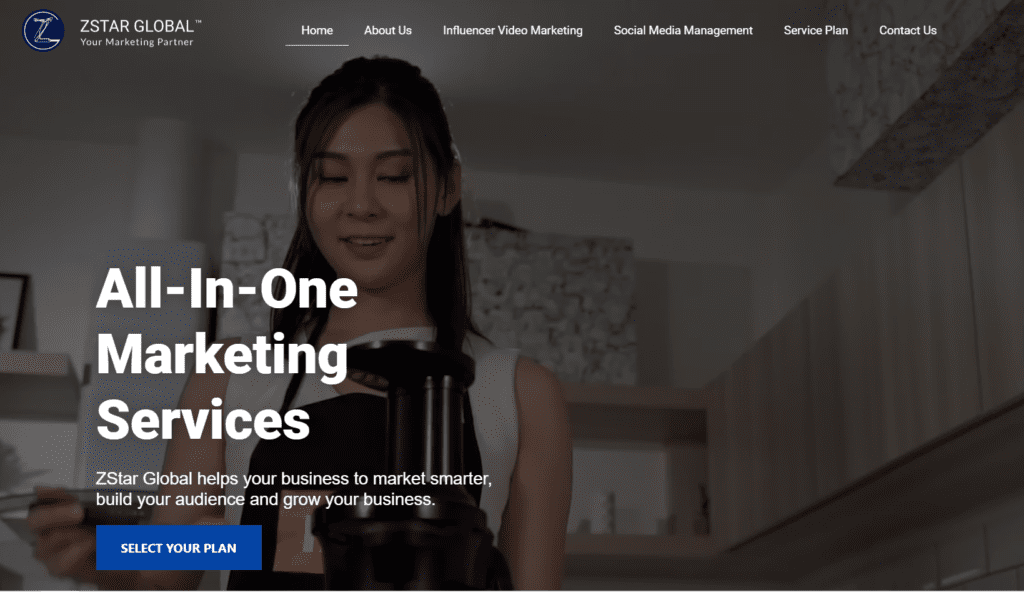 WEBSITE
https://zstar.global/
SERVICES
All-in-one marketing services
OFFICE HOURS
11am – 6pm (Monday – Friday)
ADDRESS
Block B-2-5, Level 2 Northpoint, Mid Valley Mall City, No.1, Medan Syed Putra Utara, 59200 Kuala Lumpur
CONTACT INFORMATION
Email Address:
[email protected]
Phone Number:
+6012-772 3480
Office Number:
+603-27031398
ZStar Global works with sales teams (and their marketing departments) as well as B2B companies and professionals to develop comprehensive content marketing strategies that enable sellers to reach their prospects at every stage of the buyer's journey.
Once the strategy is complete, they are there for you if you need them to create the content for you.
With over 4 years of experience, ZStar Global provides all-in-one marketing and advertising solution from creating unique content, building brand awareness and growing sales. Using their experiences, they develop and execute creative marketing strategies to amplify your brand story at scale and reach billions of people.
Free confidential consultations
Content creation services are also available
Relatively younger compared to other companies
Customer Review
Here's what some people have to say about them:
"Very professional and creative. Provide very good advise on marketing strategies and execution. Assist us on website development , marketing materials and also create good video productions throughout our new project. We have engaged influencers and freelancer for ads earlier by our self. but without a proper planning end up just did a meaningless influencer programme. But with Zstar team they fully organised everything which is really effortless and the results are way much better interns of awareness and sales part organically. I am very satisfy with the work with Zstar global. if you looking for long term partner – they are good ."
"Zstar Team delivered professional services. Google ads, Facebook ads, influencers marketing got my businesses active online. Good follow ups on what I am doing wrong and suggest the correct way on running my businesses online. You pay what you deserve to get. Appreciate your help and jia you!"
10.   Stelix Media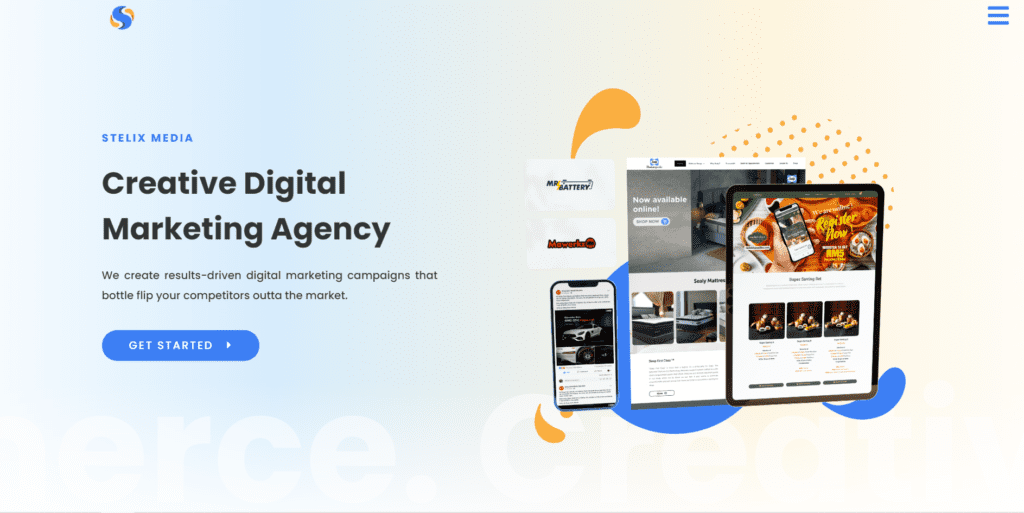 WEBSITE
https://www.stelixmedia.com.my/
SERVICES
Website Development
E-commerce Development
Creative Design
Google Marketing
Social Media Marketing
OFFICE HOURS
Contact for more details
ADDRESS
D-19-02, Sunway Nexis,
No.1, Jalan PJU 5/1,
Kota Damansara,
47810 Petaling Jaya, Selangor.
CONTACT INFORMATION
+6011-3680 6823
[email protected]
Stelix Media is a team of young and energetic digital marketing specialists. Understanding that every company needs marketing solutions to an extend, they dedicated themselves to grow together with your business.
They pride themselves on their ability to understand the complexity in different industries, tailor customized solutions for individual needs, and track and study campaign performance data in achieving successful digital marketing campaigns.
Lastly, helping their clients get more customers is what they do best. Knowing how consumer feel is at the heart of everything they do, which is why they are able to create such effective strategies for you and your business.
11.   Nokua Design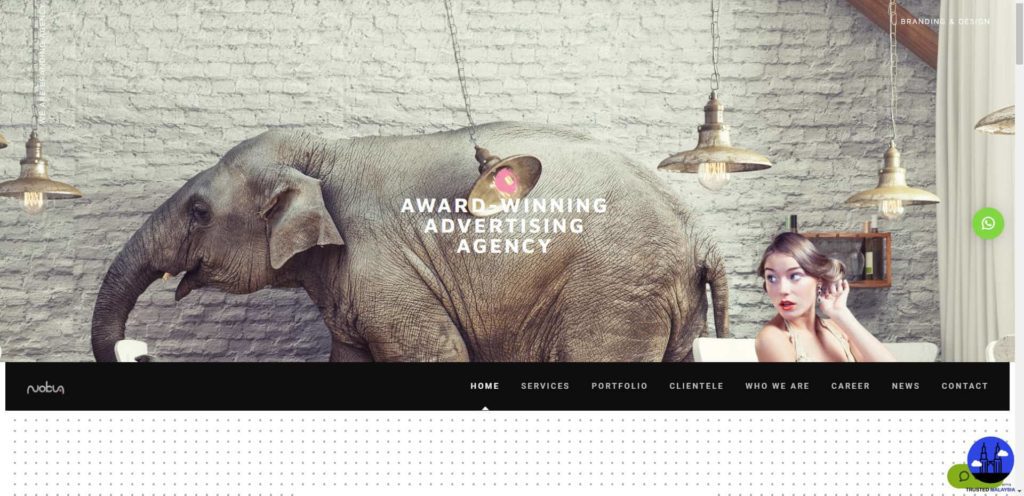 WEBSITE
nokuadesign.com, Facebook
SERVICES
Branding, advertising and design, package design, and more
OFFICE HOURS
Monday – Thursday: 10:30AM – 7:30PM
Friday: 9:00AM – 6:00PM
Saturday – Sunday: Closed
ADDRESS
SO 23A-5, Strata Offices, Menara 1, KL Eco City, Jalan Bangsar, 59200 Kuala Lumpur, Malaysia
CONTACT INFORMATION
Email:

[email protected]

 
Contact Number: +6032-202 1353
Established in 2007, Nokua Design continues to provide top-quality branding and advertising services in Malaysia. Their mission is to create a positive global impact through their creative and innovative designs.
They offer a wide array of services that are perfect for businesses that have a lot of projects in mind. For example, they provide event photography, video, and animation services, food photography, and product shoots, to name a few.
Their basic creative agency services include branding and strategy, advertising and design, packaging and printing design, and interactive website design. This allows you to focus your resources on the creative services that your company needs.
With all things considered, Nokua Design is fully capable of handling all your branding and advertising needs.
Award-winning agency
Offers specialized photography services
Does not specify prices for their services
Customer Review
One of their clients, Lim Mun Yee, left this review:
"I am impressed by Nokua's ability to understand our branding needs and has been able to deliver promptly on assigned tasks. Their response to our briefs shows that they have an ability to capture our business needs and client dynamics."
12.   Brandmoss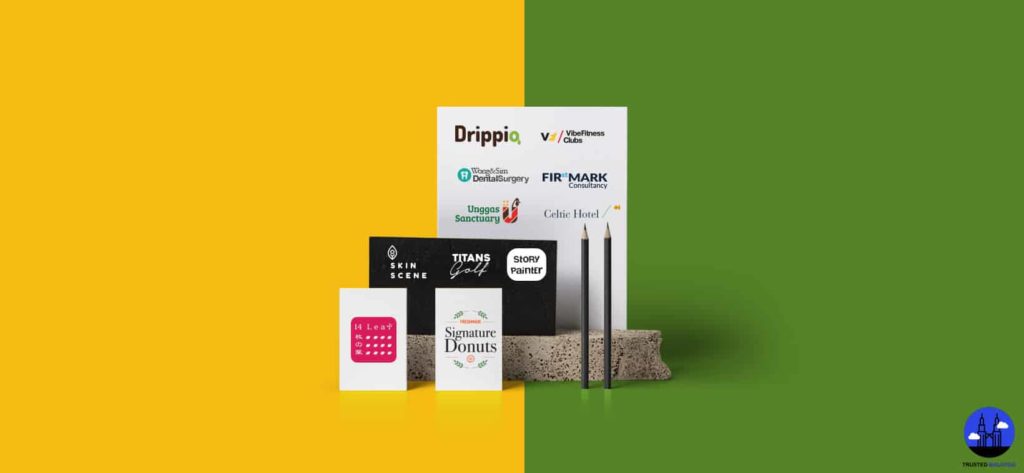 WEBSITE
brandmoss.com, Facebook
SERVICES
Branding, product launch package, dominance growth
OFFICE HOURS
Monday – Friday: 9:00AM – 6:00PM
ADDRESS
82, Jalan Limau Kasturi 3, Taman Khet Loong, 81000 Kulai, Johor, Malaysia
CONTACT INFORMATION
Email: 

[email protected]

  
Contact Number: +6010-219 3769
Do you want an eye-catching logo that portrays the meaning of your business? If so, Brandmoss could be the agency that you need.
This creative agency specializes in finding your brand's personality and communicating it to the right audience. In line with this, they offer branding services that incorporate logo design, brand guidelines, and corporate identity for your company.
They also provide services for promotional advertisements, web design, and packaging design to help you showcase your products and services. They even have unique and convenient packages like their fundamental launch package and dominance growth service.
To sum up, Brandmoss has the services you need to create a brand image and communicate it to your market.
Affordable service packages
Offers a wide array of creative services
Offers unique packaging designs
Shorter office hours on Fridays
13. 

iMarketing MY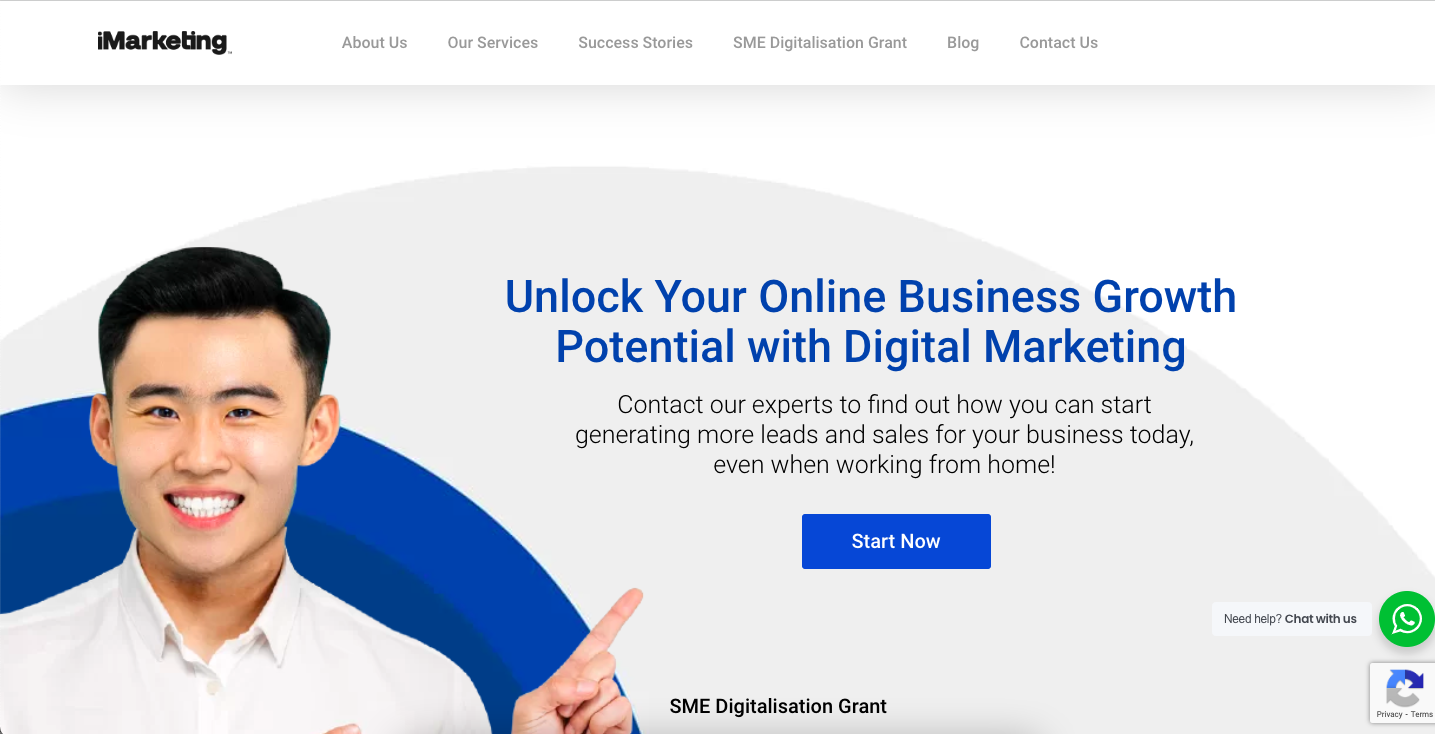 iMarketing started in 2018 and has been collaborating with top SMEs and MNCs to help them overcome their digital marketing challenges since then. 
They want to help their clients grow and prosper with their businesses and we think they succeed with this. A number of businesses have taken off because of them!
This is mainly because of the personalised digital marketing strategies they create. We like how highly collaborative they are to protect the interest of all stakeholders. 
We think this is why they're able to create long term partnerships no matter how big or small the business because they take care of them. 
Their team is truly one of the most reliable, responsive and assuring we've come across. 
Professional is the word to describe them. They know how to analyze any problem and get the best results in the end. 
Wondering who they've worked with in the past? Only some of the biggest brands we know—Google, Facebook, Grammarly, Adobe and WordPress, to name a few. 
Personalised digital marketing strategies 
Worked with big names 
Professional and collaborative team