The 6 Best Chiropractors in Penang
There are various practitioners who claim to be the best chiropractors in Penang and choosing one can be difficult. You can improve your joint mobility, function, and health by going to those who truly do the best chiropractic in Penang.
Luckily for you, we've gone looking for the best chiropractors in Penang on your behalf. For those who are looking for alternative back pain relief treatments, check out our list below.
1.  Dr. Michelle Tan – The One Chiropractic Centre
BEST FOR 
Providing chiropractic care
PRODUCTS
Chiropractic
WEBSITE
The One Chiropractic Centre
ADDRESS
66B, Jalan Free School, 11600 Penang, Malaysia
CONTACT DETAILS
+604 283 1986 | +604 281 2034 | +6016 460 0687
OPERATING HOURS
Tuesday to Wednesday; Friday: 09:00 AM to 06:30 PM
Saturday to Sunday; Thursday: 09:00 AM to 01:00 PM
The One Chiropractic Centre has some of the most reliable chiropractors in Malaysia. They offer comprehensive healthcare solutions through alternative medicine.
Through their services, which are said to make up some of the best chiropractic in Penang, they can help reduce neck pain, headaches, migraines, and back pains. Their services are also beneficial for those who have a sports injury or people who need pregnancy or wellness care.
Dr. Michelle Tan is one of the three professional chiropractors that they have on their team. She makes sure to thoroughly assess the requirements of your spine and nervous system so that she can adjust what is needed and you can continue going on your way.
Highlights
Friendly doctors
In-depth consultations
Personalized treatments
Customer Reviews
The One Chiropractic Centre is recommended by their customers for their effective treatments. A few customers wrote their reviews on Google:
"Dr. Michelle Tan was the best chiropractic for my newborn daughter and her mother. After only two sessions the backpain of my wife was gone. Really calm place for breastfeeding, too. You can go there with your baby without any stress."
-Alf Drollinger
"My long time chiropractor Dr Michelle is the best. Never gets wrong everytime I feel muscle spasms. Natural healing is the best rather than taking pain killers."
-Cris Moulic
2.  Dr. Jensen H'Ng – Osto Chiro Bone Care
BEST FOR 
Effective pain relief treatments
PRODUCTS
NSDD therapy

Bloodletting

Therapeutic massage

Bone manipulation

Acupuncture

Traction

EMS

WEBSITE
Osto Chiro Bone Care
ADDRESS
488D-01-04, One Stop Midlands Park Center, 10350, Penang, Malaysia
CONTACT DETAILS
+60 16-411 0814 |

[email protected]

OPERATING HOURS
Monday to Friday: 10:00 AM to 07:00 PM
Saturday: 10:00 AM to 05:30 PM
Sunday: 12:00 PM to 05:30 PM
Having one of the best chiropractors in Penang, Osto Chiro Bone Care focuses on the treatment of musculoskeletal and nervous system disorders. Their healthcare professionals strive to reduce the effects caused by these disorders on the general health of people.
They specialize in spine and joint injuries, scoliosis, sprains, frozen shoulders, spondylosis, sports injuries, work-related muscle tension, spine maintenance, and more.
Dr. Jensen H'Ng is the person responsible for them providing some of the best chiropractic in Penang. He combines eastern therapeutic massage, "Tie Da", and western chiropractic bone manipulation.
Over the years, he has helped more than 47,166 individuals. That shows you the extent of his practical experience!
Highlights
A wide range of services
Well-equipped facility
Highly experienced
Customer Reviews
Osto Chiro Bone Care is highly recommended by their customers for their services, who believe they offer the best chiropractic in Penang. Some of the glowing reviews on Google are:
"I feel so lucky I chose to come to Dr. Jensen here. He speaks fluent english amid the treatment works!!! Thank you :)"
-Bon J
"must come good doctor, got my spine re align cause of bad posture, feel relieved rigth away"
-Henry Hans
3.  Dr. Chin – ElitCare Chiropractic Penang
BEST FOR 
Providing good chiropractic care in Penang
PRODUCTS
Chiropractic
WEBSITE
ElitCare Chiropractic Penang
ADDRESS
Vantage B-2-3A, 10470 Tanjung Tokong, Pulau Pinang, Malaysia
CONTACT DETAILS
+60 12-415 8153 |

[email protected]

OPERATING HOURS
Monday to Tuesday: 10:00 AM to 07:00 PM
Thursday: 10:00 AM to 05:00 PM
Saturday: 10:00 AM to 07:00 PM
At ElitCare Chiropractic Penang, their professionals diagnose spinal conditions using instrumentation, motion and static palpation, as well as x-ray analysis. Afterward, they deliver specific adjustments to correct their patients' spinal positions and restore their health.
Dr. Chin is the lead expert at this clinic and is also one of the most reputable chiropractors in Penang. Whenever he treats his patients, their satisfaction and well-being is always his first priority.
Highlights
Well-maintained clinic
Pain-free treatments
Comprehensive assessments
Customer Reviews
ElitCare Chiropractic Penang has been recommended by various people. Some of their glowing remarks about the treatments they've gotten are:
"Dr. Chin genuinely strives to cure the root of your back pain, not just to relieve your symptoms. He makes sure to do all he can for you for that particular session, before recommending you for subsequent treatments (if you require many adjustments and your body needs to heal for a week before he can continue). Trust me, he has helped me and will help you too (with your pains). Great chiropractor."
– Garren C
"Cant recommend enough! I was only in penang for a week and visited three times. They were busy but accommodated my schedule. The chiropractor was very professional. He found and corrected the source of my pain. I haven't felt like this in years."
– Dayne J
4.  Dr. Aaron Lum – Zen Chiropractic
BEST FOR 
Personalized non-invasive medical treatments
PRODUCTS
Chiropractic adjustment

Dry needling

Acupuncture

Tit tar

Advance shockwave therapy

High-intensity laser therapy

WEBSITE
Zen Chiropractic
ADDRESS
7-1-1, Jln Ahmad Nor, Pusat Perdagangan Nova, 11600 Jelutong, Penang, Malaysia
CONTACT DETAILS
+60 19-987 4582
OPERATING HOURS
Monday to Sunday: 10:00 AM to 10:00 PM
Zen Chiropractic is a multidisciplinary healthcare provider that strives to deliver quality care in all their fields. They work hard to contribute to the development of society and make technological advanced treatments affordable to everyone.
Dr. Aaron Lum here is one of the top chiropractors in Penang. He believes that the body can be healed without any medication.
He acquired a first-class honor degree in Chiropractic at International Medical University (IMU). Dr. Aaron is also registered under Association of Chiropractic, Malaysia (ACM-102), which is to be expected from someone known to provide some of the best chiropractic in Penang.
Highlights
State-of the-art equipment
Highly qualified staff
Customer Reviews
Zen Chiropractic is praised by their customers for their professionalism and excellent work. One customer commented:
"Very impressed with the service and the professionalism. The fact that it is a combination or eastern and western treatment. Can feel.immediate impact after 1st treatment. It is expensive but comes with quality and so well worth while. Very impressed and highly recommendable."
-Naga Shan
While another added:
"Your good care and concern….your treatment really superb." You both are truly a remarkable doctors and professional that we respect and trust. Last but not least, i also thank all the staff who are very helpful and kind. You guys all really awesome."
-Kumaraguru Katheyresen
5.  Dr. Terry Chen – Spinecare Chiropractic Penang
BEST FOR 
Scoliosis treatments
PRODUCTS
Chiropractic
WEBSITE
Spinecare Chiropractic Penang
ADDRESS
D23-3, Bay Avenue, Lorong Bayan Indah 2, Bay Avenue

11900 Bayan Lepas, Pulau Pinang, Malaysia

CONTACT DETAILS
+60 4-240 0096 |

[email protected]

OPERATING HOURS
Tuesday to Wednesday; Friday: 08:30 AM to 01:30 PM; 03:30 PM to 07:30 PM
Saturday: 08:30 AM to 01:30 PM; 02:30 PM to 05:30 PM
Spinecare Chiropractic Penang believes that your quality of life starts by maintaining a healthy spine. Offering some of the best chiropractic in Penang, they are dedicated to enabling you to advance your body's natural abilities to heal.
Dr. Terry Chen is among their most renowned chiropractors. He makes sure to treat each case differently since he is aware that the needs of each person are unique.
This individualized care is what makes him one of the providers of the best chiropractic in Penang. Dr. Chen's clients will certainly agree!
Highlights
Corrective posture treatments
Excellent facility
Cost-effective treatments
Customer Reviews
Spinecare Chiropractic Penang is recognized by their customers as one of the best scoliosis treatment clinics. Some have taken to Google to write their health care facility glowing reviews:
" I am Boon Huat, 71 years old, I have been having lower  back pain for many years and have seeked traditional massage but the pain still persisted. Thanks to Dr. Terry Chen, just after a few treatments my back pain is now under control and my health has generally improved.  My appreciation to Dr. Terry Chen and his staff for being friendly."
-Boon Huat Khor
"I highly recommend anyone who needs chiropractic care to ensure a healthy spine free of subluxation, or who needs chiropractic sessions to alleviate spinal degenerative problems, posture problems or joint problems, to seek treatment with Dr Terry of Spinecare Chiropractic Penang. In my case, I have spinal kyphosis and scoliosis. Chiropractic sessions with Dr Terry plus wearing a brace under his supervision has enabled me to be pain free and have improved posture. I am also able to sit and walk for longer hours than before treatment. The staff at this clinic are always pleasant and professional."
-Cynthia Kim
6. Spinehub Chiropractic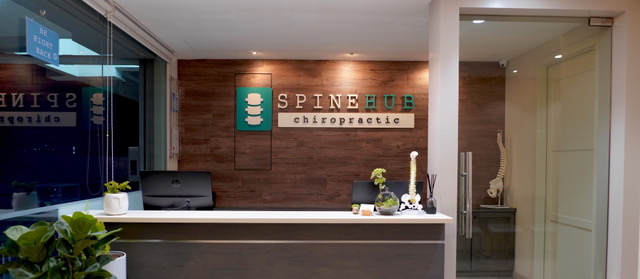 BEST FOR 

Chiropractic

PRODUCTS
Chiropractic
WEBSITE
http://spinehub.co/
ADDRESS

5, Jalan Pusat Perniagaan Raja Uda 4, Kampung Baharu, 12300 Butterworth, Pulau Pinang, Malaysia

CONTACT DETAILS

+6016 4244 399

+604  5130 099

OPERATING HOURS
Tue-Sat 8am-5pm
Spinehub Chiropractic is an evidence-informed, non-invasive, hands-on health care system anticipate in establishing a healthy dynamic in the community through Chiropractic. Treatment team at Spinehub Chiropractic recognizes chiropractic as philosophy, science and art of restoring balance within the body:
Philosophy: Your body has an innate ability to self-regulate. Chiropractic works by removing interference within the nervous system, thereby facilitating the body's ability to heal itself.
Science: Chiropractors utilize state-of-the-art methods of diagnosis including consultation; orthopedic, neurological and physical examination; radiographic examination and other scanning technologies when needed to provide optimal care.
Art: Chiropractors maintain rigorous training with techniques used to locate and correct vertebral subluxation. With a highly skilled hands-on assessment, chiropractors look for subluxation which may be affecting nerves travelling in and out of the spinal cord into the muscles, organs, tissues and cells of your body. The primary method of treatment is spinal adjustment. Through hands, chiropractors practice an art administrating a precise force in a specific direction to restore vertebral position and motion, hence removing interference along the nervous system.
Highlights
Patient-Centered Care
Licensed & Certified Chiropractors
Friendly Facilitators
Customer Reviews
Here's a review from one of Spinehub Chiropractic's clients:
"Great service , good Doctor. I have recovery my back pain seen I visit the doctor here. Carefully check and adjust." – Mike Chin
Here's another one:
"I really like it. It was very relaxing and the doctor was kind too." – Aliff Roslan
If you start to feel any back pain or discomfort, do not hesitate to set an appointment with a medical professional as soon as you can. Hopefully, our list of the most trusted chiropractors in Penang can help you!
In addition to going to a chiropractor, you may also want to check out some of the best podiatrists in Malaysia. For foot injuries and other related concerns, it's better to go to the specialists, after all.