The 8 Best Cat Grooming Centres in Malaysia
Even though cats often keep themselves clean, grooming them should still be done every now and then.
This makes them cute, cuddly, and flea-free. But, best of all, doing that is good for their health, provided you know what to do and are gentle and caring in treating them.
However, most people would rather entrust them to a professional. That is why we've gathered a list of the top cat grooming centres in Malaysia here so you won't have to look hard for them.
How much does professional cat grooming cost?
Cat grooming costs vary from one shop to the next. Most feline owners spend somewhere between RM30 to RM120.
The factors that affect the price include the cat's size, how thick their fur is, the type of cut (for example, lion cut), and the dirt severity of the coat.
Some groomers offer one price for a full package, while others offer a basic grooming package, which can be upgraded with add-ons such as a private area trim and flea treatment for an extra cost.
Often, availing of the full package will be more affordable. Though, it still depends on the grooming facility you've chosen.
The Best Cat Grooming Centres in Malaysia
The companies featured on this list have been selected carefully by us. In order to do this, we scored them in different aspects of their service; all of which are indicated below.
You can see our score for them in a separate table before we review the company as you'll see in a bit. This can help you determine whether the company is a good option for you and your cat.
1) Māobulous Cat Boutique & Spa

Test
Info
SERVICES

Hotel suites

Spa & grooming

Cat supplies

RATES
Kindly enquire with them for rates
WEBSITE
https://maobulous.com/
ADDRESS
No. 27, Jalan SS 18/6, Ss18, 47500 Subang Jaya, Selangor, Malaysia
CONTACT DETAILS

Phone: 03-74940601

WhatsApp: 018-3616888

Email: [email protected]

OPERATING HOURS
Open every day from 10:00 AM - 7:00 PM
| | |
| --- | --- |
| Criteria | Score |
| Expertise | ★★★★☆ (4/5) |
| Service offerings | ★★★★★ (5/5) |
| Staff treatment | ★★★★★ (5/5) |
| Facility | ★★★★★ (5/5) |
| Price | ★★★★☆ (4/5) |
It's kinda tricky to find the best cat grooming services in Malaysia. Not all of them are certified and skilled, but Māobulous Cat Boutique & Spa is.
Māobulous is a member of the National Cat Groomers Institute of America (NCGIA) and the International Boarding and Pet Services Association (IBPSA). So you can trust that they'll treat your cat safely and groom them to the highest standards.
Formed by a couple who loves cats, the company is focused on bringing holistic care to cats. Their vision is to make cats comfortable physically, mentally, and emotionally in their shop.
They offer a complete range of services, including a cat boarding hotel, spa, and grooming.
For cats staying in, you can choose from their classic, luxury, and royal suites. They only use filtered water and don't put them inside cages, unlike other shops.
With their spa and grooming service, they can do all sorts of hairstyles like short or long cat hair and lion cut. It already includes a complete salon experience with tangle removal, blow-drying, and showering.
On top of that, they even have a cat retail shop in which you can buy great products for your cat or kitten, topping their competitors.
Almost all of their clients reported that their cat has been treated well at this place. Furthermore, they said the facility was nice and clean and the staff was knowledgeable, friendly, and helpful.
Plan to come? Note that during MCO, they don't take walk-ins, only appointments from Monday to Sunday in order to keep everyone safe.
Certified cat groomer
Holistic care
Clean and comfortable facility
Full hotel amenities
Offers VIP deals
Accepts Visa and Mastercard
Complaints about service and booking
Rates aren't listed
Doesn't take Amex payments
Customer Reviews
Satisfied every time
"I have sent my cat here for the third time already and am satisfied every time. My cat smells fresh everytime. The service is good! Friendly and very helpful. The place is clean and nice too." -Sharifah Mudzhar
Treats my cat like family
"my cat really clean and feel fresh after do grooming here. so satisfied and highly recommend for those that have cat. they also treat every cat like their own family. no worries if you send your baby here cause they treat with love." -Dya Sham
2) Kitty Hotel

Test
Info
SERVICES

Boarding services

Grooming services

Pick-up & drop-off services

RATES

Cat Boarding




Standard room: RM22 - RM25 per night

Sharing room: RM14 per additional cat

Family deluxe room: RM36 - RM40 per night

Family deluxe duplex room: RM65 - RM80 per night

Privilege single room: RM25 - RM28 per night

Privilege family room: RM40 - RM46 per night




Cat Grooming




Basic Grooming Package




Kitten: RM28 - RM32

Adult short hair: RM40

Adult long hair: RM50




Fleas Treatment Package




Kitten: RM45

Adult short hair: RM53

Adult long hair: RM63




Fungus Treatment Package




Kitten: RM47

Adult short hair: RM55

Adult long hair: RM65




Lion Cut Package




Dry cut: RM100




Full Body Trim Package




Kitten: RM120

Adult: RM150

WEBSITE
https://www.petskitty.com/
ADDRESS
No.88, Ground Floor, Galaxy Ampang Mall, Jalan Dagang 5, Taman Dagang, 68000 Ampang, Selangor, Malaysia
CONTACT DETAILS
0173990549
OPERATING HOURS
Open every day from 10:00 AM - 5:30 PM
| | |
| --- | --- |
| Criteria | Score |
| Expertise | ★★★★☆ (4/5) |
| Service offerings | ★★★★★ (5/5) |
| Staff treatment | ★★★☆☆ (3/5) |
| Facility | ★★★★☆ (4/5) |
| Price | ★★★★★ (5/5) |
Based in Ampang and Kuala Lumpur, Kitty Hotel offers expert and caring cat grooming and boarding services. Any breed of kittens and adult cats is welcome to use their services.
We'd like to start with what makes them different from other cat groomers. They have a kitty taxi, which is what they call their pickup and drop-off service, all through the week.
For their grooming work, they have a range of packages you can avail of. There's a basic package as well as flea treatment, fungus removal, and lion cut services.
Additionally, you can have their experienced groomers whiten your cat's fur, trim around their genital area, and more.
As for their boarding service, we wouldn't recommend it for a good reason. Although the space is fully furnished with a hammock, litter box, rug, and food container, they are still kept in cages, and some cats don't feel comfortable in them.
Despite this, customers noted their beloved cats were treated with care and love during their grooming service. That made us pick them here on this list.
As far as caring for your cat is concerned, we advise you only have them groomed and request not to keep them in their cage.
Also, their prices are reasonable, and they give lots of promos. You can check out their rates in the table above.
Offers pickup and drop-off service
Full range of grooming services
Two locations: Ampang and Kuala Lumpur
Gives promos and discounts
Caged boarding place
Complaints about their service
Customer Reviews
Cat smells wonderful afterwards
"Strategic area, easy access, plenty of places to park, can see Lynn is really passionate about cats based on her explanations about them. Affordable price. My kitty smells wonderful after her grooming session. Strongly recommended!" -Reez Sam
So happy with your services
"I would like to thank you again for taking care of 'B' while we are back for Raya. I'm so happy with your services. Thank you again." -Milla Maswale
3) P.A.W.S. Pet Grooming Salon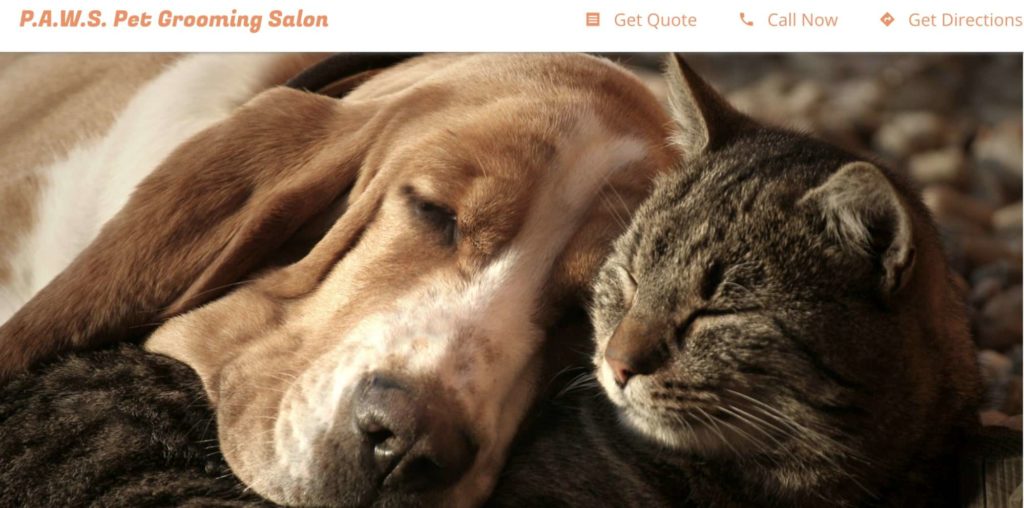 Test
Info
SERVICES

Cat and dog grooming

Pet food

RATES
Kindly enquire with them for rates
WEBSITE
https://paws-pet-grooming-salon.business.site/
ADDRESS
29, Jalan Molek 2/3, Taman Molek, 81100 Johor Bahru, Johor, Malaysia
CONTACT DETAILS
+60 7-364 2923
OPERATING HOURS
Open every day from 10:00 AM - 7:00 PM
| | |
| --- | --- |
| Criteria | Score |
| Expertise | ★★★★★ (5/5) |
| Service offerings | ★★★★☆ (4/5) |
| Staff treatment | ★★★★★ (5/5) |
| Facility | ★★★★☆ (4/5) |
| Price | ★★★★☆ (4/5) |
While P.A.W.S. Pet Grooming Salon doesn't have a detailed website where all their services are listed and an About Us page available for everyone to see, they have garnered five-star reviews on Facebook and Google.
Customers praise them for their highly trained and passionate staff, hygienic facility, and great customer service. That makes them deserving to be added to our top list here.
They offer pet grooming services for cats and dogs. We find their shop to be cosy and inviting with a clean table where the dogs are groomed, a small bathtub, and an embroidered company logo of P.A.W.S on their towels.
You may need to get your cat's teeth checked and cleaned too. In this case, they might be the best groomer on this list for you, as they specialise in pet dental cleaning and related services.
Also, they have high-quality branded cat food. You can pick one up after your feline friend has been pampered and you're on your way home.
The shop is open daily from 10:00 AM to 7:00 PM. So if you would like to know the rates they charge and their grooming services, feel free to call or message them.
Specialises in dental cleaning
Hygienic and comfy place
Highly trained staff
Gives discounts
Rates aren't listed
Website doesn't list their services
Customer Reviews
Did an amazing grooming job
"I would like to say PAWS did an amazing job on what they do and provide to our Precious FURkids. Very passionate and cares, they explain every single details to you, regardless on their products, services or about your FURkids (skin problem, reaction, etc)
My doggos LOVE them ! Every time I mentioned : SHOWER! They definitely get very
EXCITED about it." -Frank Hoong
Very friendly people
"Love this place. Its my first time sending my cat for grooming and I'm inside. People are very friendly there. It's going to be my monthly visit…." -Jacqueline Wan
4) Petsarecute Damansara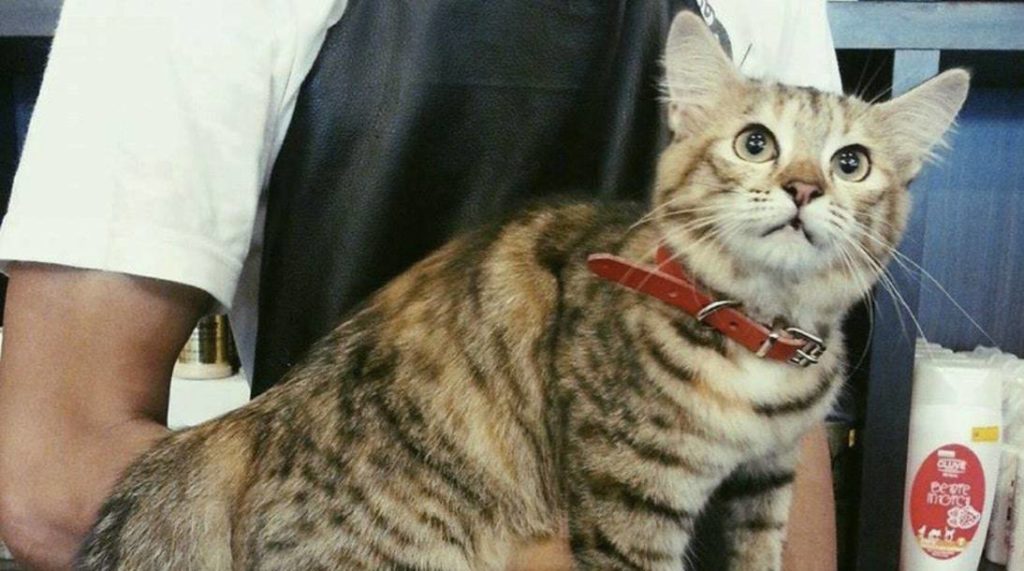 Test
Info
SERVICES

Pet boarding

Pet grooming

Bathing services

RATES
Kindly enquire with them for rates
WEBSITE
https://www.facebook.com/petsarecutedamansara
ADDRESS
G10, Perdana The Place, Jalan PJU 8/5G, Bandar Damansara Perdana 47820 Petaling Jaya, Selangor, Malaysia
CONTACT DETAILS
+60 12-948 5559
OPERATING HOURS
Monday: Closed

Tuesday - Sunday: 11:00 AM - 7:00 PM
| | |
| --- | --- |
| Criteria | Score |
| Expertise | ★★★★☆ (4/5) |
| Service offerings | ★★★★☆ (4/5) |
| Staff treatment | ★★★★★ (5/5) |
| Facility | ★★★★☆ (4/5) |
| Price | ★★★★★ (5/5) |
If you want affordable and cat-friendly service, then we strongly recommend taking your cat to Petsarecute.
Petsarecute is a lovely pet grooming and boarding shop located in Damansara, Petaling Jaya. It is a small but neat place with expert and accommodating cat carers.
During a grooming session with them, your cat's fur will first be brushed and de-matted very gently and attentively. They can then be cut to an appropriate style to look fresh and handsome, and then bathed with a bubbly, fragrant, and cat-safe shampoo.
It will just take a couple of hours before you can come back to pick up your cute kitty. You can also watch as they take care of them or request a picture and video so you won't have to worry about your cat.
We'd like to mention that their cat hotel is simple and nice. They have a wooden cat playground for your pet to enjoy.
Cats can interact with each other and have fun jumping from one wooden platform to another and walking the bridge-like paths. This may help them feel happier and more relaxed.
As for the drawbacks to this grooming centre, they don't have an official website and are closed on Mondays.
To book an appointment with them, chat with them through Facebook or WhatsApp. Or better yet give them a call.
Professional and caring cat groomers
Affordable rates
Well-maintained place
Playfully designed cat hotel
No official website
Closed on Mondays
Rates aren't listed
Customer Reviews
Place is definitely cat-friendly
"Momo's 1st visit & 1st time grooming. Left him there about 2pm & all done by 5.30pm. Definitely satisfied with the service & will be sending him again next time. The place is definitely cat friendly. 👍👍" -Asyaari Ismail
Affordable price with great service
"I love sending my pets here! VERY AFFORDABLE price with GREAT SERVICE. Lyra is very attentive and will tell us if there's a concern regarding our pets. Sent my cats here for boarding too and she'll send photos and videos whenever i requested it. Thanks for the great service !" -Zack
5) Boo Pet Groomers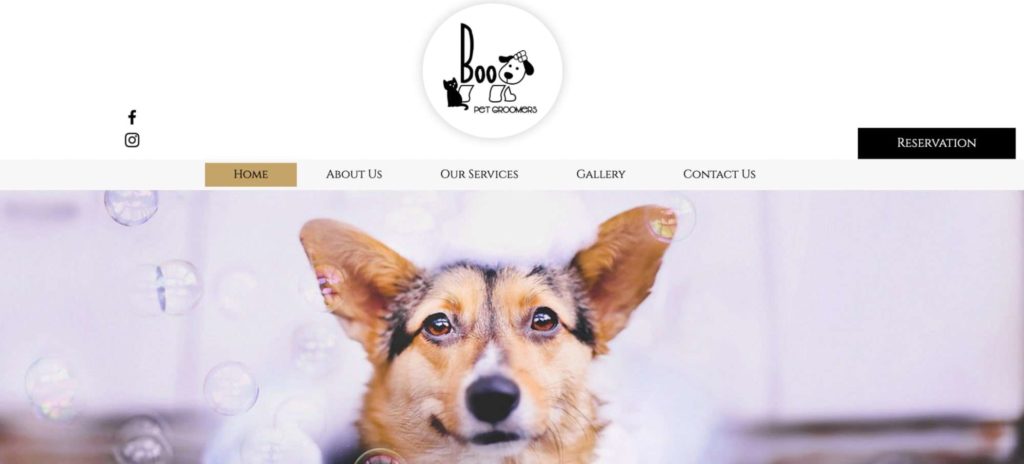 Test
Info
SERVICES

Dog grooming

Cat grooming

Pet spa

Pet hotel

RATES

Basic Grooming




Kittens: RM75

Medium cats: RM95

Large cats: RM115

WEBSITE
https://www.boopetgroomers.com/
ADDRESS
No 91-G & 91, 1, Jalan 11/62a, Bandar Menjalara, 52200 Kepong, Wilayah Persekutuan Kuala Lumpur, Malaysia
CONTACT DETAILS

+60 12-225 5526

OPERATING HOURS

Monday: Closed

Tuesday - Sunday: 10:30 AM - 7:30 PM
| | |
| --- | --- |
| Criteria | Score |
| Expertise | ★★★★★ (5/5) |
| Service offerings | ★★★★★ (5/5) |
| Staff treatment | ★★★★☆ (4/5) |
| Facility | ★★★★☆ (4/5) |
| Price | ★★★☆☆ (3/5) |
Boo Pet Groomers is a hidden gem owned by passionate and pet-loving people. It's located in Kuala Lumpur, so you can just drop off your fur baby if you live or work around the city.
Here, they have spa, hotel, and grooming services. It doesn't matter what age, size, or breed of cat you have, their team can get them looking neat and terrific after the work.
The shop is manned by qualified and loving staff. They strive to give every pet a positive and pampering experience or, as they say, the red carpet experience.
So that you can be confident in their service, they can tour their clients to see the rooms or areas where their cats will be taken care of.
Their team doesn't rush through their work but does it at a relaxing pace for the pet. And they treat them with tender loving care, according to a number of clients.
That said, the staff prefers that the feline owner drop them off and just pick up their buddy later since they may be a distraction for the pet. The cat may try to leave the groomer, which may not be safe while the grooming is taking place.
The last positive thing we'd like to note is their lovely and colourful hotel. The space is designed with the animal's comfort in mind, and it's certainly better than keeping the pet in a cage.
To schedule an appointment with them, all you have to do is log on to their website and just fill in the details required. By the way, they're only open from Tuesday to Sunday from 10:30 AM to 7:30 PM.
Gives a "red carpet" pampering treatment
Modern and spacious place
Lovely pet hotel
Easy online booking
Closed on Mondays
Doesn't seem to offer discounts
Customer Reviews
Handled the 5-month kitty so well
"It was my first time sending my 5 months old kitten here for grooming. To my surprised the groomers handle him so well although he's still small and scare of grooming. Recommended place although it takes quite some time for the grooming to be done but all is good! See you soon :)" -Nicole Wen
Humble and caring cat groomer
"What an amazing experience we had at Boo Pet! Veron is so humble and caring. Even her partner and mum was so kind towards customers. You can totally trust them with your pet. God Bless your heart, Veron :)" -Karen Siva
6) Fluffy Land
SERVICES
Grooming: Basic Grooming, Basic Premium, Show Grooming, Holistic Grooming, Lion Cut, Medicated Treatment, and Add On Treatment.
Boarding: Diamond Room, Jade Room, Emerald Room, Mythic Room, Epic Room, Villa Shangrila, Villa Majestic, Villa Impiana, Villa , Deluna, Villa Pavilion, and Opal & Pearl.
WEBSITE
http://fluffyland.my
ADDRESS
E-G-35, BIZ AVENUE 2 NEOCYBER, BLOCK E, Lingkaran Cyber Point Barat, 63000 Cyberjaya, Selangor, Malaysia
CONTACT DETAILS
+60 18-381 7685
[email protected]
OPERATING HOURS
Tuesday – Sunday, 10:30 AM – 9 PM
| | |
| --- | --- |
| Criteria | Score |
| Expertise | ★★★★☆ (4/5) |
| Service offerings | ★★★★☆ (4/5) |
| Staff treatment | ★★★★★ (5/5) |
| Facility | ★★★★☆ (4/5) |
| Price | ★★★★★ (5/5) |
Fluffy Land was established in the year 2020 where they began operations in Cyberjaya, Selangor, with the purpose of supplying clients with pet products specifically for cats and in attempts to give work opportunities in an area where the unemployment rate was growing.
They began by providing retail services for cat meals and cat accessories to their consumers. Fluffy Land then expands its operations by providing grooming services for its cherished cat kittens.
After Malaysia recovered from the pandemic, Fluffy Land began to provide boarding services at their business to make it easier for the local community to board their cats worry-free when they were traveling and spending time with their loved ones away from home.
Fluffy Land now provides a range of grooming services to its consumers in the year 2022. They also offer their customers a variety of cat hotel rooms from which to choose based on their budget and preferences for cat boarding services.
Since Fluffy Land solely caters to cats, its team can focus on ensuring that their furry customers who come for grooming and boarding services are in a good and safe environment. They also appreciate the chance to meet the owners, who are also cat enthusiasts like them.
Years of experience
Great facilities
Affordable rates
Customer Reviews
I love this place so much… It's like a cat Paradise…
"I love this place so much… It's like a cat Paradise… for Me The place is so clean and beautiful.. I sent my cat for boarding here and they TC of my cat for 1 week. When i pickup my cat its look Healthy and happy… thanks fluffy land will send here again" – Siti sarah Mohamed yasin
Definitely the best in town
"Best in Cyberjaya, I've been sending my cat here for grooming and boarding since for a quite few months now. Their service is super friendly and very helpful. They even have daycare service where i can send my cat to play for a day. Definitely the best in town." – Siti Khadijah
7. House of Paws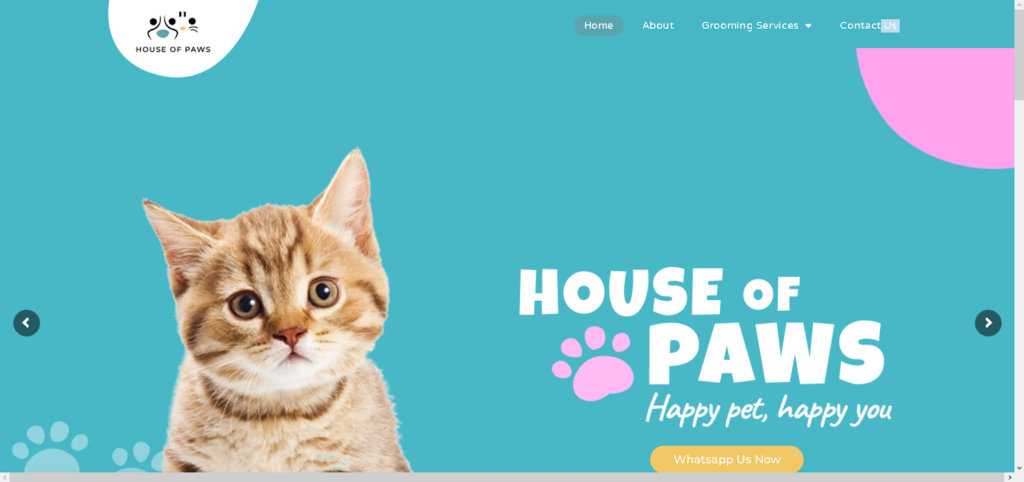 | | |
| --- | --- |
| SERVICES | Grooming ServicesGeneralDog GroomingCat Grooming |
| WEBSITE | hops.com.my |
| ADDRESS | Business Centre, 11, Jalan Putra Mahkota 7/4A Putra Point, Putra Heights, 47650 Subang Jaya, Selangor, Malaysia |
| CONTACT DETAILS | +6011-6228 9081 |
| OPERATING HOURS | Monday – Sunday, 10:00 AM – 8 PM |
| | |
| --- | --- |
| Criteria | Score |
| Expertise | ★★★★☆ (4/5) |
| Service offerings | ★★★★★ (5/5) |
| Staff treatment | ★★★★★ (5/5) |
| Facility | ★★★★☆ (4/5) |
| Price | ★★★★★ (5/5) |
House of Paws is a group of young enthusiastic Malaysians who have committed themselves to providing professional grooming services to all furkids while also taking care of the pet owner.
They are known for providing door-to-door or on-site visit mobile pet grooming service. They will arrive at your house with a fully prepared and particularly constructed pet grooming truck after each appointment is confirmed. You simply give over your pets to them and they will groom them in their truck.
You may then spend your valuable time with your family or at a conference without having to worry about anything. Be confident that the entire grooming will take place in the vehicle, preventing hair from flying over to your house and causing a mess.
Experienced pet groomers
Provides both mobile and in-house pet grooming
Available seven days a week
Easy online booking
Customer Reviews
The best petshop I have ever seen.
"The best petshop I have ever seen. Very friendly owner. The husband and wife are very diligent in serving customers to make us comfortable & want to come again…" – Linda Khan
The owner is very friendly and has extensive experience
"The owner is very friendly.. extensive experience.. a lot of information that we can learn from the owner.. There is a cat hotel here, guys, you can check-in all of your cats.. To the owner, good job well done! I hope to be successful in opening a vet later here." – Hazwan Harun
8. Cat Moment Boutique Hotel & Spa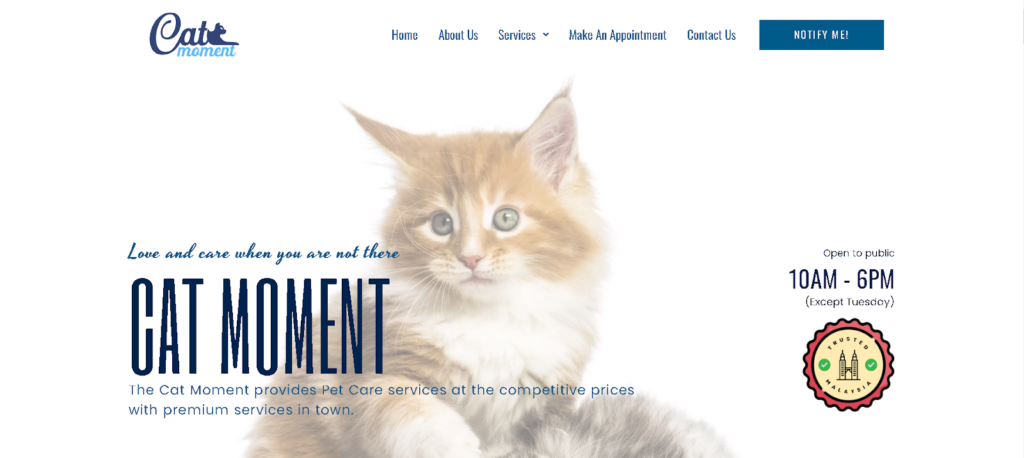 SERVICES
Cat boarding and grooming
WEBSITE
thecatmoment.com/
ADDRESS
B1-12, Arc @ Ampang Ukay, Persiaran Ampang Ukay, Hulu Kelang, 68000 Ampang, Selangor
CONTACT DETAILS
011-13280280
011-5902 1710
[email protected]
OPERATING HOURS
Monday, 10:00 AM – 6 PM
Wednesday, 10:00 AM – 6 PM
Thursday, 10:00 AM – 6 PM
Friday, 10:00 AM – 6 PM
Saturday, 10:00 AM – 6 PM
Sunday, 10:00 AM – 6 PM
| | |
| --- | --- |
| Criteria | Score |
| Expertise | ★★★★☆ (4/5) |
| Service offerings | ★★★★★ (5/5) |
| Staff treatment | ★★★★★ (5/5) |
| Facility | ★★★★☆ (4/5) |
| Price | ★★★★★ (5/5) |
Cat Moment Boutique Hotel & Spa is a premium pet care service provider that offers a range of services for cats. Founded by a cat lover couple who understand the needs of both frequent travelers and concerned cat parents, the company aims to provide a safe and comfortable environment for furry companions.
One of the standout features of Cat Moment is its grooming services. With experienced groomers and a variety of grooming packages, they ensure that cats receive gentle and high-quality care. From basic grooming to premium treatments, such as the Teddy Cut and Dino Cut, the groomers focus on enhancing the condition of the cat's coat, leaving it fluffier, silkier, and more voluminous.
When it comes to boarding, Cat Moment offers various room options, ranging from standard to VIC rooms. The facility ensures a cageless environment, providing spacious and cozy rooms for the cats. Additionally, the inclusion of CCTV cameras allows cat owners to monitor their beloved felines remotely, providing peace of mind.
Customer reviews praise Cat Moment Boutique Hotel & Spa for its attentive and friendly staff, clean and comfortable facilities, and the genuine care given to the cats. The company's commitment to updating owners with photos and videos of their pets further adds to the positive experience.
Overall, Cat Moment Boutique Hotel & Spa stands out as a reliable and caring pet care service provider. With its premium grooming services, spacious boarding accommodations, and dedication to the well-being of cats, it is an excellent choice for cat owners seeking quality care for their furry companions.
Gentle and high-quality grooming for fluffier and silkier coats.
Cageless and spacious boarding with remote monitoring for peace of mind.
Attentive staff, clean facilities, and genuine care for cats.
Customer Reviews
We were very satisfied with the service
"We were very satisfied with the service. Our cats is being loved and taken care of. The hotel is very clean and spacious. The location is nice. The room is big and affordable. We are very pleased to see our cats were comfortable at the hotel. Friendly owner and staff that greets you well." – Shahirul Ana Bahrom
They were very attentive and quick to address any matters
"After moving to a new area and the ned of the pandemic, we were a bit worried about finding the right boarding for our two cats. Having to leave them for 12 days, we were very particular to ensure that they are well taken care of and giving us a peace of mind while we are away.Thank goodness for Cat Moment Boutique Hotel & Spa who were able to give the best of care to our very fussy kids. They were given very clean and spacious 'rooms', playtime and socializing in a spacious and comfortable area, but most important of all, there were taken care with love and attention by the staff of the Cat Moment staff. They were very attentive and quick to address any matters and would update you of your cat(s) activities so that you wouldn't have any worries. Thank you kakak kakak at Cat Moment Boutique." – Azimeer Manaf
FAQs about Cat Grooming Centres in Malaysia
---
And that ends our list of the best cat grooming shops in Malaysia! You can confidently pick them, as we have done the research for you.
Have any questions or thoughts at all about this list? Let us know by messaging us and we'll get back to you promptly.
To take care of your cat better, check out our lists of the best pet insurance and best vet clinics in Malaysia.