10 Providers of the Best 3D Printing in Malaysia
Featured Image Source: Tom Claes via Unsplash
Coming up with new products has been a lot easier lately thanks to the development of 3D printing, which solves many of the problems of conventional manufacturing. With the providers of the best 3D printing in Malaysia, you can now turn any idea into a tangible product.
If you have no idea where to start, worry no more. We've listed below the best providers for 3D printing in Malaysia for you to choose from.
1. Inventadore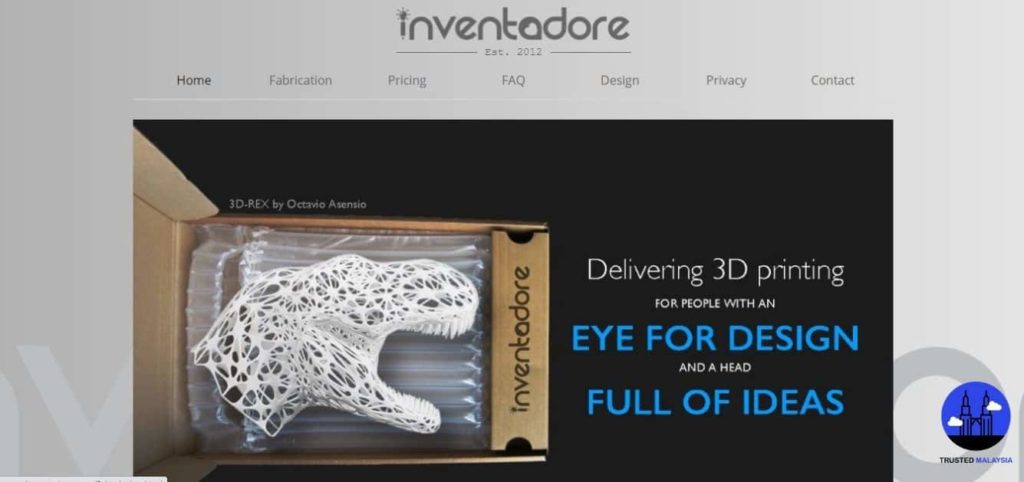 One of the providers for the best 3D printing in Malaysia, Inventadore, prints models in a wide variety of materials. When needed, their prints are sturdy and can withstand drilling, heating, chroming, and other processes.
They do not compromise on design. Their precision can go up to 25 microns for your product's details. They also offer Stereolithography for prints with fine and multi-layered elements.
Despite their quality of work, they work fast to provide you quick 3D printing services. They have optimised their operations and have complete equipment in-house to serve their clients best.
Not only that, but they have experts from different fields for an accurate 3D printing of products!
Because of their work, they are trusted by big commercial clients such as IKEA, Coca-Cola Malaysia, and Carlsberg Malaysia.
Highlights
Wide variety of materials
Withstands drilling, heating, chroming, and other processes
Fine details
Fast service
In-house experts from different fields
Big commercial clients
2. my3Dshoppe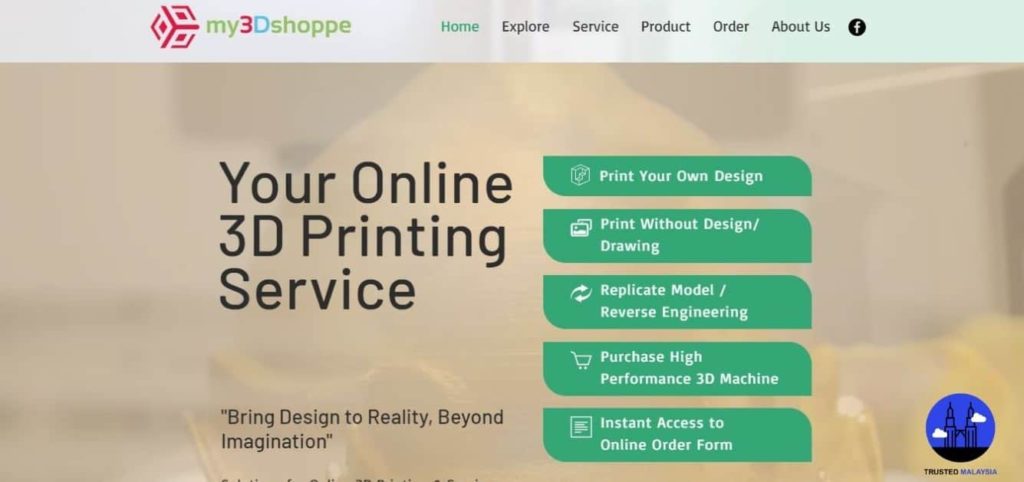 My3Dshoppe offers online 3D printing, 3D modelling, and 3D scanning services in Malaysia.
Using the latest 3D printers, they produce high-quality prints using a wide-range of materials in different colors, including wood finishes. This provider for the best 3D printing in Malaysia can even print metal.
They accept any type of project, big or small, from clients locally and globally. These include anything from toys and replicas to product prototypes.
The best thing is that this provider for the best 3D printing in Malaysia provides a warranty of 14 days in case of defects due to printing or shipment. Clients also have the option to collect the item from their office or have it shipped via courier service
Highlights
3D printing, 3D modelling, and 3D scanning services
Different materials and finishes, including metal
Accepts big and small projects
Local and international clients
14-day warranty
Pick up or ship
3. Pebblereka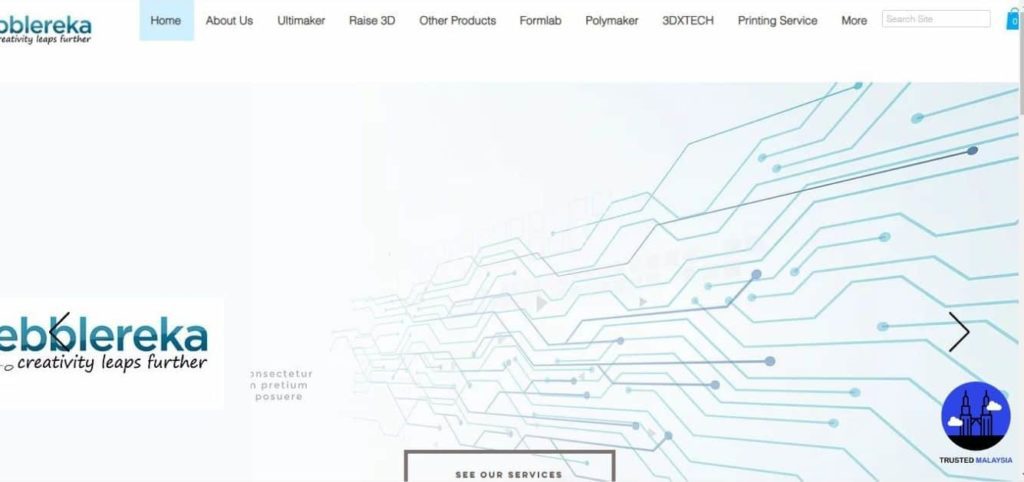 Pebblereka is Malaysia's reliable, one-stop 3D printing service provider. Not only do they offer 3D printing, but also 3D drawing and post-finishing for a smooth product.
However, what makes them one of the providers for the best 3D printing in Malaysia is that they aim to keep Malaysia's 3D printing services at par with its more successful, tech-forward neighbors.
Pebblereka creates sophisticated 3D models using water-soluble supports that can be removed without a trace using water. This assures you of a more professional-looking end-product with ultra-smooth surfaces.
Besides these, this provider for the best 3D printing in Malaysia can also print 2 colors in different materials.
Highlights
One-stop 3D printing services
3D drawing and post-finishing
Water-soluble support for a smoother end-product
Can print in 2 colors
4. ZELTA3D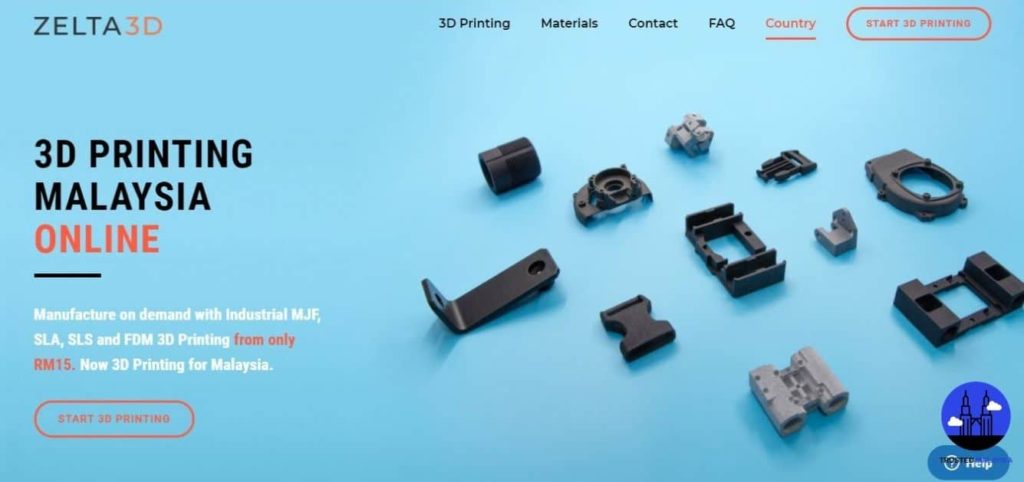 ZELTA3D uses the latest, most reliable technologies to provide the best 3D printing in Malaysia.
To print functional end parts and prototypes, they use Multi Jet Fusion technology to produce outputs with lower porosity, more watertight and have smoother surfaces. They also use Selective Laser Sintering for items that are tough despite complex geometry.
Meanwhile, to create rapid prototypes and scale parts, they use Stereolithography and Fusion Deposition Modeling.
With ZELTA3D, you can easily get a quotation for your 3D printing job online. This provider for the best 3D printing in Malaysia's clients also include multinational companies such as P&G, Bosch, and Mitsubishi.
Highlights
Latest, most reliable technology
End parts, prototypes, rapid prototypes, and scale parts
Convenient online quotation
Multinational company clients
Customer Reviews
One of ZELTA3D's previous clients, Yingqi Liaw, reviewed:
"Excellent quality and service. They were really knowledgeable about the different 3d printing techniques and were able to provide valuable suggestions to improve my work. Will definitely work with them again!"
5. Siege Advanced Manufacturing

Photo credit: Siege Advanced Manufacturing
3D printing has always been the core of Siege Advanced Manufacturing's business in Malaysia.
They are armed with a fleet of highly advanced and reliable 3D printers. Furthermore, they also have powerful 3D printing management software.
Compared to others, their company boasts production abilities that matches that of injection molding factory lines in Malaysia.
Their price has always been optimized just for you to bring up an economically viable option for low to mid quantity mass manufacturing using 3D printing.
So what does this mean? It means that they will try their best to match their prices with that of injection molding. You can be sure that they are one of the most price efficient 3D printing service bureau in Malaysia when it comes to mass manufacturing.
Highlights
Has an advanced system of both hardware and software to efficiently command and control all our 3D printers in parallel manufacturing
Offers high quality results within a short time frame
Only use the highly acclaimed Original Prusa i3 MK2S 3D printer for manufacturing
6. Trinventor Solution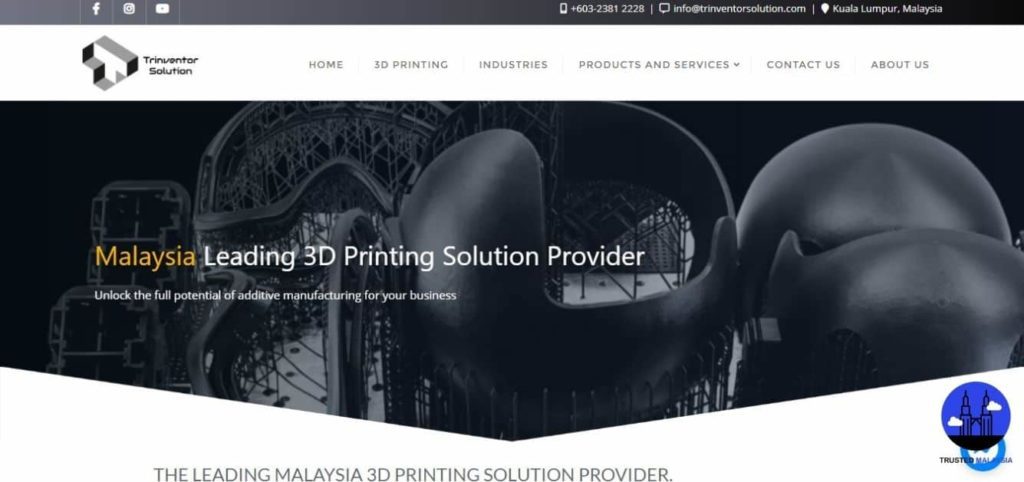 Triventor Solution offers comprehensive 3D printing solutions for commercial, industrial, and academic 3D printing needs. While they are one of the leading 3D printing service providers in Malaysia, they also provide their services to hobbyists nationwide.
With Trinventor Solution's best 3D printing in Malaysia [which allows flexible designs], you will be able to create virtually any item you want.
Plus, 3D printing is guaranteed to be cost-effective as it is a single-step manufacturing process. Trinventor Solution even makes sure to save their clients more money as well as time by implementing a system that effectively helps with risk reduction in 3D printing.
Highlights
Comprehensive 3D printing solutions
Commercial, industrial, academic 3D printing, etc.
Flexible designs
Time- and cost-effective
7. B&C Digital Fabrication Solution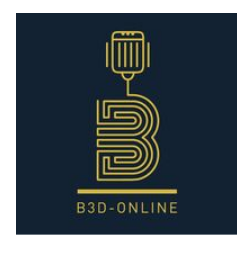 Photo credit: B&C Digital Fabrication Solution
PRODUCTS
3D Design, 3D Printing, 3D Printer Workshop
WEBSITE
https://www.b3d-online.com/
ADDRESS
Southville city, D-1-27 Savanna Lifestyle Retail, Jalan BBLS 2, Bandar Baru Lembah Selatan, 43800 Dengkil, Selangor
CONTACT DETAILS

[email protected]

OPERATING HOURS
Monday, Wednesday, Thursday, Friday: 10:00 am – 6:00 pm
Tuesday: 12:00 pm – 6:00 pm
Saturday: 10:00 am – 1:00 pm
B&C Digital Fabrication Solution is a Malaysian company that offers a full range of 3D printing services for their clients.
Apart from printing 3D models, they also offer to create the models themselves as well as offer services to 3D printer owners who want to learn the ins and outs of their device
Highlights
Full range of 3D printing services
Solutions for businesses
Online consultation
8. Expert3D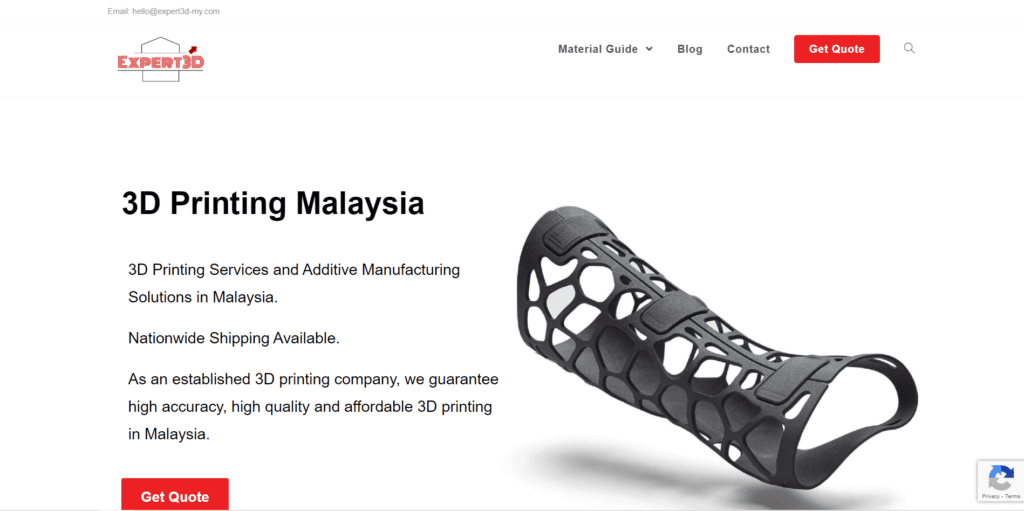 Photo credit: Expert3D
With their high quality online 3D printing services in Malaysia, Expert3D aims to be a start-to-end 3D printing service provider that customizes additive manufacturing solutions for each client with their extensive range of 3D printing materials.
Submit your 3D printing inquiry today, and their team of industry experts will respond within one working day.
Highlights
Focusing on industrial 3D printing with 40+ certified materials to cater to businesses
The only and official 3D printing partner for DRZ (Drone & Robotics zone) Iskandar Malaysia, a drone and robotics hub supported by the Johor State Government for provision of drone development, maintenance, MRO and drone solutions
9. Morphlab Enterprise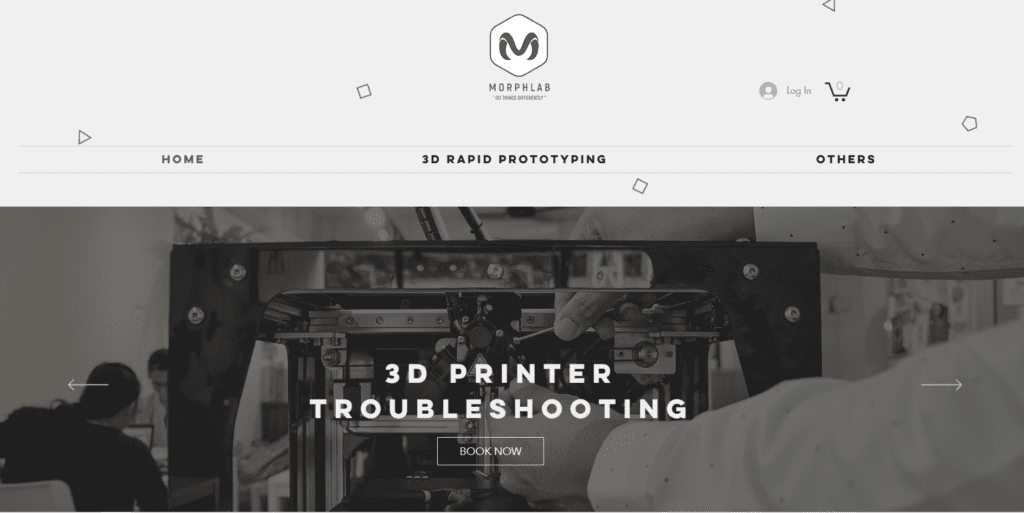 Photo credit: Morphlab Enterprise
PRODUCTS
One-stop service center
WEBSITE
https://www.morphlab3d.com/
ADDRESS
3 Elements, Jalan Putra Permai Selesa, Pusat Bandar Putra Permai, 43300 Seri Kembangan, Selangor
CONTACT DETAILS
Tel. +6012 – 6080 537
Email: [email protected]
OPERATING HOURS
Monday – Friday 10:00 – 18:00
Saturday (By Appointment Only)
Need to print your idea into a physical prototype product? Let Morphlab Enterprise help. They are a rapid prototyping specialist that specialize using 3D printing technologies (FDM / FFF and DLP / LCD and fabrication process.
Furthermore, they are also supplies 3D filament, 3D printer service & maintenance and others. Their company mostly specialized in business consultation / collaboration, 3D printing service for new printer assembly, modification / upgration on most of FDM / FFF technology and 3D printer training on printer usage and troubleshooting.
Besides that, they also offer a wide range of printer spareparts, filament and tools and equipment that goes together with 3D printer for project / troubleshooting use.
Highlights
CAD consultation
3D printer spare parts
3D filament
10. 3D Gadgets Malaysia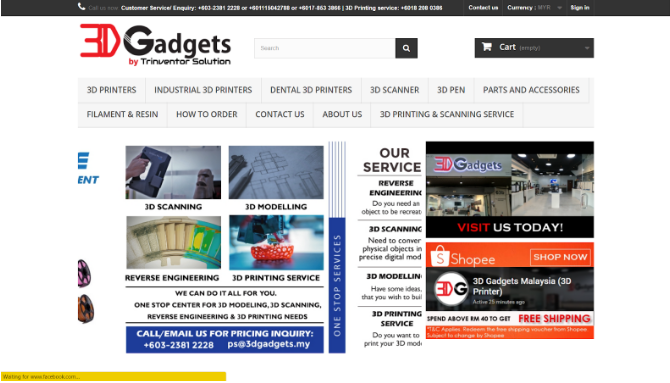 Photo credit: 3D Gadgets Malaysia
PRODUCTS
http://3dgadgets.my/
WEBSITE
http://3dgadgets.my/
ADDRESS
No. 63, Jalan Jejaka 7, Maluri, 55100 Kuala Lumpur, Federal Territory of Kuala Lumpur, Malaysia
CONTACT DETAILS
+60 3-2381 2228
OPERATING HOURS
Mon to Fri 9am to 7pm
Sat 10am to 3pm
Sunday closed
3D Gadgets by Trinventor Solution Malaysia is a 3D printing solution provider with advanced capabilities for technical guidance. It is a great experience working for them for they almost have everything for your printing needs.
With over 200 reviews in Google, the company scored 4.7 stars with their clients highly recommending their products and services. They also offer deliveries in accordance with your convenience.
Highlights
Knowledgeable
Helpful staff
Phenomenal service
With one of these providers of the best 3D printing in Malaysia, you can easily create a prototype of any innovation you have in mind.
Think your product idea could be Malaysia's next big innovation? Why not turn it into a business? You can turn any dream into a reality with the best business loans in Malaysia.