An In-Depth Guide to Sekinchan
Sekinchan is a humble beach-side town found in the state of Selangor. Due to its location, several locals have picked up fishing as a main source of income, which is also why it became famous for its fresh seafood.
Aside from that, it's also one of the main rice producers in the country, which is why several fields can be found here as well!
In this blog, we're going to take you on a deeper dive into this town to find out just what exactly it has to offer in terms of tourism. From amazing food spots to fun things to do around the area, here's everything you need to know about Sekinchan:
Time Zone
Malaysia (GMT+8)
Best Time to Go
You can either visit Sekinchan during the pre-harvest or the harvest season, as they both offer beautiful sceneries for visitors.
If you decide to visit Sekinchan during the pre-harvest season (March to April, September to October), you'll find lush greeneries everywhere. It's a must-see scenery for people looking to escape city life, as it's the complete opposite of skyscrapers and manmade structures.
This scenery transforms into a yellowish/golden brown appearance once the harvest season comes (December). Aside from that, you'll also find farmers harvesting their produce, which is most commonly rice, and start loading them into trucks everywhere.
Knowing to visit during these seasons is important! If you don't, you may be met with bare fields and dull-coloured sceneries, which is an unfair representation of this amazing small fishing village.
Things to Know
Currency: Malaysian Ringgit (RM)
(Check the current exchange rate)
Language: Malay, English
Calling Code: +60
How to Get to Sekinchan from KL
Car: The fastest way to get to Sekinchan that lets you enjoy utmost privacy and comfort at the same time is by driving your own car. It will take you approximately an hour and a half to get to the town if you're coming from KL.
If you don't own a vehicle, you can choose from the many car rental companies in Kuala Lumpur. If you're unsure of which rental company to choose, you can check out our in-depth guide here.
Taxi or Ride-Hailing Service: If you don't feel like driving, but still want the comfort and speed of a private car, you can book a Grab ride or hail a taxi. The former will cost around RM120 to RM180 while the latter will be anywhere between RM135 to RM220.
Buses: The only public transport you can use from KL to Sekinchan is the bus, which will take approximately 2 hours or even 2 and a half, depending on traffic.
First, you have to make your way to Pudu Sentral and ride an SPT Sabak Bernam Express going to Sekinchan Sentral Bus Terminal. A ticket here will cost around RM12.50, but check the counter just to be sure of the updated prices.
From there, you can hail a taxi to get to your booked accommodation in Sekinchan.
Bike: As for getting around, you can rent a bike to take a relaxing ride through the small fishing village. Rental bikes are usually found in hotels in the area or at rental shops.
Where to Stay in Sekinchan
Padi Box Homes & Cafe
Address: Jalan Tali Air 4, Kampung Parit Empat, 45400 Sekinchan, Selangor, Malaysia
Phone: +60 19-320 5688
Pricing: $
Padi Box Homes & Cafe is one of the most famous lodgings in Sekinchan because of its affordable price and unique look. It lets you stay in one of their shipping containers that have been decked out to look like a cosy room for a comfortable night's stay.
We love how brightly-coloured paint is used to decorate these shipping containers, as it instantly adds more character and charm to the place. This also opens the door to several photo-taking opportunities that you can show off to your followers on social media!
This place is also great because of the beautiful view of the rice field that it presents its guests from their rooms. It's such a great experience waking up next to a vast stretch of greenery while experiencing a nice breeze of fresh air.
Villa Chee
Address: Lot 3919, Jalan Sawah Ban Site B, Pekan Sekinchan, 45400 Sekinchan, Selangor, Malaysia
Phone: +60 12-505 0328
Pricing: $$
Villa Chee is a slightly-elevated container-style lodging in Sekinchan. We say this because aside from the freight containers, they also feature actual rooms as well as facilities that you'd typically find in hotels.
Starting with the rooms, you'll feel like you're in the city instead of the province because of its hotel-like amenities. This includes hot water, a huge flat-screen TV, an air-conditioner, complimentary bottles of water and more.
As for its facilities, they're pretty impressive as well! The place features a swimming pool, an elevator, free parking and even a rooftop BBQ grill perfect for gatherings with your friends and family members.
Just like with the aforementioned container-style homes, Villa Chee is also located in the middle of a vast rice field. This means that you'll be treated to some breathtaking views of the beautiful natural landscapes throughout your stay here.
Farm Ville Cafe & Homestay
Address: 11304, Jalan Tepi Sawah, Pekan Sekinchan, 45400 Sekinchan, Selangor, Malaysia
Phone: +60 17-206 8666
Pricing: $
Farm Ville Cafe & Homestay is another freight container-style accommodation option in Sekinchan. This time, however, you'll be treated to a fair share of facilities that will make your stay extra fun and memorable!
One of our favourite facilities of theirs is, of course, the swimming pool. It's nice to plunge into the cold water of their pool, especially under the hot and humid weather that's mostly present in Sekinchan throughout the year.
Aside from that, they also have a ping pong table, a karaoke set and a BBQ grill. These facilities are perfect for late-night barbeque nights with your loved ones, as it gives everyone a chance to do something while waiting for the delicious food.
They even have a trampoline for kids who easily grow bored inside their rooms. But don't be shy, we know you want to hop in as well!
East Sun Hotel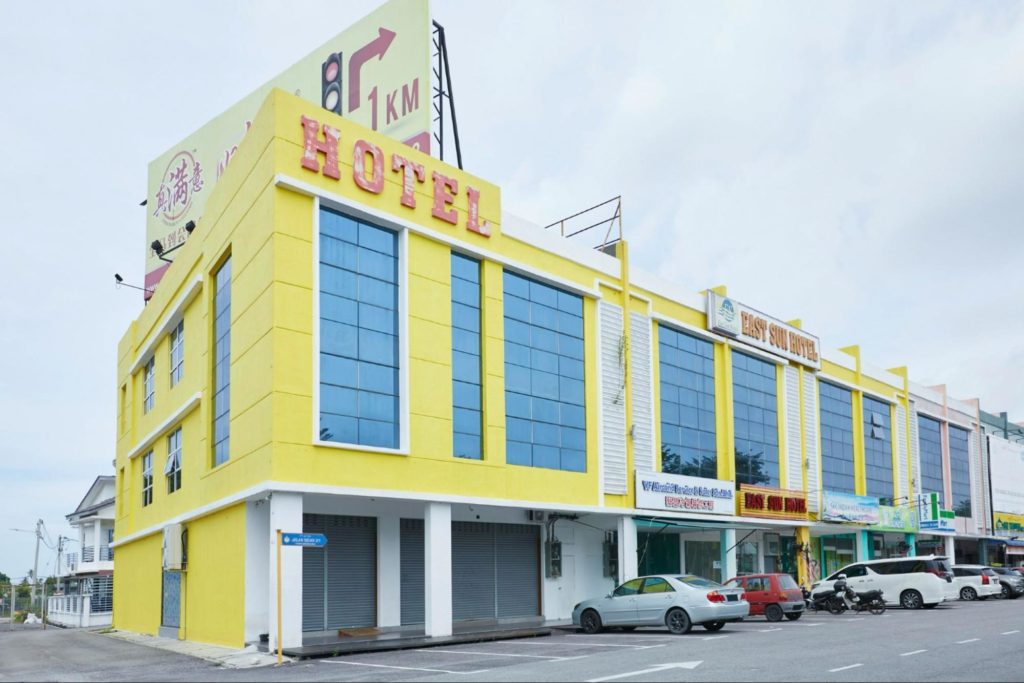 Address: No 6, Jalan Indah 2/1, Taman Indah 2, 45400 Sekinchan, Selangor, Malaysia
Phone: +60 3-3241 7797
Pricing: $-$$
If you prefer to stay in hotels instead of gimmicky container homes, East Sun Hotel is one of the best options for you. This establishment features spacious rooms and amenities that can guarantee your comfort throughout your stay.
These rooms feature plush beddings, air-conditioning and en-suite bathrooms, all of which are essential.
The One Boutique Hotel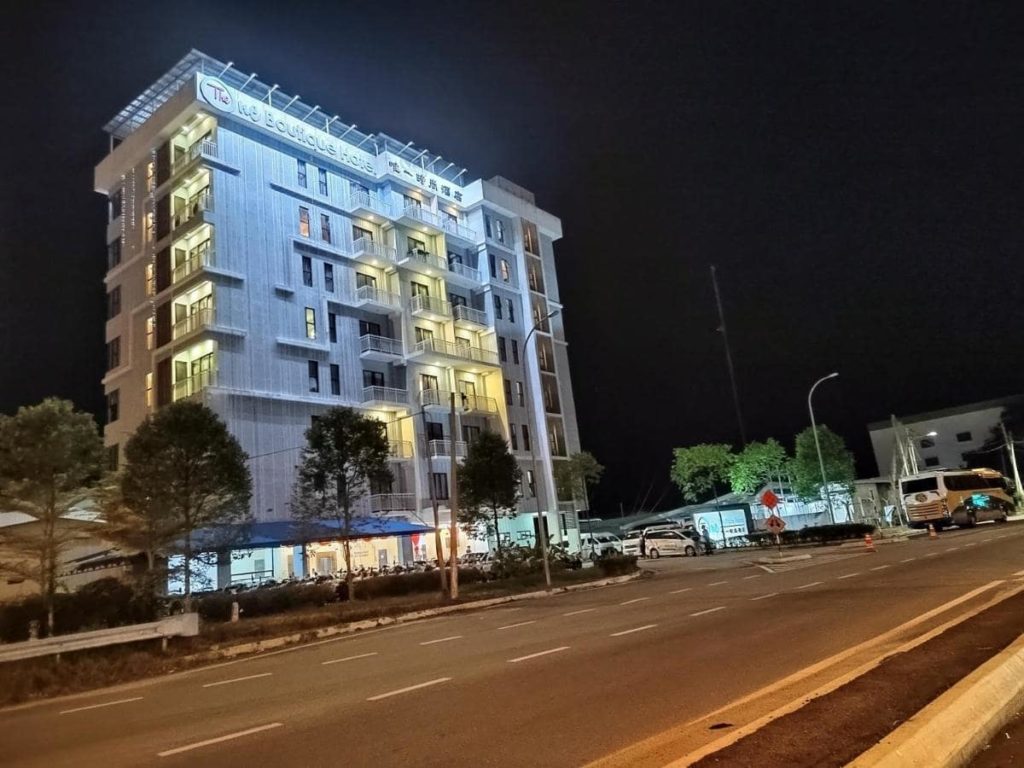 Address: Lot 220, Tingkat G, Jalan Bernam, Pekan Sekinchan, 45400 Sekinchan, Selangor, Malaysia
Phone: +60 3-3241 7199
Pricing: $$
The One Boutique Hotel is a solid option if you're planning to stay in Sekinchan for a couple of days. We say this because they feature amazing rooms that are complete with essential amenities while maintaining a relatively cheap price.
It's like staying at a big-name hotel in the city but at half the price! Each room is fitted with TVs, complimentary bottles of water, en-suite bathrooms and more.
Where to Eat in Sekinchan
N16 Bus Cafe
Address: Jalan Tali Air 4 Tanjung Karang, Tanjong Karang, Malaysia
Phone: +60 12-809 2216
Pricing: $-$$
N16 Bus Cafe is one of the most unique restaurants you can visit in Sekinchan. As you may have gleaned from its name, it lets you dine inside a bus that's been refurbished into a cafe, and they've done a great job at it as well!
Sitting atop a freight container, this cafe is a solid place to get some grub. Their menu is fairly varied with their dishes ranging from cakes to pasta, salads, fried chicken and of course, various coffee/non-coffee drinks.
Furthermore, it features air-conditioning so you won't have to worry about the heat outside when you're dining here.
Aside from its creative gimmick, we love this restaurant because of its location. It sits beside a vast rice field, providing its diners with a spectacular view while they enjoy their delicious drinks and meals.
Mango King
Address: 248, Lorong Empat, 45400 Sekinchan, Selangor, Malaysia
Phone: +60 19-303 9406
Pricing: $
If you want some refreshments after a long day of walking under the hot sun, we recommend stopping by Mango King. From the name itself, this place is the go-to spot for all things mangoes, whether you're looking for shakes, juices or just the fruit itself!
This humble spot features a no-frills set-up, with plastic stools and rickety tables found across its premises. It may not be much, but for us, it serves as an authentic way to try the mangoes here, which by the way are freshly harvested!
Anything from their menu can easily be the best of the best, but we think you shouldn't miss out on the mango smoothie. These are made with the freshest and sweetest mangoes, which eliminates the need for sugar or any sweetening ingredient!
Sekinchan Coconut Farm
Address: Jalan Tali Air 4, 45400 Sekinchan, Selangor, Malaysia
Phone: +60 17-745 1263
Pricing: $
Sekinchan Coconut Farm is another spot where you can stop by and re-energize after a long walk in the city. This time, your body will be fully re-fueled thanks to the fantastic fresh coconut juices that you'll have the pleasure of drinking.
If the heat has been getting on your nerves, you can cool off with a glass of their delicious coconut shake. This is the best place to order this kind of drink because you'll know that the coconuts used are in their freshest form!
Aside from coconut-based products, you can also treat yourself to other dishes such as fried chicken, prawn crackers, waffles and more. All in all, it's a great place to rest and eat while enjoying the shade from coconut trees.
However, do keep in mind that this place is only open to visitors on weekends, from 10:00 AM to 5:00 PM.
Paddy Gallery
Address: Lot No, Ban 2, 9990, Jalan Tali Air 5, 45400 Sekinchan, Selangor, Malaysia
Phone: +60 16-215 7028
Pricing: $
Aside from being one of the must-visit tourist attractions in Sekinchan, Paddy Gallery is a great place to visit because of one particular dish. The dish in question is the famous Malaysian dessert, cendol, which is prepared a bit differently in this attraction.
Cendol is already a delicious cold treat in itself, with its sweetcorn, rice jelly, fresh milk and palm sugar syrup. Paddy Gallery one-ups this by simply adding pearl rice, which is a bit similar to the ones used to create sushi rolls.
Aside from this sweet treat, you can also purchase several desserts in Paddy Gallery such as tapioca chips, rice crackers, ice cream and banana chips.
What to Do in Sekinchan
Frolic along the Sekinchan Paddy Fields
Address: Pekan Sekinchan, 45400 Sekinchan, Selangor, Malaysia
One of the most famous things to do in the city is to visit the vast Sekinchan Paddy Fields. It spans multiple acres and it's perfect for taking beautiful Instagram-worthy photos with your friends and family.
You can also simply frolic along the fields if you want to channel your inner Maria von Trapp and sing The Hills Are Alive! Just make sure that you won't step on the crops though as this can turn your trip sour in an instant.
Make sure to bring a hat along with some sunglasses when you visit this field because you'll be left vulnerable under the sun. Furthermore, apply sunscreen that has an SPF of at least 50 to ensure that you'll be safe from the harmful effects of direct sunlight.
Wish upon the Sekinchan Wishing Tree
Address: 25, Jalan Jpt, 45400 Sekinchan, Selangor, Malaysia
Phone: +60 11-3676 7992
During your trip, you can stop by Sekinchan Wishing Tree and wish for anything you desire in your life. Granted that there's no guarantee they will come true, it's a nice experience we recommend you try during your time in the village.
This isn't your typical tree, as you will immediately notice the countless red ribbons hanging from its leaves and branches. These ribbons aren't put there for aesthetic purposes, however, as they are the wishes of everyone who has ever visited the tree.
If you want to offer a wish yourself, you can get a ribbon by donating at the temple–don't worry, there's no specific amount required. Afterwards, you'll be provided with a ribbon with an ancient Chinese coin tied to the end, and voila, you've got yourself a ticket to the wishing tree!
Ride a bicycle around town
Sekinchan is a bicycle-friendly town, which means that you can get to several points of interest while reducing your carbon footprint at the same time. Furthermore, this lets you get your daily dose of exercise and you're bored of walking all the time!
Riding a bike around Sekinchan is great because there are fewer cars on the road and the paths themselves are free from potholes and cracks. Moreover, nothing beats the immaculate vibe of cycling through the fresh breeze and looking at the beautiful natural landscapes.
Several bike rentals can be found across the city, with the most famous one being AMG Bicycle Renting. Some accommodation options will also provide their guests with bicycles, as they know that it's the best way to get around town.
Take a side trip to the Sky Mirror
Address: Jalan Sultan Mahmud, 45000 Kuala Selangor, Selangor, Malaysia
Phone: +60 10-509 1007
While you're here, we recommend stopping by the famous Sky Mirror. The jetty where you can take a boat to this natural phenomenon is located in Kuala Selangor so we recommend going here if you're done exploring Sekinchan.
Going back on track, Sky Mirror is one of the most magical places in Malaysia, because of its surreal appearance. Here, you'll find a shallow body of water that perfectly reflects the sky, thus creating the illusion of a mirror.
You can take several creative photos here, either on your own or as a group with your friends and family members. Don't worry, they have locals at the attraction itself that will be more than glad to take photos of you.
There are even some tour providers that will provide you with a prop that you can incorporate creatively in your shot! The possibilities are endless and it's up to you to decide how creative you want your photos to be.
Enjoy the sunset at Pantai Redang Beach
Address: 25, Jalan Jpt, 45400 Sekinchan, Selangor
If you want a break from all the rice fields and humid weather of Sekinchan, we recommend heading to Pantai Redang Beach. Granted that it's not the most beautiful beach in Malaysia and it's not suitable for swimming, it's still a must-visit destination in the city.
Here, you can dip your toes in nice pure sand as you listen to the relaxing sounds of crashing waves. We also recommend heading here during the sunset for a serene experience like no other.
Furthermore, there are tons of food stalls across this area so you can treat yourself to some local delicacies as you sit back and relax at the shore. More specifically, we recommend chowing down on some seafood since they're served fresh.
The great thing about this beach is that it's completely free to visit!
Go back in time by visiting Ah Ma House
Address: Lot 10376, Jalan Tali Air 5, Pekan Sekinchan, 45400 Sekinchan, Selangor, Malaysia
Phone: +60 14-230 5753
One of our favourite spots in Sekinchan is the famous Ah Ma House. This is because it's a unique attraction where you'll feel like you've been transported back in time thanks to its collection of old tools.
Some of the most amazing things you'll find here include old cameras, consoles, radios and other things that are considered ancient nowadays. You'll even find old TVs here and discover how bulky they looked before being the thin and flat screens you know and love today.
The house itself is also designed to look old and we mean that in the best possible way. This can be attributed to its use of antique pieces of furniture as well as the overall wooden motif of the house.
You should also know that Ah Ma House is a bakery as well, which is why you'll find some delicious baked goods for sale here. There are different products to choose from, but the ones we recommend the most are their homemade cookies and crackers.
Feast on fresh seafood
As previously mentioned, Sekinchan is a fishing village and that it's known for serving fresh seafood. This is why we recommend feasting on some of its best offerings at least once during your trip here!
Fortunately, you won't have a hard time doing this, as there are several seafood restaurants across the city. Whether you're looking for clams, prawns, squid or any other kind of seafood, you'll find something to your liking in this town.
Plus, the great thing about these seafood offerings is that they cost a fraction of what they would be worth if you find them in fancy restaurants. You can eat as much as you want and you'll still save more money eating seafood here than in big cities.
Learn more about rice at the Paddy Gallery
Address: Lot No, Ban 2, 9990, Jalan Tali Air 5, 45400 Sekinchan, Selangor, Malaysia
Phone: +60 16-215 7028
If you want to gain a deeper understanding of one of the city's main products, the best place to visit is the Paddy Gallery. We've already mentioned earlier how this place serves great cendol, but this time, we'll be focusing on what it has to offer as a tourist attraction.
For starters, this educational attraction provides numerous exhibits that will help you understand the process of harvesting rice. We don't know about you but learning the process of how rice is processed before being served on our plate just seems so interesting.
You'll also be given a glimpse of the facilities used to harvest and process rice, which may seem lacklustre at first, but give it a chance! After all, you only need to pay RM5 to explore the entire place.
What to Expect from Sekinchan Weather
May to July: Sekinchan features tropical weather, which means that it's mostly dry all year round, with slight chances of rain. However, the hottest and driest months of the city can be experienced in the months of May, June and July.
November to March: The months of November, December, January, February and March are considered the rainy season of Sekinchan. However, you can expect the humidity of the tropical weather to be present even during these times.
Apps to Download for a Trip to Sekinchan
Grab: Ride-hailing app of Southeast Asia
Google Translate: A handy translation app
Maps.me: Offline map of the world
CatchThatBus: Bus ticket booking app
XE Currency App: Real-time currency exchange rate app