A Complete Guide to Conquering Putrajaya Challenge Park
Putrajaya Challenge Park is a great place to visit if you're looking to do something more physical during your trip to Malaysia. You can consider it as a playground for people of all ages, as it features various courses and obstacles that can be enjoyed by kids and adults alike.
It's also a great place to challenge your skills and willpower through a series of tests from biking to climbing and more. To help prepare you for what's to come during your visit, here's a guide containing what to expect when you visit this attraction. Read on!
Time Zone
Standard Malaysia Time (GMT+8)
Best Time to Go
The best time to visit depends on which activity you're planning to do when you get to the challenge park, as each course varies in its opening hours.
Weather-wise, we would advise visiting during Putrajaya's dry season, which is from April to October. This way, you can experience the complete package of what the park has to offer and overall, have a smooth trip.
Things to Know
Currency: Malaysian Ringgit (Check the current exchange rate)
Language: Malay, English
Calling Code: +60
Address: Jalan P5, Presint 5, 62200 Putrajaya, Wilayah Persekutuan Putrajaya, Malaysia
Contact details:
Operating hours:
Monday, Tuesday, Thursday, and Sunday: Session 1 – 10:00 AM to 1:00 PM, Session 2 – 2:00 PM to 5:00 PM.
Wednesday and Saturday: Session 1 – 10:00 AM to 1:00 PM, Session 2 – 2:00 PM to 5:00 PM, Session 3 – 6:00 PM to 9:00 PM
Friday: Session 1 – 9:00 AM to 12:00 PM, Session 2 – 3:00 PM to 6:00 PM, Session 3 – 7:00 PM to 10:00 PM
Mountain bike (MTB) trails: Monday to Sunday: 8:00 AM to 7:00 PM
Skate park
Monday to Thursday: 8:00 AM to 8:00 PM
Friday to Sunday: 8:00 AM to 10:00 PM
Equipment rental fees:
Climbing Rope: RM15
Harness: RM 5
Climbing Shoes: RM 7
Chalk Bag: RM 3
Belay Device: RM 4
Mountain Bike (hardtail): RM 20
BMX: RM 10
Helmet: RM 3
Knee Pads / Elbow Pads: RM 3
How to Get to Putrajaya Challenge Park
Trains: You can get to Putrajaya Challenge Park by train by dropping off at Seremban Station, which is only a 14-minute walk away. This is a great option if you want to save money during your trip to the park.
Buses: There are also a series of buses that stop near Putrajaya Challenge Park. Some of the closest bus stops include Klinik Pakar Bayi & Kanak-Kanak Dr Bee (2 min. walk away), The Store, Seremban (5 min. walk away) and KTM Seremban (7 min. walk away).
Taxis: You'll find plenty of cabs in Putrajaya as well as its surrounding cities. It's a fast way to get from point A to point B but it's not the cheapest option, especially when you have to bargain for the fare.
Grab: Grab is fully operational in Putrajaya, and it's a mode of transportation that many tourists prefer because of its fixed rate. Also, using this app lets you have the convenience of being picked up from anywhere you are.
Car rental: If you want to be in charge of your route and stopovers, we recommend renting a car to get to Putrajaya Challenge Park. This way, you can also enjoy the privacy and comfort of having the entire vehicle to yourself.
Where to Stay near Putrajaya Challenge Park
Dorsett Putrajaya
Address: Precinct 3, 62000 Putrajaya, Malaysia
Phone: +60 3-8892 8388
Pricing: $$
Book Now
Dorsett is a famous international chain that you can never go wrong with thanks to its elegant rooms and facilities. Speaking of rooms, the ones you'll get to book here are second to none when you take a look at its beautiful design and its complete set of amenities.
These rooms are also fitted with comfortable beds and best of all, huge windows that provide you with majestic views. If you want a better look at the surrounding area, however, we'd recommend spending time at the hotel's infinity pool where you can cool down as well.
DoubleTree by Hilton Putrajaya Lakeside
Address: 2, Jalan P5/5, Presint 5, 62200 Putrajaya, Wilayah Persekutuan Putrajaya, Malaysia
Phone: +60 3 8890 0000
Pricing: $$$
Book Now
If you're looking for a more resort-like experience, we recommend staying at DoubleTree by Hilton Putrajaya Lakeside. This 5-star hotel combines luxurious amenities and rooms with the usual facilities you'd find in resorts such as swimming pools and beautiful views of nature.
The rooms themselves are worth highlighting on their own too, as they're quite neat, spacious, and fitted with essential amenities. These amenities include free Wi-Fi, air conditioning, hot water, and flat-screen TVs–all the necessities required for a comfortable stay.
D Boutique Hotel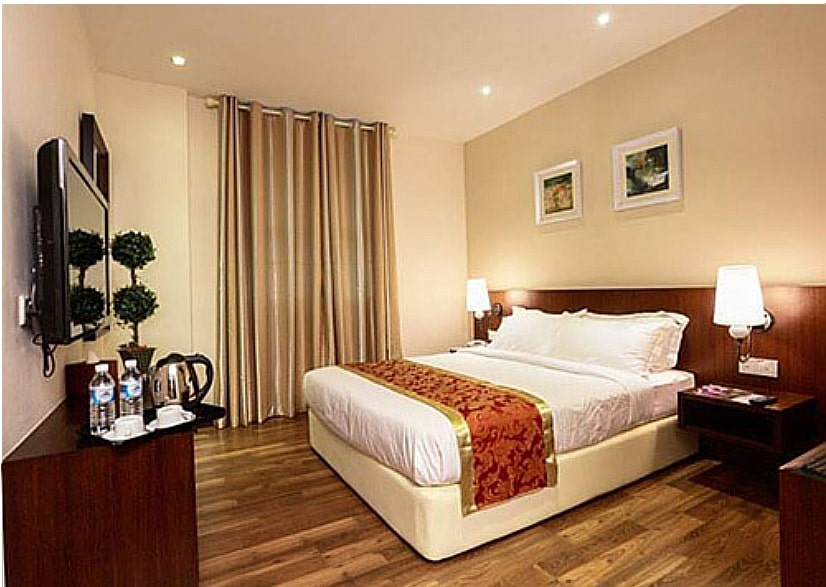 Address: G08 Centre Point, Taman Centre Point,, Exit Jalan Kajang – Dengkil, 43800 Dengkil, Selangor, Malaysia
Phone: +60 3-8768 7188
Pricing: $
Book Now
For a more budget-friendly stay, we recommend checking out D Boutique Hotel. This is one of the rare cheap hotels we recommend because even though the rates here are indeed affordable, you won't be settling for something less.
The rooms here aren't too shabby, as they're neat, spacious, comfortable, and functional thanks to its selection of amenities. Though there isn't much in terms of facilities, all you have to do is step outside to visit establishments such as convenience stores, restaurants, and more.
Citadines DPulze Cyberjaya
Address: Lingkaran Cyber Point Timur, Cyber 12, 63000 Cyberjaya, Selangor, Malaysia
Phone: +60 3-8689 9888
Pricing: $$
Book Now
Citadines DPulze is a great mid-range hotel we can recommend if you're willing to stay within Cyberjaya. It's a serviced apartment, which means that you'll get to stay in a condo-style that comes complete with a fully functioning kitchen.
It also combines some hotel-like amenities so you'll get the best of both worlds! Rooms and amenities-aside, you'll get to stay in a place that's located in the heart of Cyberjaya, near restaurants, convenience stores, shopping centres, and more.
Cyberview Resort & Spa
Address: The Lodge, Persiaran Multimedia, Cyber 7, 63000 Cyberjaya, Selangor, Malaysia
Phone: +60 3-8312 7000
Pricing: $$$
Book Now
If all the obstacle courses in Putrajaya Challenge Park left your body bruised and tired, you should stay at Cyberview Resort & Spa! Here, you can treat your body to some well-deserved pampering through world-class relaxing services such as massages and therapy.
They also have amazing rooms that will make you feel like you're staying at a palace, with their huge draping curtains and massive beds. However, what awaits outside the rooms is much more impressive, as you'll find a pool and a restaurant that serves amazing dishes.
Where to Eat near Putrajaya Challenge Park
Cendol Durian Dengkil
Address: Kampung Batu Dua Jalan Ayer Hitam, 43800 Dengkil, Selangor, Malaysia
Phone: +60 1 8234 3220
Pricing: $
Website
If you're looking for a great way to cool down after putting your body through a series of challenges, you should stop by Cendol Durian Dengkil. As you may have gleaned from its name, this establishment serves one of Malaysia's best sweets, cendol!
However, their version of this dish is much different, as they use an additional ingredient, which is the pungent yet sweet fruit, durian. The best part about this humble establishment is their cheap rates so if you're looking for a quick sugar rush, this is the best place for you!
Black Pot Steamboat & Grill
Address: 60-G, Jalan PP 1/3, Park Place 1@Cybersouth, 43800 Dengkil, Selangor, Malaysia
Phone: +60 1 2348 3088
Pricing: $$
Website
It wouldn't be a complete list of places to eat without including a steamboat restaurant. Fortunately, there's a great establishment near the park aptly named Black Pot Steamboat & Grill, which we highly recommend because of the quality of their ingredients.
Here, you'll be treated to the ultimate steamboat experience, complete with fresh ingredients to dip into delicious hot pots. With all these goodies at your disposal, you're left to create your personalised soup and enjoy a unique dining experience!
Giggles & Geeks
Address: Ground Floor, Bio-X Centre, Persiaran Cyber Point Selatan, Cyber 8, 63000 Cyberjaya, Selangor, Malaysia
Phone: +60198450418
Pricing: $$$
Website
If you're looking for a more premium dining experience, you should head over to Giggles & Geeks at Persiaran Cyber Point Selatan. This restaurant will treat you to amazing dishes stemming from both local and international cuisines, creating an amazing fusion like no other.
Whether you're looking for desserts, pasta, pastries, and more, you'll find something in this buffet-style restaurant that will leave your mouth watering. Speaking of buffet-style, it's worth noting that the spread here is unlike anything we've ever seen in an eat-all-you-can!
Redup Kopi & Salai
Address: Lot 25, Jalan Anggerik, Kampung Dato Ahmad Razali, 43800 Dengkil, Selangor, Malaysia
Phone: +60 1 8988 2944
Pricing: $
Website
Redup Kopi & Salai is a solid choice if you're looking for a great brunch spot. This hidden cafe serves an impressive selection of coffee and non-coffee beverages that pair well with their equally impressive quick bites!
Aside from the food itself, this cafe is worth visiting because of its design and overall ambience. It's Instagram-worthy, hip, and best of all, it's surrounded by nature, so you'll get to enjoy a nice cool breeze while you're dining here.
Secret Recipe
Address: 32, B18, Kampung Dengkil, 43800 Dengkil, Selangor, Malaysia
Phone: +60 3-8760 0615
Pricing: $-$$
Website
Of course, you have to try some delicious local dishes while you're here, and for this need, we recommend going to Secret Recipe. It's a famous chain here in Malaysia that serves the most authentic and delicious local dishes in the country.
They serve just about every staple in the country's cuisine and you can't go wrong with any of them. If you want our advice, however, we recommend ordering their nasi goreng satay, as we think it's a great entryway to Malaysia's slightly complex cuisine.
What to Do in Putrajaya Challenge Park
Conquer the different climbing walls
If you want to test your upper body strength as well as your hand-eye coordination, you should try out the different climbing walls in the park! You can test your rock climbing skills through six different zones, each of which varies in difficulty:
Zone A Expert Bouldering Wall
Zone B Beginners Bouldering Wall
Zone C Expert Lead Wall
Zone D Top Roping Wall
Zone E Speed Climbing Wall
Zone F Intermediate Lead Wall
When you look at the pictures, these walls may not look too intimidating, but once you visit them in person, you'll realize that they're a lot bigger than you think. To put things into perspective, the tallest wall here stands 20 metres high, which is equivalent to a five-storey building.
Let your kids develop rock climbing skills early
Since the 6 zones allotted for adults are too high and dangerous, kids below the age of 10 aren't permitted to climb any of them. Fortunately, the park makes up for this by providing a separate room dedicated to children, complete with mini climbable walls!
This room is completely kid-friendly, as the walls are much easier to climb and the floor is spongier to minimise impact as much as possible. Of course, they'll also be under the supervision of professionals as well as their respective guardians.
Land cool tricks at the skate park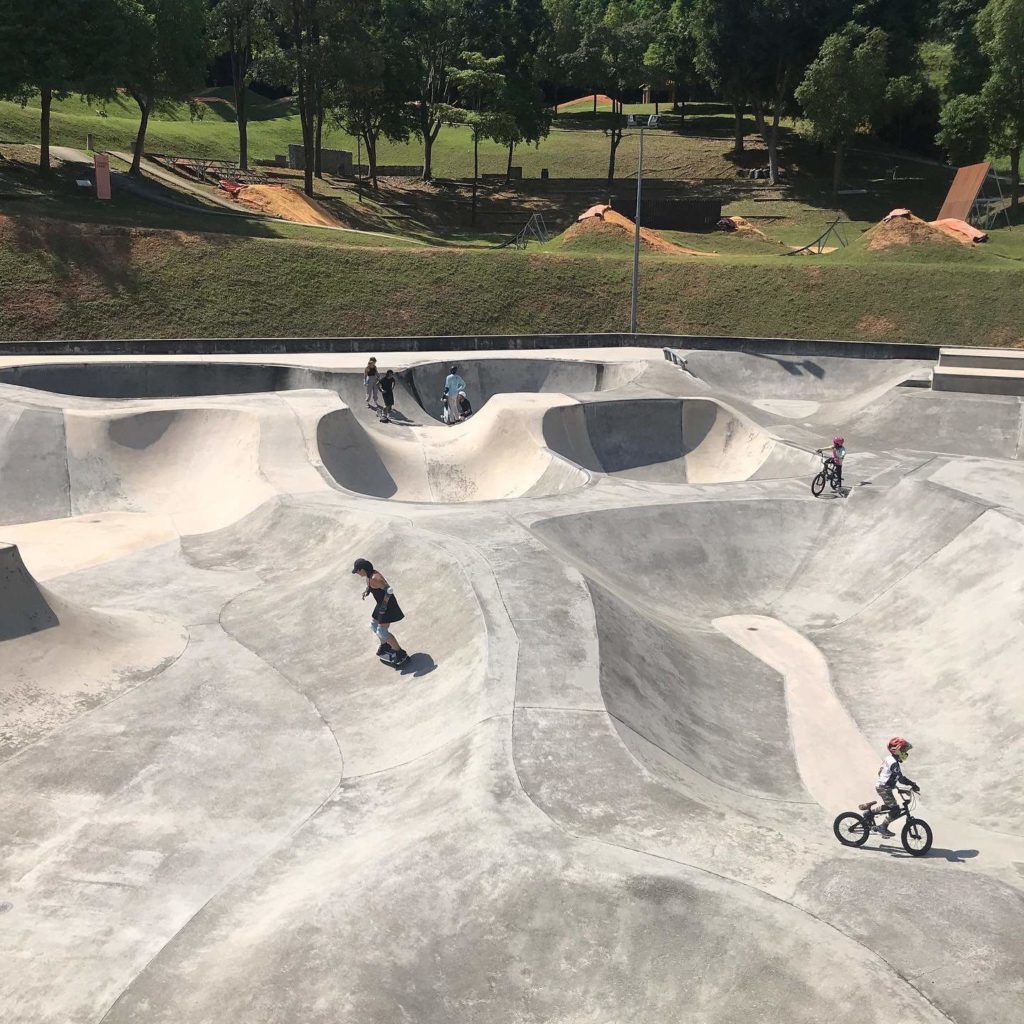 One of the biggest highlights of this attraction is the massive outdoor skate park, where people of all ages can ride their wheels in style. Whether you're riding a bike, rollerskate, skateboard, etc., the concrete floor of this park will let you cruise smoothly and freely.
Furthermore, if you want to show off your expertise or practice your skills, you can pull off some of the tricks you have up your sleeve using the various slopes. Also, the space here is so vast that you're free to do all the tricks you can without worrying about other people in the park.
Experience an exciting ride at the mountain bike trail
For those looking for a more adrenaline-inducing activity, you can experience one of your life's most exciting bike rides at the park's mountain bike trail. Here, you'll get to test your cycling skills, as you cruise through various twists and turns in a customised terrain.
This terrain is located within a forest and it spans 9.1km long, so be sure to practice your cardio as well if you want to cover the entire course. Also, it's worth mentioning that the trail is considered technical so do keep that in mind when you decide to conquer it someday.
Nearby Attractions to Visit
Putrajaya Lake
Address: Presint 1, 62000 Putrajaya, Malaysia
You can't leave the city without stopping by what's arguably its most iconic attraction, Putrajaya Lake! It's quite near the challenge park so you really don't have an excuse for not going; plus you won't regret it thanks to the beautiful views that will greet you here.
You can admire Lake Putrajaya in various ways such as walking along its banks, observing it from afar, or even kayaking! However, our favourite way to take in the serene atmosphere and cool breeze is by going on a cruise, as it stops at various points of interest as well.
Seri Gemilang Bridge
Address: Persiaran Perdana, Presint 4, 62100 Putrajaya, Wilayah Persekutuan Putrajaya, Malaysia
Phone: +60-3 800 08000
One of the things Putrajaya is known for is having beautiful pieces of architecture, whether it be buildings, bridges, parks, etc. A perfect example of this is the iconic Seri Gemilang Bridge, which connects Heritage Square with Putrajaya Convention Centre.
It's more than just a means to get across the lake, however, as the bridge itself is a spectacle that many people (including us) find magnificent. At its core, it's a type of arch bridge but what makes it special is its design, which makes it look straight out of The Lost City of Atlantis.
Anjung Flora
Address: Jalan Tuanku Abdul Rahman, Presint 4, 62000 Putrajaya, Wilayah Persekutuan Putrajaya, Malaysia
Phone: +60-3 8893 1967
Anjung Flora is a beautiful and peaceful park that's only a short drive away from Putrajaya Challenge Park. We recommend visiting this place if you want to slow down time after conquering various courses and surround yourself with beautiful plants and flowers.
Here, you can go through various pathways that lead to different points of interest in the park such as lakes, shrines, and temples. You can simply admire these sights or take the most beautiful photos you can capture, regardless of which you choose, you'll have a nice time here.
Equestrian Park Putrajaya
Address: Presint 5, 62000, Putrajaya, WP Putrajaya., Putrajaya, Jalan Kandang Kuda, Putrajaya, Malaysia
Phone: +60 3-8881 1271
Website
If riding a horse is on your bucket list, then you should definitely stop by the Equestrian Park in Putrajaya! This park lets you live out your dreams of being a horseback rider/cowboy by giving you the chance to hop onto one of the beautiful manes and bond with each other.
The great thing about this place is that the officials don't simply leave you to ride the horse and be on your own. Instead, they provide lessons and they'll guide you step-by-step to make sure that you're 100% safe, as you turn one of your dreams into fruition!
Millennium Monument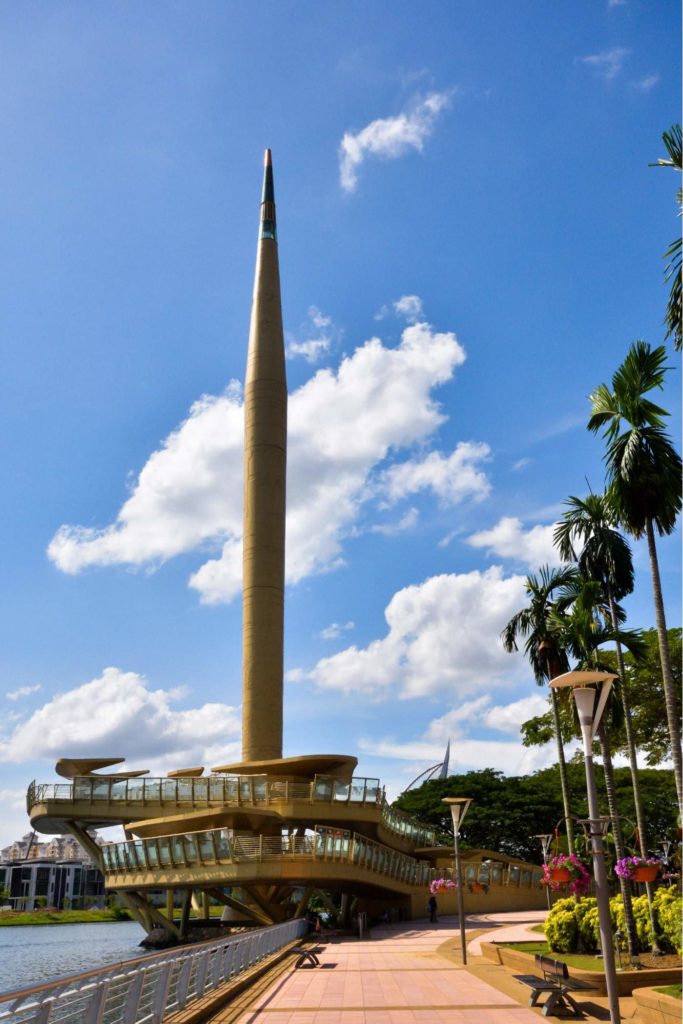 Address: Lebuh Ehsan, Presint 2, 62100 Putrajaya, Wilayah Persekutuan Putrajaya, Malaysia
If you're looking for another reason why Putrajaya is famously known for beautiful pieces of architecture, look no further than the Millennium Monument. This 68-metre-high obelisk serves was built back in 2005 and it's located on the waterfront in the centre of the city.
Although you can't enter the structure itself, several platforms wrap around it to give you a closer look at the obelisk. If you want to see this monument at its best appearance, however, we recommend visiting at night, as it transforms into a beautiful beacon of light.
Apps to Download for a Trip to Putrajaya Challenge Park
Travel Malaysia: A pocket travel guide to Malaysia
iOs | Android
Maps.me: Offline map of the world
iOs | Android
XE Currency App: Real-time currency exchange rate app
iOs | Android
Grab: Ride-hailing app of Southeast Asia
iOs | Android
Google Translate: word translation with offline capabilities
iOs | Android
CatchThatBus: Bus ticket booking app
iOs