The Top 5 TV Boxes in Malaysia
We often have our own agendas in the morning — running errands, school, work, and all those other duties we need to do before the day ends. So, at the end of the day, all we want is to see our families and relax together.
This article will lay out some of the best TV boxes Malaysia has to offer so you can watch your favorite movies together whether it is a comedy, romance, or scary movie! All you have to do is to keep on reading to find out about these TV boxes and where to get them.
The Top TV Boxes in Malaysia
Let's check out some of the best TV boxes in Malaysia along with their best features, specs, and prices. Scroll down and read on to find the one for you!
1. Xiaomi Mi Box S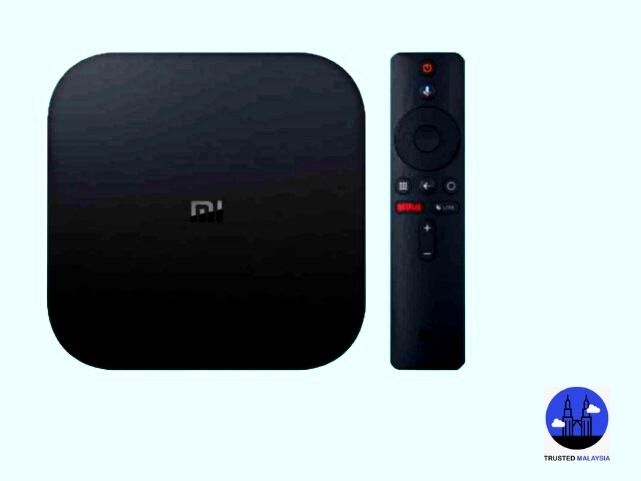 Price: RM 428.56
| | |
| --- | --- |
| Manufacturer | Xiaomi |
| Color/s | Black |
| Connector type | HDMI 2.0a x 1, Audio out x 1, USB 2.0 x 1, Power Interface x 1 |
| Operating system | Android 8.1 Oreo |
| Storage | 2GB RAM, 8GB internal storage |
Xiaomi is a Chinese company that's since gone global with quality and affordable products for everyone. TheirXiaomi Mi Box S is one of them.
It's easy to use and supports all the necessary connections such as Wi-Fi, Bluetooth, USB, and even HDMI2.0a. This provides you with access to all the best streaming options like Netflix, Youtube, Spotify, Vudu, and more.
It also has a built-in Chromecast for wireless screen mirroring for your phone, tablet, and even laptop. You have the option to connect it to Google Assistant so you can control the devices around your home, ask it to do digital tasks and answer questions, and easily access the entertainment you want.
This TV box features 4K Ultra HDR technology as well as high-speed 4K processing for up to 60fps playback. The premium audio is powered by DOLBY + DTS for crisp, three-dimensional surround sound.
According to reviews, the performance tends to be a bit slow from time to time. However, its Quad-core CPU, 3+2 core GPU, 2GB DDR3 RAM, and 8GB eMMC Flash is enough to provide you with decent performance and stability as you install all your favorite apps and enjoy all your favorite games.
Built-in Chromecast
Premium audio playback
Offers expandable memory
Features 4K HDR technology
Connects to Google Assistant
Tends to be a bit slow
Does not offer a warranty
Remote doesn't come with batteries
Customer Reviews
Below are some reviews left by happy and satisfied buyers:
"Received 8 days after order from Hong Kong 👏 Box was sealed and you get a free 3-pin adapter and remote cover. The cover doesn't match the remote tho but it's ok! The mi box itself is easy to set-up. Just plug & play! Been using it for 5 days and so far so good 👍 Really good quality! Satisfied! 💕" -aqilahroselan
"Fast delivery. Has tried n work out fine. Recommended." -tsuingo
2. NVIDIA Shield TV Pro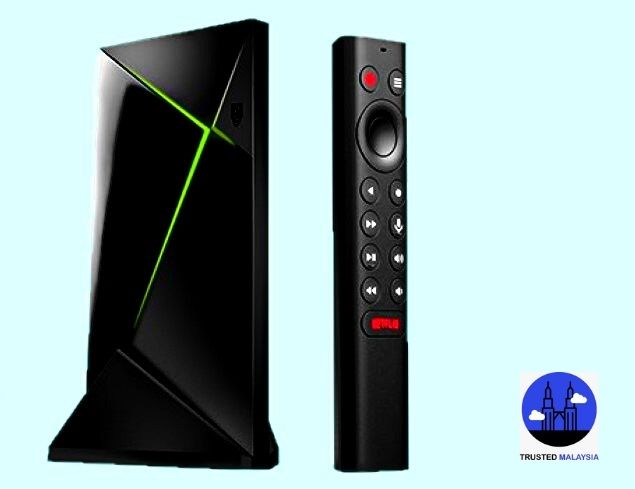 Price: RM 1,299
| | |
| --- | --- |
| Processor | NVIDIA® Tegra® X1+ processor with a 256-core GPU and 3 GB RAM |
| Color/s | Black |
| Connector type | Gigabit Ethernet, HDMI 2.0b with HDCP 2.2 and CEC support, Two USB 3.0 Ports (TypeA) |
| Operating system | Android 9.0 (Pie) powered by Android TV™ with Chromecast 4K built-in |
| Storage | 16GB (expandable) |
| Warranty | 3-month local supplier warranty |
With Dolby Vision and Dolby Atmos backing the NVIDIA Shield TV Pro, it guarantees 4K HDR entertainment with premiere audio playback.
It has a 4K HDR-compatible HDMI port, 2 USB 3.0 ports, an Ethernet port, and a power port with a power cable that you can find at the back of the TV box. The Google Assistant is built into this TV box so you can easily access all your favorite applications like Spotify, Netflix, Youtube, and the like just by voice command.
This TV Box is a powerful streaming device with 3GB RAM and 16GB of storage that can be expanded through the use of external storage devices. Although, some users of this device have noted their dismay regarding the drop from NVIDIA's previous device which had 500Gb of storage.
Now, one thing that really makes this device stand out is the built-in (and free!) GeForce Now service it offers which gives you access to PC games on your television that are top-tier regardless of whether or not you have a gaming PC.
If you aren't really into gaming and are just looking for a TV box to stream your favorite movies and TV shows, there are a lot of cheaper options on this list that might interest you more.
Built-in Chromecast
Offers 3-month warranty
High-performance capability
Offers GeForce Now (cloud gaming)
Offers expandable memory
Features 4K HDR technology
Pretty pricey
Small storage capacity
Customer Reviews
Here are some reviews from recent buyers who purchased this product:
"Lightning fast delivery. Good quality product" -S***h
"nvidia pro sgt responsif dan blh install byk apps, user friendly dan mudah dikendalikan. Packaging baik dlm kotak dan kemas. kotak juga tidakrosak. Penghantaran olh poslaju juga bagus order 12 hb Jan 15 hb Jan pagi dh sampai drp kualaTrengganu ke Melaka walaupun lm tempoh PKP" -Safarilah
3. Google Chromecast with Google TV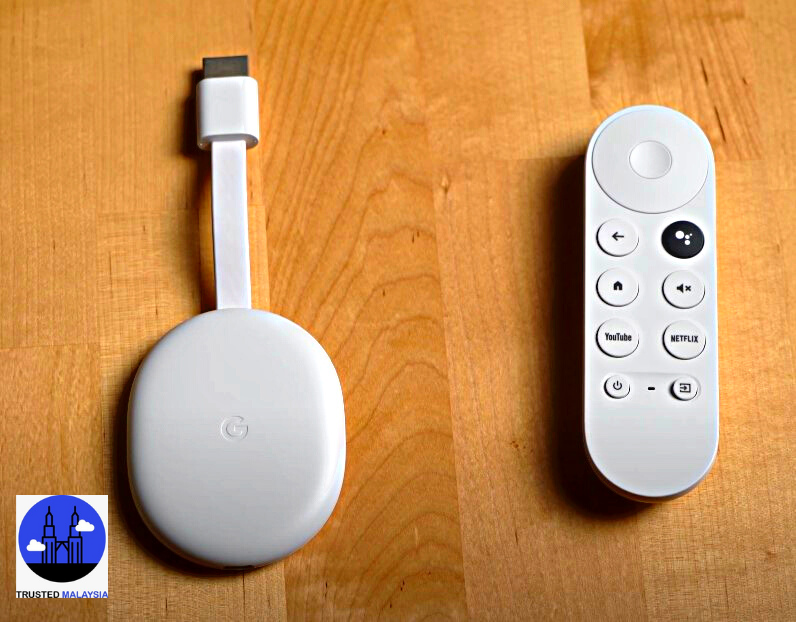 Price: RM 500
| | |
| --- | --- |
| Brand | Google |
| Color/s | Snow (white) |
| Connector type | HDMI, USB type-C power |
| Operating system | Android TV OS |
| Storage | 2GB RAM, 8GB storage space |
| Warranty | 6-month local supplier warranty |
TheGoogle Chromecast with Google TV is an affordable and convenient option for those who are looking for a no-fuss streaming device. Its high-end streaming features like Dolby Atmos, Dolby Vision, and 4K resolution make it worth its price.
The previous versions of the Chromecast required you to use an external gadget in order to make use of it but the Google Chromecast with Google TV has its own interface you can interact with on your TV. This allows you easy access to all the big streaming services such as Amazon Prime Video, HBO Max, Disney Plus, Netflix, and more.
It's also great for those who have kids because they give you the option of creating kid's profiles. With these, you can restrict the content available, be provided with kid-friendly entertainment recommendations, and even impose time limits.
It has a very small design just like all previous Chromecast devices with it being just the shape and size of a hockey puck. This makes it easy to keep out of sight so there isn't much clutter around your TV space.
You can only connect this device to your TV through the HDMI 2.1 port. If your TV doesn't have one, you could consider purchasing an adapter online.
Affordable
Offers 6-month warranty
Offers expandable memory
Can be hidden behind your TV
Features 4K HDR technology with Dolby Vision
Casting works through iOS and Android phones
Startup is quite slow
Can only connect through HDMI 2.1 port
Customer Reviews
Check out these positive feedbacks from Adrian and Mohammed:
"The item was received very fast and in good packing by the trusted seller. The seller also thoughtful enough by providing Malaysia adapter." – Adrian
"works really well. bought because want to use for Disney plus hotstar on TV. the remote and instruction are easy to follow and use!" -Mohammed
4. X96 MAX Plus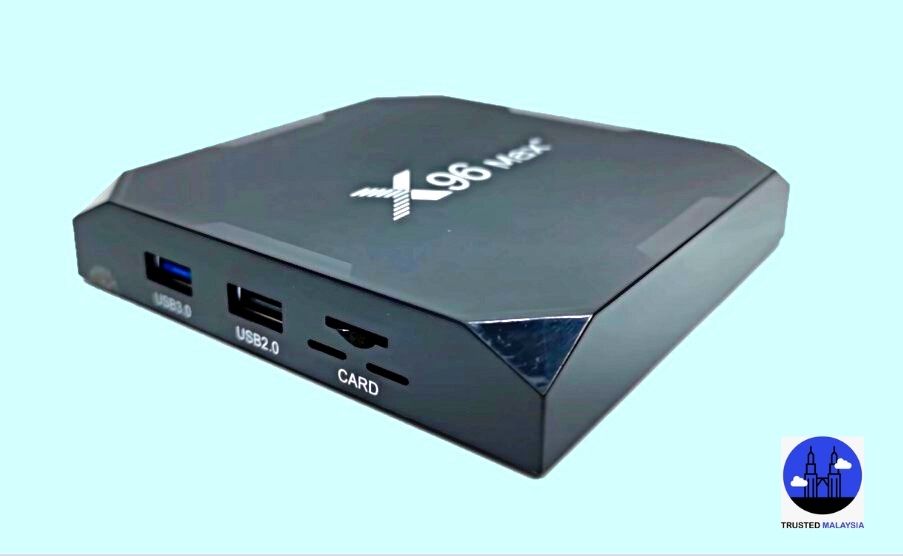 Price: RM 230.29
| | |
| --- | --- |
| Color/s | Black |
| Connector type | HDMI 2.1 ,Support HDMI CEC, USB 3.0 ; 1*USB 2.0, Ethernet interface |
| Operating system | Android 9.0 |
| Storage | 4GB RAM + 64GB ROM |
| Warranty | 3-month local supplier warranty |
The user interface on the X96 MAX Plus is simple and fast since their goal was to provide you with an efficient and safe TV box. It's compatible with the latest applications such as KD Player, Miracast, Netflix, the Chrome browser, and more.
It can connect through Wi-Fi, Bluetooth, and LAN cables. However, the 2GB variation does not have Bluetooth connectivity which is a bit of a letdown.
Its use of the new Amlogic S905X3 processor gives you access to movie or video watching experiences with up to 4K resolution. It also supports 2 or 4GB RAM with memory storage of 16/32/64 GB but you can expand it up to 128GB with the use of its TF card slot.
Now, you can also cast and play medium-resolution Android games such as Asphalt 8 without compromising the 4K resolution. However, when it comes to higher resolution games like PUBG, we suggest you play it on lower settings so it doesn't cause the TV box to overheat since this leads to performance drops.
Affordable
Has built-in Miracast
Offers 3-month warranty
Offers expandable storage
Features 4K HD resolution
Has WiFi, Bluetooth, and LAN connectivity
Heats up a bit quickly
2GB variation has no Bluetooth
5. SVI Cloud 3 PRO Android TV Box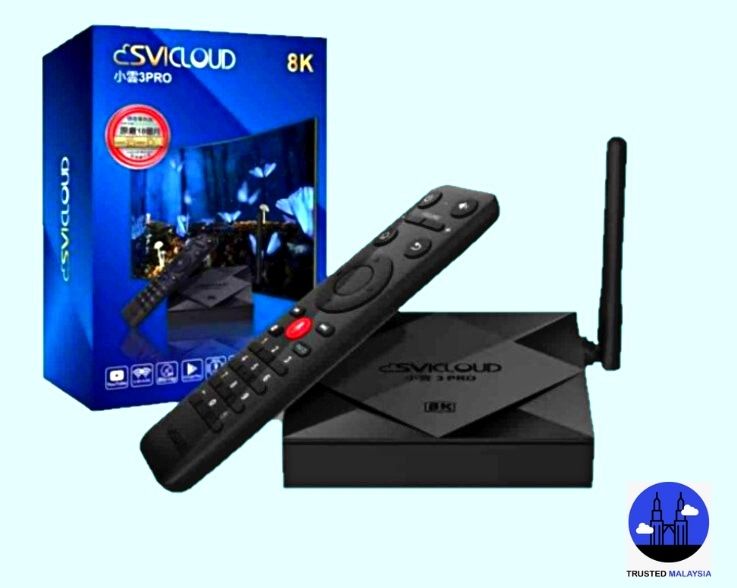 Price: RM 670
| | |
| --- | --- |
| Brand | Svi Cloud |
| Color/s | Black |
| Connector type | HD output, Ethernet port, Power input, USB 2.0 port, SPDIF output |
| Operating system | Android 10 |
| Storage | 4GB RAM+32GB ROM |
| Warranty | 1 year local supplier warranty |
With the SVI Cloud 3 PRO Android TV Box, you get a lifetime's worth of 1000+ free channels from countries like Hong Kong, Japan, Korea, Taiwan, US, Vietnam, UK, Singapore, and more with Luca TV.
You can watch all these international channels on-demand with an 8K resolution. The access this TV box also gives you to all major streaming services such as Netflix, Youtube, and more through the Google Play application is also a great plus.
It has 5G and Wi-Fi connectivity as well as Bluetooth. This makes it so that you can easily download or transfer applications into your TV box.
Running on an Android 10, it has 4GB RAM and 32Gb EMMC for a smooth entertainment experience. Some of its best features are Dark Mode which is perfect for when you want your screen to be a bit dimmer and it also supports 5G.
The SVI Cloud 3 PRO Android TV Box also has a voice command feature so you don't have to waste time typing away your searches.
Offers 1-year warranty
1000+ free international channels
Supports 8K Ultra HD picture quality
Supports 5G, Wi-Fi, and Bluetooth connectivity
Can choose from more than 71 languages for UI
Doesn't offer expandable storage
Doesn't mention pre-installed apps
Customer Reviews
Take a look at these feedbacks from clients who enjoyed the product and service:
"Good product quality.. Nice packaging.. Best seller and fast shipment.. Courier service also do their work at their best.. Fast delivery.. Definitely will buy again this product and from this seller.. Very recommended.. Thumbs up.. Keep up the good work and services.. Five stars! You deserve that..!" -k*****m
"Very good quality for watching. Support 5G network connection. Good!" -j*****3
Things to Consider Before Purchasing TV Boxes in Malaysia
1. RAM
The greater RAM you have, the faster your box will respond. This is because if you purchase a box that has lower RAM, your box will most likely take up a lot of time to process your requests.
This may be one of the many reasons why we often experience watching bad-quality videos.
2. WiFi & Bluetooth
In regards to wireless connections, a good strong Bluetooth and WiFi connection will give you better results. It is better to choose a TV box that has 5Ghz Wifi support and Bluetooth 5.0.
The following features will produce a clearer and stronger connection for complimentary results.
3. Streaming services
Your TV Box should be suitable for video streaming services that offer good-quality videos. These services might be Netflix, Youtube, Amazon Prime video, or any streaming services of your choice.
4. Audio Support Output
You might want to consider your TV Box's audio quality. This is also an important factor when looking for a TV box because having one with horrible audio quality would ruin your entire entertainment experience.
FAQs about TV Boxes in Malaysia
---
Now, that's all we have on the top TV boxes in Malaysia! We really hope you found what you're looking for so that your relaxation times can be filled with fun entertainment sessions brought on by these TV boxes.
If you decided to go with any of these on our list, please let us know all about your experience with it! We'd love to hear all about your experience.
Now, if you ever find yourself needing to have your TV repaired right before your TV box arrives, check out our list of shops for the best TV repair in Malaysia!