The 5 Best Personal Trainers in Malaysia
Starting your journey to living a healthy lifestyle is easier said than done, especially if you have to do it alone. Thankfully, there are tons of personal trainers in Malaysia located in amazing gyms that will help you be one step closer to achieving your dream body.
To help kickstart your new and improved lifestyle, check out our top recommendations for the best personal trainers here in Malaysia below!
How We Picked the Best Personal Trainers in Malaysia
To find the best personal trainer facilities in the country, we created this criteria:
1. KOA Fitness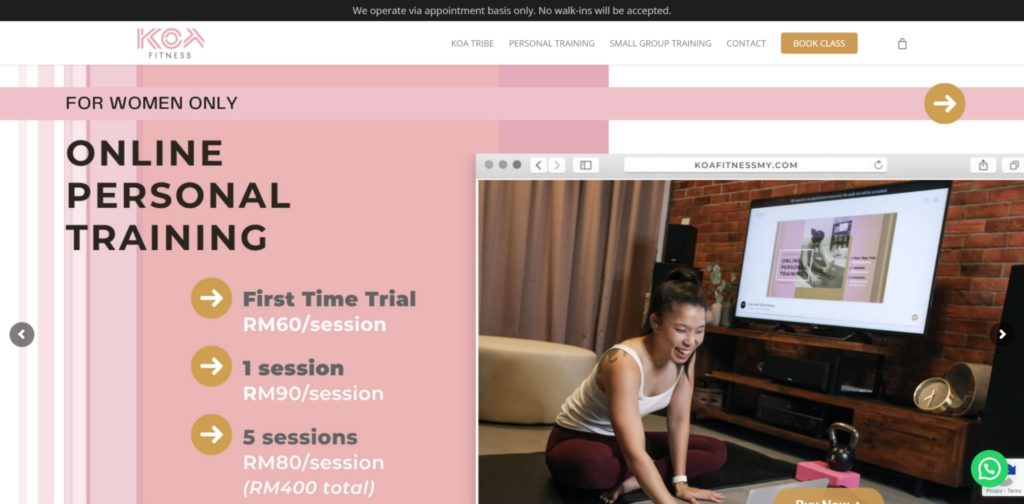 Test
Info
PRODUCTS
First time trials, personal training, group training, rehabilitation
WEBSITE
https://koafitnessmy.com
ADDRESS
B-G-07, Gateway Corporate Suites, No. 1, Jalan Desa Kiara, Mont Kiara, 50480 Kuala Lumpur, Malaysia
CONTACT DETAILS
+60 11-6455 8912
OPERATING HOURS
Monday to Friday: 7:00 AM to 9:00 PM

Saturday: 9:00 PM to 1:00 PM
| | |
| --- | --- |
| Criteria | Ratings |
| Facilities | ★★★★☆ (4/5) |
| Equipment | ★★★★★ (5/5) |
| Cleanliness | ★★★☆☆ (3/5) |
| Rates(A higher score means better value) | ★★★★★ (5/5) |
| Personal trainers | ★★★★★ (5/5) |
| Friendliness | ★★★★★ (5/5) |
| Helpfulness | ★★★★★ (5/5) |
| Accessibility | ★★★★★ (5/5) |
| Location | ★★★★★ (5/5) |
| Gym hours | ★★★☆☆ (3/5) |
| Guest privileges | ★★★★★ (5/5) |
If you're a woman who's conscious about working out around men, we recommend checking out KOA Fitness in Kuala Lumpur. This place has been recommended by tons of our friends because of their amazing programs and trainers.
They also feature a myriad of equipment that targets different parts of the body during workout routines. From medicine balls to weights, treadmills and more, you can expect this place to have everything you need.
As for the trainers themselves, the place features an impressive all-woman team! We can see this type of confidence and power translate well into the training they provide for beautiful and strong women.
It has a great location, as it's located in the capital. But one thing that we see rubbing people the wrong way is the gym's operating hours. Sadly, it's not open 24/7 and it's even closed on Sundays.
Furthermore, we feel like the normal operating hours are a bit short, as it closes its doors by 9:00 PM. We can easily see how this can throw off some people who only have time to work out by the time they're done with their day-to-day responsibilities.
Overall, it's not hard to like this gym because of its meaningful goal and healthy workout environment. Take these aside, however, and you're still looking at a solid gym that features complete equipment and world-class trainers.
All-woman team
Complete facilities
Helpful trainers and programs
Safe environment for women
Customer Reviews
Safe and welcoming space for women
"KOA is a safe and incredibly welcoming space for women. I was in KL for a month, signed up for 6 sessions with Jamie and am walking away stronger and leaner than when I started. Would 100% recommend KOA to anyone looking for a business that cares about your holistic fitness, not just about what happens in the session, and pays attention to the details." —Dhivia Pillai, Google Reviews
Would recommend it to all ladies that want to get in shape
"Joined this gym in August 2020 and I am glad that I did. My personal training coach, Jamie is really good. There are some exercises that I am not able to carry out due to past injuries but I still get quality workouts. Whenever I communicated with my coach on the exercises that I struggle with, she is quick to give me an alternative. I would recommend to all ladies that want to either get in shape or maintain their fitness level." —M Y Woo, Google Reviews
2. Babel TTDI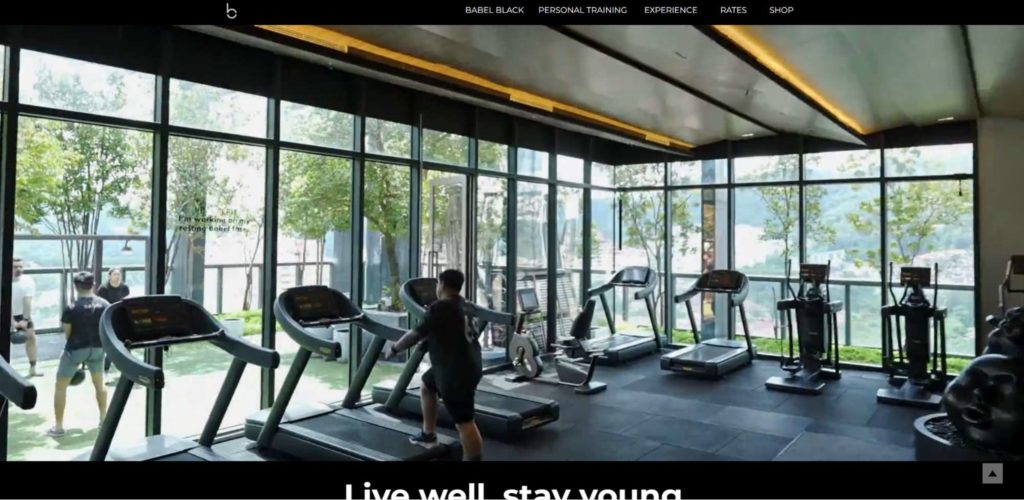 Test
Info
PRODUCTS
Saltwater pool, sauna, Technogym equipment
WEBSITE
https://www.babel.fit
ADDRESS
Rooftop Menara Ken TTDI, Jalan Burhanuddin Helmi, Taman Tun Dr Ismail, 60000 Kuala Lumpur, Malaysia
CONTACT DETAILS
+60 16-319 3520
OPERATING HOURS
Weekdays: 6:30 AM to 10:00 PM

Weekends: 7:00 AM to 9:00 PM
| | |
| --- | --- |
| Criteria | Ratings |
| Facilities | ★★★★☆ (4/5) |
| Equipment | ★★★★★ (5/5) |
| Cleanliness | ★★★★★ (5/5) |
| Rates(A higher score means better value) | ★★★☆☆ (3/5) |
| Personal trainers | ★★★★★ (5/5) |
| Friendliness | ★★★★★ (5/5) |
| Helpfulness | ★★★★★ (5/5) |
| Accessibility | ★★★★★ (5/5) |
| Location | ★★★★★ (5/5) |
| Gym hours | ★★★★☆ (4/5) |
| Guest privileges | ★★★★★ (5/5) |
Hands down the most beautiful gym we've ever seen in the country is Babel TTDI. You'll immediately see the fanciness of this place once you enter its doors because of its clube-esque rooms and facilities.
Speaking of facilities, it's also worth mentioning that this place features a complete set of equipment. This includes exercise bikes, weights, treadmills and more.
Aside from that, they also offer a sauna and a pool for all its members. This makes the place feel more of a resort than a gym, which explains why a lot of people recommended this to us when we were looking for a personal trainer.
One of the biggest highlights of this gym is its membership benefits. After signing up, you'll be granted a card that you can use to access lockers and discounts on their store and partner brands.
However, the best perk that comes with being a member of this personal training facility is the member's lounge. In this exclusive comfy lobby, you can chill before or after your vigorous workout session to get a cup of coffee, drink your protein shake or any other beverage on the menu.
Of course, a downside of an establishment like this would be its above-average prices, which a lot of people may not be willing to pay for. This is especially frustrating for those that just want to get a quick workout in during the day.
Overall, this gym is one of the best in its class in Kuala Lumpur. From the beautiful views to the amazing perks, helpful trainers and more, this gym really makes it worth being a member of.
Beautiful facilities
Complete equipment
Amazing membership perks
Customer Reviews
Amazing experience
"Coming to Babel feels like being on a holiday retreat. It has got a warm and relaxing vibe. Plenty of classes to try out with the beautiful and good-looking trainers *wink, wink*. Even if you choose to do the workout on your own, this gym has great views of TTDI and PJ. Helps just clears the mind… My favourite part of the gym is the showers. After a good workout, nothing beats having a warm shower (in a centralized air-conditioning bathroom) and blow-drying my hair with Dyson hairdryers. Thank you Babel for this amazing experience!" —Swiss Tan, Google Reviews
Beautiful gym
"Seriously beautiful gym. All the equipment is well maintained and made by "TechnoGym" (I think), so your gym account is linked to the equipment and your gym card tracks what you've done with the equipment. As a bit of a tech nerd, this was super cool.
The trainers are super friendly and helpful (even if/when you aren't training with them). I was visiting KL for a month and decided to try and get a trainer. Ended up working with Tony, who is from the UK. He was very professional, friendly and really knew what he was doing. He even answered my ridiculously large amount of questions (this must have taken a crazy amount of patience).
There's a cute cafe too near the entrance and a nice patio area outside. Since the gym is on the top floor, this provides a beautiful view. It makes the treadmill a little more bearable. If I ever return to KL, I'll definitely join back up to Babel. Worth the price for sure. 10/10" —Katy Chapman, Google Reviews
3. UNIFIT Gym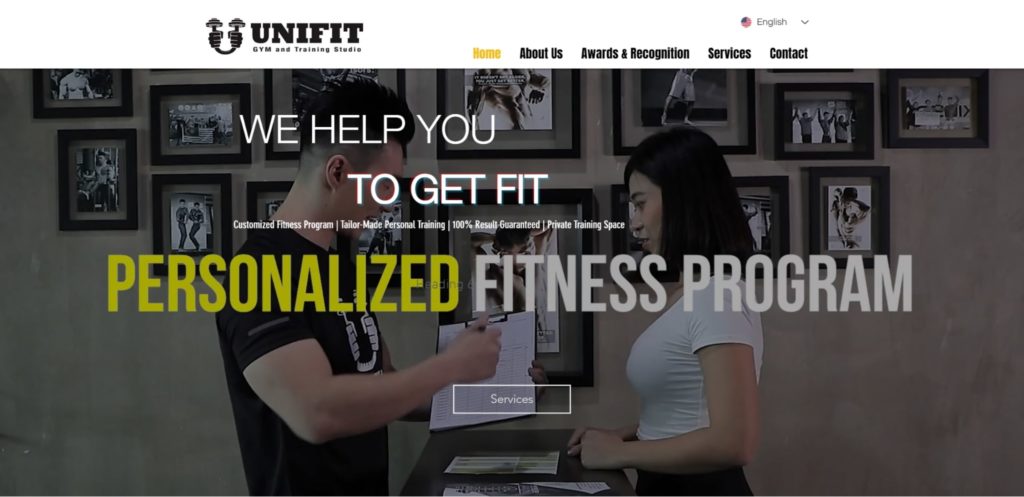 Test
Info
PRODUCTS
Tailor-made programs, free fitness consultations, weight loss, muscle building and slim fit training programs
WEBSITE
https://www.unifitgym.co
ADDRESS
No.3-1, Jln Radin Bagus 5, Bandar Baru Sri Petaling, 57000 Kuala Lumpur, Federal Territory of Kuala Lumpur, Malaysia
CONTACT DETAILS
+60 3-9054 2128
OPERATING HOURS
Weekdays: 8:00 AM to 11:00 PM

Weekends: 10:00 AM to 7:00 PM
| | |
| --- | --- |
| Criteria | Ratings |
| Facilities | ★★★★☆ (4/5) |
| Equipment | ★★★★★ (5/5) |
| Cleanliness | ★★★☆☆ (3/5) |
| Rates(A higher score means better value) | ★★★☆☆ (3/5) |
| Personal trainers | ★★★★★ (5/5) |
| Friendliness | ★★★★★ (5/5) |
| Helpfulness | ★★★★★ (5/5) |
| Accessibility | ★★★★★ (5/5) |
| Location | ★★★★★ (5/5) |
| Gym hours | ★★★★☆ (4/5) |
| Guest privileges | ★★★★★ (5/5) |
The thing about training is that not everyone will have the same set of workouts since our bodies are built differently from each other. That's why we recommend checking out UNIFIT Gym because they offer tailor-made programs for each of their members.
These tailor-made programs are on top of their default ones, which are worth mentioning as well. Some of their best programs include things such as weight loss, muscle-building and more.
On top of that, the great thing about their facility is that they'll provide you with a personal trainer that you can work with all the time you're there. This way, they can monitor your progress and suggest some things that can help you attain your goal.
We also appreciate their complete equipment, which is always a green flag in our books! It contains everything an individual may need to work on different parts of their body.
Our only gripe with UNIFIT Gym is that they didn't accept walk-ins. This meant that members would have to schedule a session with their personal trainers before they could actually work out.
Furthermore, the price is on the pricier side, but if you can look past that, you'll see that it's worth being a member of this gym. Overall, it's a solid choice if you want to start taking your workouts seriously because of its trainers, programs and equipment.
Complete equipment
Tailor-made programs
Helpful trainers
Above average prices
No walk-ins
Customer Reviews
Highly recommended
"Highly recommend my fitness trainer, Yong Xin! He's a charming and motivated guy with a great personality. He's sincere, patient, and an excellent conversationalist. I am impressed by his dedication and attention to detail. Yong Xin tailors my workouts to my needs and ensures I perform each exercise correctly. He keeps me motivated throughout the sessions, pushing me to reach my limits. Yong Xin is always punctual and organized, and his friendly nature creates a comfortable training environment. I am grateful for his guidance and highly recommend him as a fitness professional." —Chloe Choong, Google Reviews
Friendly and assisting
"Professional. Especially my trainer Yongxin has provided a good training plan tailored to your needs. All the trainers there are friendly and assisting as well. Great environment with nice songs to get fit. Cheers." —Marcus Yeow, Google Reviews
4. DailyMuscle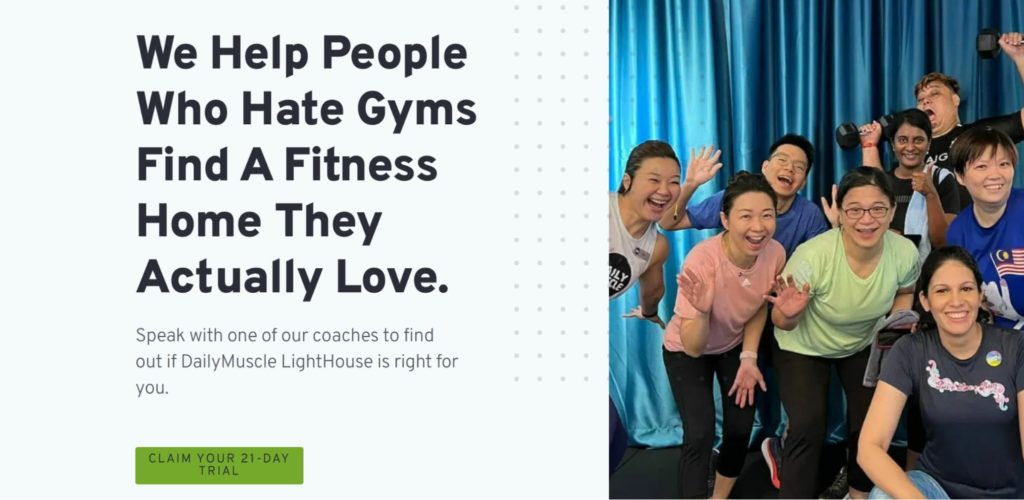 Test
Info
PRODUCTS
Online training, nutrition coaching, small group training, personal training
WEBSITE
https://dailymuscle.com
ADDRESS
A-G-11, Glomac Damansara, 699, Jalan Damansara, Bukit Kiara, 60000 Kuala Lumpur, Federal Territory of Kuala Lumpur, Malaysia
CONTACT DETAILS
+60 11-3799 8750
OPERATING HOURS
Monday to Friday: 7:00 AM to 8:30 PM

Saturday: 7:00 AM to 12:30 PM

Sunday: 8:00 AM to 12:00 PM
| | |
| --- | --- |
| Criteria | Ratings |
| Facilities | ★★★★☆ (4/5) |
| Equipment | ★★★☆☆ (3/5) |
| Cleanliness | ★★★★★ (5/5) |
| Rates(A higher score means better value) | ★★★★★ (5/5) |
| Personal trainers | ★★★★★ (5/5) |
| Friendliness | ★★★★★ (5/5) |
| Helpfulness | ★★★★★ (5/5) |
| Accessibility | ★★★★☆ (4/5) |
| Location | ★★★★☆ (4/5) |
| Gym hours | ★★★★☆ (4/5) |
| Guest privileges | ★★★★☆ (4/5) |
If you've always hated the thought of going to the gym or you simply don't feel comfortable in these environments, check out DailyMuscle. We really like how this gym aims to make gyms a comfortable space for any kind of person for a more inclusive workout experience.
They're able to achieve this type of environment by offering a wide array of personal trainers for different kinds of needs. Whether you're looking to bulk up, lose weight or anything in between, they have someone to help you achieve your goal.
You can also get a sense of beginner-friendliness approach in this gym as you can see from their website and user reviews. This may not be a huge deal for others but for some people, the beginning is the hardest part of working out so it's nice to have this kind of accessibility.
One thing that could turn off some gym goers, however, is the slightly limited equipment they have in their establishment. However, they do have the basics such as weights, ropes and medicine balls.
Nonetheless, we still recommend this place because of its healthy and uplifting environment, which is rare to find in gyms nowadays. Plus, with their comprehensive workout plans, you can achieve your dream bod in no time.
Beginner-friendly
Wide array of personal trainers
Amazing workout packages
Slightly limited equipment
Limited operating hours
Customer Reviews
All the instructors impress me!
"Daily Muscle is definitely a great place to quickly start my engine for a workout. I have never expected I can be so determined to hit the gym floor every morning a few times a week!
All the instructors impress me! They are guiding me so patiently, correcting all my postures to avoid injuries and make sure it targets the core muscle, motivating me to push a bit more from my limit!
Their classes are having limited students, thus the instructors can attend to all students well! Even the heroes there are all friendly and supportive! Really enjoy and love every workout session with them! I'll never regret taking my step to join Daily Muscle!" —suyi sophie, Google Reviews
Friendly gym, great community
"A friendly gym, with a great community with a varied number of instructors delivering classes that work on your strength, cardio or fitness all inside their 45-minute group classes. They cater for anyone at any level without that intimidating feeling that we all associate with gyms. Wherever you are on your journey to lead an active and healthier lifestyle this is an all-around and convenient place to go to.
As someone who has gone for gym memberships with all that equipment that you don't know how to use, and tried CrossFit, I have found that my 2 – 3 classes a week at DailyMuscle are my happy medium and long may it continue." —Simbie Yau, Google Reviews
5. WinFit Fitness Factory

Test
Info
PRODUCTS
Personal class, weights, benchpress
WEBSITE
https://www.facebook.com/luxuriousgym/
ADDRESS
11, No 16-1, 16-2, 18-1, 18-2, Jalan Kasuarina KS7, Jalan Ambang Botanik, 41200 Klang, Selangor, Malaysia
CONTACT DETAILS
+60 3-3319 8761
OPERATING HOURS
Monday, Wednesday and Friday: 7:30 AM to 11:00 PM

Tuesday and Thursday: 7:45 AM to 11:00 PM

Saturday: 7:30 AM to 10:00 PM
| | |
| --- | --- |
| Criteria | Ratings |
| Facilities | ★★★★☆ (4/5) |
| Equipment | ★★★☆☆ (3/5) |
| Cleanliness | ★★★★★ (5/5) |
| Rates(A higher score means better value) | ★★★★★ (5/5) |
| Personal trainers | ★★★★★ (5/5) |
| Friendliness | ★★★★★ (5/5) |
| Helpfulness | ★★★★★ (5/5) |
| Accessibility | ★★★★★ (5/5) |
| Location | ★★★★★ (5/5) |
| Gym hours | ★★★★★ (5/5) |
| Guest privileges | ★★★☆☆ (3/5) |
If you want a straightforward no-frills gym that can get the job done, we recommend checking out WinFit Fitness Factory. This place features several personal trainers who are hell bent on helping people who want to improve their lifestyles.
Based on tons of reviews online and word of mouth from our friends, we can say that the personal trainers are the main highlights of this place. In a nutshell, they were described as friendly, dedicated and approachable–the trifecta of a great trainer.
Not much can be said about the gym itself other than it's your typical iron paradise, and there's nothing wrong with that at all! It's filled with various weights and benches that people can interact with to work on their bodies.
We've also heard a lot about the amazing vibes inside this gym thanks to the music they blast on their speakers. Word on the street is that whoever's in charge of the sound system here has great taste in music.
If we were to nitpick something we didn't like about this place, however, it would be its slightly limited space. It's not as big as other gyms, which can hinder some movements, especially if the place is packed.
All in all, WinFit Fitness Factory is a great option if you're looking for a no-frills gym. It features affordable prices and helpful trainers that will help you achieve your goal in no time.
Helpful trainers
Long operating hours
Limited equipment and space
Customer Reviews
Best choice I've made
"Hands down, the best choice I've made training at WinFit Fitness Factory. VERY friendly team who make me actually want to go train. I look forward to walking through the doors and always feel amazing when I leave. By far the best equipment, to the facility itself. From the ownership to management, to the trainers, by far the nicest and most knowledgeable staff in the business today. I wouldn't hesitate to recommend WinFit Fitness Factory to anyone." —Shesin Baskaran, Google Reviews
Caring and friendly staff
"Very good and well-experienced gym coach. He can easily see the main issue and give solutions straight away. Making everyone easy to understand and very friendly as well. Making everyone feel very comfortable. The gym is kept very clean and all the equipment is well-maintained. It's a highly recommended place to work out and get personal training. The price was also very reasonable compared to other places. Coach Vicky is the best in this field. The best gym coach and best personal trainer." —JAE
FAQs about Personal Trainer Malaysia
Achieve your dream bod today!
That about wraps up our list of the best personal trainers in Malaysia. If you want to start making a positive change in your life and achieve your dream body, you can't go wrong with the ones we've listed above.
Feel free to contact them when you're ready. In the meantime, try to find out your body and fitness goals so you can be one step closer to living healthily!
---