The Top 10 Kindergartens in Penang: Find the Best Tadika Near You
It's not easy to decide where you should send your child to study, whether it's primary school or college. After all, parents only want the best for their children's education, especially when it comes to the formative years in kindergarten.
We want to make sure that your kids will get the best experience in a holistic sense. In this article, we'll discuss the best kindergarten schools in Malaysia and show why we deem them to be the top.
Read on to find the best preschool for your kids in Penang, Malaysia to jumpstart your kid's schooling experience!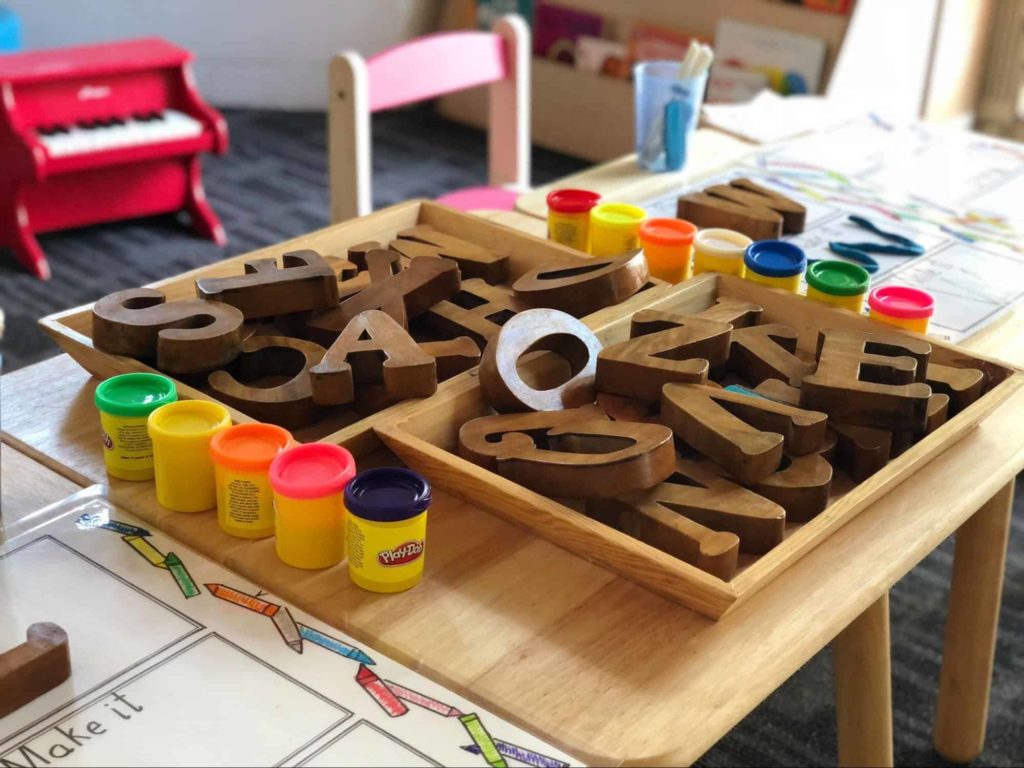 Different Fees to Be Paid in Penang Kindergarten Schools
As much as we want to give you a clear idea of how much kindergarten schools in Penang cost, the difference in the range of fees among the schools is quite huge.
So, instead, we'll present the different kinds of fees that parents need to pay when they enroll their kids in a kindergarten school.
This will be especially helpful if you're a first-time parent and you need help understanding why you need to pay these fees.
| Fees | Purpose | Frequency |
| --- | --- | --- |
| Registration Fee | Covers student services and examination fees | Once (Upon registration only) |
| Admission Fee | Holds your spot at the school before the tuition fee payment | Once (Upon admission only) |
| Safety Deposit | Advanced payment to be used in case you aren't able to punctually pay the tuition fee | Once (Upon admission only) |
| Tuition Fee | Payment for teachers, administrators, and other school staff | Every school year or term |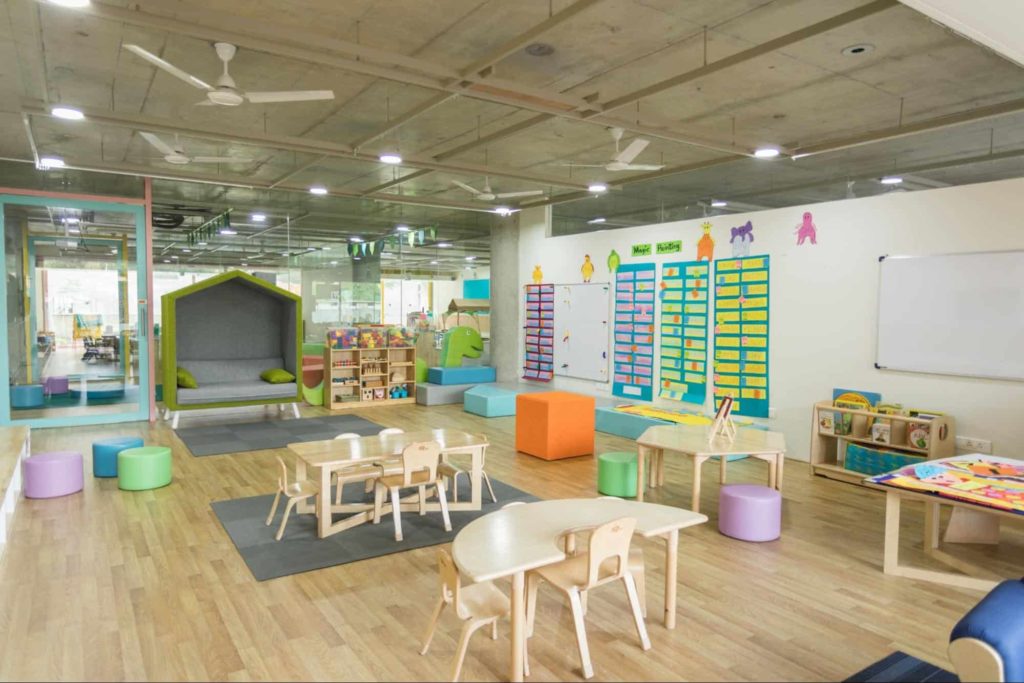 How We Chose the Top Kindergarten Schools in Penang
Before we tell you what are the best kindergarten schools in Penang, here are the criteria we used to evaluate each school that we included in this list:
Now, we know you're excited to know which is the perfect place to send your beloved kid. So, here are our top picks of kindergarten schools in Penang that might be near you!
1. MapleBear Learning Garden – York House
| | |
| --- | --- |
| Criteria | Ratings |
| Curriculum and program | ★★★★★ (5/5) |
| Teaching style | ★★★★★ (5/5) |
| School life | ★★★★★ (5/5) |
| Facilities | ★★★★★ (5/5) |
MapleBear Learning Garden, or MapleBear Penang, is a tadika that offers high-quality education based on the Canadian curriculum. It's an international school in Penang and it's the very first branch of MapleBear school in Malaysia.
There are over 560 branches of MapleBear schools in 31 countries all over the world. They offer various levels, from preschool, to grade school, and up to high school.
However, MapleBear in Penang only offers early childhood education but it's one of the best centers in the state.
One of the things we love about this kindergarten school is how they handle their preschool department because it's pretty impressive.
Their curriculum is not just based on Canadian standards and is actually crafted by Canadian educational experts. But, it also conforms to Malaysia's own standards and regulations.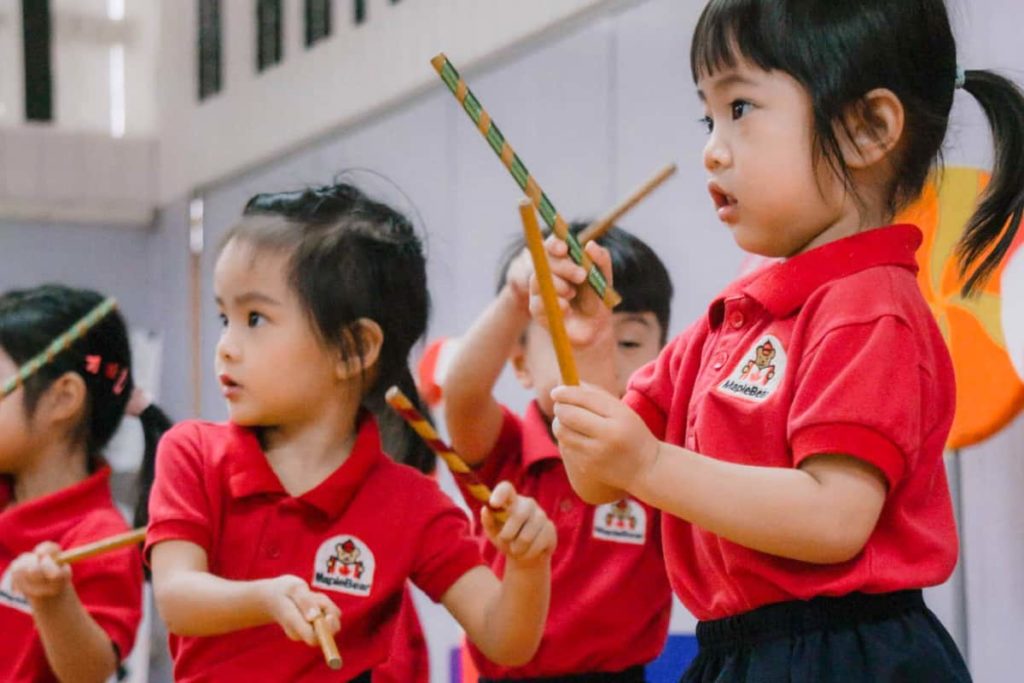 We also love their teaching style because it's play-based. This is because they believe that children are curious about the world and being able to explore it on their own makes them more inclined to develop the natural skills they need.
We think that parents would be at ease with this school because MapleBear helps students develop strong literacy skills, high-level thinking skills, and problem-solving. Children who enrolled here are also taught independence.
Just like other MapleBear schools in the world, it has strong academic and immersion programs.
We particularly like how they teach students at a young age to read, write, and speak in both English and Chinese. It's because they want to help children achieve diversity by being bilingual early on in life.
But, because of their attentive approach to children's education, their fees could be quite costly.
Nevertheless, the class sizes here range only from 3 to 8 students. So, we believe it's a great choice for parents who want their children to receive better and more focused attention from the teacher.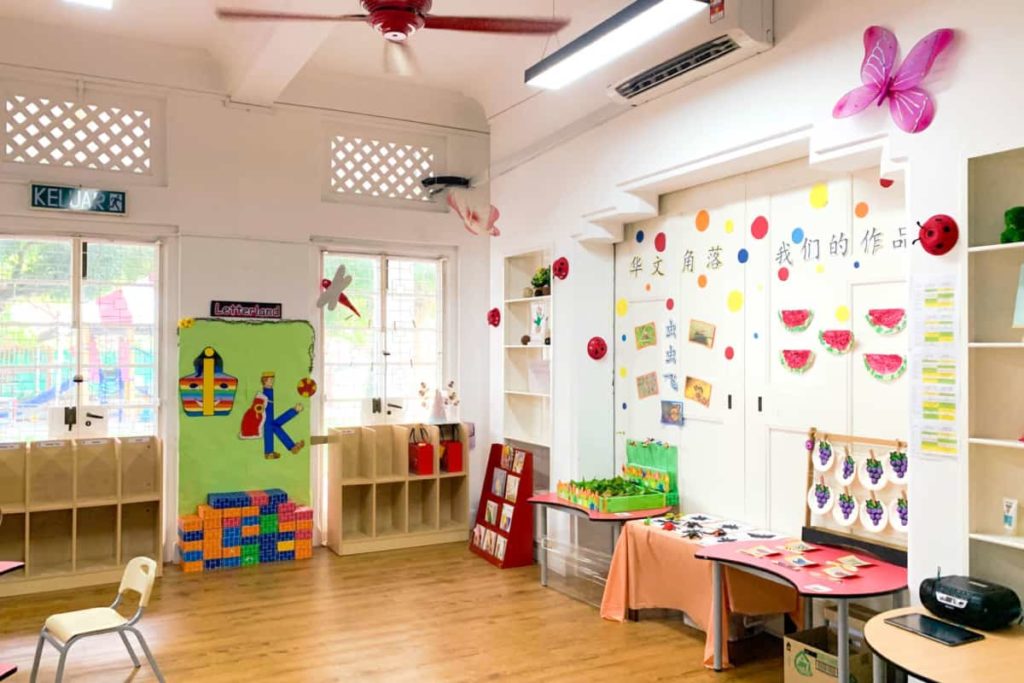 Small class size
Play-based learning
Canadian-based curriculum
Bilingual education
Tuition fee and fees may be quite expensive
Only offers a preschool level
Fun learning experience
"Our children are fortunate enough to have spent the past 3 years at MapleBear. We feel that MapleBear has given them the opportunity to experience that learning is fun at an early age." – Saleem
Helps working parents
"A heaven for working parents. Thank you for being a partner in raising my child." – Danish
2. Straits International School
| | |
| --- | --- |
| Criteria | Ratings |
| Curriculum and program | ★★★★★ (5/5) |
| Teaching style | ★★★★★ (5/5) |
| School life | ★★★★★ (5/5) |
| Facilities | ★★★★★ (5/5) |
One of the things that impressed us about Straits International School is that aside from being an international kindergarten school, it follows the British Cambridge Curriculum. This helps their students to meet their potential and be equipped for global success.
Based on our observations, their kindergarten program is especially fun for the students. So, your children are guaranteed to enjoy their classes, from start to end.
When they come into their classroom, their teachers will welcome them and they'll engage in play-based activities and discussions with their peers.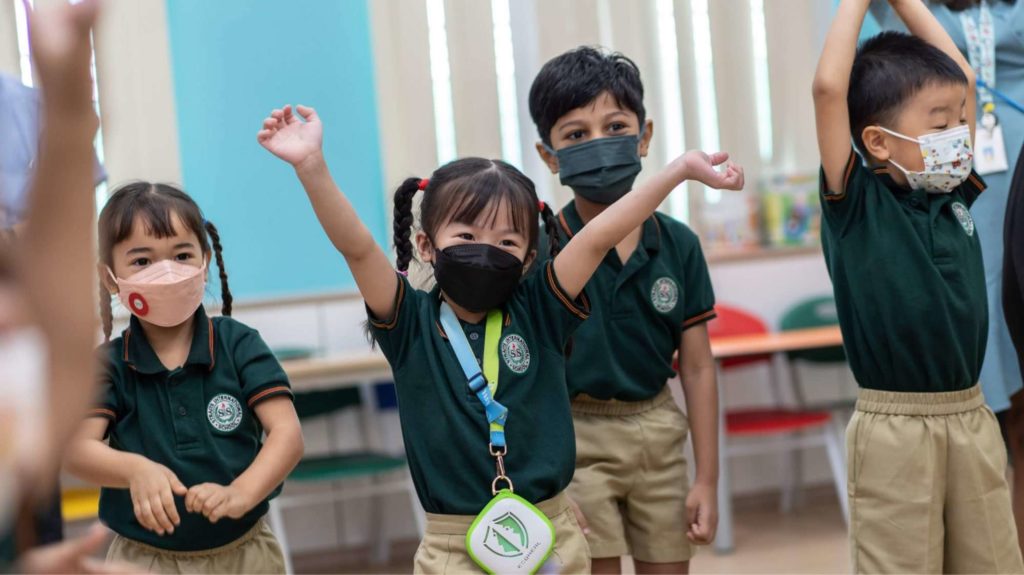 We also like that for their kindergarten program, they use the Early Years Foundation Stage framework that divides learning into 7 key areas, which are:
Personal, social and emotional development
Communication and language development
Physical development
Literacy development
Mathematics
Understanding the world
Expressive arts and design
We think this is a great system because it makes sure that no area of your child's development is left unnurtured.
This school also balances the academic and social aspects of a student's life, which is very important for us. It's also one of the reasons why we love this school and why we think it's a great option for kids with plenty of interests.
Aside from the co-curricular activities of this school, there are also after-school clubs and school holiday clubs that students can join.
Plus, they also offer an optional Super Saturday School which sparks a child's interest. It's open to the public and this takes place every 9 AM to 1 PM per semester.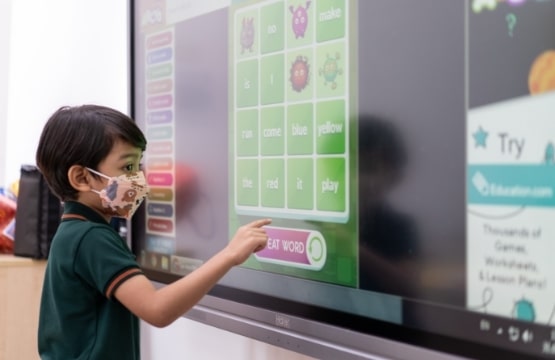 Furthermore, we're very content with the facilities of this school. They provide not just a library and playground, but also science laboratories, technology suites, instrumental rooms, a swimming pool, and a futsal pitch.
We also noticed that they have CCTV surveillance in and out of the school and they assured us that they have 24-hour patrolling security guards. It just means that they prioritize the safety of their students.
If you're interested in sending your child to Straits International School, you can let your kids join the school for a few days and watch them interact and learn with their current students. All you have to do is book an appointment with them.
However, the costs of sending your children here are higher than other tadika in Penang that could be near you.
Check the table below to see the fees at Straits International School for kindergarten students during the 2022 enrollment period:
| | |
| --- | --- |
| Type of Fee | Cost |
| Application fee (one-time payment) | RM 1,600 |
| Registration fee (one-time payment) | RM 2,000 |
| Security deposit (one-time payment) | RM 5,200 |
| Resource fee (annual payment) | RM 1,800 |
| Tuition fee (per semester) | RM 5,200 |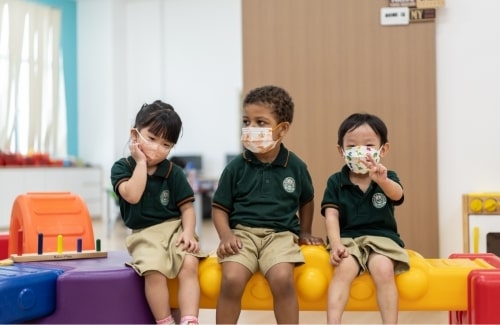 Offers free trial
Offers transportation
Offers discounts and scholarships
Uses EYFS framework
Follows British Cambridge Curriculum
Offers several co-curricular activities and school clubs
Has relatively large class sizes which range from 15-25
Expensive tuition fee
Costly resource fee
Highly recommended school
"We love Straits International School for its – Quality of teachers, facilities of school, caring and friendly administration teams. Highly recommended!" – HS Tan, Google Reviews
Good location and privacy
"One of the International Schools in the state of Penang. Good location and privacy, not in a super jam area." – Najib
3. Little Caliphs George Town
| | |
| --- | --- |
| Criteria | Ratings |
| Curriculum and program | ★★★★☆ (4/5) |
| Teaching style | ★★★★★ (5/5) |
| School life | ★★★★★ (5/5) |
| Facilities | ★★★★☆ (4/5) |
Little Caliphs is an Islamic tadika with over 400 branches in Malaysia and this branch in George Town is just one of the best kindergarten schools in Penang near you.
Like every branch of this school, the Little Caliphs in George Town provides an Islamic-English-Creative preschool program. This means Islamic teachings are integrated into the academic and life skills of kindergarten students.
This is why we especially recommend this school for Muslim children so they can get a holistic education and at the same time, they can prepare for their religious duties.
Based on our observations, this school helps children to discover their physical, socio-emotional, cognitive, and spiritual potential.
In their first year, they'll play together, join circle time to learn adab and adiqah and act in role-plays about Islamic life. Meanwhile, they'll be encouraged to be independent and critical thinkers in their second year, while developing their love of learning Islam.
Further, in their third year, they'll learn about leadership and they'll be prepared to become future caliphs.
We also feel that students would be able to enjoy studying in kindergarten. We noticed that students particularly enjoy games, as well as arts and crafts activities, that make going to school fun for them.
Moreover, we're sure that parents can rely on their expertise. It's because the methodologies, subjects, and modules in The Little Caliphs Program apply advanced teachings.
Every teacher of the Little Caliphs undergoes teaching content and methodology training so they all meet the standards of the quality of teaching.
Nevertheless, Little Caliphs only offers preschool programs so a student can't advance to primary or secondary school here.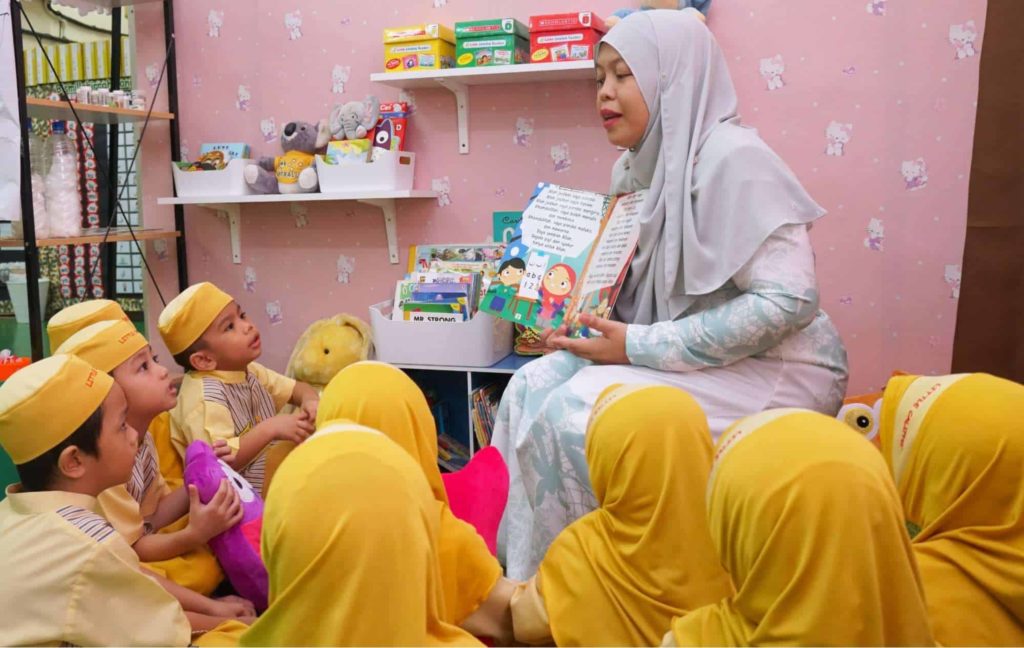 Little Caliphs: 2023 Monthly Fees
Half-Day ( 7:30 am – 12:30 pm)
RM 280
Full Day ( 7:30 am – 6:00 pm)
RM 440
Free virtual tour
Affordable tuition fee
Islam-English-Creative curriculum
Uses different kinds of teaching methods
Does not provide transportation
Only offers preschool programs
4. Q-dees
| | |
| --- | --- |
| Criteria | Ratings |
| Curriculum and program | ★★★★★ (5/5) |
| Teaching style | ★★★★☆ (4/5) |
| School life | ★★★★☆ (4/5) |
| Facilities | ★★★☆☆ (3/5) |
Q-dees is a preschool with plenty of branches in Penang, so you won't have to worry about finding a tadika near you. In fact, there are more than 200 Q-dees centers in Malaysia, Myanmar, and the Philippines.
We find Q-dees competitive and one of the best kindergartens in Penang because of their expertise and methodologies in teaching.
They have more than 30 years of experience and they received several accolades that are proof of their competence.
Nevertheless, we felt that they don't remain content because they continuously develop and update their programs to maintain the quality of their preschool education.
The Q-dees Link & Think Methodology is particularly famous and dependable. We're impressed at how Q-dees is able to creatively break down complex concepts so children could understand them.
We think that parents would feel secure when they send their kids to Q-dees since their programs are carefully curated to make learning easy, effective, and fun for students.
While they're able to provide top-notch programs for their students, we noticed their learning centers lack facilities when compared to other private international schools.
This might be a concern for some parents who want to let their children learn in a well-equipped and conducive environment.
But, what they lack, they make up for through other means.
For example, they offer a competitive Robotics 'n Coding program even for preschoolers as young as 3 years old. These classes allow children to learn coding through a coding robot, apps, coding cards, and themed apps.
It doesn't only prepare young students for their future endeavors but it also helps them achieve academic success and develop their soft skills.
In fact, according to the UT Austin Boot Camp, coding improves a child's problem-solving skills, computational thinking, persistence, and creativity.
Likewise, Q-dees also developed the Q-dees TV, which aids students in learning through its wide collection of catchy songs and videos with captivating animations. This is perfect for students who are audio-visual learners.
Competitive learning programs
Coding classes for kids
Fun lessons for students through videos
Lacks in facilities
Lacks in extracurricular activities and clubs
Helps students develop social skills
"Although the school environment is still new for my daughter, she is now more open and confident to start conversations and make new friends. She truly enjoys her time in Q-dees." – Parent of Putri Nur Liyana Binti Adam
5. E-Bridge Pre-school
| | |
| --- | --- |
| Criteria | Ratings |
| Curriculum and program | ★★★★★ (5/5) |
| Teaching style | ★★★★★ (5/5) |
| School life | ★★★★☆ (4/5) |
| Facilities | ★★★★☆ (4/5) |
E-Bridge Pre-school is a kindergarten school that offers a bilingual education because they see that it's important for kids to know English and Mandarin.
We're also impressed by how it lives up to the standards of EtonHouse International Education Group, of which it's a part. It's also the first EtonHouse school to open in Penang.
One of the things that caught our attention about E-Bridge Pre-school is their Inquire-Think-Learn curriculum.
We like this curriculum because it helps students develop critical thinking skills so they learn to ask the right questions and come to the right conclusions.
Another thing we like about this kindergarten is they also create a stimulating environment for the children so they have a more hands-on learning experience.
We think this also helps the children learn their own interests while also aiding in their overall development.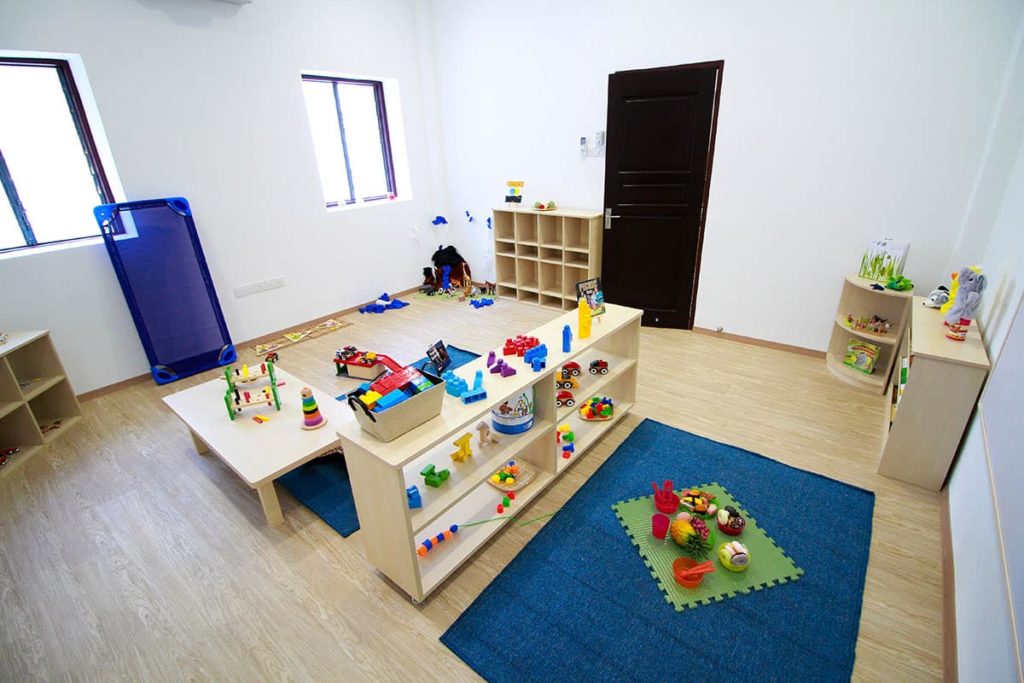 It's also a great plus for us that they offer an Infant Care curriculum for children as young as 2 months up to 2 years old. This makes a safe and sensorial environment that helps in developing the emotional security and physical skills of young children.
But, even if they're able to keep their classes fun for young learners, it doesn't offer extracurricular or club activities for their students. So, they may not be able to attend to the other interests of their students.
Nevertheless, it offers lower tuition fees than other international and private schools in Malaysia but the education and care here are still of great quality.
E-Bridge Pre-school: 2023 Fees
Pre-Nursery to K2Full Day Fees (7:30 AM – 6:30 PM)
RM 1,200
Pre-Nursery to K2Half Day Fees (7:30 AM – 1:00 PM)
RM 1,000
Registration Fee
RM 500
Deposit
One month's fee
Bilingual education
Affordable tuition fee
Child-focus rather than teacher-focused
Two branches in Penang
Online booking of campus tours
No extra-curricular activities
No club activities
Does not offer levels past kindergarten
Nurturing and fun environment
"I highly recommend E-Bridge preschool to any parent looking for a nurturing, fun, and educational environment for their child. My kids have been attending this preschool and it has been an absolute pleasure to watch him grow and learn under the guidance of the wonderful staff." – George Neah, Google Reviews
Kids learn something new every day
"Best preschool education in Penang. They have a very interesting play n learn curriculum. My son just loves going to school. Everyday he is learning something new.
I have seen tremendous changes in him. He is independent, communication has improved, social interaction has improved three times. Food is too good.
Thanks, Ebridge Bayan Baru Branch." – Shreya T, Google Reviews
6. Brainy Bunch
| | |
| --- | --- |
| Criteria | Ratings |
| Curriculum and program | ★★★★★ (5/5) |
| Teaching style | ★★★★★ (5/5) |
| School life | ★★★★★ (5/5) |
| Facilities | ★★★★★ (5/5) |
Brainy Bunch is an Islamic Montessori kindergarten school that might be near you in Penang.
The first thing we like about their kindergarten or preschool program is that it's designed to develop a child's coordination, concentration, and sense of order.
Since it's an Islamic school, it provides activities focused on adab and Islamic practices.
But, they also follow the Montessori philosophy. This helps young Muslim students to be independent and it allows them to maximize their learning.
We're also impressed that they offer not only preschool but also playschool or daycare for children aged 1.5 to 3 years old. It's because this engages toddlers in learning and developing their social skills early on.
We also noticed that they mix different age groups in one class, unlike other kindergarten schools that have same-age classrooms. This is because they believe that younger children are able to learn better when mixed with kids of other ages.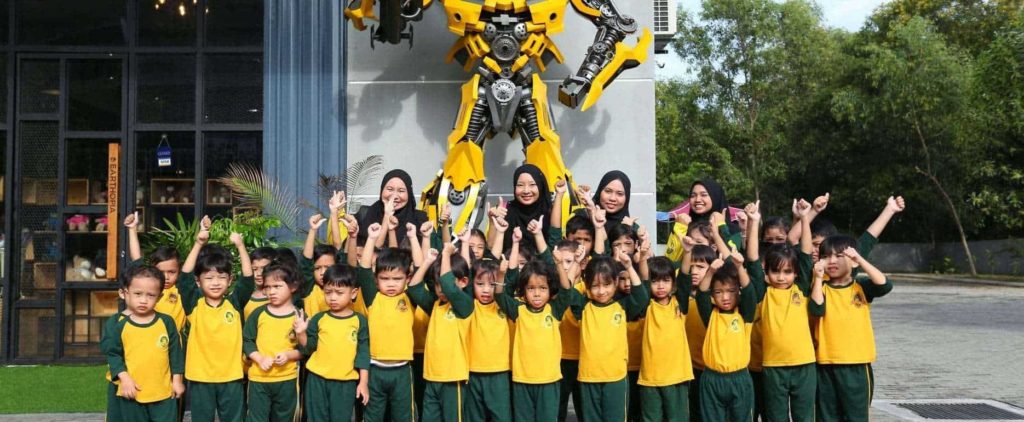 However, one thing that concerns us is that their preschool class sizes are quite big.
The size of the classes varies from 15 to 25 students per class but with only 1 teacher.
It may be difficult for the teacher to tend to the learning needs of the children, unlike when homeschooling in Malaysia (pros and cons of homeschooling in malaysia).
Nevertheless, this school is very conducive to learning because it provides apparatus and equipment to aid the students.
Likewise, it's one of the best kindergartens that could be near you where children could get top-notch education but at very affordable rates.
Brainy Bunch: 2023 Fees for Preschool
Full Day (7 AM – 7 PM)
RM 650
Star Session (8 AM – 3 PM)
RM 550
Regular (8 AM – 12 PM or 1:30 PM – 5:30 PM)
RM 350
Enrollment Fee
RM 150
Activities Fee
RM 350
Annual Registration Fees (4-6 Years)
Note: includes registration, administration, material fees, Little Scientist Programme and incident coverage
RM 1,700
Affordable rates
Follows Montessori philosophy
Has playschool program
Large class size
Accepts Muslim children only
Helps kids progress
"Alhamdulillah, this year is my son's second year in Brainy Bunch and his progress is just unbelievable! He can recite long surahs with the right tajwid, perform his solat independently from beginning until the end and most importantly, he has learned and adored Nabi Muhammad S.A.W so much. Thank you very much to all the Aunties! It is recommended to send for a full day programme for a better output. Insyaallah, he will continue his final year next year together with his brother." – Madam Izhar
7. Little Genius Preschool
| | |
| --- | --- |
| Criteria | Ratings |
| Curriculum and program | ★★★★★ (5/5) |
| Teaching style | ★★★★★ (5/5) |
| School life | ★★★★★ (5/5) |
| Facilities | ★★★★★ (5/5) |
Little Genius Preschool is also one of the high-quality Montessori kindergarten schools in Penang and it's a tadika that you should consider. But, like Brainy Bunch and Little Caliphs, it only accepts Muslim children.
Parents could not go wrong with Little Genius because it offers high-quality education that we're especially impressed by.
Its program follows an Islamic, English, and Montessori Syllabus which is also a dual-track curriculum.
What sets it apart from other kindergarten schools is that it collaborates with Helsinki International Schools. We think this is beneficial for your learners because it develops a child's creativity and innovativeness.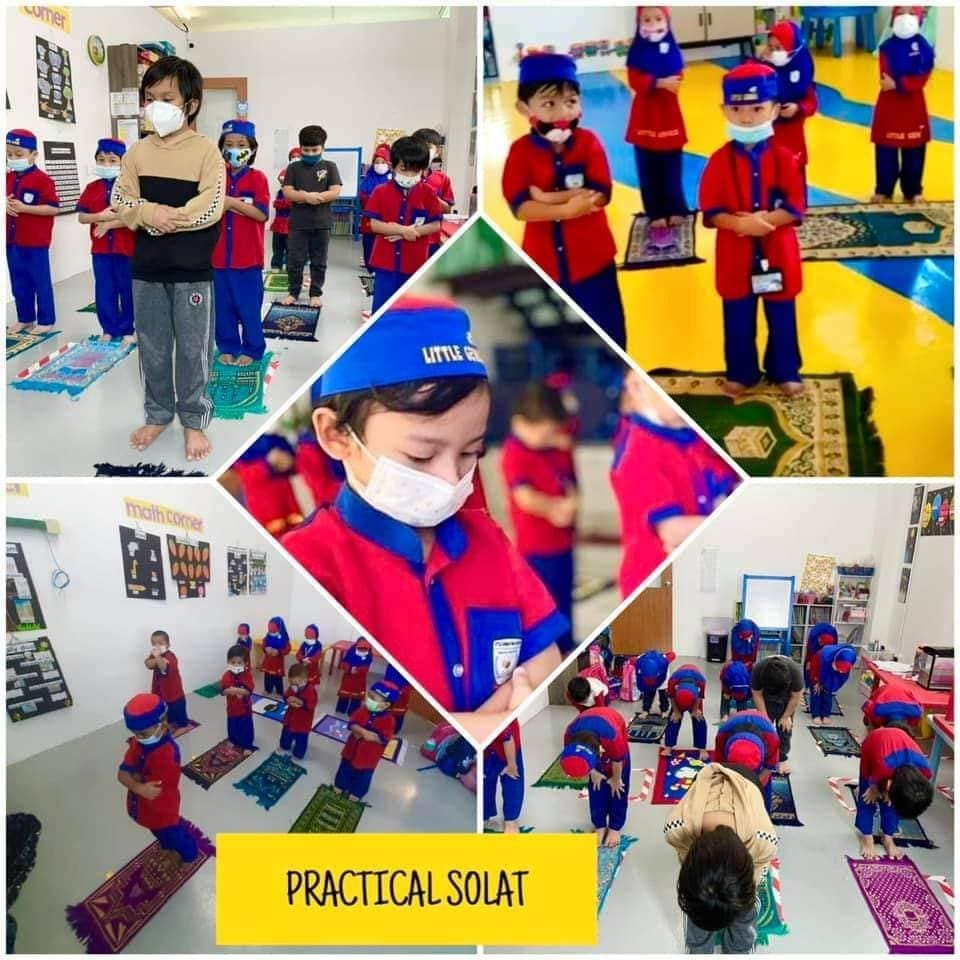 We also believe that it's a great match for Muslim kids because they won't just learn how to read and write, but also the solat and they'll be taught Islamic teachings. They will also have fun learning because of the various activities they'll do here.
Likewise, we recommend this school for children who are interested in science and technology because it's the school's forte.
It provides high-quality Science and Technology modules and Science and Engineering modules which we believe will advance the education and skills of students.
We noticed that students particularly enjoy arts and crafts, gardening, and sports. They'll also develop kitchen skills and their physical abilities.
However, not all of the activities are immediately available here. For example, Mandarin, taekwondo, and swimming classes will only be available upon sufficient request.
Provides good amenities and facilities to aid learning
Collaboration with Finland education
Accepts Muslim children only
Some activities need to be requested
Helps develop good behaviors
"Zulaikha had developed good reading behaviour at home, correct pronunciation of written text in her school book and self-confidence. Hope she will further improvise during her remaining learning time here. She really looks up to her teacher here which made her happy." – Parent of Nur Zulaikha Hanna, KG-2-6
8. Genius Aulad
| | |
| --- | --- |
| Criteria | Ratings |
| Curriculum and program | ★★★★★ (5/5) |
| Teaching style | ★★★★★ (5/5) |
| School life | ★★★★☆ (4/5) |
| Facilities | ★★★★★ (5/5) |
What we like the most about Genius Aulad is that it's a play-and-learn tadika with over 20 years of experience teaching kindergarten students. Parents will be comfortable sending their children here because of the quality of education it provides.
But, it's an Islamic kindergarten, so it only accepts Muslim kindergarten students because Islam teachings are a great part of the education it provides.
We also like the two classes which this kindergarten in Penang offers. These are the Morning or Afternoon Preschool which takes place for half a day and Beyond Preschool which takes a full day.
We deem the Morning or Afternoon Preschool fit for students who need comprehensive lessons based on fun and holistic modules. This allows them to transition seamlessly into formal education after kindergarten.
Meanwhile, the Beyond Preschool program helps in the development of a child's living, communication, and social skills. They'll enjoy learning the school's syllabus while having a balanced education.
It's also a plus for us that they include the parents in the learning experience of the students. The teachers here work hand-in-hand with the parents so that students will thrive in their studies.
They also hold activities for students and parents to bond over, like the bi-monthly Students-Parents Activities.
Furthermore, we also like how this school provides not only a fun learning environment but also a secure and safe one for its students. Besides the CCTV system it has in place, there's also a secured door system here.
We also noticed in particular that they have thick and non-slip flooring. This reduces falls and bumps so their students will be comfortable walking and playing around.
However, it only offers preschool classes so there are no extracurricular activities that students may join or try out to explore their interests.
Despite this, it's still one of the most affordable kindergartens in Penang.
Despite this, it's still one of the most affordable kindergartens in Penang.
Current Cost of Fees
Morning Preschool (8 AM -12 PM)
RM 350 per month
Afternoon Preschool (1 PM – 5 PM)
RM 320 per month
Beyond Preschool (7 AM – 6 PM)
RM 650 per month
School Program Fee for Morning Preschool or Afternoon Preschool
RM 1,650 per year
School Program Fee for Beyond Preschool
RM 1,700
Secured and safe facilities
Affordable fees
Involves parents in the student's education
Only offers preschool programs
No extracurricular activities
Best preschool ever
"Islamic environment and encourages to speak in English. Genius Aulad is the best preschool ever." – Nur Syahirah Azizan, Google Reviews
Friendly admin and staff
"Principal and teachers are very friendly. The place looks very clean and tidy. A recommended place for children." – Farah Hanisah, Google Reviews
9. D'Kingdom Kinderland Heritage
| | |
| --- | --- |
| Criteria | Ratings |
| Curriculum and program | ★★★★★ (5/5) |
| Teaching style | ★★★★★ (5/5) |
| School life | ★★★★☆ (4/5) |
| Facilities | ★★★★☆ (4/5) |
D'Kingdom Kinderland Heritage is one of the schools under the umbrella of The Learning Kingdom Education in Penang. It's a kindergarten that might be near you which you should consider because of its quality of education.
What got our attention about this kindergarten school is that it provides a safe and healthy environment that encourages, challenges, and engages the children.
We're also impressed by their core value which is "To nurture a child from Curious, Universal, Brilliant (CUB) to Leadership, Excellent, Optimistic (LEO)". This is also easily noticeable in their kindergarten programs and methodologies.
We also think that their 4 main teaching methods largely contribute to the quality of education that their students would get. These are multimedia teaching, heuristic teaching, moral teaching, and fun teaching.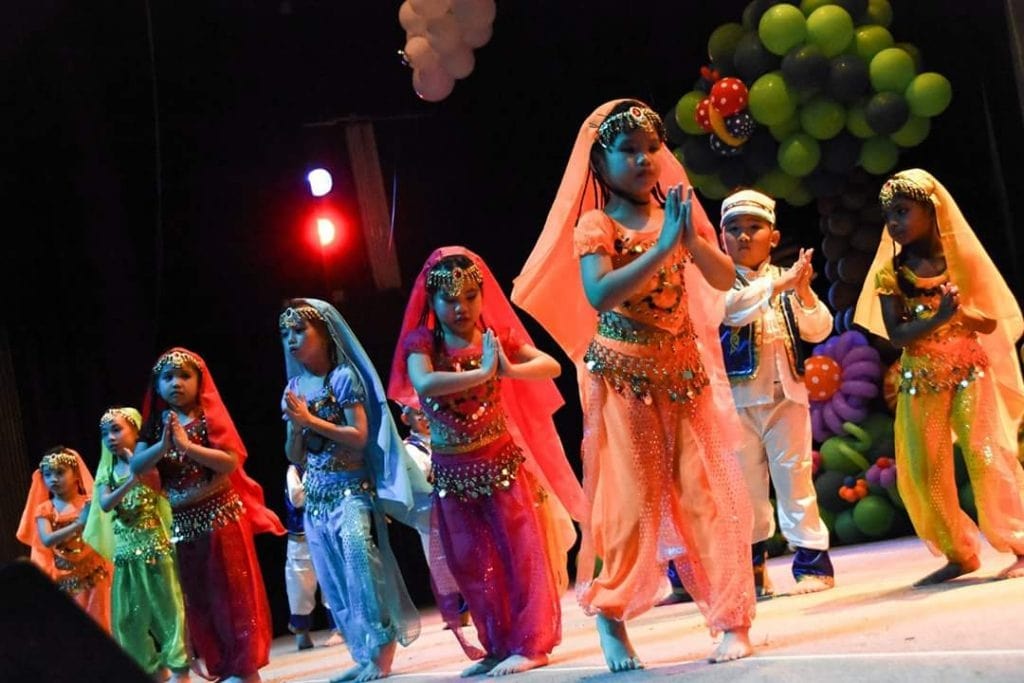 Based on our observations, the teachers in this school are very efficient and they conduct hands-on learning and physical activities both in small and big groups.
We think these are beneficial because it helps young learners to develop their motor skills and social skills.
It's also important for us that children get holistic education in their formative years and we see this in D'Kingdom Kinderland.
The teachers here engage students in fundamental lessons and they even help them in their emotional development and creative expression. Because of this approach, kindergarten students are well-equipped for success when they enter primary school.
However, it doesn't offer extracurricular activities for its students so they can't engage in their other interests.
Likewise, they only open limited slots per semester so if you're considering this school for your child, it's better to call them early.
Engages students in fun ways
Highly accredited
Innovative teaching curricula
Accepts limited number of students
No extracurricular activities
10. Eduwis
| | |
| --- | --- |
| Criteria | Ratings |
| Curriculum and program | ★★★★☆ (4/5) |
| Teaching style | ★★★★★ (5/5) |
| School life | ★★★★☆ (4/5) |
| Facilities | ★★★★☆ (4/5) |
We included Eduwis in our list of recommendations because this kindergarten school provides a very dependable and holistic education.
Instead of focusing on just 1 educationist's approach, it uses the approaches of eight educationists. It combined the philosophies of these educationists to create its program.
Eduwis: 8 Educationists' Approach
Eduwis uses the theories from the following educationists:

• Erik Erikson
• Friedrich Froebel
• Loris Malaguzzi
• Maria Montessori
• Jean Piaget
• Shinichi Suzuki
• Lev Vygotsky
• Confucius
This is why we're confident that students will get a high-quality education in Penang when they enroll in Eduwis since every aspect of their development is addressed here.
Plus, it has over 30 years of experience in preschool education and it still remains to be progressive because they conduct in-depth research to make its program better.
One of the things that impressed us is that it has a team that travels to preschools all over the world to learn from them.
But, above all, the Eduwis program is widely influenced by the EYLF of the Australia method which it developed to be localized in Malaysia — impressive, right?
This also allows the young learners to adapt to the local education system when they enter primary school even if their preschool education followed a foreign framework.
We also particularly like that they conduct non-academic activities throughout the year so that students would be able to develop their interests. Some of these activities are singing and percussion presentations, storytelling, puppet show, and sports day.
This is why we believe that students will be able to unleash their full potential.
Nevertheless, even if Eduwis provides students with opportunities to show their talents, there are no particular clubs that students could join to hone their skills.
Accessible and affordable education
Holistic education
Hosts non-academic activities
Only offers preschool programs
No club activities
Caring and Responsible Teachers
"We had surveyed multiple kindergartens and eventually found this school. The teachers are very caring and responsible. There are lots of activities where the kids will enjoy learning very much. Kid loves to go to school everyday now. Highly recommended for parents looking for a good kind for young kids." – WheeYan How, Google Reviews
Comfortable Learning Environment
"It's a great grow-up and learning place for children. The syllabus has included a lot of hands-on activity for children's growth and skill enhancement. I sent my kids to Eduwis this January, the learning environment is comfortable and spacious. While the teachers are patient and friendly. I can see great improvement in my kids from their language skills, attitude and eating etiquette." – Tan Eddie, Google Reviews
FAQs about Kindergarten Schools in Penang
---
We know that you're concerned about your kid's education, especially for their kindergarten because it's their first time going to school.
It can be a bit nerve-wracking but don't worry because you're assured that your children will be in good hands with any of these schools.
You can also check out our list of the best international schools in Malaysia to explore options for your child's primary and secondary education. Or, if you're living in the country's capital, find out where the best international schools in Kuala Lumpur are!
It's also never too early to start planning for your kid's next step! Find out how you can pay for college in Malaysia to secure your child's future!