The Top 6 Kindergarten Schools in Penang
When it comes to our child's education, all we want is the best. Especially when it's during their formative years in kindergarten, we want to make sure that they get the best experience in a holistic sense.
In this article, we'll be going through the top kindergarten schools in Malaysia and why exactly we deem them to be the top. Read on and jumpstart your kid's schooling experience together!
Different Kinds of Fees to Be Paid in Penang Kindergarten Schools
As much as we want to give you a clear idea of how much kindergarten schools in Penang cost, the range between all these schools is huge so, instead, here! Let's talk about all the different kinds of fees you have to be paying to enroll your kid into a kindergarten.
This is especially helpful if you're a first-time parent and need help understanding why you need to pay certain fees.
| | | |
| --- | --- | --- |
| Fees | Purpose | Frequency |
| Registration | Covers student services and examination fees | Once (Upon registration only) |
| Admission | Holds your spot at the school before the tuition fee payment | Once (Upon admission only) |
| Safety Deposit | Advanced payment to be used in case you aren't able to punctually pay the tuition fee | Once (Upon admission only) |
| Tuition fee | Payment for teachers, administrators, and other school staff | Every school year or term |
Top Kindergarten Schools in Penang
Now, we know you're excited to read all about the perfect place to send your beloved kid. So let's go on learning all about the top kindergarten schools in Penang!
1. MapleBear Learning Garden – York House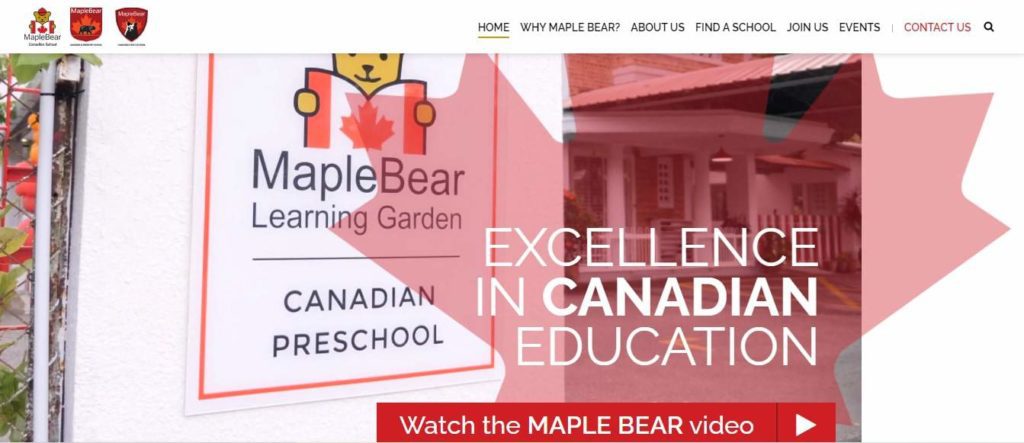 LEVELS OFFERED
Preschool
WEBSITE
https://www.maplebear.my/
ADDRESS
121, Halaman York, Taman Dhoby Ghaut, 10450 George Town, Pulau Pinang, Malaysia
CONTACT DETAILS
+60 4-229 6388
OPERATING HOURS
Mon-Fri 9:00 am – 5:00 pm
Sat 9:00 am – 1:00 pm
Maple Bear Learning Garden is a school that offers high-quality education that's based on the Canadian curriculum. At the moment, they have over 560 branches in 31 countries all over the world and they offer education for preschoolers, grade-schoolers, and high schoolers.
Of course, we're going to be focusing on how they handle their preschool department which is pretty impressive. First off, their curriculum is based on Canadian standards and is crafted by Canadian educational experts but they still do their best to conform to Malaysia's own standards and regulations.
Their teaching styles are play-based because they believe that children are curious about the world and being able to explore it on their own makes them more inclined to develop the natural skills they need. They focus on helping students develop strong literacy skills, high-level thinking skills, problem-solving skills, and independence.
Students at Maple Bear are taught to read, write, and speak in both English and Chinese because they believe that bilingual acquisition early on in life is one of the keys to achieving diversity and being a student of the world.
To ensure maximum focus on each student, class sizes range from 3-8 students.
Bilingual education
Canadian-based curriculum
Play-based learning
Small class sizes
Tuition fee and fees are not indicated online
Malaysian branch only offers preschool level
Customer Reviews
Maple Bear sounds like a prime school to send your child to and these reviews from happy parents confirm it:
"The environment is so bright and cheery with student work everywhere." -Osama
"A heaven for working parents. Thank you for being a partner in raising my child." -Danish
"Our children are fortunate enough to have spent the past 3 years at MapleBear. We feel that Maple Bear has given them the opportunity to experience that learning is fun at an early age." -Saleem
2. E-Bridge Pre-school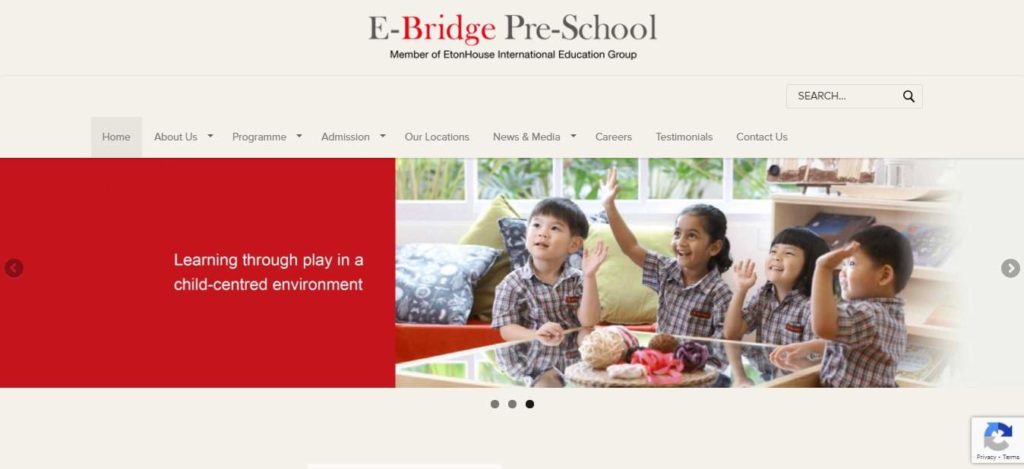 | | |
| --- | --- |
| LEVELS OFFERED | Nursery, Kindergarten |
| WEBSITE | https://www.e-bridge.com.my/penang/ |
| ADDRESS | 9, Jalan Pangkor, George Town, 10050 George Town, Pulau Pinang, Malaysia |
| CONTACT DETAILS | +60 4-370 1788 |
| OPERATING HOURS | Mon-Fri 7:30 am – 6:30 pm |
E-Bridge Pre-School is a part of the EtonHouse International Education Group. In case you've never heard of it, it's a company that currently has over 100 pre-schools and international schools across 12 countries.
They accept students as young as 2 months old to 2 years old for infant care. For their Pre-Nursery to Kindergarten 2, they accept students aged 2 years old to 6 years old.
Their conceptualization for E-Bridge Pre-School began with a goal of providing accessible and quality early childhood care and education services to children and parents alike which is why they made it a point to have low tuition fees.
Their Inquire-Think-Learn curriculum is something they devised in order to help their students develop critical thinking skills so they learn to ask the right questions and come to the right conclusions. E-Bridge also offers a bilingual education for all its students since they see the importance of knowing both English and Mandarin.
In line with this, they also make sure to create a stimulating environment for the children so they have a more hands-on learning experience. This helps the children learn their own interests while also aiding in their overall development.
If you want to book a tour of their campus, you can do so easily on their website.
Take a look at the table below for a list of their fees in their Penang branch:
Fee
Full-Day Fee (7:30 am – 6:00 pm)
Half-Day Fee (7:30 am 1:00 pm)
Pre-nursery to Kindergarten 2
RM1200-1300/month
RM1000-1100/month
Registration fee
RM 500
Deposit
Equivalent to one month's fee
Bilingual education
Affordable tuition fee
Child-focus rather than teacher-focused
Two branches in Penang
Online booking of campus tour available
Does not offer levels past kindergarten
Does not offer transportation
Customer Reviews
If you want to be assured that the teachers at E-Bridge who will be handling your child are great, check out these reviews:
"Very friendly and responsible teachers. My daughter study there, she loves the school and teachers." -Chik
"Loving teachers and safe learning environment." -Siew
"Very happy with son's improvement in E-Bridge. Dedicated teachers." -Priya
3. Straits International School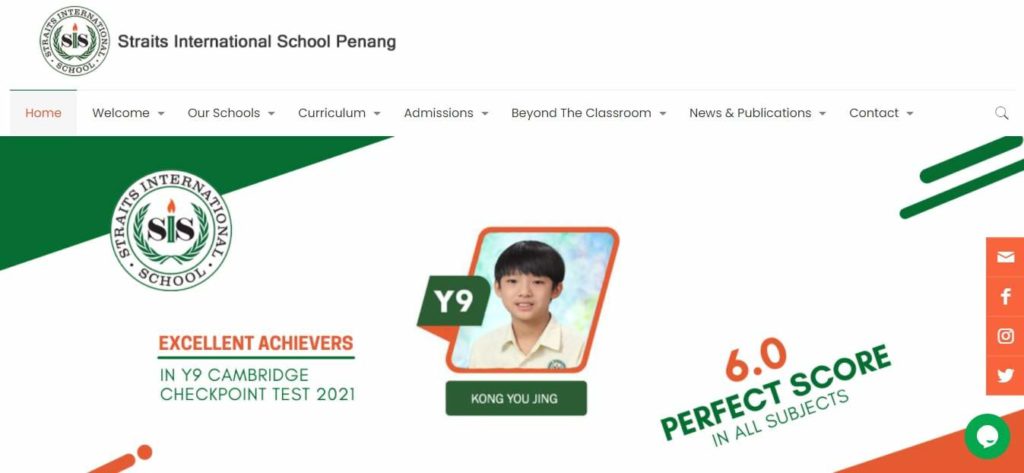 LEVELS OFFERED
Kindergarten, Primary school, Secondary school
WEBSITE
https://penang.sisgroup.edu.my/
ADDRESS
2, Lilitan Sungai Ara, Sungai Tiram, 11900 Bayan Lepas, Pulau Pinang, Malaysia
CONTACT DETAILS
+60 4-643 1815
OPERATING HOURS
Mon-Fri 8:00 am – 4:00 pm
Sat 9:00 am – 1:00 pm
Straits International School is an international school that follows the British Cambridge Curriculum. Their kindergarten years are divided into 2 years: Nursery and Reception wherein each year has 3 school terms.
For their kindergarten students (aged 3-5 years old), they use the Early Years Foundation Stage framework that divides learning into 7 key areas. These 7 key areas are as follows: personal, social and emotional development, communication and language development, physical development, literacy development, mathematics, understanding the world, and expressive arts and design.
Nursery and Reception are the two kindergarten years where they implement this structure. In our opinion, it's a great system because its specificity makes sure that no area of your child's development is left unnurtured.
These two years of EYFS are integral in raising a child that is skilful both academically and socially. Outdoor activities and play-based learning are at the forefront of what happens in Straits.
If you're interested in sending your child to Straits, you're free to join the school for a few days and watch your child interact and learn with students who already study there. All you have to do is book an appointment with them.
Check the table below to see the fees at Straits for kindergarten students:
| | |
| --- | --- |
| | Fees |
| Application fee | RM 500 (One-time fee) |
| Registration fee | RM 1,000 (One-time fee) |
| Security deposit | 1 term of tuition fee (One-time fee) |
| Resource fee | RM 1,800/year |
| Tuition fee for Nursery | RM 5,150/term |
| Tuition fee for Reception | RM 5,500/term |
Offers free trial
Offers transportation
Offers discounts and scholarships
Uses EYFS framework
Follows British Cambridge Curriculum
Offers a lot of co-curricular activities
Has relatively large class sizes (can range from 15-25)
High tuition fee
High payment for resource fee
Customer Reviews
Here are a couple of reviews left by Najib and Sophia about their thoughts on Straits International School:
"One of t International School at state of Penang. Good location and privacy, not at super jam area." -Najib
"Best international school in penang" -Sophia
4. Little Caliphs Nibong Tebal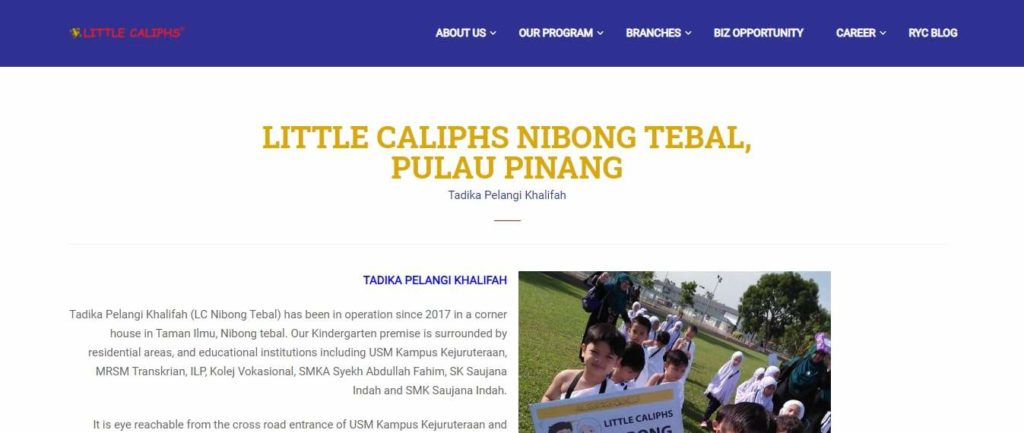 The Little Caliphs Nibong Tepal follows what we call an Islamic-English-Creative preschool. It's a preschool that really shines a light on how important it is to creatively integrate Islamic teachings and their meaningful foundations with academic and life skills.
They strive to help children discover their physical, socio-emotional, cognitive, and spiritual potential. TLCP applies a lot of advanced methodology teachings which makes them effective in their goals.
Some of these are the Whole Brain Learning method which encourages high energy by using game-like challenges and Multi-sensory Learning Styles, which uses a child's kinesthetic, visual, and auditory senses to learn how to read. To perfect the teaching through these methods, all teachers undergo teaching content and methodology training so that there's a set standard of what to expect.
It's also important to note that this school is a lot more accessible than the others on this list in terms of tuition fees!
You can book a slot for their free virtual tour on their website right now. But be sure to hurry because these slots are limited.
| | |
| --- | --- |
| | Monthly fee |
| Half-Day ( 7:30 am – 12:30 pm) | RM 280 |
| Full Day ( 7:30 am – 6:00 pm) | RM 440 |
Note: The Little Caliphs Nibong Tepal is currently temporarily closed due to COVID-19 restrictions. If you have any concerns, you may contact them at the number posted above.
Free virtual tour
Affordable tuition fee
Islam-English-Creative curriculum
Uses different kinds of teaching methods
Does not provide transportation
Temporarily closed due to COVID-19 restrictions
5. RainbowKidzHouse Montessori School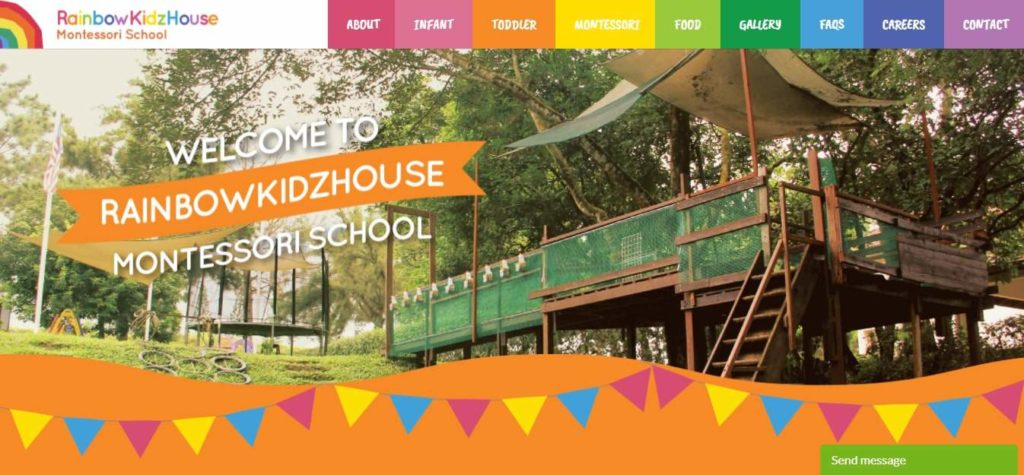 | | |
| --- | --- |
| SERVICES | Infant, Toddler, Montessori |
| WEBSITE | http://www.rainbowkidzhouse.com/ |
| ADDRESS | Lot 2, Beverly Row Bungalows, Jalan Beverly Utama, IOI Resorts, 62502 Putrajaya, Wilayah Persekutuan Putrajaya, Malaysia |
| CONTACT DETAILS | +60 3-8957 6188 |
| OPERATING HOURS | Mon-Fri 7:30 am – 6:00 pm |
Everyone knows all about the Montessori method and how well it works for teaching students, especially those who are in their formative years. RainbowKidzHouse Montessori School is one of the schools that have since adopted Dr. Maria Montessori's way of teaching children according to their own specific needs.
Their focus for those in kindergarten is to build up a child's discipline and confidence in order for them to be more inclined to be curious about the world without them. They do this by training the students in soft skills such as theatre and public speaking which is a great exercise.
The maximum class ratio is 10:1 so they ensure that all the learning is child-centered. They also go out of their way to include outdoor learning and physical activity to instil an appreciation of nature in their students.
Along with their Montessori curriculum, they also have a Partial Montessori curriculum. The only difference is that those enrolled in the latter pay lower tuition fees and the number of students in the class are larger to prepare them for the larger classes in traditional schools.
They also offer a 3-day free trial so you can see if your child is comfortable in their school. They also offer homeschooling services!
Note: RainbowKidzHouse Montessori School is currently temporarily closed due to COVID-19 restrictions. If you have any concerns, you may contact them at the number posted above.
Offers both Montessori and Partial Montessori curriculum
Food for kids are prepared by a nutritionist
Offers a 3-day free trial
Offers homeschool program
Does not offer levels past kindergarten
Closed due to COVID-19 restrictions
Customer Reviews
Here are a few reviews left by kind parents of students at RainbowKidzHouse:
"If you're looking for a kindy in a resort environment. You should make an appointment to check out this kindy. They have friendly teachers & staff with Montessori teachings. The bungalow is run down but I think the education is more important…" -May
"A very good, nice, amazing kindergarten… kindly & friendly staff. Reasonable fees
I highly recommend it" -Mutaz
6. The Learning Kingdom Education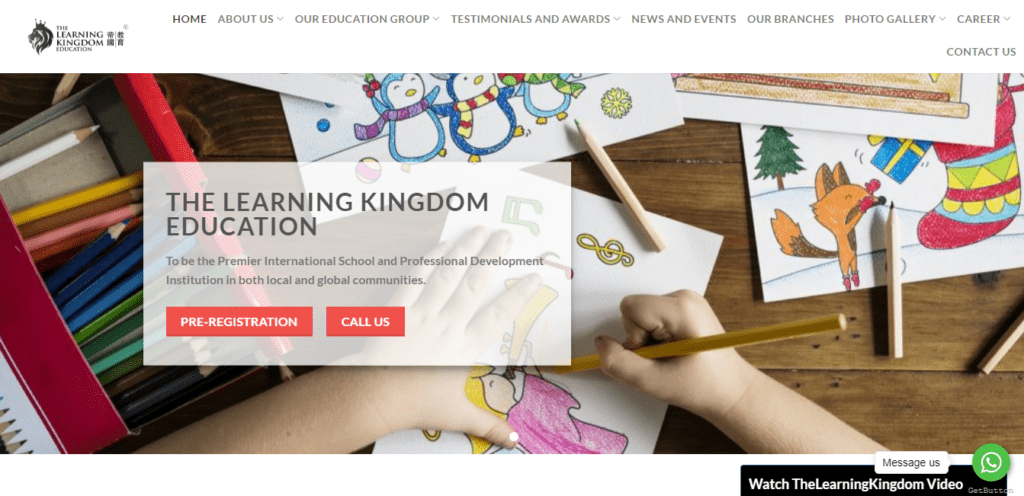 SERVICES
Preschool – Adult Education
WEBSITE

https://thelearningkingdom.edu.my/
ADDRESS
1st Floor, No.34, 36, 38 & 40, Gat Lebuh Macallum, 10300 Georgetown, Pulau Pinang
CONTACT DETAILS
019-4336699
OPERATING HOURS
Mon to Fri 8am-8pm
Sat 10am-6pm
The Learning Kingdom Education was primarily called the Unique Tuition Centre back in 2005 and since then has grown to accommodate from children's education to professional education and consultancy levels as well.
D'Kingdom Kinderland was established in 2012 and The Learning House Preschool was founded 5 years later on in the year 2017. The latest addition to their growing educational courses has been the Monarch Management and Consultancy which is more focused on training regarding career-building skills and the like.
They have since then acquired accreditation and launched various learning tools that innovate the learning experience and set them apart from other learning institutions. These include programs and courses such as the English Master, Unique Art and Craft, IQ World, and Super Kids Sensory among others.
We recommend this learning institution due to its innovative learning experience that was highly acclaimed in reviews and numerous partnerships such as with the Lincoln University College and the Malaysia Professional Skill Development Association.
Wide range of educational courses for all ages
Highly accredited
Innovative teaching curricula
There might a limitation in terms of slots offered
Customer Reviews
Here are some reviews from their clients:
"Strongly recommended for those young parents, excellent service, quality teaching and take care child patiently. My child love here to much." – Weron Goh
"Very satisfied with the services provided by all the teachers. All the teachers do a very good job. D'Kingdom Kinderland is highly recommended." – Ejamae Echan
FAQs about Kindergarten Schools in Penang
---
We know exactly how you feel about sending your kid to school for the first time as it can be a bit nerve-wracking but don't worry! With this list of the top kindergarten schools in Penang, you can rest assured that your child is in good hands.
Please reach out to us and let us know if you have any concerns or questions regarding these schools! We'd be more than glad to help you out.
It's never too early to start planning for your kid's next step! With that in mind, feel free to check out our list of the best international schools in Malaysia.