The 5 Best Clinics for Dental Implant Services in Selangor
When it comes to getting dental implants, you should always turn to credible dentists to do the job. Luckily there are a lot of competent dental implant providers in Selangor.
In this list, we have selected some of the best dentists in the city. Read on and find out which ones made our list and why we selected them.
The Cost of Dental Implants Services in Selangor
The price for dental implants varies because of factors such as the expertise of the dentist and the material that they use for your implant. However, you can refer to the table below for the average price of dental implants:
| Type of Material | Estimated Costs |
| --- | --- |
| Dentium Implants | RM 7,000 per implant |
| Straumann Implants | RM 10,000 per implant |
Top Dental Implants Services in Selangor
We assessed the dental implants providers based on the following criteria:
1. Dentist3.com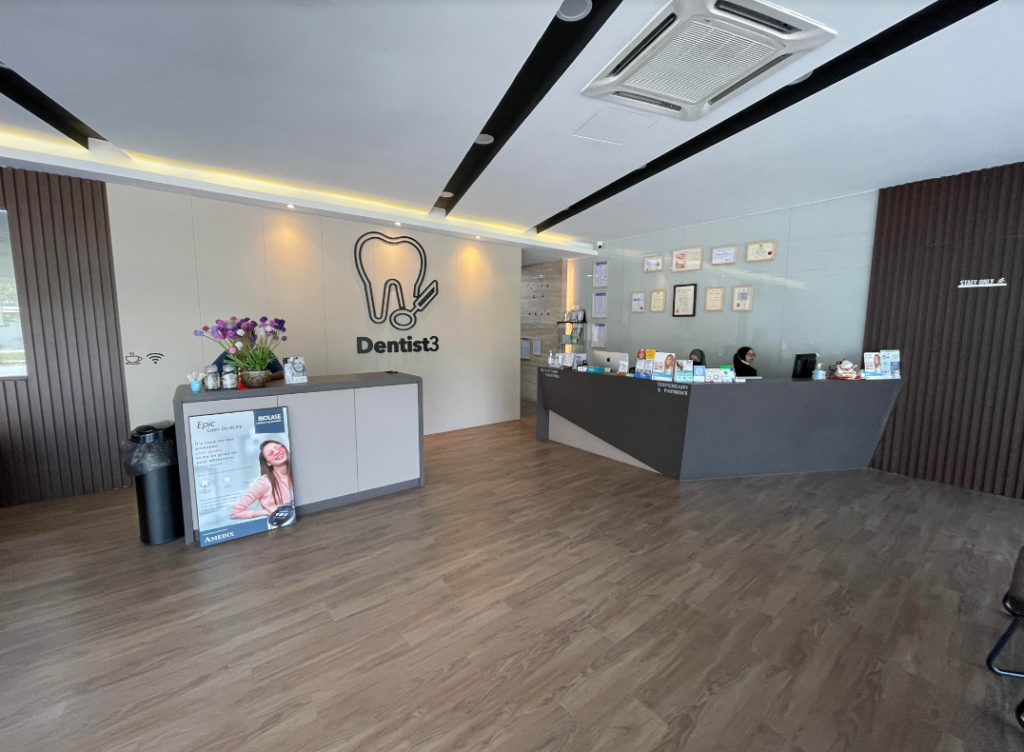 | Test | Info |
| --- | --- |
| SERVICES | Dental Implants, Laser Dental Treatments, Wisdom Tooth Surgery, Impacted tooth surgery, Conventional Braces |
| WEBSITE | ttps://dentist3.com/bsc/ |
| ADDRESS | 58, BSC Waterfront, Jalan BSC 2B/2, Presint 2, Bandar Seri Coalfields, 47000 Sungai Buloh, Selangor, Malaysia. |
| CONTACT DETAILS | 013 2348 421 |
| OPERATING HOURS | Open Daily , 10am - 6pm |
| | |
| --- | --- |
| Budget | ★★★★★ (5/5) |
| Facilities | ★★★★★ (5/5) |
| Expertise | ★★★★★ (5/5) |
| Accessibility | ★★★★★ (5/5) |
Dentist3 is an outstanding close-knit dental team under the supervision of surgeons Dr. Nicholas Yap-DDS, Dr. Sharon Siew-DDS, and many more renowned dentists.
Although Dentist3 only has several years of experience in the industry, we've heard a significant amount of praise for its different branches. For instance, we noted that many clients commended the friendliness and skill of its staff.
Additionally, the clinic is easy to reach through its online channels. We like the accessibility it gives its clients since its staff offers a quick and informative response to inquiries done through WhatsApp.
Another reason why Dentist3 is among the leading clinics in Selangor is its titanium dental implants. Aside from having skilled dentists handling the implants, it uses the OSSTEM implant brand from Korea, which is high-quality and affordable.
We also appreciate that the costs of the OSSTEM implants at Dentist3 are transparent. The entire treatment starts at RM 4,800 per implant unit, and the clinic requires only RM 1000 for a deposit.
However, additional fees may occur if bone grafts and membranes are needed. In any case, these would incur around RM 800 to 1,500 – rendering the total costs still more affordable than most dental implants in the area!
Another aspect we like about Dentist3 is the convenience of its payment options since its clinics accept debit, credit, QR pay, and cash payments.
As for the clinic, we're glad to see that it was clean and accessible. The interior seemed like the perfect place to lounge in, resembling the looks of a hotel – even offering free wifi and water.
Although, we must mention that there were cases where specific treatments, such as dental fillers where the filling would come out.
But, we liked that the staff quickly followed up regarding these problems. They set an appointment for a follow-up procedure to ensure the customer is left satisfied – a plus in our books!
Excellent customer service
World-class facilities
Accessible locations
Free dental check-ups
Offers referral rewards
Imported titanium dental implants from Korea
Affordable treatments
Accepts debit, credit, QR pay and cash
Cases of defects with fillers
Closed on Fridays
Customer Reviews
"The doctor & staffs are very gentle & friendly.. i like it.. before this i have encountered many bad experience going to the dentist but Dr Nicholas has change my fear.. i will definitely recommend this clinic to my friends.." – Fyda Arif
"Great service.. really recommended! Staff n doctor so friendly n give me good explanation..cabut Gigi x sakit Lansung..sakit sikit jer time nk keluarkan Gigi tu jer! Will come again! "- nur_maslianahalim Halim
"The staff are helpful and nice. Dr Nicholas also explained everything thoroughly before started the treatment." – Clarinda Ivory
2. PrimeCare Dental Clinic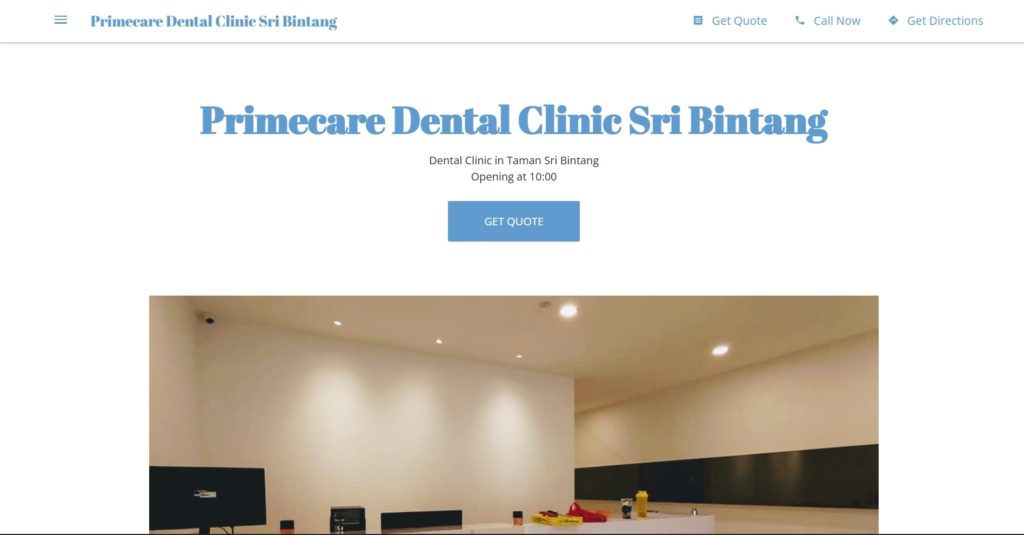 Test
Info
SERVICES
Dental Implants, Dental Consultations, Orthodontic Braces, Whitening, Veneer, Root Canal, Crown, Bridges
WEBSITE
https://primecaredentalsh.my/
ADDRESS
7A, Jalan Melur 2/18, Seksyen 2, 40000 Shah Alam, Selangor, Malaysia
CONTACT DETAILS
'+6018 368 7133
OPERATING HOURS
Monday-Thursday: 10:00 am-10:00 pm

Friday-Sunday: 10:00 am- 6:30 pm
| | |
| --- | --- |
| Budget | ★★★☆☆ (3/5) |
| Facilities | ★★★★☆ (4/5) |
| Expertise | ★★★★★ (5/5) |
| Accessibility | ★★★★★ (5/5) |
PrimeCare Dental Clinic is one of the more well-known clinics in Malaysia. This is probably because of the approach and extra steps they take to ensure customer satisfaction is met.
Offering a wide variety of services centered on giving pain-free dental treatments, PrimeCare has earned the respect and trust of many Malaysian citizens.
Another thing we like about PrimeCare Dental Clinic is it has clinics located in different locations in Malaysia. This accessibility enables clients to visit the branch nearest to them.
Moreover, it offers the convenient option to book appointments online to lessen the overall hassle brought by being a walk-in patient.
What we also liked about this dental service is that other than its staff's expertise in the services they offer, they also prioritize customer experience in many ways.
Just by entering the clinic, customers are greeted warmly and are tended to by the lounge staff. In addition to that, we appreciate that dentists and nurses do their best in the treatments so that you don't feel much pain in the process.
The prices are something you might want to consider if you plan to visit PrimeCare dental clinic, though. If you're looking for more budget-friendly options, we recommend you check out the other entries we have for you on our list.
Wide variety of services
Accessible location
Accommodating staff
A gentle hand when dealing with sensitive clients
Customer Reviews
Excellent service
"Thank you so much for the excellent service. I would definitely recommend this clinic to my friends. The doctor and staff were very friendly." – Koay Xin Ying
Friendly and nice staff
"Strongly suggest Dr Ding. Good doctor, always explains to us well before starting. The staffs there are very friendly and nice too! Good experience!" – Ming Jun
3. Beverly Wilshire Dental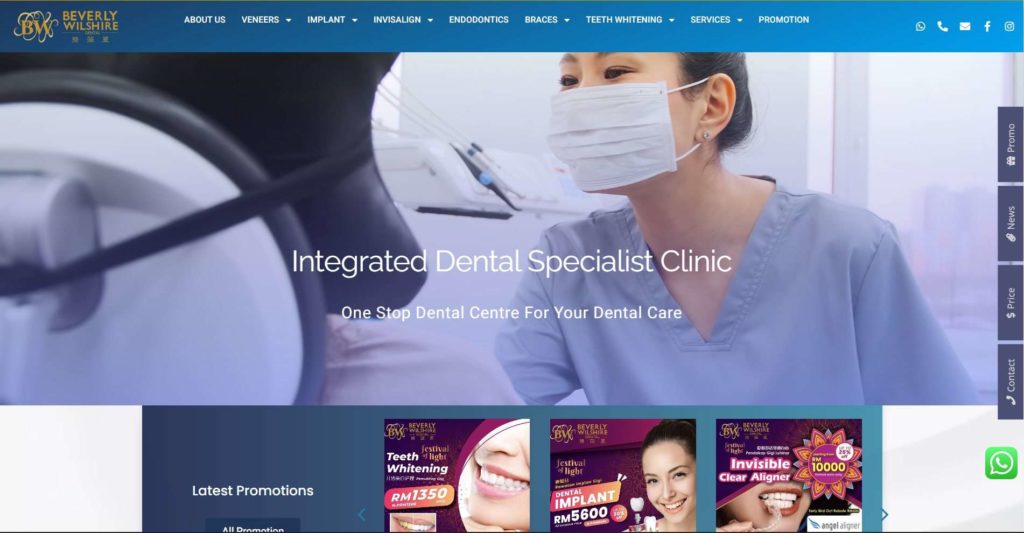 Test
Info
SERVICES
Dental Implants, Whitening, Veneer, Root Canal, Crown
WEBSITE
https://www.beverlywilshiredental.com/
ADDRESS
Level 9, Kenanga Tower, 237 Jalan Tun Razak Kuala Lumpur
CONTACT DETAILS
'+60 3-2118 2999
OPERATING HOURS
Monday-Friday: 9:30 am-5:30 pm

Saturday: 9:30 am-1:30 pm
| | |
| --- | --- |
| Budget | ★★★☆☆ (3/5) |
| Facilities | ★★★★★ (5/5) |
| Expertise | ★★★★☆ (4/5) |
| Accessibility | ★★★★★ (5/5) |
Beverly Wilshire Dental is a well-distinguished dental clinic under the command of Dr. Tan Wee Kee, its president and orthodontist.
What separates Beverly Wilshire from its competitors is its team of dentists and nurses working flawlessly to make the company's name known. Also, we like that it boasts an extensive array of services that have been tried and tested by hundreds of clients.
The clinic itself is simple yet elegant, with a warm welcome coming from the lounge staff. Our surveys show that clients love visiting them for any check-up or procedure.
The most notable comment that clients did have for Beverly Wilshire is the ability of the staff to accommodate particular requests and needs, especially when it comes to implants and veneers.
One problem we did notice, though, is that some clinic staff seem to lack the skills or knowledge on typical things, like providing information. This, in turn, leads to confusion on the customer's part.
The pricing as well of the clinic tends to fluctuate, or customers aren't given a breakdown of the rates. So the price that was given online or through the phone may not be what you get on your first visit.
Overall, we think Beverly Wilshire Dental is one of the most accessible clinics in Malaysia for dental implants and veneers.
Hardworking and accommodating staff
Personalized service
Favored after-sales service
Inconsistent staff 
Can get pricey
Customer Reviews
Excellent experience
"I had an excellent experience with Beverly Wilshire Dental. They were professional, thorough, and made sound recommendations. They were attentive to my needs particularly as I had just had surgery a few days prior. Highly recommended!" – Jordan Peters
Top professionals
"Did multiple dental procedures and surgery (dental implants, dental crown, dental bridge) here. Beverly's dentists and surgeons are top professionals, very nice experience. Nice location with jockey parking, and good and comfortable facilities." – Alfred Ko
4. Lau Dental Clinic & Surgery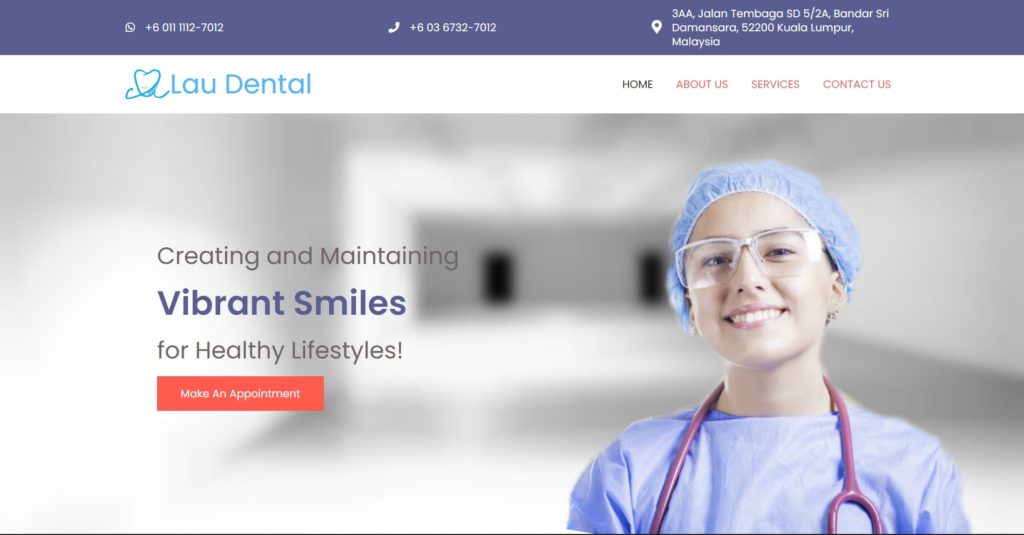 Test
Info
SERVICES
Dental Implants, Dental Consultations, Orthodontic Braces, Crown and Bridge, Dental Implants, Veneers
WEBSITE
https://laudentalsurgery.com/
ADDRESS
65-1, Jalan Radin Tengah, Bandar Sri Petaling, 57000 Kuala Lumpur, Kuala Lumpur, Malaysia
CONTACT DETAILS
'+6018-919 1433
OPERATING HOURS
Monday-Friday: 9:00 am-6:00 pm

Saturday-Sunday: 9:00 am-5:00 pm
| | |
| --- | --- |
| Budget | ★★★★★ (5/5) |
| Facilities | ★★★★★ (5/5) |
| Expertise | ★★★★★ (5/5) |
| Accessibility | ★★★★★ (5/5) |
Lau Dental Clinic & Surgery is a dental implant service focusing on orthodontics, implants, veneers, and many more. While the services offered here can be found, Lau Dental has been perfecting these services ever since they started.
The team has decades of experience under its wing and is known for handling the most basic checkups to major operations. According to several accounts of its clients, they appreciate the variety of treatments done here.
The clinic can be conveniently found in Jalan Radin Tengah, which is somewhat near the main district of Kuala Lumpur. We like that their location makes it easy for patients to access during the scheduled operating hours.
What we liked about Lau Dental is that it offers a significantly better variety of services and has repeatedly proven that its methods are helpful and engaging.
The clinic is equipped with the newest technology and equipment the staff and customers can use, which is a bonus that will significantly elevate anyone's experience.
The prices of the clinic may not be suited for everyone as the rates are matched with the quality of service given from the staff up to the dental surgeons who will operate on the customer.
Other than that, we were quite disappointed that some clients experienced a slow response from the online support staff through WhatsApp.
However, we think this slow response time does not affect the entire experience of getting dental implants. It would just do them good and serve their customers better if they could improve on this aspect.
Accessible location
Wide variety of services
Updated technology and equipment
Slow response
Can get pricey
Customer Reviews
Higly skilled
"Dr. Kwa is highly skilful, experienced, cheerful and empathetic. I feel safe under his treatment." – Cloud T
All well
"Process from diagnosis to surgery all well. Highly recommend Dr Samantha & Dr Kwa." – John Ckl
5. All Smile Dental Specialist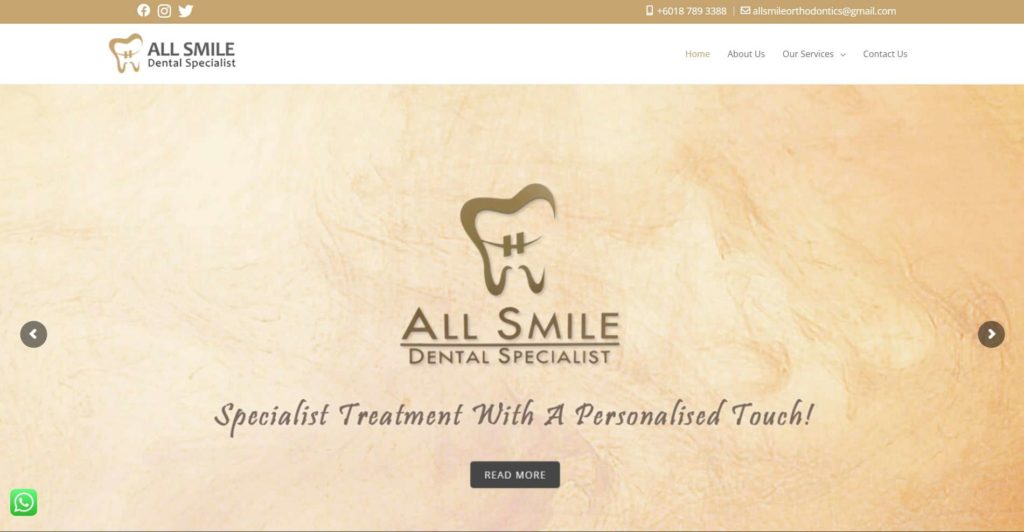 Test
Info
SERVICES
Dental Implant, Orthodontic Treatment, Invisalign, Wisdom Tooth Surgery, Teeth Whitening, Crowns & Bridges
WEBSITE
https://www.allsmiledentalspecialist.com/
ADDRESS
29A, Jalan Tun Mohd Fuad 3, Taman Tun Dr. Ismail 60000 Kuala Lumpur
CONTACT DETAILS
'+6018 789 3388
OPERATING HOURS
Monday: 9:30 am-4:00 pm

Tuesday - Friday: 9:30 am-6:30 pm

Saturday: 9:00 am-6:00 pm
| | |
| --- | --- |
| Budget | ★★★☆☆ (3/5) |
| Facilities | ★★★★★ (5/5) |
| Expertise | ★★★★★ (5/5) |
| Accessibility | ★★★★★ (5/5) |
All Smile Dental Specialist has been in the industry for several years – with good reason.
First is its team of nurses, dentists, and other staff who have been handling medical and dental procedures and are all known to have a light hand. Many sensitive patients mentioned that they felt comfortable with the treatments.
The clinic itself is a bit far from the commercial district but is still accessible as it's near the Taman Tun Dr. Ismail tram stop.
We liked that compared to other services, All Smile does its best to offer low prices with the same, if not better, services compared to its competitors.
We also liked that the dental implant specialist of All Smile comes in highly favored by past clients, which is one of the reasons they keep coming back to here.
Moreover, we felt more confident in their services when we found out that all dental implant procedures are done by a specialist with a Masters Degree. Furthermore, All Smiles can handle various implant types and has the latest equipment.
We did notice that a few past clients were dissatisfied with some of All Smile's services, such as the scaling, among others. However, in most cases, the clinic handles everything flawlessly.
Overall, we think All Smile Dental Specialist is still a great choice for dental implants in Malaysia, especially for those looking for cheaper detail services.
Professionals in the field for many years
Cheaper prices
Well-commended implant specialists
Customer Reviews
Best experience ever
"The best experience ever. The doctor is very calm and explains the procedure thoroughly. Definitely recommended!" – Ungu Hashim
Reasonable price
"Price is definitely reasonable and I sincerely reckon anyone to go for their services. The staff are also friendly, responsive and helpful." – Ooi Li Ann
FAQs about Dental Implant Services in Selangor
---
Thinking of having your teeth aligned first before getting a dental implant? Check out our list of the best orthodontists in Malaysia to learn more!