Top 7 Beaches in Sabah To Explore for a Weekend Getaway
Sabah is a Malaysian state found in the northern region of Borneo, dubbed "The Land Below the Wind." This is because it's a hair away from the typhoon-prone region above it, allowing it to avoid this kind of weather and offer a tropical climate all year long.
This type of weather makes it a great vacation destination, especially if you're looking for beach getaways. Fortunately, there are tons of beaches in Sabah where you can sunbathe, dip your toes in crystal-clear waters and engage in exciting activities!
To help you find your perfect vacation destination, here are the best beaches you can find in Sabah:
Tanjung Aru
Located in Kota Kinabalu, Tanjung Aru is one of those beaches in Malaysia that offers spectacular views of the sunset. It's visited by both tourists and locals alike just to visit this majestic golden hour, and we suggest you do so too when you get the chance!
The beach was named after the aru trees that you'll find across the beach. The base of these trees makes for a great spot for watching the sunset thanks to their leaves that do a great job of providing shade.
Not a lot of people choose to swim on this beach because of the strong undercurrent and unclear water. The real highlight is the shore itself, as the wide area of pure sand allows for various activities by the water.
Some of these activities include flying kites, holding barbeques, sunbathing, taking great photos and more! There are also various food stalls scattered across the beach so you can buy tasty snacks and have a picnic while you listen to the relaxing sounds of the sea.
Another great about this beach is that it's fairly nearby Kota Kinabalu City, making it a perfect place to visit for quick getaways. It's a famous beach among the local folks here in Sabah so expect to encounter and even make friends with them during your visit!
Pro tip:

If you want to stay overnight in Tanjung Aru Beach, the best place to settle in is Shangri-la Tanjung's Resort and Spa. This place offers a sunset bar, a pool and most of all, world-class rooms!
Pantai Dalit
Pantai Dalit is quite literally paradise on earth, and you'll immediately understand why once you step foot on this beach. For starters, it features picture-perfect white sand that stretches over the entire shore, leaving no impurities wherever your point of view is from.
This wide patch of sand is only broken when it meets the 400-acre tropical vegetation that surrounds the shore. From the sea, looking at this luscious greenery is like seeing an oasis in the middle of a desert because of how striking it looks within the white sand.
The best part about this beach, for us at least, is the calm water. This allows its visitors to splash around in peace without having to worry about strong waves crashing into the shore and potentially knocking them down.
Also, it's just nice to admire the peaceful waters as you're sunbathing under the bright sun on the pure white sand of the beach.
But you know what would make this experience much more special? A drink in hand!
Thanks to the world-class Shangri-la resort on the beach, you can treat yourself to a myriad of refreshing drinks from their Sampan Bar. Whether you're into alcoholic drinks or not, we can say from experience that this bar will do you good!
Pro tip:

If you want to commemorate your trip to the island, we recommend checking out the shops found across the beach. These establishments offer amazing Malaysian souvenirs that can help make your trip extra memorable.
Kelambu Beach
Kelambu Beach is among the most beautiful beaches in Malaysia that's also secluded enough to provide its visitors with a sense of exclusivity. This is thanks to the beach's location being at the tip of Borneo.
If you're lucky enough, you may even have the beach to yourself! Of course, this will depend on your travel dates, as some months are busier than others.
Going back to our previous claim that Kelambu is among the most beautiful beaches in Malaysia, this can be attributed to two main things. Firstly, the white sand that stretches along its shores is such a marvel to look at and burying your feet under its pure granules is such a joy.
The second reason is its pure teal water, which is something that Malaysian beaches are known for. Looking at it from the shore while sunbathing is a sight to behold, especially when the sunlight bounces off of its surface.
If you're looking for an adventurous way of staying overnight on this amazing beach, we recommend setting up tents! This is the best way to do it in our opinion because it doesn't break your connection with the beautiful natural landscape around you.
Pro tip:

If you're looking for a great activity you can do with your family, bring some easy-to-eat snacks with you on your trip and go on a picnic! Just be sure to be clean as you go so that you don't get into any trouble.
Manukan Island
One of the best beaches you can visit in Sabah in terms of activities offered, Instagram-worthy views and world-class accommodation is Manukan Island. Located off the coast of Kota Kinabalu, this patch of land will greet its visitors with beautiful cerulean waters and pure sand.
Thanks to its crystal-clear waters, this beach became one of the premier snorkelling spots in the state. Trust us, you can't leave this island without trying this activity because it would be such a waste!
Looking underneath the surface of the cerulean waters is like looking at another dimension. One that's filled with coral reefs and interesting-looking friendly sea critters that are waiting to say hello.
What we like about this beach is that even though it's relatively secluded, it comes with essential facilities that guests will need for a comfortable stay. This includes changing rooms, toilets and even restaurants that serve local delicacies!
Aside from the beautiful calm waters, you can also enjoy the lush jungle located on the island. This patch of greenery is home to tons of macaques, a species of primate that are known for their charismatic behaviour.
They are pretty cool to interact with, but be careful! These species are also known for their thieving nature so keep your belongings away from them.
Pro tip:

If you think that snorkelling isn't enough to get up close and personal with the sea creatures, try the underwater walk activity. Here, you'll get to put on a helmet to provide you with oxygen as you're exploring the seafloor on foot.
Pulau Tiga
You may recognise Pulau Tiga if you watch the long-running TV series, Survivor because it was one of the "exotic" locations featured there. To call Pulau Tiga a beach is a bit inaccurate since it's really made up of three main islands, each of which features equally impressive beaches.
The must-visit beaches located here that we recommend you check out include Ramis, Asmara and Pagong Pagong. They're worth highlighting because of their picturesque nature that never gets old no matter how long you stay in them.
When you do visit these islands, we recommend you try snorkelling. The clear water surrounding these patches of land is home to flourishing marine life that consists of colourful coral reefs and different kinds of fish.
If the pure white sand and crystal-clear water aren't enough to entice you to visit this paradise, you should also know that it has a rainforest. These magnificent luscious forests house different species of plants and animals, making them a great hiking destination.
Then, after an entire day of swimming and snorkelling, you have to visit the island's world-famous volcanic mud pools. Lathering yourself with the grey mud found in these pools will give your skin a much-needed detox to rejuvenate your body and come out feeling young.
Pro tip:

Getting here is a bit of a challenge, which is why we recommend going to Kota Kinabalu first for the easiest way. From KK, you can take a taxi to Kuala Penyu where you'll find boats heading to Pulau Tiga.
Pulau Sapi
Pulau Sapi is one of the five islands found at the Tun Sakaran Marine Park and it's the one we recommend the most out of the bunch. A huge reason for this is because of the island's pristine waters that house the healthiest marine life we've ever seen in Malaysia.
This kind of variety in its marine life makes this island a great diving and snorkelling spot. Plus, swimming in the perfect temperature of the blue cerulean waters between this island and the others is an amazing experience as well.
Out of all the activities you can do here, however, we recommend you try something they call "Coral Flying". The best way to describe this attraction is that it's a zip line that spans from one island to another.
The result is an exhilarating thrill ride that lasts a minute or so, but trust us, it feels longer than that! What you'll love about this is that as you're heading down the high-speed cable in your harness, you'll be treated to breathtaking views of the surrounding area.
Pro tip:

Pulau Sapi poses a bit of a challenge to get to, which is why we recommend booking a travel package instead of doing everything on your own. These packages commonly include boat and bus transfers (roundtrip), free time to swim, hiking tours and more.
Si Amil Beach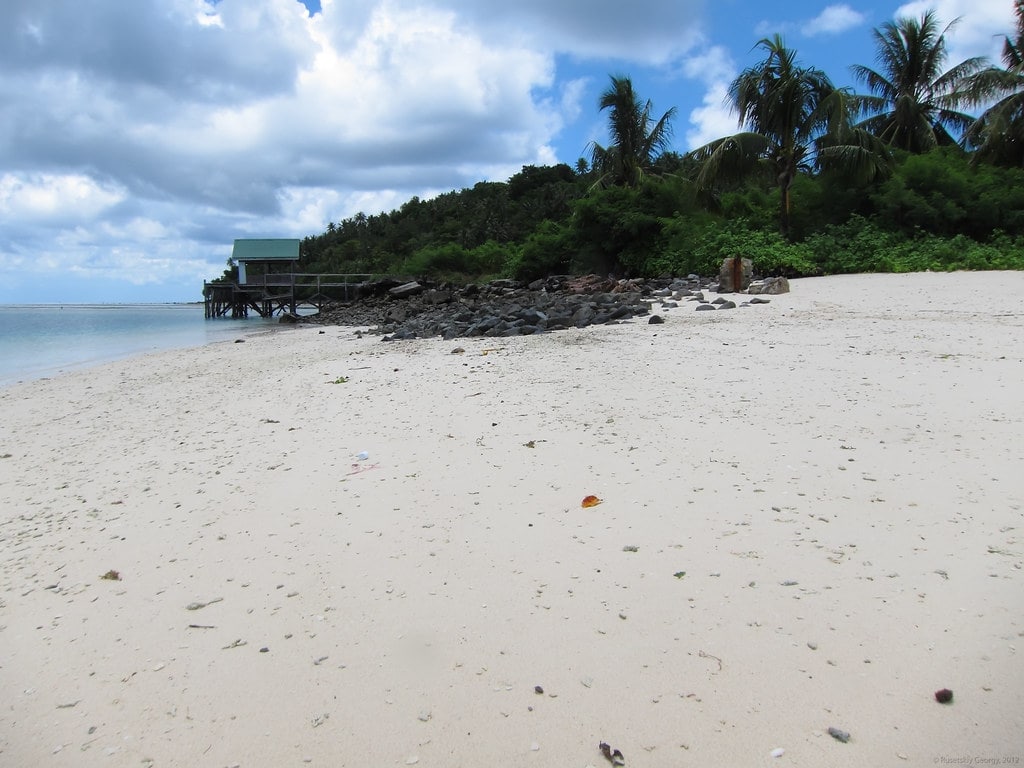 Now, if you really want to be away from civilisation for the ultimate getaway, we recommend checking out Si Amil Beach at Semporna. The only way to get here is via ferry from Semportna and that alone will take you an hour, so expect to be at the most secluded spot possible.
The big question is that aside from its exclusivity, what does Si Amil Beach have to offer? For us, we think that this is a great destination for diving enthusiasts and those that appreciate seeing flourishing marine life up close.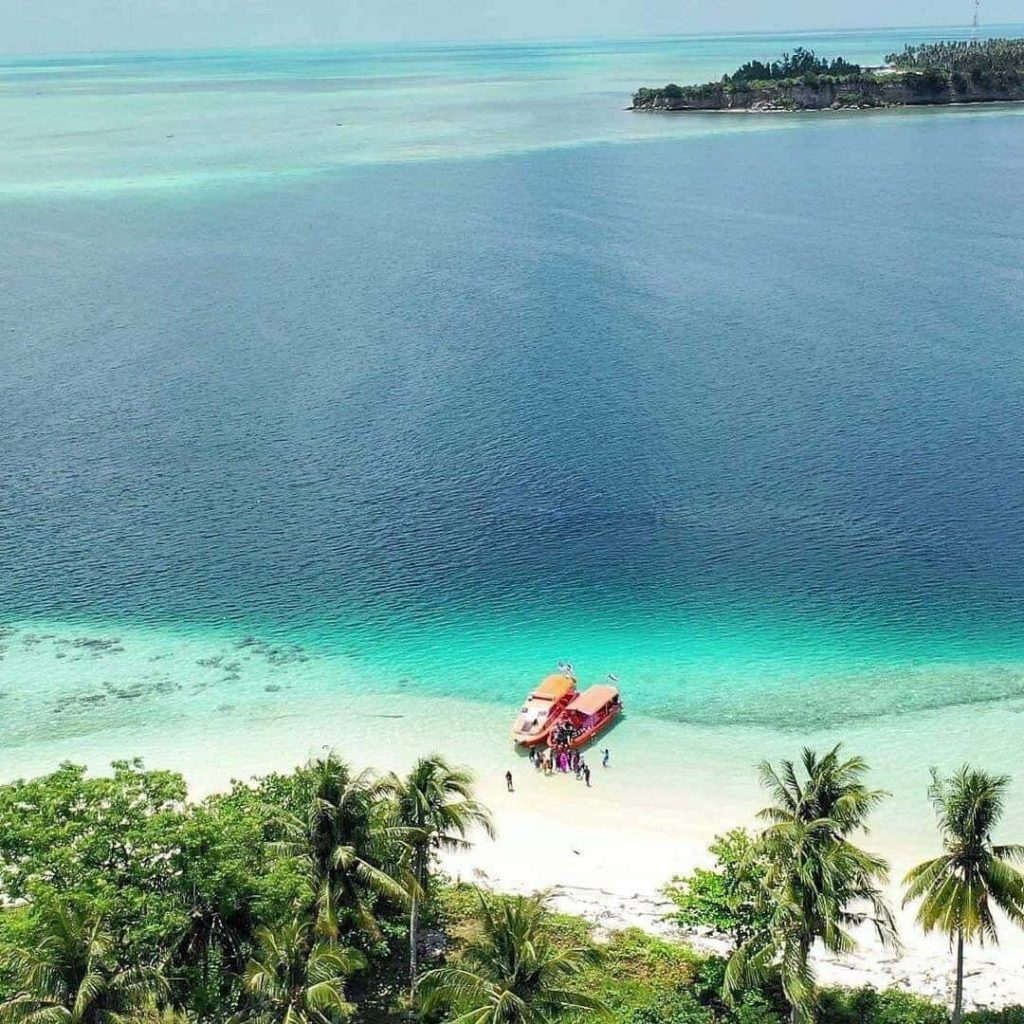 If you're looking for new and exciting diving spots around the country, you have to check out the one at this beach. It drops down approximately 328 feet, which is impressive and scary at the same time.
On the other hand, if you prefer to relax and enjoy the serenity of the overall island, you can freely do so by chilling by the shore. You can do some meditation while you're at it, as the sounds of the waves crashing will put you in a trance.
Pro tip:

Although the island is mostly uninhabited, you'll get to meet some monkeys along the way. Make sure to grasp onto your belongings as they're known for their quick hands and thieving tendencies!