Renew Your Passport in Malaysia [in 7 Easy Steps!]
If your passport's expiration date is nearing and you travel a lot internationally, it's a must to have it renewed ASAP. It's easier said than done though, as not everyone knows what to do in this situation–that's where we come in.
In this guide, we'll walk you through the different ways you can renew your passport in Malaysia, whether it be in person or online. Furthermore, we'll also list the necessary documents you need to prepare and the corresponding fees for the renewal–let's get started!
How to Renew Your Passports in Malaysia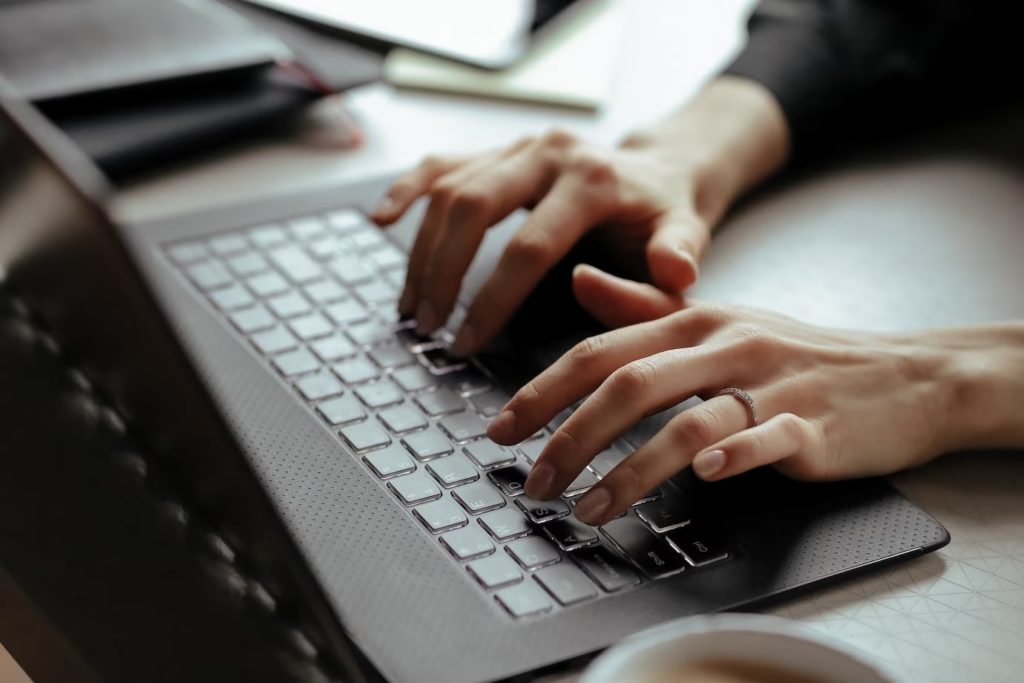 | | |
| --- | --- |
| Difficulty | Very Easy ●○○○○ |
| Time required | 1 - 2 days |
| Things you need | Computer/laptop, internet connection, birth certificate, e-passport, passport photo (35mm by 50mm), MyKad identification card, payment for the renewal fee |
Thanks to the MyOnline Passport Services Portal, renewing passports in Malaysia can be done via the Internet. Simply visit the site, fill up the application form, upload a passport photo, pay the online fee and collect the passport at the most convenient issuance office.
However, do keep in mind that this process will still require you to be there in person once your passport is ready for collection. Also, not everyone is eligible to process their passports online in Malaysia, but more on that later. The steps for online renewal goes as follows:
Step 1: Visit MyOnline Passport Services Portal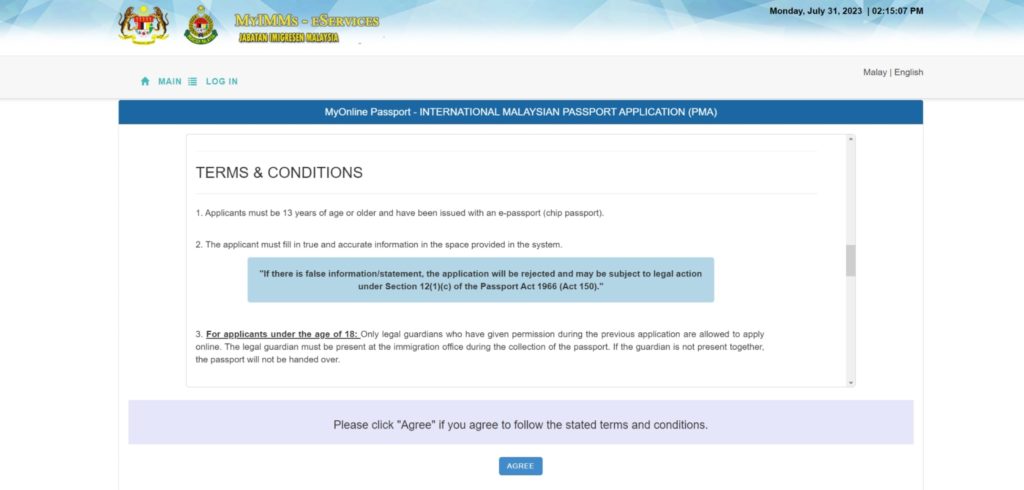 From your browser, head to the official MyOnline Passport Services Portal here. You should be redirected to a page that provides the terms and conditions, guidelines for your passport photo and the requirements for renewal.
After reading all the important information from this page, go ahead and click on the "Agree" button at the bottom of the page.
Step 2: Fill out all the necessary details in the application form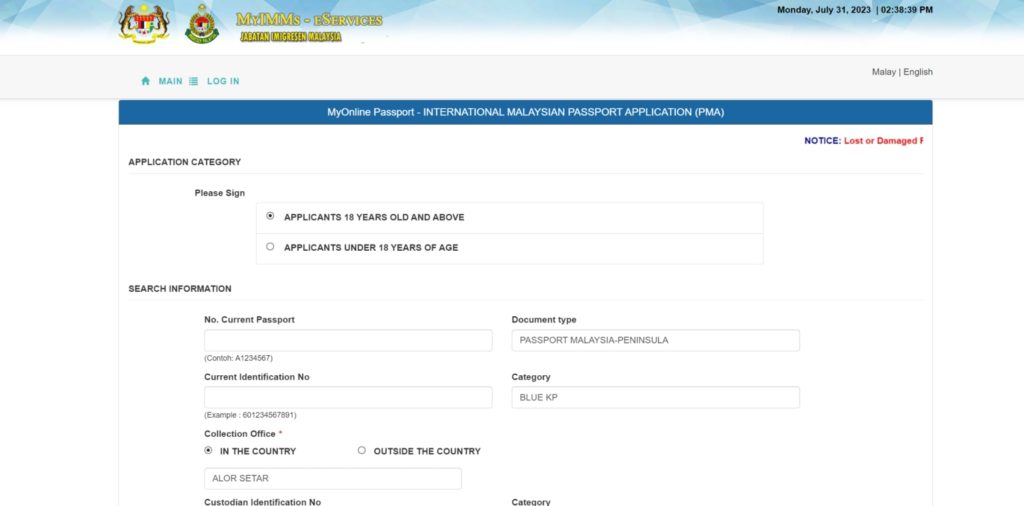 After clicking on the agree button from the previous page, you'll be directed to the application form. All you have to do here is provide the required details such as your current passport number, custodian identification number, and more.
After filling up the page, proceed to the next step by pressing the "Search" button located in the lower right section.
Step 3: Upload your passport photo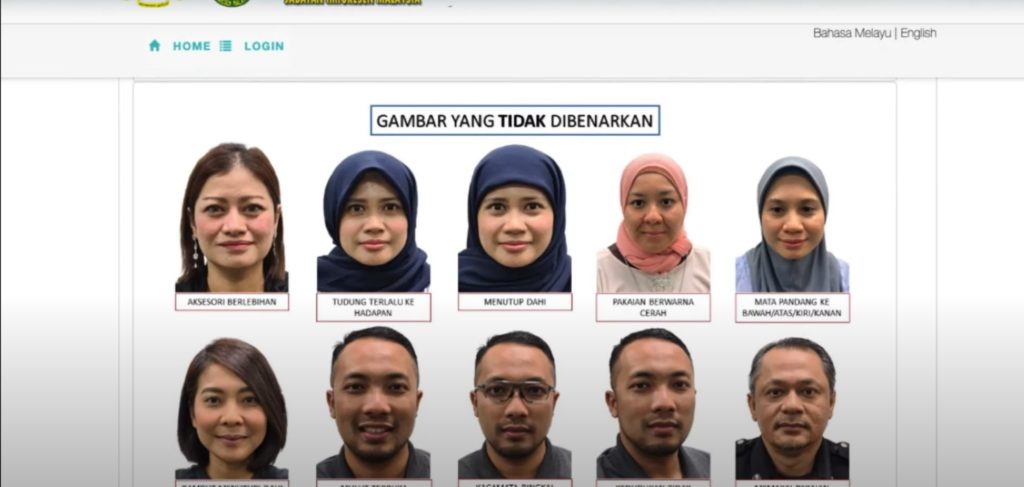 The next step is to upload a passport picture that adheres to the guidelines provided by the website. Don't worry, the site will provide you with some sample images for both men and women so that you can avoid making common mistakes when uploading a photo.
Make sure to follow these guidelines strictly, as failure to do so may cause your application to be rejected. Also, make sure that the size is 35mm by 50mm and your face is covered by the blue circle while the yellow dot touches your cheek.
Step 4: Review your application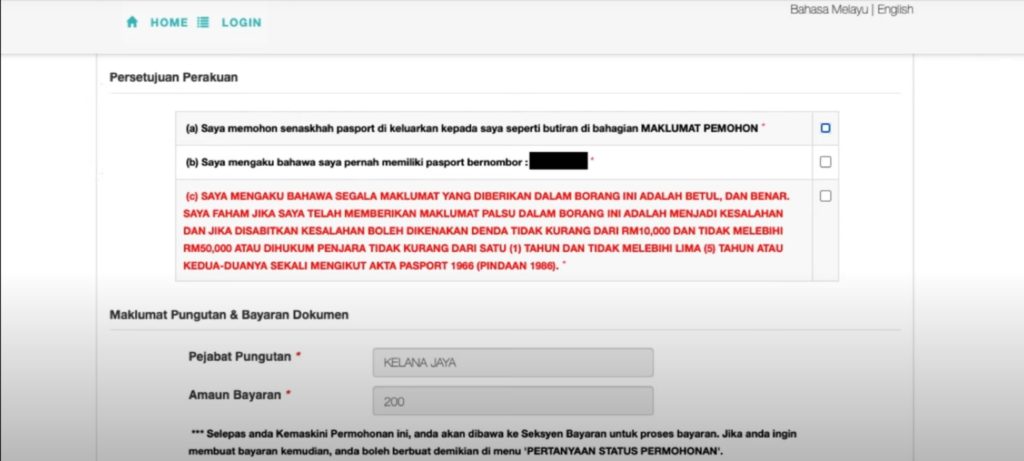 After taking a photo, you'll be asked to review all the information you've provided. Once everything has been double-checked, click the box that declares all the information you've provided is accurate.
Step 5: Choose your preferred issuance office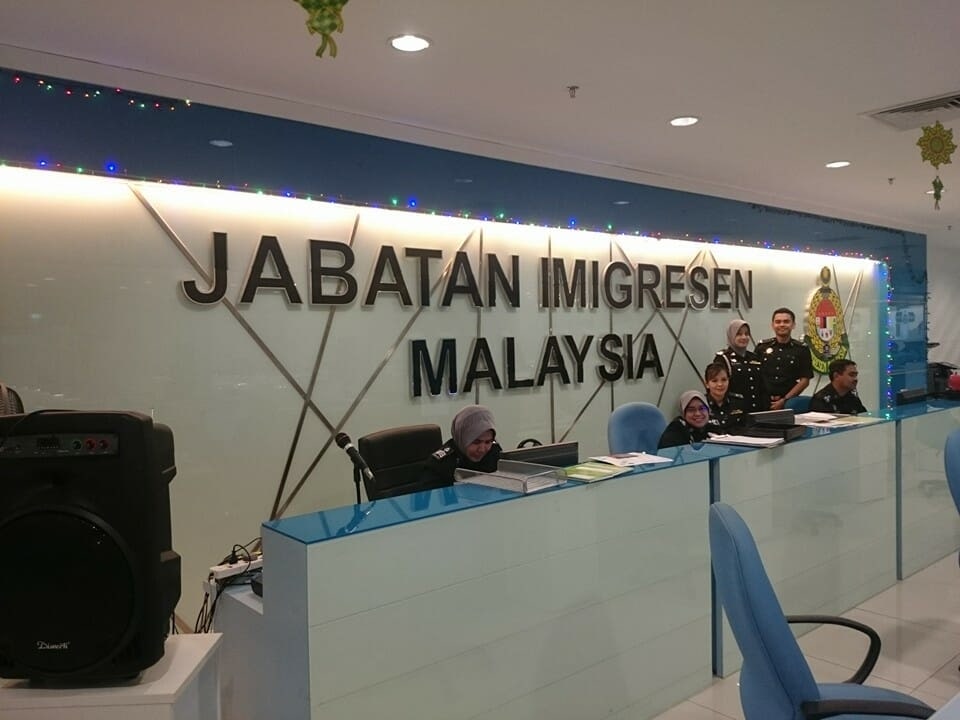 After ticking the boxes, scroll down to choose which Passport Recipient and Issuance Office you'd like to collect your passport from once it's ready. We recommend choosing the one closest to you for your convenience.
Here's the complete list of Passport Recipient and Issuance Offices to help you find the one nearest to you.
Step 6: Pay the online fee
Pay the online application fee, whose amount will depend on the applicant's age. Make sure to keep the receipt, as you'll need it to collect your passport later.
You can pay using any eligible credit/debit card or an online banking app. At the time of writing, here are the corresponding online application fees:
Applicants aged 13-59 years old: RM200
Senior citizens (60 and above): RM100
Step 7: Wait and collect your passport once it's ready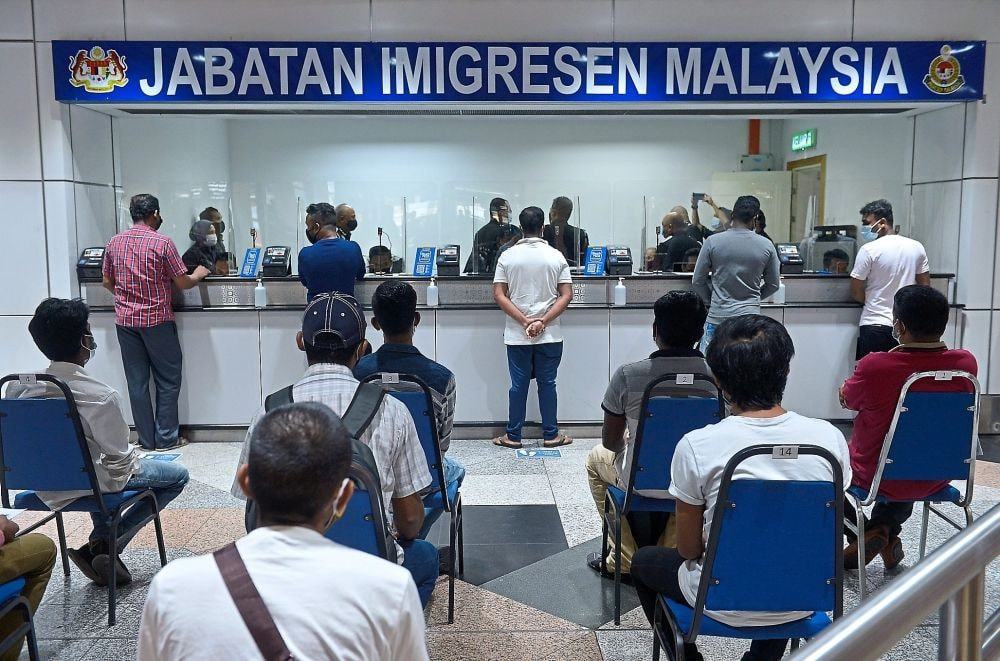 Wait for the given time when you can collect your passport at your chosen Passport Recipient and Issuance Office. Make sure to present the required documents once you get there to make sure that everything goes smoothly.
How to Renew Your Passports In Person in Malaysia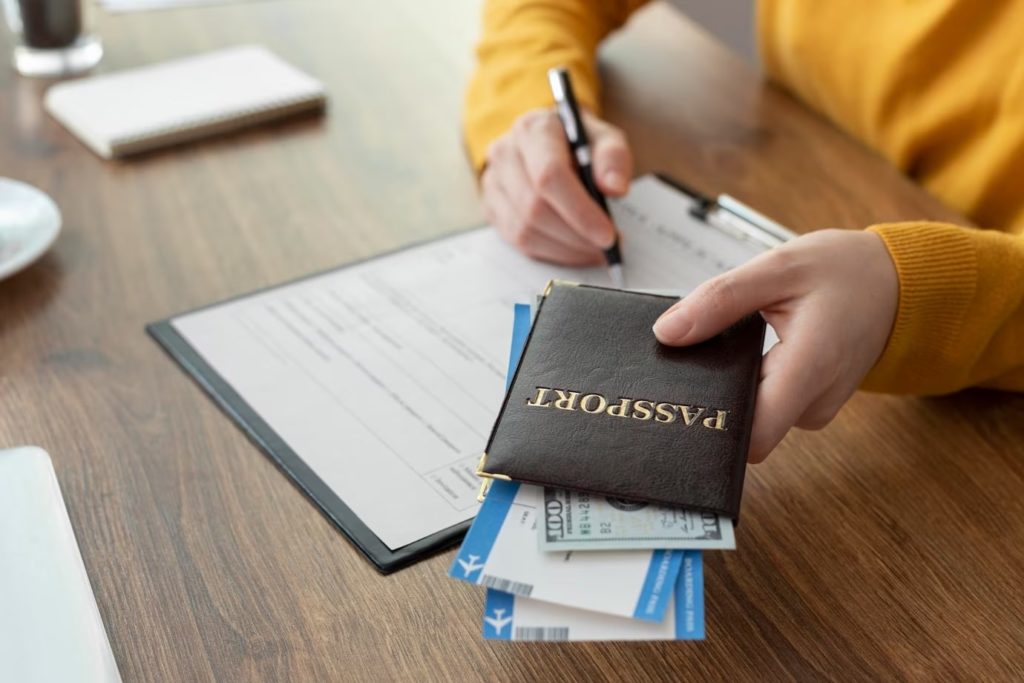 As previously stated, not everyone is eligible to renew their passports online in Malaysia. If any of the following applies to your case, then you can only renew your passport by appointment or walk-ins at a Passport Recipient and Issuance Office.
Your passport is either damaged, lost or past its expiration date.
You're a student planning to continue studying in Malaysia
You're a Malaysian citizen who immigrated to another country illegally.
You're below 13 years of age/You're applying on behalf of someone below 13 years old.
You're a person with disabilities (PWD)/Orang Kurang Upaya (OKU)
You received a prompt saying "Please refer to the immigration office" when you were initially applying for renewal online.
As for the application process itself, you don't have to book an appointment online, as walk-in slots are always available. Just be sure to bring all the necessary documents so that the application process goes smoothly.
To help avoid losing your essential files, here's a quick guide on how to organise important documents safely.
Documents Required When Renewing Your Passport in Malaysia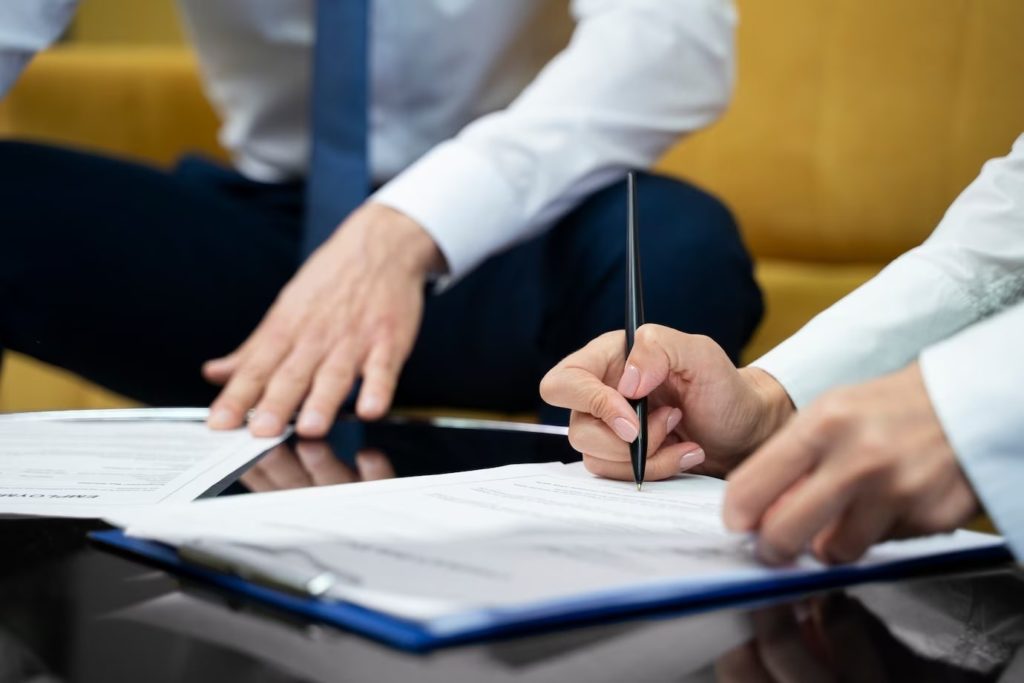 When it's time to collect your passport, whether you've applied online or in person, you need to provide a set of documents. These can either be submitted online or presented at the Passport Recipient and Issuance Office in person when it's time for collection.
Your Current e-passport (it's the one with the microchip)
MyKad identification card
Birth certificate (if you're below 18 years of age)
A fairly recent passport photo that follows all the guidelines (white background, dark attire, no shadows, etc.)
Payment receipt (issued after paying online or in person)