Christmas Celebrations – The Malaysian Way
Malaysia is a diverse and friendly country that celebrates a plethora of festivals and holidays – even Christmas! Now that's a real head-turner, right?
Given Malaysia is a predominantly Muslim country, people are surprised to see Christmas decorations during the holiday season! Also, the Malaysian government considers Christmas a public holiday, but on different dates – but more on this later!
Malaysians celebrate Christmas because approximately 10% of the population comprises Christians. Most locals, however, get into the spirit and consider Christmas a fun season filled with parties, festive decorations, and gift-giving.
In fact, December 25 is a national public holiday in Malaysia, while Sabah also considers December 24 a holiday. Because of this, Malaysians have plenty of time to hold Christmas celebrations.
There are several ways how Malaysians celebrate this merry holiday, and we enumerated them in this list. So read on to learn what Malaysians do to celebrate Christmas!
1. Everyone gets into the holiday spirit.
One of the unique things about Malaysia is that everyone celebrates every festivity and holiday together, no matter where it comes from and regardless of their backgrounds.
Several Malaysians who are non-Chrsitian celebrate Christmas as a secular holiday and commercial holiday but it's a festive occasion in the entire country.
Because different races and religions live harmoniously in Malaysia, one doesn't need to be a Christian to enjoy Christmas in Malaysia.
This is why even non-Christian locals celebrate this season in their own way that conforms to and doesn't disrespect their religious beliefs.
Furthermore, when you're in Malaysia, you would hear the locals say "Selamat Hari Krismas" or "Selamat Hari Natal" to greet each other with "Merry Christmas".
2. Christian Malaysians attend mass in the church.
As part of the Christmas celebration in Malaysia, it's a tradition for the Christian locals to attend masses in their local churches, whether in the morning or night service.
There are several beautiful churches in the country, so attending a mass on Christmas is extra special because of the events in these churches.
These churches include prayers and they crafted different programs for the season. There are also caroling groups or live bands that sing Christmas music to uplift everyone's Christmas spirit.
Sometimes, there are also plays based on stories and real-life Christmas experiences.
3. Malls and shopping centers go all-out on Christmas decorations.
Malaysia is even more colorful and glittery when it's Christmas because there are heaps of decorations that will make anyone feel the holiday cheer.
Every Christmas, every shopping mall in Malaysia competes in displaying the best and most impressive Christmas Wonderland decorations.
There are towering Christmas trees, shimmering streamers, and glittering lights everywhere. Other large decorations like wooden houses and soldiers, as well as Santa Clauses, reindeer, and even fake snow, are also displayed.
Because of this, malls are very crowded every December. Anyone would want to take Instagram-worthy photos of and selfies with these vibrant decorations.
Additionally, you will also hear carolers singing Christmas songs in almost every shopping mall you enter.
Nevertheless, as soon as Christmas day is over, these Christmas decorations are taken down and quickly replaced with New Year's decorations.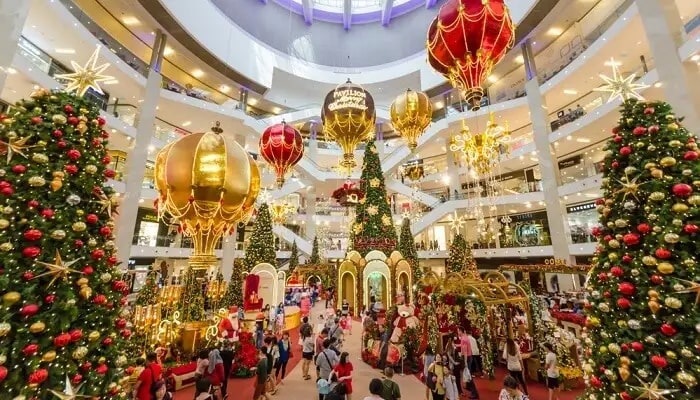 4. There are holiday parties everywhere in Malaysia.
Malaysians love to celebrate every occasion. So, Christmas in Malaysia will not be complete without attending a party or gathering with family or friends.
Nightlife in the country during the Christmas season is pretty lively. There's a party going on almost anywhere you go, whether in clubs, restaurants, or community halls.
From places that serve drinks or hot chocolates and cookies, there's a place you could go to hang out and have a blast during the holidays. However, most of them are held before Christmas day itself.
5. The sky lights up with colorful fireworks on Christmas Day.
In Malaysia, fireworks are not only part of New Year celebrations, but of almost all holidays.
Aside from putting Christmas lights that brighten the surroundings and bring holiday cheer, Malaysians also light up fireworks at midnight on Christmas day. It's a great tradition and a magical way to welcome Christmas day in Malaysia.
When the clock strikes 12, there are various spectacular and colorful fireworks displays in every corner that families wait for together. Most towns and cities also hold their own fireworks show.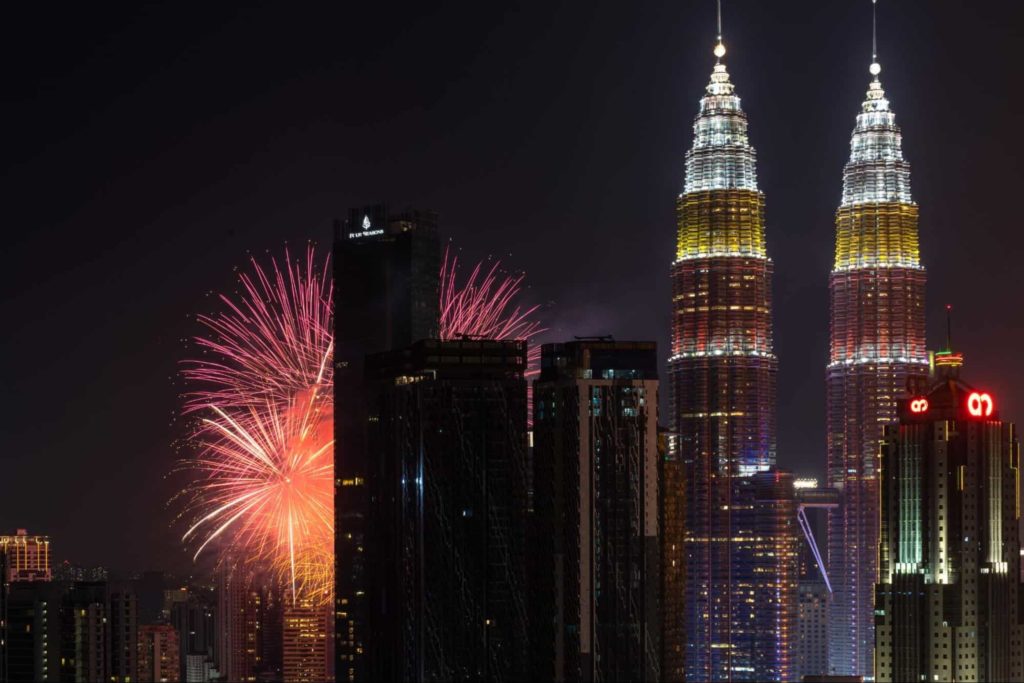 6. Ang Paus are given as gifts.
During Christmas, it's common for people to give gifts to their friends and family. Malaysians also give gifts to each other, however, they usually give out money in Ang Paus (red envelopes) as gifts, rather than buying one.
It may be because of the influence of Chinese culture, but one could never go wrong by giving Ang Paus as the receiver will be able to spend it on things they need or save it.
These Ang Paus are usually handed out by married couples or people with high incomes to kids and young adults who are still unmarried. Meanwhile, the money in these Ang Paus usually has even numbers because odd numbers are deemed unlucky.
Malaysians are famous for their scrumptious cuisine. There's no better way to celebrate Christmas in Malaysia than with mouth-watering food.
The Christmas season is a time to feast so the locals often prepare glorious food to share during gatherings.
You'll find Chinese, Malay, Indian, and Western cuisines during this season. However, more often than not, there will be mashed potatoes, assorted steamed vegetables, and fried or roasted chicken, lamb, or turkey.
Spicy and savory local dishes like satay and curry are also available. Plus, fruit cakes and mince pies are always served as desserts on this occasion.
Furthermore, restaurants in Malaysia curate Christmas menus in December, while cafes and coffee shops also offer Christmas-themed drinks. Christmas Eve is usually a big day for them because of parties or group gatherings.
8. Family holiday trips are common.
The locals especially know how much there is to see in the country and the festive season is a perfect time for them to travel and go sightseeing.
They take a breather from their busy lives and explore different attractions in the country.
Families often travel together to go on a vacation and anywhere they go, they will feel the festivities. Theme parks are a hit during Christmas because of the number of activities to do with kids.
The cities of Malaysia are often crowded by both local and foreign tourists, especially Kuala Lumpur's major hotspots like the KLCC, Pavilion, and the Berjaya Times Square.
However, this is also a time for Malaysians to try extreme land and water activities, like scuba diving, jungle trekking, and waterfall hiking. This is why they also go to states like Penang and Sabah to get more connected with nature.
The locals also go island hopping to get away from the hustle and bustle of the city.
Malaysia's islands, like Langkawi and Semporna, are the best options for a tropical getaway. They have tranquil white-sand beaches and crystal-clear waters that will help anyone feel relaxed.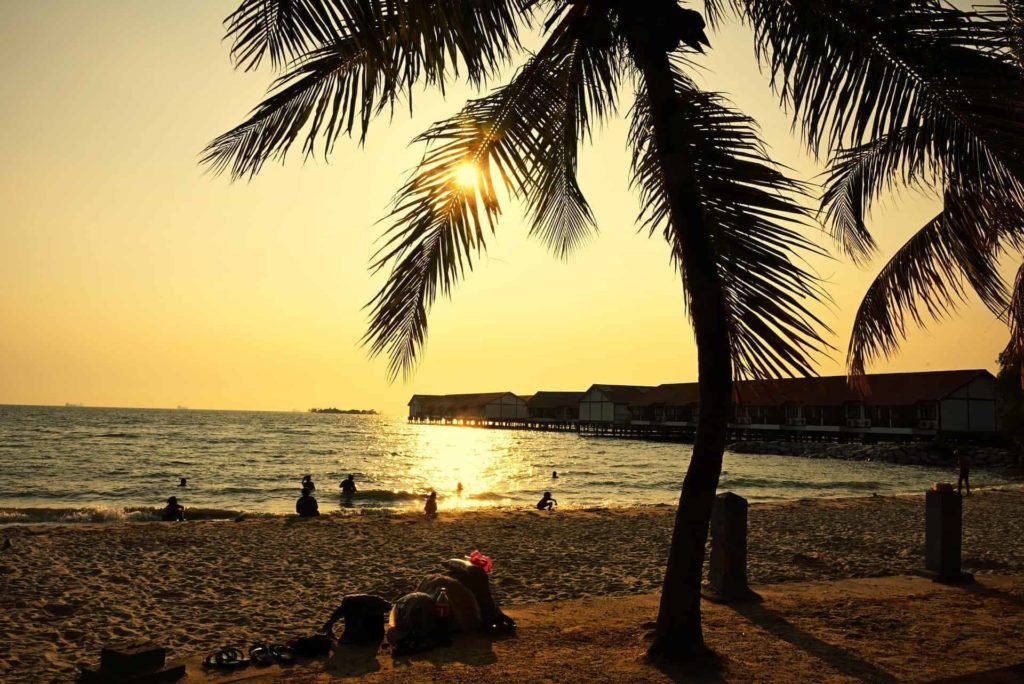 9. Local stores and outlets abound with huge discounts.
Holiday shopping is one of the things Malaysians look forward to during the Christmas season because of year-end sales.
Shopping malls and bazaars in the country are often crowded with shoppers busy buying gifts or those who are just on a shopping spree until they drop.
People would take advantage of the holidays, too because there are plenty of huge discounts around and they even go as high as 80% off. Some would even spend all their Ang Paus and every free time they have in malls.
Christmas bazaars are also set up and these are good places to visit if you're looking for unique gift ideas because of the number of stalls and artisan vendors setting shop.
Aside from toys and clothes, you'll even find scented candles, small figurines, and greeting cards. There are also homemade baked goods with Christmas themes, like gingerbread houses, cookies, and mince pies!
10. Christmas performances are held in theaters, hotels, malls, and concert halls.
Malaysia has a lively entertainment scene during the Christmas season. Aside from the vibrant nightlife, there are plenty of live performances during this holiday.
Theater shows give a unique experience during the holidays, too. Plus, there are even concerts where you can sing and dance along to Christmas songs.
Hotels and shopping malls also usually hold entertaining Christmas showcases that uplift people's Christmas spirits, especially because of carol groups and live bands.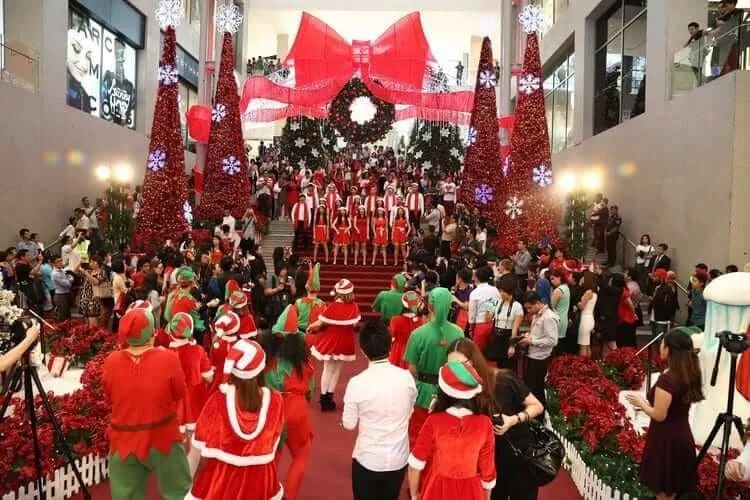 11. Ice skating rinks are frequented by locals.
Malaysia's tropical weather stretches even until December, which is why it's the perfect time for Malaysians to feel the cold breeze in ice skating rinks. It's a great time for them to bond with their family in a cool environment.
Since the holidays also give a perfect opportunity to do fun things they don't normally do, locals flock to skating rinks to show off their moves or just glide around the rinks.
There are several interesting places in Kuala Lumpur and Johor Bahru where they could hang out and skate.
Here are some of the best ice skating rinks in Malaysia that locals visit during the holidays:
Blue Ice Skating Rink in Paradigm Mall
IceScape Ice Rink in IOI City Mall
Royale Chulan Damansara
Sunway Pyramid Mall Ice Skating Rink
Like-Ice Asia in Setia City Mall
Malaysia National Ice Skating Stadium
Perhaps the most interesting of these rinks is the MYNISS because it's an Olympic-sized ice skating rink. It was recently opened to the public for an affordable admission fee, so anyone who skates here will feel like an Olympic athlete!
12. Volunteer work and donations are encouraged.
Christmas is known as the time for giving. This is observed in Malaysia, not only by giving gifts to each other during Christmas.
To feel the true essence of the holiday spirit, this is the time of the year when Malaysians give back to the less fortunate. They support good causes, do volunteer work, and even donate money or things they no longer use.
It's also the time to show a little extra kindness to the people they encounter every day.
---
So, there you have it. There are plenty of ways that Malaysians do to celebrate Christmas and no matter where you go in the country, you'll feel the Christmas spirit.
Malaysians are fond of celebrating festivals year-round, regardless of their origin, religion, and background. Get to know more about Malaysia's diversity with the help of some of our articles: