The 5 Best Whey Proteins in Malaysia
It can take a while before you see results on your body even after a lot of workouts. With whey protein, you can maximise your hard work to build strength and muscles and remove fat.
Our featured products are healthy and approved in banned substance tests. Some of them can fit people who follow a vegetarian, gluten-free, or low-lactose diet.
So here, we researched and chose the best whey proteins in Malaysia for you so you can reach your fitness goals. Additionally, we included a buying guide after the list and a FAQ section as well.
Without further ado, let's start our discussion!
How Much Does Whey Protein Cost in Malaysia?
In Malaysia, whey proteins typically cost between RM60 to RM300 depending on the product and size. Whey proteins from popular brands are usually more expensive, starting at RM130.
Despite the high cost, chances are you'll get a freebie when you purchase whey protein, giving you value for money. It can be a bottle, a training singlet, a protein bar, or other gifts.
Be wary of scam products as there are lots of them online. Don't accept the product if the seal is broken and don't take a risk by buying from sellers that don't have a lot of reviews.
Moving on, here is the price summary of the products that you'll encounter shortly. They are not actually very far from each other in terms of price and we found the best ones for you to pick from!
| | |
| --- | --- |
| Whey Protein | Price |
| Optimum Nutrition Gold Standard Whey Protein | RM200 |
| Vital Whey Whey Protein | RM137.46 |
| MyProtein Impact Whey Protein | RM159.99 |
| MuscleTech Nitro-Tech Whey Protein | RM149.88 |
| Rule 1 Whey Protein | RM179 |
The Best Whey Proteins in Malaysia
Now that we've tackled their costs, let's proceed to our list of the best whey proteins in Malaysia!
1) Optimum Nutrition Gold Standard Whey Protein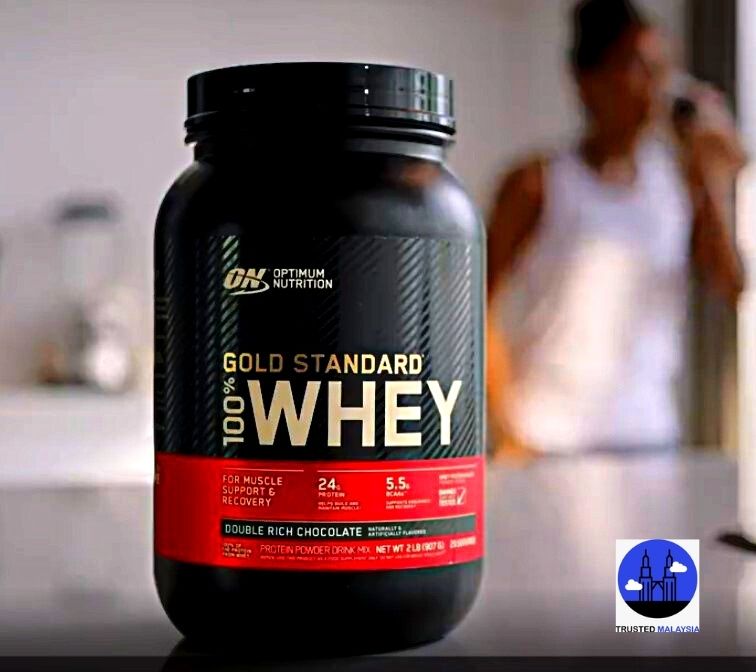 | | |
| --- | --- |
| Protein per serving | 24 g |
| Protein sources | Whey protein isolate, whey protein concentrate, whey peptides |
| BCAAs | 5.5 g |
| Calories per serving | 120 kcal |
| Carbohydrates per serving | 3 g |
| Sugars per serving | 1 g |
| Fat per serving | 1.5 g |
| Price | RM200 |
The Optimum Nutrition Gold Standard Whey Protein is an outstanding product for increasing muscle mass and recovery rate and improving workout performance.
It contains all 3 forms of whey protein, namely whey protein isolate, whey protein concentrate, and whey peptides, so their 100% whey claim is founded.
Coming in a delicious double rich chocolate flavour, the whey protein has a liquid consistency throughout after mixing. However, it tastes quite bitter and can cause bloating, indigestion, and an upset stomach.
You can prepare and mix the whey powder with your drink in your tumbler, which is super easy to do. Also, you can consume it when you wake up, before or after your training, or in-between meals.
It packs 24 g of protein, which is above the quality product standard of 20 g per serving. While its BCAA to protein ratio is a modest 23% and its sugar and fat contents are low.
Plus, it's tested to contain no banned substances and synthetic growth hormones. So you're safe with this product.
Hence, we believe it's one of the best whey proteins in Malaysia available since it can give you the training results you're after, plus excellent value for money.
Excellent for muscle building and support
Simple to prepare
High BCAA content
Low fat count per serving
Some people don't like the bitter taste
Could lead to bloating and indigestion
Customer Reviews
ON's Gold Standard Whey Protein received 4.9 over 5 stars from numerous clients. Most of them noted its delicious taste, easy-mix preparation, and superb value for money.
One Lazada buyer, Mohammad, posted this comment:
"Nice and well packed, delivery fast and good service. if u looking for a protein with taste this can't be the right one but its good product to consume. I will buy from this shop again."
Also, here's a review from another user:
"Super fast delivery (2 days) and well packed. Mixes super well with water (more easy than Milo!). Taste is mild so I put less water to have a more flavourful taste. However, the ingredients are slightly different from the website. It did not mention 'lactase', and just mentions 'flavors' and 'sweetener'."
2)   Vital Whey Whey Protein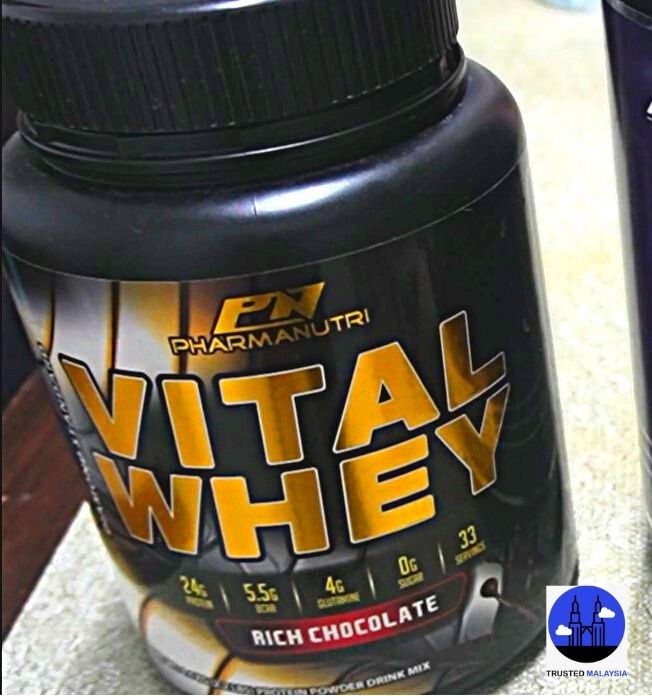 | | |
| --- | --- |
| Protein per serving | 24 g |
| Protein sources | Whey Protein Isolate |
| BCAAs | 5.5 g |
| Calories per serving | 111 kcal |
| Carbohydrates per serving | 0.7 g |
| Sugars per serving | 0 g |
| Fat per serving | 1.32 g |
| Price | RM137.46 |
Want to have firm and lean muscles the Halal way? Well, the Halal-certified, high-BCAA Vital Whey Protein could just be what you need.
Having whey protein isolate as its main ingredient, the product is low in lactose. This enables it to have zero sugar content as well as helps people to digest it easier. However, it won't suit lactose-intolerant people.
In terms of nutrition, this packs a high amount of protein at 24 g and 5.5 g branched-chain amino acids to turn fats into muscles and speed up recovery times—allowing you to give your best for every training session.
Because these are low in calories, this can help you reach your weight loss goals too. And in certain instances, it can act as a meal replacement to drop those pounds at a faster rate.
Vital Whey comes in a chocolate flavour. Most clients shared that the taste of the product was pretty good, though some people said that diluting the powder took effort.
This Vital Whey Whey Protein is 2 kilograms in size and contains 67 servings, which lasts longer than its smaller variant.
Best of all, for one cost-effective price, you also get a Vital Shaker alongside the whey protein on Shopee. This makes it a worthwhile purchase compared to other whey products offered online.
Halal-certified whey protein
Ideal for achieving lean muscles
Contains zero grams of sugar
Low in lactose content
Low in calories
Relatively high rates
Dissolution takes some time
Customer Reviews
Many buyers praised this whey product for being effective, affordable, and great-tasting. However, few people complained that it was hard to mix the whey powder in their drink.
One reviewer on Shopee wrote this comment:
"Fast delivery and well packed. My 1st time trying Vital Whey. Mixed with 200ml water and the taste is spot on. Taste is good. Its like unsweetened vico. However with 200ml, it becomes very thick like casein. One issue i have is d defected cover. The cover cannot be attached back properly to the tub."
Furthermore, another happy buyer said this:
"Just ordered yesterday and received today in good condition and well packed. Thank you seller & J&T. 👍👍👍Smells so good and love chocolate anyways. Will leave review when repeat buy."
3)   MyProtein Impact Whey Protein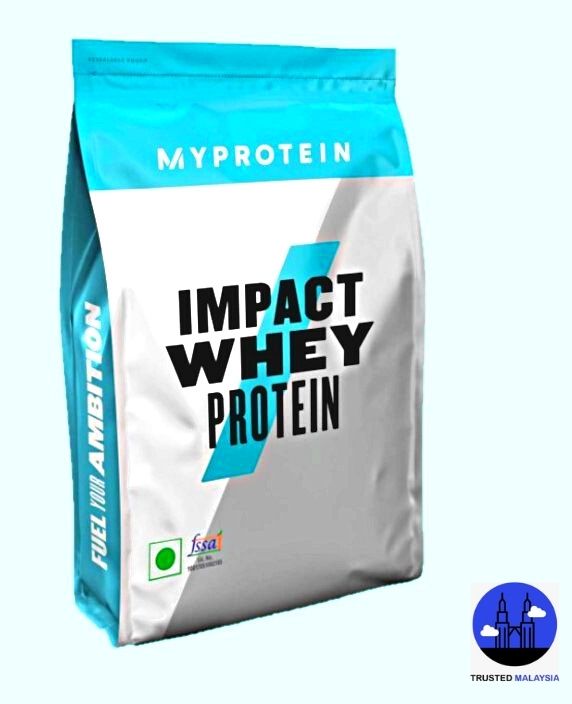 | | |
| --- | --- |
| Protein per serving | 21 g |
| Protein sources | Whey protein concentrate |
| BCAAs | 4.5 g |
| Calories per serving | 103 kcal |
| Carbohydrates per serving | 1 g |
| Sugars per serving | 1 g |
| Fat per serving | 1.9 g |
| Price | RM159.99 |
MyProtein's Impact Whey Protein is made from wholesome grass-fed whey that is high in protein and low in calories for each serving.
But it has a higher fat level of 1.3 g for saturated fat. It has the essential amino acids including 4.5 g of BCAAs as well as 3.6 g of glutamine that assists with muscle development.
However, its BCAA is only 21 per cent of the protein weight—lower than that of other brands. So this whey protein is less effective for allowing the user to gain and preserve muscles.
With its great nutrition stats, we are confident in adding MyProtein Impact Whey Protein to our top list for whey proteins in Malaysia!
For those with gluten-related conditions like celiac disease, this is a great whey protein to have in their drink. And also for those who strictly adhere to a vegetarian diet.
Users have said that some flavours formed sediments in their bottles, thereby resulting in a slightly grainy taste. However, that doesn't take away much from the great taste, according to reviews.
They also said that it's best to mix the whey in almond or skimmed milk and put ice on it too. You can also try it with fruit shakes for a healthy protein drink before or after training!
Some of its iconic flavours include Mocha (as pictured), Vanilla, Matcha Latte, Salted Caramel, Natural Banana, Blueberry Cheesecake, and many more. On Shopee, some flavours aren't available, though.
Vegetarian and gluten-free
Good flavour
Great for those losing weight
Free protein shaker or nut bar
50+ flavours available
Slightly grainy taste
Higher fat content
Lower BCAA to protein ratio (21%)
Not all flavours are listed and available on Shopee
Customer Reviews
MyProtein Impact Whey Protein is well-received by many buyers. They loved its taste which wasn't too sweet and they got a gift of either a protein shaker or nut bar.
Here's a comment from one user:
"It's my first time buying whey protein, and I seriously LOVE it! Chocolate Brownie is absolutely tasty mixed with milk.
Thanks for the free shaker as well! I'll definitely purchase a second time from here."
And check out this satisfied buyer's comment too:
"Very fast shipping, good packaging👍🏻 item best before 09/2022 👍🏻 Told that I already have shaker, so I got nuts bar as free gift, thank you👍🏻
ps: the unflavored whey taste like very dilute milk, suitable to be served with milk or other flavored drink."
4)   MuscleTech Nitro-Tech Whey Protein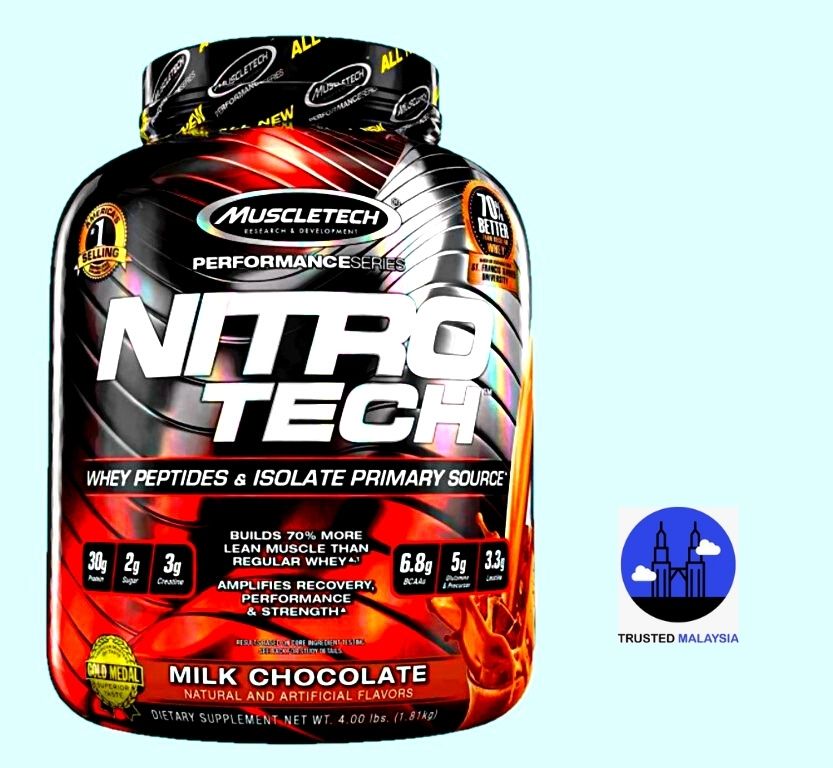 | | |
| --- | --- |
| Protein per serving | 30 g |
| Protein sources | Whey peptides, whey protein isolate |
| BCAAs | 6.8 g |
| Calories per serving | 160 kcal |
| Carbohydrates per serving | 4 g |
| Sugars per serving | 2 g |
| Fat per serving | 3 g |
| Price | RM149.88 |
For serious bodybuilders and athletes who want to add more muscle and burn fat quickly, we strongly recommend the MuscleTech Nitro-Tech Whey Protein.
Using whey hydrolysate and isolate—which are the most refined and easiest to digest whey proteins—can help make your body ripped and strong over 6 weeks in the least!
Accompanying this is its superb 6.8 g of essential amino acids and 3 g of creatine to further boost your strength and endurance in training, plus hasten your recovery after rigorous gym training or sports play.
Bear in mind, though, that the creatine in it may cause stomach discomfort, bloating, or other digestive issues.
What's more, the whey protein's sugar content is 2 g per serving, which is a bit high due to its bigger serving size. It has some artificial sweeteners in its ingredients also.
As such, it can be too sweet to have with your beverage. However, others enjoyed it and wanted to try a different flavour the next time.
Among them are Cookies & Cream, Vanilla, Strawberry, Banana Bliss, Milk Chocolate, and more. All in all, there are 12 flavours you can go for.
High protein and BCAA values
Builds lean muscles way faster than regular whey
Creatine hastens muscle recovery
Has 5 g of glutamine each serving
12 flavours to choose from
Taste can be too sweet for some people
Higher calorie value
Has a large serving size
May cause stomach discomfort or bloating due to its creatine content
Customer Reviews
Reviewers gave this whey protein a perfect score on Shopee. They mostly appreciated the product's efficacy, variety of flavours, and reasonable rates.
One Shopee buyer wrote this comment:
"Too sweet. other than that, i tried to drink within 30mins after 10km run helps with legs muscld recovery."
Also, check out this client feedback:
"Nitro tech has been my choice of whey given its prowess, reliable supplier with reasonable charges 👍🏼👍🏼"
5)   Rule 1 Whey Protein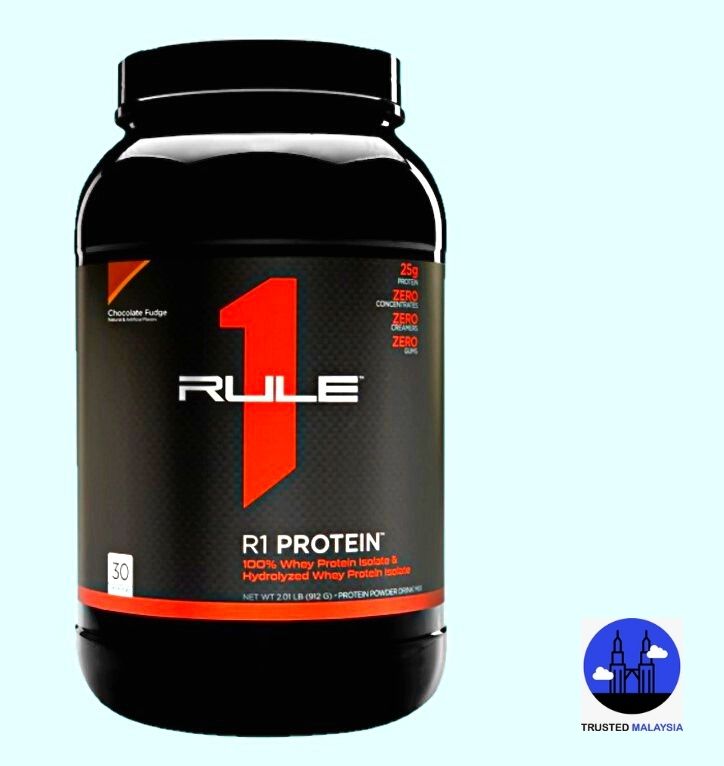 | | |
| --- | --- |
| Protein per serving | 24 g |
| Protein sources | Whey protein concentrate, whey protein isolate, hydrolysed whey protein isolate |
| BCAAs | 5.5 g |
| Calories per serving | 130 kcal |
| Carbohydrates per serving | 4 g |
| Sugars per serving | 2 g |
| Fat per serving | 2 g |
| Price | RM179 |
The Rule 1 Whey Protein has proven to be another of the best whey proteins in Malaysia. Because it has a delightful taste, fast-acting protein sources, and a great price.
It's easy to prepare as it mixes effortlessly with no dregs settling at the base of the glass or shaker. And users didn't report any stomach pains or indigestion when drinking their beverage with this whey.
It contains 24 g of protein (on par with the competition), 5.5 g branched-chain amino acids, and glutamine to help you achieve your best shape.
This whey protein can help you lose weight too as you feel sated after drinking. Thus, it will help you lose more calories in the day.
You don't have to force yourself to drink whey protein if you don't like it. There are many flavours available such as Vanilla, Strawberry & Creme, Mint Choc Chip etc, but most people love Chocolate Fudge.
Containing 68 servings, this Rule 1 size is a biggie, which you can continually use for several weeks or more. And it comes with a free protein shaker that gives you your money's worth.
Also, you can drink this on your workout (both before and after) and non-workout days. Working towards your perfect body can be a lot easier by using this whey protein.
Fast body-absorbing protein
Keeps you full and satisfied
Mixes easily by shaking or stirring
Free protein shaker
No fillers in the ingredients
Value for money
Relatively high rates
2 g sugar content
Customer Reviews
This product gained a score of 4.9/5 stars on Shopee in which buyers praised its fantastic taste, value for money, ease of blending, and also fast body results.
One buyer called Wee41 stated this on Shopee:
"Good product quality
Good value for money!
I like the flavor."
Furthermore, take it from Lim:
"Received in good condition. Cookie and cream flavor taste ok. Good product and value for money."
What to Consider When Buying Whey Protein
Here are the key factors you need to consider before buying whey protein:
1) Ingredients
When you're shopping for whey protein, make sure to look at the ingredients. Whey protein should be at the start of the lineup, which means that the majority of it makes up the product.
If it isn't then, the product will not have the full potential of whey protein. Because it's only secondary or lower still among the ingredients.
But remember, a product can have different whey proteins as ingredients. See below for the different types of whey proteins.
2) Types of Whey Proteins
Concerning the ingredients, whey protein comes in three primary forms: whey protein concentrate, whey protein isolate, and whey protein hydrolysate.
Let's take a look at their differences below.
Whey Protein Concentrate (WPC)
Whey Protein Concentrate contains lower levels of carbs and fats compared to the other kinds.
Its protein content depends on how concentrated the product is—the less concentrated, the less the protein, whereas the higher the concentration, the higher the protein level.
Though its nutritional content is great for those building muscles or losing weight, it takes longer to be absorbed by the body.
Whey Protein Isolate (WPI)
This is a more processed version of whey protein with all the fat, carbs, and lactose removed. Then, what's left is 90% protein that can facilitate muscle building, maintenance, and recovery.
Because the fat and carbohydrates are removed, you may not recover as fast as if you used WPC. You need carbs and fats for energy.
Whey Protein Hydrolysate (WPH)
Having a smaller protein form known as peptides, Whey Protein Hydrolysate is the fastest absorbing of the three main whey proteins.
The reason is that it went through partial hydrolysis. Normally, this is what our bodies do to absorb protein so half of the work has already been completed.
The downside of this whey protein is that it's bitter so may not work for everybody.
3) Protein
A good-quality whey protein has 20 g or more of protein. The higher the protein level, the faster you can build your muscles, reduce their soreness and fatigue, and recover after running or training.
4) BCAA
BCAA refers to Branched Chain Amino Acids, which are essential for developing muscles and preserving them, improving sports performance, and getting a ripped or cut body.
Each whey protein has a certain amount of BCAA. This should be at least 25% of the protein content if you want great body results.
5) Value for money
You want a whey protein that's effective and safe to take. Apart from that, you also want one that gives you value for money.
There are lots of whey protein goods online with great prices and even freebies like a protein shaker and mini protein powder.
Availing of this will get you the most bang for your buck. Also, by the way, getting a bigger whey protein will save more as opposed to purchasing sachets individually.
6) Sugar Content
As much as possible, always pick a whey protein with unsweetened flavour. As a result, there won't be any additional unneeded sugar, which is healthier.
Look out for these ingredients: xylitol, stevia, sorbitol, among others. These are artificial sweeteners that won't reflect in the sugar content, but they are still sugar.
Also, it won't change the taste if you mix the whey in your smoothie, shake, or other beverage.
7) Authentic product
Be careful of scam products as there are lots of them in Malaysia. Some people even put mix the milk powder with the whey and sell the good.
So, only buy from trusted manufacturers and if you notice something suspicious such as an unsealed product, be sure to ask the seller. Or better yet, find a different product.
FAQs about the Top Whey Proteins in Malaysia
---
So those were our choices for the best whey proteins in Malaysia. They have good ingredients and nutrition and you can pick amongst them one that best suits your lifestyle and budget.
Have you tried one of these whey proteins before? If so, share with us your experience by dropping us a line and we'll get back to you promptly.
Don't feel like taking whey to add protein to your diet? In this case, you might want to browse our selection of the best protein powders in Kuala Lumpur!