5 Options for the Best VPN in Malaysia for Internet Security
No one likes it when other people spy on them. Whether it's the television shows we watch, the sites we visit, the materials we read—we don't like someone watching over our shoulders, which is why we're giving you the best VPN in Malaysia.
In this millennium, your online information is always at risk. Hackers can easily harvest information that you don't need to be sharing with the world.
A VPN (Virtual Private Network) provider can keep your identity and information safe from prying eyes. It does so by encrypting all the traffic from your devices to an intermediary server so that neither hackers nor the government can find out where you are.
How to Choose Which VPN is Best for You
Like all other products, you'd first want to know what you're spending your money on. It has to be tailored to your needs so that you won't regret buying it.
Of course, just like when shopping, we don't usually get the first item that we see. Let's go over 2 tips you should consider to make the search easier.
Focus on Function
What will your VPN be for?
If it's for your house and every gadget in it, a router-based VPN or those that let you use multiple connections at the same time will be the practical choice.
If you need it for streaming movies that you usually can't access, go for a VPN that offers unlimited bandwidth with lightning speed that won't let you down.
If you're always on the go and bank on public Wi-Fi networks, you need a VPN that gives you peace of mind. And depending on where you are in the world, you need a VPN with servers there.
List the things you'll be using your VPN for so you can decide easily.
Build on Strengths
VPN providers usually prioritise one aspect of their offers. Some focus on speed, some on security, and some on keeping you anonymous.
Go for what you need the most.
Want to access content that's only available in a certain region? Say, Netflix in the US releases a new season of your favorite show, but it'll only show up on Netflix Malaysia a month later? Get a VPN that's known for making those appear.
If you're trying to keep your online identity a secret instead, a VPN that encrypts your data and deletes it should be at the top of your list. You can also go the extra mile and purchase one with a kill switch.
Our 5 Picks for the Best VPN in Malaysia
1.   VyprVPN

Price: 53.38RM/month (regular)
Check Out Other Offers On Their Website!
Vypr offers lightning speeds and secure encryption.
To be completely transparent, Vypr's logging policy states that it retains the user's source IP address, the VyprVPN IP address, and the connection's start and stop time along with the total bytes consumed.
The data is kept for 30 days to enable VyprVPN to improve its services. And to reassure you, they insist that they will not log traffic details or communications content.
Your data is safe with VyprVPN despite this policy—it's still one of the best services to date, especially with encryption.
It's also one of the very few VPNs that can unblock the Great Firewall of China in a jiff. So, basically, the guys behind this VPN provider can defeat China's engineers who are restricting access while VyprVPN just opens the door for everyone.
It also has a kill switch—your connection will be secure despite fluctuations because it will turn your Internet off if it slows down. And, unlike most VPNs, you can open Netflix, Hulu, and BBC iPlayer even while VyprVPN is on!
Highlights
–         Reliable speed and encryption
–         700 servers worldwide, some in Malaysia and others in Southeast Asia
Customer Reviews
Here's what VyprVPN users have to say about their provider:
"I live in a country that does not allow access to FaceTime or WhatsApp calls. This makes it difficult to keep in touch with family back home. The VPN helps me to connect with my family by using those apps which I would not be able to access before."
And one more:
"I have loved Vypervpn forever. Their service is faster than most, they work in China (I have to travel there for work all the time), US Netflix and BBC work, I love their windows and iOS app. Now with their move to No Log it hits all the marks- mostly with the blog from their CEO explaining why. Good stuff. Love this service."
2.   CyberGhostVPN

Price: 53.54 RM/month
Check Their Website For Rates.
If you're a VPN n00b looking for an all-around VPN with ease of access and fully customisable settings, this is definitely the one for you.
With threat blockers, IP and DNS leak protectors, and tracking prevention, CyberGhost easily makes you seem invisible to the online world. If your priority is security, there's no better way to hide than be a (cyber) ghost.
As for Wi-Fi, CyberGhost will always give you a heads up when new networks are detected. This comes in especially handy if you're using public hotspots on the go.
Perhaps the most interesting thing about CyberGhost is that their policy states this: "user's traffic data such as browsing history, traffic destination, data content and search preferences are not monitored, recorded, logged or stored." And this is all allowed.
Nor do they log your "real IP address, connection timestamps or session durations". Subscribers are given randomly generated IDs, and they can pay through Bitcoin.
Talk about anonymity!
Highlights
–         Ensured hidden identity
–         7 simultaneous connections max
Customer Reviews
Here's a review from a user who got this product:
 "Most competitive price. Nice looking and easy to use software. Stays connected for as long as i need it to be (24h without any trouble). Beeing able to connect to Netflix USA is a great bonus, and other dedicated streaming and torrent download possibilities"
And this is from another user:
"Excellent experience: Apps are easy to use, really intuitive. The apps are available for multiple platforms, and are stable. I also like how it will recommend to turn on CyberGhost when it detects I'm connecting to municipal WiFi (or the guest network at work). There are lots of VPN servers to choose from, or you can just click one button to let it default to the best ones near you. The connections are FAST, which has been really good for moving lots of large files. Don't be spooked by the name, everything about the CyberGhost customer experience has been top notch so far. Based on all this, I've decided to go 'all in' for a multi-year commitment because the pricing on a year or longer is very reasonable. Totally worth it."
3.   ExpressVPN

Price: 53.38RM/month
Visit The ExpressVPN Website For Promos
Military-grade encryption? Sign us up!
It can unblock a lot of geo-locked content and other sites some VPNs can't reach.
Unlike the first two, ExpressVPN retains some of your metadata, like the date of connection, server choices, and bandwidth. But you can register using a different email address and pay with Bitcoin to stay anonymous.
Possibly one of the best things people like about ExpressVPN is its no-fuss minimalist style that gives you just the right amount of leeway to customise.
Highlights
–         Operates at least 3,000 servers across 94 countries, including Malaysia
–         Apps for Windows, MacOS, Android, iOS, and Linux
Customer Reviews
Here are a few thoughts from ExpressVPN users:
"While ExpressVPN is more expensive than others, its speed, reliability, and features easily make it worth the price. I see no visible slowdown in browsing speeds, the apps are really simple to use, the strength of its security and privacy protections are hard to beat, and their customer support is fantastic. One feature I absolutely love is the 'auto-start' or 'trusted network' feature. This means if you connect to a network you don't specify as trustworthy, the VPN will automatically start. This comes in handy when connecting to airport or coffee shop WiFi and you don't realize the VPN is turned off."
And someone else said:
I've been using ExpressVPN since the beginning of the year and all I have to say is that it works great for me. The speeds for me are pretty consistent. Even in far places, I have no problems with buffering and speeds, in my opinion, speeds are very good. Customer service is good if you like to do online chatting or email. They do respond quickly and solve the problem.
4.   IPVanish VPN

Price: 49.42RM/month
Like IPVanish? Check Out Their Website!
If you've no plans of visiting China in the near future and don't mind letting Netflix know your IP address, IPVanish can offer you fast, stable, and secure connections.
It's the fan favourite for users of Fire TV Sticks and Kodi since not all VPNs support remote-controlled devices.
As for data retention, it only keeps your registration when you do it for the first time. After that, everything vanishes too.
Highlights
–         Has 2 fast servers in Kuala Lumpur
–         Max of 10 devices can be connected
Customer Reviews
Here's what a customer thought about IPVanish:
 "A great service at a great price. Stable and reliable connections with fast speeds. The IPVanish application works and looks great on both Mac and iPhone. The iPhone app has an OnDemand connection feature that ensures you're always using the service even whilst jumping between WiFi networks or when reconnecting to your service provider. Awesome!"
Another customer has this review:
"found IP Vanish on a blog somewhere and loaded it, and have used it several times since loading and it has met my expectations so far. I have chosen several different IP endpoints and tested with a what-is-my-IP service and it validates. I generally pair the use of IP Vanish with the Tor Browser for best Privacy, but that is not necessary. There is an App on the iPhone App store for my Mac-moobile devices, so I may selectively use t there too, The installation on the Windows platform is a Registered publisher, this is developer-best practice. Excellent overall rating so far for IP Vanish."
5.  FastestVPN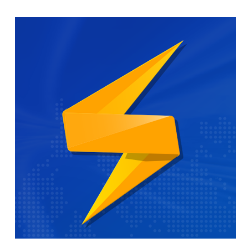 Price: Check their website
Fastest VPN provides you a VPN service that will allow your internet to boost its speed, get unlimited bandwidth, and well-fortified security while you are browsing online. This VPN also has advanced features such as an ad blocker, an anti-malware, and it is compatible with over 20 devices and at least ten simultaneous connections from different devices.
Fastest VPN does not just focus on their services but they do also accommodate their clients well by having a 24/7 live chat support for your inquiries, 15-day money-back guarantee if you weren't satisfied with your VPN, and a support center where you will find their FAQs, tutorials, etc.
This VPN provider offers refundable monthly plans for as low as $10, and you can pay them online through their payment options. Fastest VPN has a five-star rating from Trustpilot with an average of 9.3 out of all 224 reviews made.
Highlights
–        Has Anti-Malware feature
–        Blocks advertisements
–      Compatible with over 20+ devices
Customer Reviews
Here's a review from one of Fastest VPN's clients:
"Recently subscribed to FastestVPN for Australian Open. Set up was quick and simple and connectivity was excellent." – Johnathon Fernandez
Here's another one:
"Excellent support with great replying rate! The guy on the support was very patient with my questions and helped me until my issue was resolved. I would definitely recommend it." – Elijah
That sums up our list of options for the best VPN in Malaysia! These should help you safeguard your information when you're online.
If you'd also like to upgrade your tech, you can check out our lineup of the best laptops in Malaysia just in time for installing your VPN into your new gear!