The 7 Best Vet Clinics in Malaysia
When our pets get sick need to go to the vet, how do we know which vet to trust, right? It's not like we can just rush them in anywhere and be calm knowing they're in the best of hands.
We know exactly how that feels which is why we put together this article of the best vet clinics in Malaysia and everything you need to know before taking your furry best friend into the clinic!
How Much Do Veterinary Services Cost in Malaysia?
The cost of veterinary services varies greatly in different hospitals and clinics. This is because rates are based on what animal you have, the vet clinic itself, the equipment used, treatment plans, equipment utilized, and the expertise of the veterinarian.
However, here's a rough estimate of what to expect for your trip to the vet for a cat since cats are the most common household pets in Malaysia:
| | |
| --- | --- |
| Service | Average Cost |
| General consultations | RM 35 |
| Soft tissue surgeries | RM 130 |
| Vaccinations | RM 40-80 |
| Basic grooming | RM 100 |
| Microchipping | RM 25-50 |
Best Vet Clinics in Malaysia
Now, it's time to see that list of the best vet clinics in Malaysia!
1. Kitty's Care Veterinary Clinic

SERVICES
Wellness examination, Basic grooming, Microchipping, Neuturing, Orthopaedic surgery, Vaccinations and parasite control, Dental care, and Pet boarding
WEBSITE
https://kittyscarevet.com
ADDRESS
KITTY'S CARE VET PUTRAJAYA
No. 18, Jalan P8G1, Presint 8, 62250 Putrajaya, Wilayah Persekutuan Putrajaya

KITTY'S CARE VET KAJANG
No. 52A, 1, Jalan TTDI Grove1/2, 43000 Kajang, Selangor

KITTY'S CARE VET BANDAR SRI PERMAISURI CHERAS
No. 100, Jalan Dwitasik, Bandar Sri Permaisuri, 56000 Cheras, Wilayah Persekutuan Kuala Lumpur
CONTACT DETAILS
011-5558 1990
[email protected]
OPERATING HOURS
By appointment
First on our list of best vet clinics in Malaysia is Kitty's Care Veterinary Clinic.
Kitty's Care Veterinary Clinic has been serving the people of Malaysia for quite some time now.
What started as a single clinic gradually grew into three locations: a clinic in Putrajaya, another in Kajang, and the last in Bandar Sri Permaisuri. It's worth noting that all of these clinics are equipped with state of the art equipment and managed by trained, highly qualified veterinary teams.
Additionally, at Kitty's Care Veterinary Clinic, you can gain access to various veterinary services to keep your beloved kitty in tiptop condition.
Some of these services include general health care and wellness checks, general and orthopaedic surgery, dental treatments and surgery, in-house diagnostic testing, pet grooming and spa, pet boarding and daycare, and emergency services.
Multiple locations available
Wide range of veterinary services
Offers emergency care
Pet grooming and boarding available
Large teams of trained, qualified veterinary staff
Pricing matrix not available on their website
2. VPAC – Vets For Pets Animal Clinic Kuchai Lama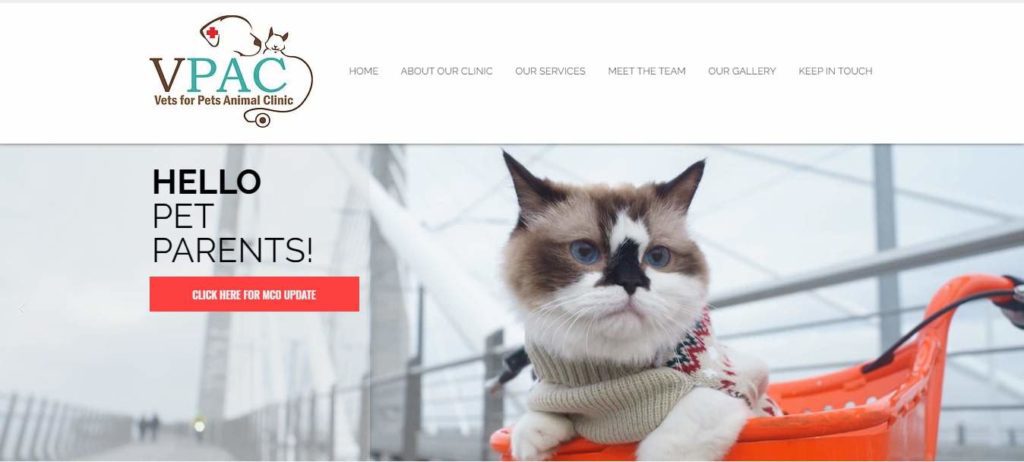 SERVICES
Wellness examination, Basic grooming, Microchipping, Neuturing, Orthopaedic surgery, Vaccinations and parasite control, Dental care, and Pet boarding
WEBSITE
https://www.vpac.com.my/
ADDRESS
No. 49, Jalan Kuchai Lama, Taman Lian Hoe, 58100 Kuala Lumpur, Wilayah Persekutuan Kuala Lumpur, Malaysia
CONTACT DETAILS
+60 17-983 5980
OPERATING HOURS
Mon-Fri 10:00 am – 2:00 pm , 3:00 pm – 5:00 pm
Sat-Sun 10:00 am – 3:00 pm
If you're looking for a full-service clinic, Vets for Pets Animal Clinic is a good one to check out. You'll find it in the city of Kuala Lumpur in Kuchai Lama.
It's got everything you could possibly need for your pet's care and health in terms of dental, medical, and surgical needs. They also give great importance to preventive care like vaccinations, neutering, wellness examinations, and microchipping.
Their 14 vets are all trained to conduct basic and special diagnostic procedures. Their use of both in-house and external practices makes them an even better choice for special issues.
Some of the facilities offered in this vet clinic are an in-house surgery suite, in-house x-ray machines, indoor boarding kennels, a hospitalization area that's supervised around the clock, outdoor walking areas, and a well-stocked pharmacy.
For cat owners, you'll also be happy to know that VPAC has been accredited as a "Cat-Friendly Clinic" (CFC) by the International Society for Feline Medicine.
Licensed for microchipping
Accredited as a "Cat-Friendly Clinic"
Multiple vets available
Wide range of in-house facilities
Parking may be scarce
Rates are higher compared to other vets
Customer Reviews
Here are a few reviews for VPAC by satisfied fur parents:
"The doctor explained everything well, trusted and definitely will go back here if anything happen to my pet" -Fauzi
"Staff very helpful. Sending my cat Luna here for 3rd times. Doctors also very good at their service and knowledgeable. Clinic area no smell that is less pleasant. Overall I'm am satisfied with the services provided." -Jue
3. Gasing Veterinary Hospital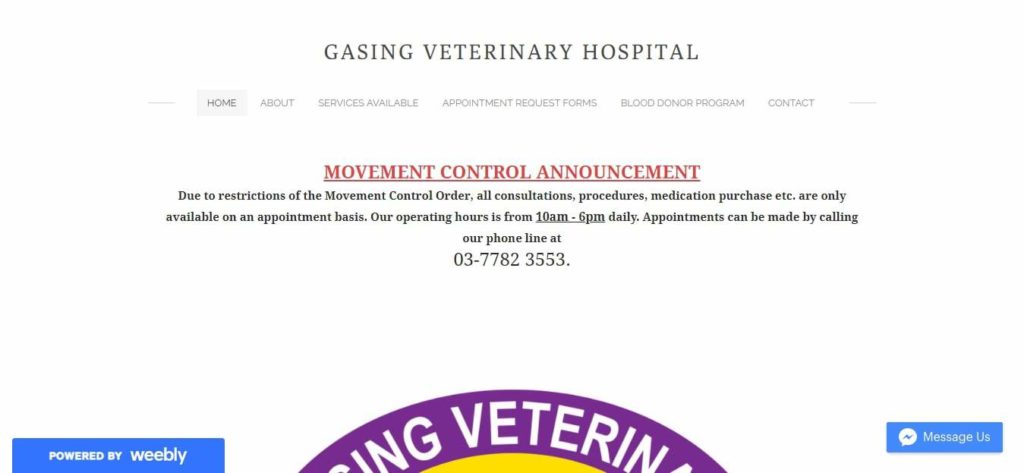 | | |
| --- | --- |
| SERVICES | Internal medicine, Emergency medicine and surgery, Dentistry, Laboratory exams, Neurology, Soft tissue surgery, Endoscopy |
| WEBSITE | http://www.gasingvet.com/ |
| ADDRESS | 53 & 55, Jalan 5/58, Gasing Indah, 46000 Petaling Jaya, Selangor, Malaysia |
| CONTACT DETAILS | +60 3-7782 3553 |
| OPERATING HOURS | Daily 10:00 am – 6:00 pm |
Gasing Veterinary Hospital can be found in Selangor and is one of the top vet hospitals in the state.
They offer all sorts of treatments and procedures regarding internal medicine, emergency medicine and surgery, radiology, ultrasonography, cardio echo, MRI, endoscopy, neurology, and more.
They also have in-stay for pets that goes for around RM 50 per night, which is pretty pricey. However, you'll have peace of mind knowing that facilities are regularly cleaned and properly maintained spaces to ensure the health and safety of your pet.
As of this moment, consultations and all procedures are permitted only by appointment which you can book either on their website or through calling them.
In line with this, emergency cases are assessed immediately upon arrival and cost RM 150. However, if the vet deems that it is not an emergency case, you will be issued a waiting number before your turn.
Prioritizes emergency cases
Prices are reasonable
Wide range of treatment options
Wide range of laboratory equipment
Queue tends to be long
Parking may be scarce
Seems to have a lot of complaints with customer service
Customer Reviews
Here are a couple of reviews left by Gasing Vet Hospital customers:
"Probably one of the best veterinary hospitals in Malaysia. They're friendly, reliable and the vets will take the time to explain your pet's condition. Pets are kept in a clean and properly ventilated place." -Sukhi
"Good service. The vets are very helpful in explaining things patiently to you. Price is quite reasonable. They will assist you if you need a quotation just to help you to get rough estimate of the cost. The doctors will always follow up with your case. Parking is quite a hassle here so it's good to come early. Que tend to be quite long but worth the wait as the service is good." -Dmya
4. Cyberlynx Animal Clinic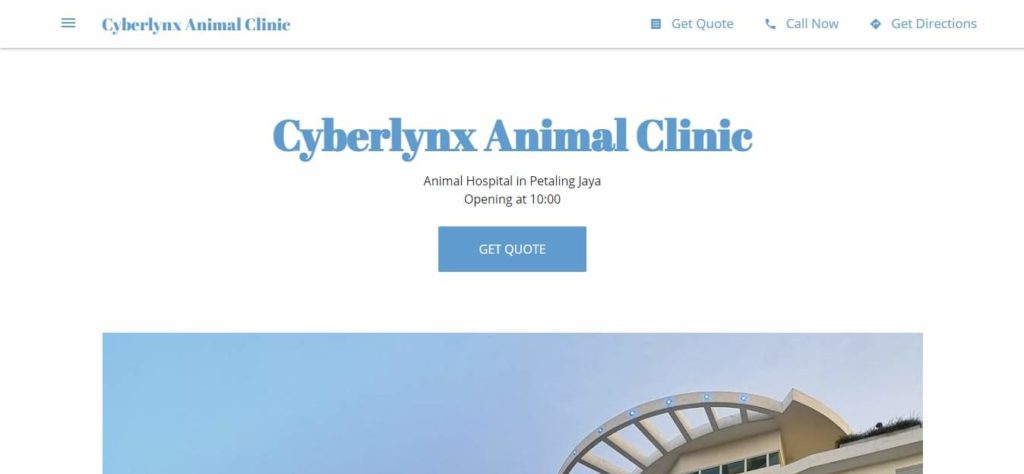 | | |
| --- | --- |
| SERVICES | General consultation, Preventative medicine, Hospitalization, Basic soft tissue surgery, In-house diagnostics, Boarding, Owner education |
| WEBSITE | https://cyberlynx-animal-hospital-sdn-bhd.business.site/ |
| ADDRESS | B-G-30, Block Bougainvillea, 10 Boulevard Damansara PJU 6A, 47400 Petaling Jaya, Selangor, Malaysia |
| CONTACT DETAILS | +60 3-7732 4330 |
| OPERATING HOURS | Daily 10:00 am – 5:30 pm |
Located in Selangor, Cyberlynx Animal Clinic seeks to provide world-class care to fur patients and their parents alike.
Aside from working hard to address any issues the pets brought to them, they also do their best to get to the root of the problem. This means knowing about the home life of the pet and how they are treated to be able to prevent the condition from worsening and to prevent any future issues.
This makes it easier for them to know what exactly they need to teach the specific pet owners during their owner education services that they offer.
With this being said, they also really push for the importance of preventative medicine. They offer vaccinations, tick and flea products, deworming, and heartworm prevention for animals.
They also offer in-house diagnostics namely CBC and biochemistry. For their soft tissue surgeries, they have neutering, wound repairs, and lump removals.
Open daily
Reasonable prices
Provides owner education
Limited laboratory facilities
Only conducts soft tissue surgeries
Customer Reviews
Cyberlynx has made a lot of fur parents happy. Here are reviews left by two of them:
"The best vet in town, the only one my cat approved! Price is reasonable, staff and doctors are very friendly and helpful. Will only bring my cat to this vet forever" –Siti
"The veterinarian checked my dog very well. The staffs are friendly and helpful. The doc explained whatever she does." -Betty
5. Animal Medical Center (AMC)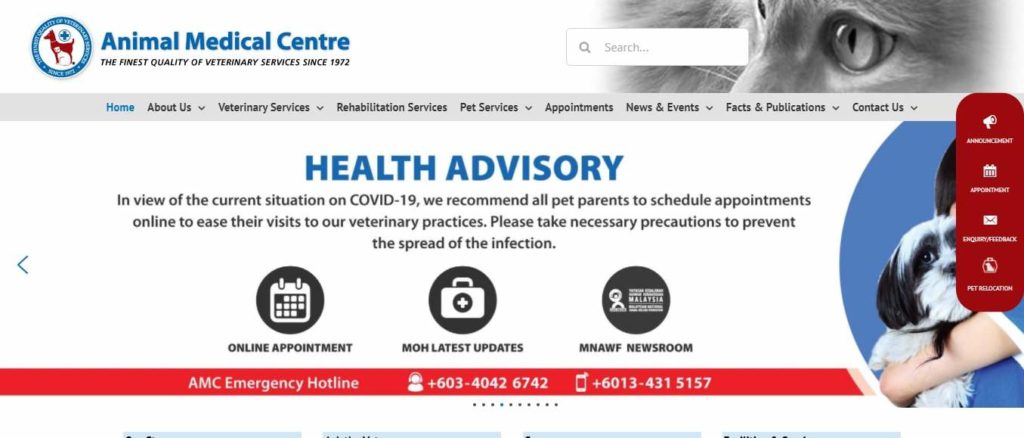 | | |
| --- | --- |
| SERVICES | Laboratory services, Dermatology, Orthopedic, Dentistry, Ophthalmology, Emergency |
| WEBSITE | https://animalhospital.com.my/ |
| ADDRESS | Wisma Medivet, 8, Jalan Kampar, Sentul Selatan, 50400 Kuala Lumpur, Wilayah Persekutuan Kuala Lumpur, Malaysia |
| CONTACT DETAILS | +60 3-4042 6742 |
| OPERATING HOURS | 24/7 |
The Animal Medical Centre (AMC) began as an animal orthopaedic practice in 1972 and has since evolved into a fully functional emergency and critical care hospital.
It's the only private veterinary hospital in Malaysia that's been accredited. It is also a recognised teaching and referral hospital.
The hospital is supported by a multi-disciplinary team of consultants, veterinarians, nurses, physiotherapists and support staff.
AMC provides a wide range of services for companion animals.
These include emergency services, preventive health care, surgical as well as in the areas of ophthalmology, cardiology, internal medicinal, dermatology and orthopaedic.
Other than that, AMC is also equipped with a laboratory, radiology unit, pharmacy and provide rehabilitation services.
Asides from their medical treatments and services, they also offer comfortable pet lodging, pet relocation, pet grooming, and have an on-site pet store!
Wide range of laboratory facilities 
Wide range of specialities 
Open 24 hours for Emergency cases (An appointment is not required for emergency cases. Pets will be triaged and non-critical cases will be rescheduled.)
Waiting hours can be long at certain hours 
Rates reflective of hospital services therefore slightly higher than normal vet clinics
Referrals and consultations are by appointments only
Currently does not cater to exotic animals
Customer Reviews
Check out these reviews left by satisfied AMC patient owners:
"The doctors have done a very good job taking care of my cats. They are very gentle and passionate. However, the receptionist service can be improved. The receptionist is the frontliner, this is where the clients get their very first impression. Thanks." -M
"The staff here is very passionate about the animals that come through and it is evident in the way they care for them. Highly recommended" -Nuwan
6.   Serv U Veterinary Clinic & Surgery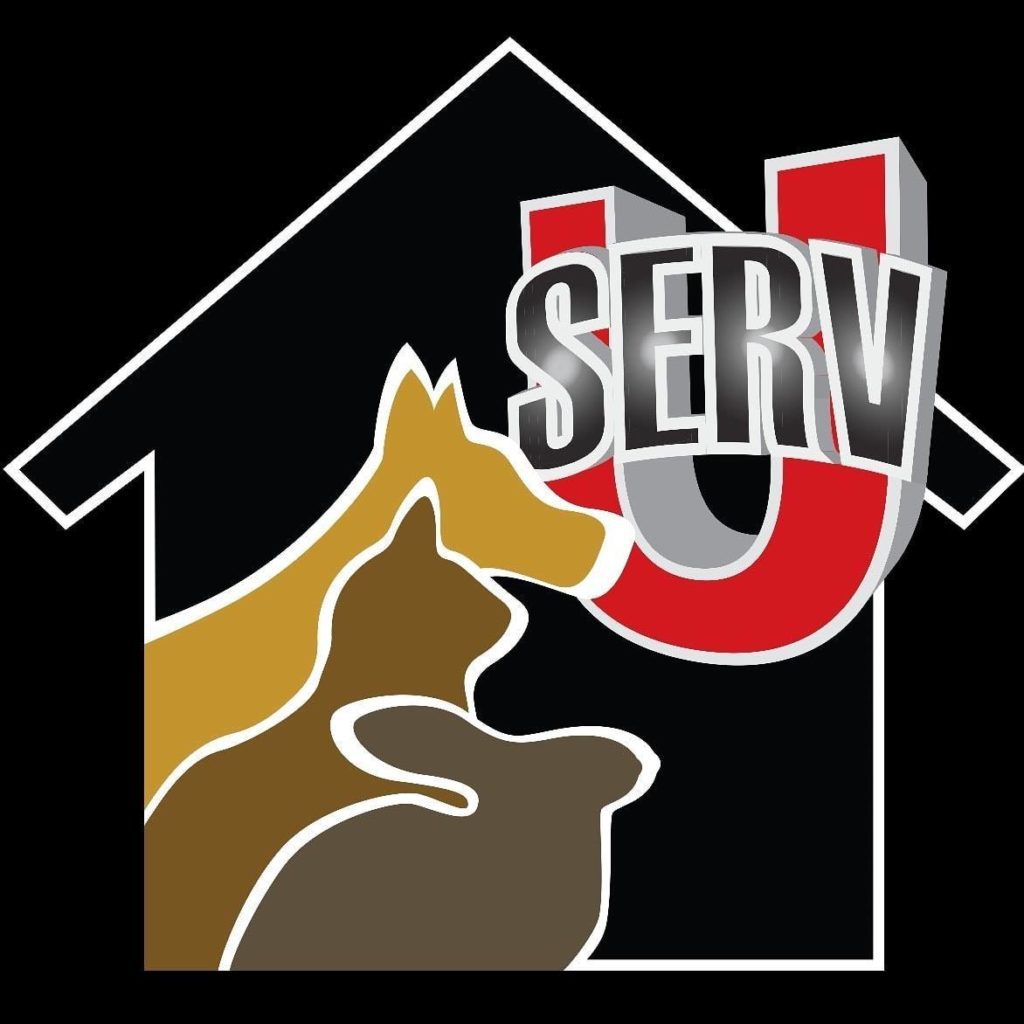 SERVICES
Veterinary services and surgery, Pet grooming, Pet hotel/boarding, Vaccination, Treatment, Pet products, Consultations
WEBSITE
https://www.facebook.com/serv2uvetcare
ADDRESS
30-1, No.8, Jalan Anggerik Vanilla BE 31/BE, Seksyen 31, Kota Kemuning 40460 Shah Alam, Selangor, Malaysia
CONTACT DETAILS
+60 19-879 9188 /

[email protected]

OPERATING HOURS
Mon-Fri 10:00 am – 2:00 pm , 3:00 pm – 8:00 pm
Sat-Sun 10:00 am – 2:00 pm, 3:00 pm – 5:00 pm
Serv U Veterinary Clinic & Surgery is one of the veterinary clinics in Malaysia that is widely recommended by over 120 people and with positive reviews. The clinic has a wide availability on all days of the week and is acclaimed by customers for having a friendly staff and professional vets.
The facility is also adequate and clean which accommodates the customers' desired pet services. The clinic also charges reasonable treatment and consultation fees as the vets provide detailed and understandable knowledge to the clients regarding the condition of their pets.
The staff also exudes a warm, welcoming atmosphere that helps clients feel at ease upon the treatment of their pets. The facility is also within a convenient area for people living nearby and also offers a wide array of services from pet products, treatments, and boarding.
They are also acclaimed to be a very accommodating clinic which clients describe to be very enlightening in which if one wishes to ask anything about their pets they will be met with eager enthusiasm.
7.   Klinik Haiwan Healing Pets Sdn Bhd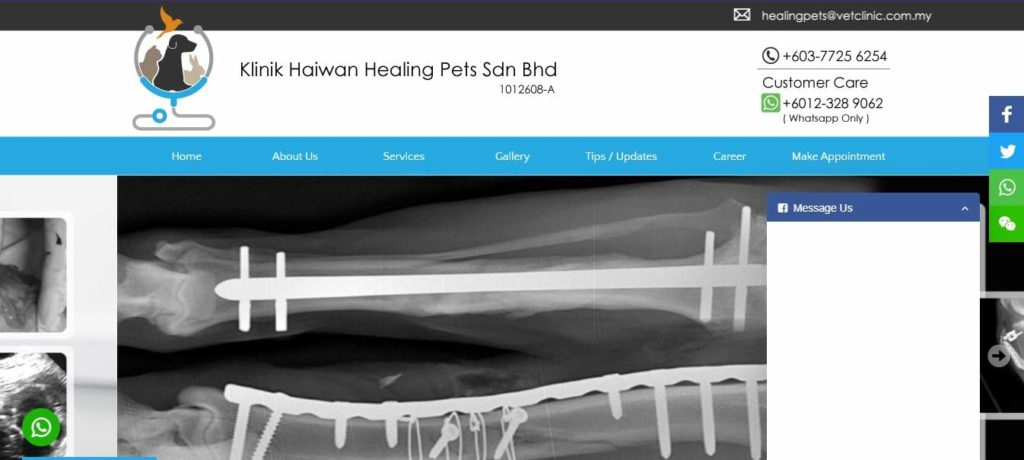 SERVICES
Diagnostics, In-house blood profiling, Physiotherapy, Endoscopy, Ophthalmology, Dentistry, Cardiology, Soft tissue surgery, Wellness program, Orthopedics surgery, Internal medicine, Acupuncture, Grooming, and Boarding
WEBSITE
https://www.vetclinic.com.my/
ADDRESS
26,28, 30, Jalan SS 21/62, Damansara Utama, 47400 Petaling Jaya, Selangor, Malaysia
CONTACT DETAILS
+60 3-7732 8878
OPERATING HOURS
Mon- Fri 9:00 am – 7:00 pm
Sat 9:00 am – 5:00 pm
Sun 10:00 am – 2:00 pm
Klinik Haiwan Healing Pets is a vet clinic that puts preventative care for young pets above everything. You can find them in Selangor if you're ever in the area and want to check them out.
They offer services for early detection and treatments of all sorts of diseases in animals, as well as complete surgical and medical care.
They aim to always provide the best medical care for animals brought to their clinic by keeping up to date with the latest technological advances in animal care.
A few of their medical treatments involve complete diagnostics and in-house blood profiling followed by the actual care which could range from dentistry to endoscopy to internal medicine.
Furthermore, they're able to provide good wellness programs and physiotherapy for your pets like acupuncture treatments. Finally, they also offer grooming and boarding.
Offers pick up service
Offers home service
Offers physiotherapy
Tends to have a long waiting time
High rates (particularly for grooming and consultations)
FAQs about Vet Clinics in Malaysia
---
There's our list of the best vet clinics in Malaysia! We hope you found it informative and that it allows you to give your pet the best care it needs.
Be sure to let us know all about how your trip to the vet went, alright? We'd love to hear all about your experience and how well your furry best friend was treated.
By the way, be sure to check out this article on the best pet insurance providers in Malaysia! We know how much you love your pet and reading up on insurance providers for them is a surefire way to learn more about how to keep them safe.