The 5 Best Rice Cookers in Malaysia
To say that rice is a staple to every Malaysian kitchen is an understatement because, for many, rice is their comfort food. For that reason, rice cookers also have to be the kitchen appliance you can find in every household.
As years passed, our way of cooking rice has evolved from using traditional electric rice cookers to the latest and highly advanced ones. Whether you just started to live on your own or you're thinking of an upgrade, this list will help you find some of the best rice cookers in Malaysia so keep on reading!
The Best Rice Cookers in Malaysia
We're just as excited to show you the best rice cookers (and mini rice cookers) in Malaysia so just scroll down to see which ones are the perfect fit for you!
1. Russell Taylors Fuzzy Logic Smart Rice Cooker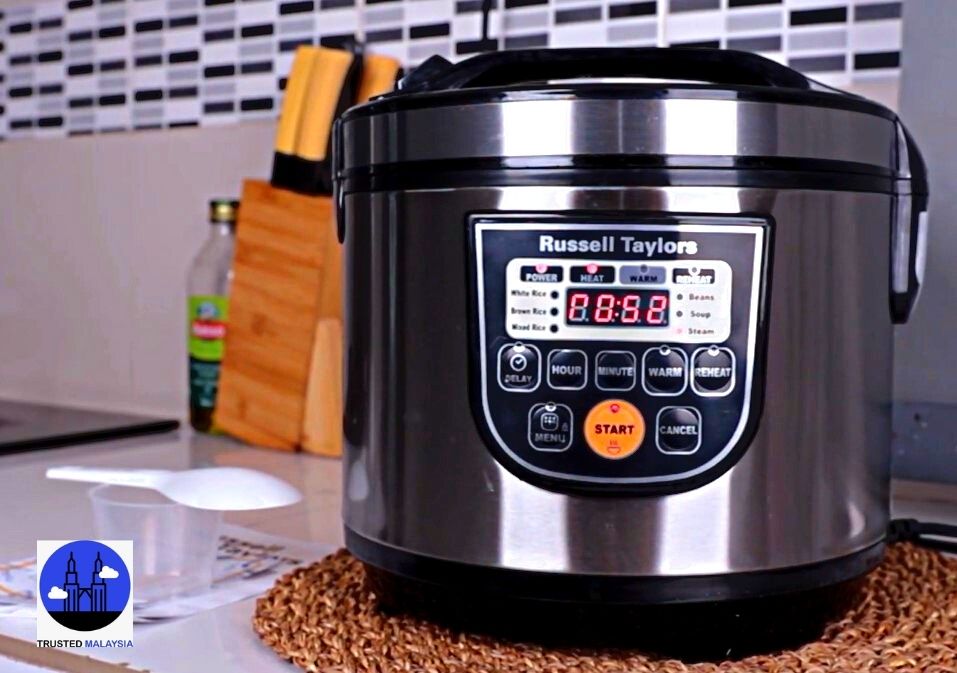 Price: RM124.99
| | |
| --- | --- |
| TYPE | Digital |
| COOKING PROGRAMS | White rice, Brown Rice, Mixed Rice, Beans, Soup, Steams |
| CAPACITY | 1.8 L, serves up to 6 people |
| INPUT VOLTAGE | 220V |
| POWER CONSUMPTION | 700 |
| WARRANTY | 1-year local manufacturer warranty |
Perfect, fluffy rice is the goal of every person who's in charge of cooking the rice and Russell Taylor claims to have developed an intelligent 6-step cooking process that promises this all the time. Here we have the Russell Taylors Fuzzy Logic Smart Rice Cooker that can prepare 2-10 cups of cooked rice.
It has a digital LED display with a user-friendly system so you don't have to worry about it being too confusing even if the design does look a bit intimidating at first. All you really have to do to start cooking is pressing the button of your preferred cooking process.
They use a steam valve and the inner pot to trap the steam and heat in the rice cooker as it simmers to make the rice you're cooking end up being fluffy. It also has a condensation collector so you don't end up with soggy rice.
It has a total of four different cooking processes and three of those are for different kinds of rice. You can choose whether you're cooking white, brown, or mixed rice since they all require a different amount of steam to get that perfect texture.
It also has options for you to cook or steam different kinds of food like beans and soup. Their final option is a preset function that can keep food warm for up to 24 hours.
Comes with steam rack
Digital LED display
User-friendly system
Options for cooking white, brown, and mixed rice
High power consumption
Not recommended for a small household
Customer Reviews
Here are a couple of reviews left by satisfied buyers of the Russell Taylors Fuzzy Logic Smart Rice Cooker:
"Hi, the rice cooker works super well and it looks nice also. A good purchase, and makes you feel like cooking rice every single day. The operating method is also super easy and it has a timer ⏱" -J
"Overall okay. The size is quite big, enough for more ppl. Rice also non stick after cooking." -L
2. Pensonic Mini Rice Cooker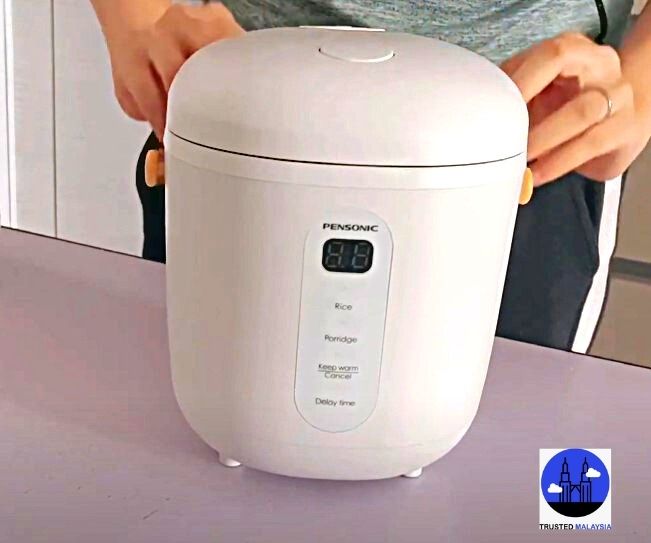 Price: RM166.00
| | |
| --- | --- |
| TYPE | Mini, Digital |
| COOKING PROGRAMS | Rice |
| CAPACITY | 0.8 L |
| INPUT VOLTAGE | 220V – 240V |
| POWER CONSUMPTION | 300W |
The Pensonic Mini Rice Cooker is a digital mini rice cooker with a minimalist design that would look great on your countertop. It has a matte feeling touch that makes it blend in really well with minimalistic kitchens.
This mini rice cooker is perfect for those who live quick lifestyles but still can't bear to not cook rice because it has a quick heating cooking element. It also has a non-stick inner pot which makes it easy to clean.
It has a total of four functions that make it useful for cooking and keeping rice warm for up to 24 hours. You can also cook porridge in it and steam food with its preset function.
This inner pot can also be used to cook simple one-pot recipes like macaroni, stir fry, and omelettes.
Its small size and lightweight paired with its handle make it super portable so you can take it anywhere you need to go—perfect for picnics and outdoor dining.
The package comes with a steamer rack, measuring cup, and spoon.
Portable
Lightweight
Comes with 3 accessories
Has quick heating cooking element
Not ideal for those with large families
Limited functions compared to other rice cookers
Customer Reviews
Make sure to take some time to check out these reviews of Pensonic Mini Rice Cooker users:
"Barang sudah diterima dalam keadaan yang baik . periuk sangat kecil comel . boleh set masa. tengah malam letak. esok pagi terus siap masak. warna putih cantik kecil comel senang susun. senang basuh. senang digunakan." -Kokola
"Penghantaran dlm tempoh yg ditetapkan, brg selamat smpai tapi box tu balut dgn plastic wrap je no bubble wrap, but i wont complain sebab brg semua dlm keadaan baik takde defect, dh lama cari rice cooker saiz kecil warna putih, dh try nasi dimasak sempurna (~25min), max 1.5 pot min 0.5 pot, love sgt" -IIyana
3. Toshiba Honatsukama Series Rice Cooker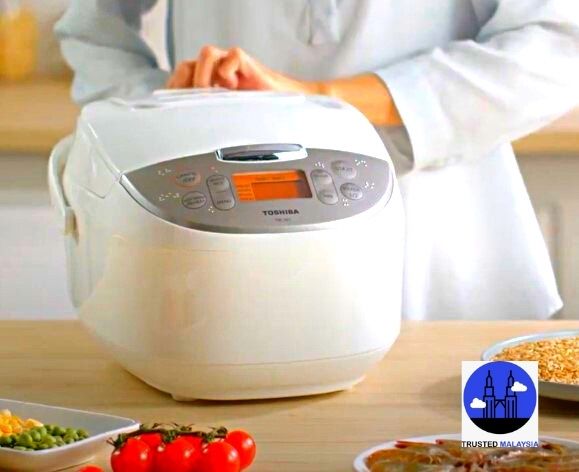 Price: RM 182.00
| | |
| --- | --- |
| TYPE | Fuzzy logic (Digital) |
| COOKING PROGRAMS | White rice, Sushi rice, Mixed rice, Brown rice, Crispy rice, Cake, Steam, Congee, Soup |
| CAPACITY | 1.8 L |
| INPUT VOLTAGE | 220V – 240V |
| POWER CONSUMPTION | 300W |
The Toshiba Honatsukama Series Rice Cooker is a 0.8L capacity rice cooker that's both functional and versatile.
It has 11 functions based on what you want to choose, including a 24 hours preset timer. They have selections for different types of rice like brown rice, sticky rice, white rice, crispy rice, and mixed rice.
Another option for rice is quick cook which you can use for any type of rice and you can also steam food at the same time. This rice cooker also has specific functions to steam food or cook soup, cake, congee, and sushi.
It has a black non-stick pot that ensures no food gets wasted. This also makes cleaning it easy.
It has a bottom and side heating feature which helps with creating proper heat dispersion all throughout the pot so, no matter what you cook in it, the heat gets delivered around it properly.
This model can cook up to 5 cups of rice which serves around 4 people. It also comes with a steam basket, rice scoop, porridge scoop, and measuring cup.
Has 11 different cooking functions
Non-stick pot
Comes with 4 accessories
Serves around 4 people
Not lightweight
Not portable
Customer Reviews
"great product, easy to use, easy to clean and my wife loves it!" -Azri
"Good looking Rice Cooker. The Quick Cooking Mode is fastSuitable for 2 ~ 3persons. " -Wong
4. Tefal Rice Xpress IH Rice Cooker RK7621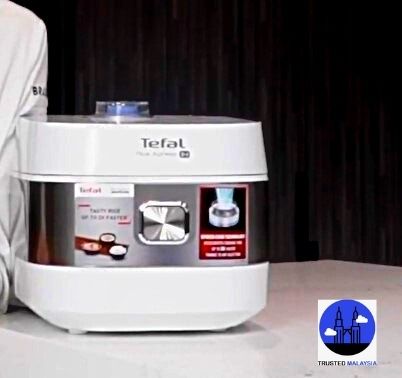 Price: RM 599.00
TYPE
Induction heating
COOKING PROGRAMS
[Xpress rice] 6 dedicated rice cooking programs,
[Multi cook] 6 special cooking functions for versatility
CAPACITY
8 cups / 1.5 L
INPUT VOLTAGE
220V – 240V
POWER CONSUMPTION
1200W
WARRANTY
2-year warranty register at clubtefal.com.my
If you're looking for a fast-cooking rice cooker that still promises fluffy rice all the time, Tefal Rice Xpress IH Rice Cooker RK7621 might be the one for you.
This rice cooker utilizes the brand's exclusive Xpress Cook Technology. It injects air to break bubbles and enhances boiling, making the cooking process quicker.
For Xpress rice, it has 6 dedicated cooking programs. On the other hand, for multi cook, it has 6 special functions for versatility.
The 24-hour delay cooking feature also allows you to keep your food warm for 12 hours. Additionally, its induction heating and spherical pot allows optimal and even heating ensure all your rice is perfectly cooked.
This cooker has an easy-to-use control panel that has a large screen so it's good for those who have a bit of trouble reading without glasses.
You might also be happy to know that all of its parts are dishwasher-friendly. And yes, it also has a non-stick coating for its pot.
The package comes with a rice spatula, soup spoon, steam basket, and a measuring cup.
Comes with 4 accessories
Can cook up to 8 cups of rice
Dishwasher-friendly parts
Uses  Xpress Cook Technology
Pretty expensive
High power consumption
Not portable
Customer Reviews
"Sangat berpuas hati. Beli masa sales 🤩 Nasi yang dimasak sangat lembut. Sangat disarankan untuk anda milikinya❤️❤️❤️" -Asdya
"This thing cooks very fast, 3 cups of rice done in 20 minutes! Rice texture sure feel different and the grain looks shinier than other than cooked in normal rice cooker! IH does really makes different ! Highly recommended!" -I
5. Giselle Mini Rice Cooker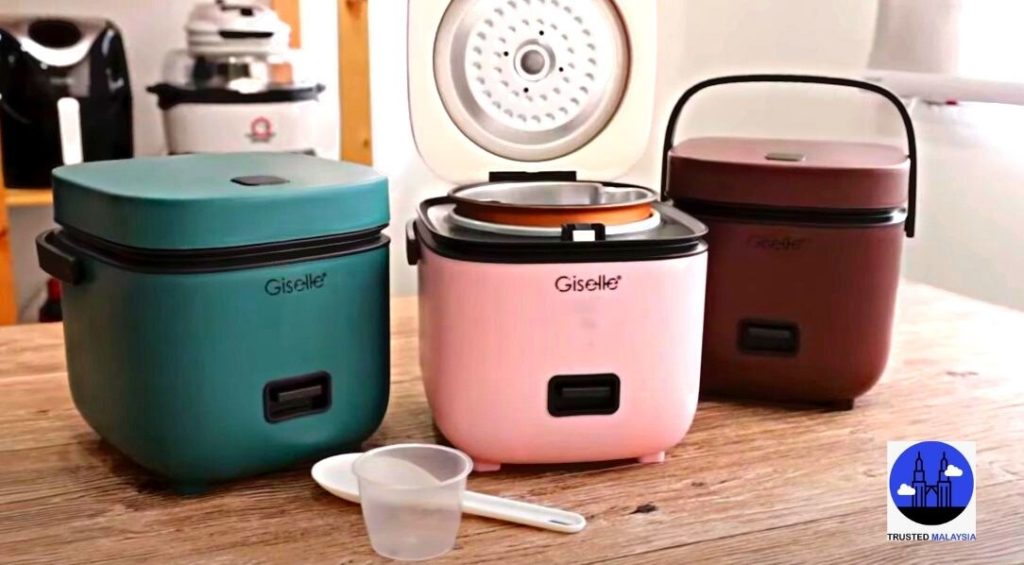 Price: RM 63.99
| | |
| --- | --- |
| TYPE | Mini, manual rice cooker |
| COOKING PROGRAMS | Rice, Porridge, Soup, Hot Pot, Noodles |
| CAPACITY | 1.2 L |
| INPUT VOLTAGE | 220V – 240V |
| POWER CONSUMPTION | 200W |
| WARRANTY | 15 days return on Shopee |
For those who live alone or with just one other person, we highly suggest getting the Giselle Mini Rice Cooker.
It's a multifunctional rice cooker that doesn't take up much space and is easy to store and carry around. You can actually look at it and be fooled to think it's a lunch box which we think is a nice little feature.
This rice cooker has a removable and washable cover for easy cleaning. Another convenience it offers you is that a luminous font clearly displays itself to let you know how much time you have left when cooking.
You can use it to steam food at the top while cooking rice on the bottom half so, if you're someone with an on-the-go lifestyle, you'll be saving a lot of time with this one. Just make sure you have a lot of pre-cooked food stocked in your fridge.
Finally, it has an anti-slip base and is drip-proof so you don't have to worry about any potential mess in the kitchen in your dorm, house, or office kitchen.
Perfect for 1-2 people
Perfect for dorms and small offices
Can cook and steam at the same time
Drip-proof
Doesn't come with accessories
Only one cooking function; limited functionality
Customer Reviews
"received with excellent conditions.. no dented no scratches.. had tried cook rice with this rice cooker.. the rice turns out fluffy 😍 oh ja! too early to judge..but so far.. i satisfied with this rice cooker.. hopefully it works for me for a long time..dankeschön ☺️" -Z
"Amazing! fast cooking. fast eating. easy to clean pot." -Serra
Things to Consider Before Purchasing a Rice Cooker in Malaysia
1. Rice Cooker Type
There are tons of options for rice cookers and if you ask which will be worth your money, that solely depends on what type of cooking you need to do.
The most basic type is the cook/warm cooker that only has one button to switch from cooking and keeping it warm. A pressure multi-cooker, however, can be used as a slow cooker, pressure cooker, and rice cooker and is best for soups.
Lastly, fuzzy logic or smart rice cookers we see today are equipped with AI and pre-program functions. It can also detect the volume level of the liquid and adjust accordingly—it's like another person is cooking for you.
2. Capacity
Consider how many people you would need to cook rice for on a regular basis before making a purchase. The capacity is measured based on the volume of rice that can be cooked in one cycle,
If you only cook rice for yourself, a rice cooker with 1 to 3 cups capacity will be enough. For small families, 3 to 5 cups would be able to feed everyone in one cooking cycle but if you need something bigger, common rice cookers capacities are up to 8 to 32 cups.
3. Pot Quality
Especially if you will be cooking different types of rice, the quality of the pot matters a lot. Most rice cooker pots are made from aluminium or stainless steel which are recommended if you want your rice cooked quickly.
Today, rice cooker bowls have a non-stick coating that are perfect if you often cook sticky rice. They are also easier to clean and do not scratch compared to the aluminium material.
4. Accessories
Having more cooking functions will make your everyday cooking more efficient and convenient. Most rice cookers come with a steam tray that allows you to cook rice and steam vegetables at once.
You might also want to consider things like the lid—glass lids allow you to see through the cooking rice. For fuzzy logic rice cookers, you won't need that but making sure that it is easy to detach and clean will be a plus.
FAQs about Rice Cookers in Malaysia
---
I'm sure we can all agree that rice is one of the most important parts of our meals so our rice cookers should always be the best! No matter what food's on the table, rice has got to be there and it should be cooked by the best rice cookers in Malaysia.
With that in mind, Bon appétit, and please feel free to let us know if you have any rice cooker recommendations you'd like us to give reviews on.
You may also want to check out our list of the top air fryers in Malaysia for a healthier lifestyle!