The 5 Best Power Banks in Malaysia
Power banks are one of the handiest devices created to help us go about our modern day to day lives. Having a portable and rechargeable battery pack that recharges your devices when there's no socket in sight is a lifesaver in so many situations.
If you're searching the market for one of the best power banks in Malaysia, you're in luck! We've put together this list of exactly that just for you so keep on scrolling.
The Best Power Banks in Malaysia
As you go along with this article, you'll learn all about the best power banks in Malaysia including where to purchase them, how much they cost, and their specs. These will all help you decide which is the best one to get for you and your gadgets!
1. Xiaomi Mi Powerbank 20000mAh PLM18ZM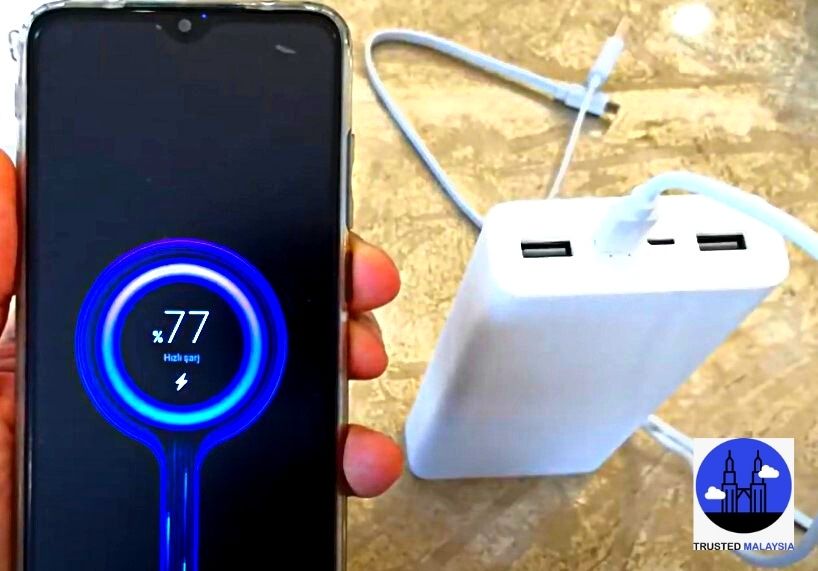 Price: RM 87.80
DIMENSIONS
150.6mm x 72.2mm x 26.3mm
CHARGING CAPACITY
20,000 mAh
CHARGING INPUT
Input 1: USB-C
Input 2: Micro-USB
CHARGING OUTPUT
3
WARRANTY
None
The Xiaomi Mi Powerbank PLM18ZM is a Li-on polymer battery-powered power bank, with a battery capacity of 20,000 mAh. It works perfectly with laptops, tablets, drones, cameras, and smartphones.
It also supports small current charging for devices such as your Xiaomi watch or earbuds.
One thing to highlight about this power bank is that it can charge up to 3 devices at a time with no issue. You can also charge it using either a USB-C connector or a micro-USB one.
This power bank has two-way quick charge technology, which means you can charge another device while the power bank itself is charging as well.
For your safety, it has all sorts of features like short circuit protection, reset protection, output overcurrent protection, temperature protection, and more. This helps preserve the life of both your power bank and your devices.
It's CCC certified, which means it's a product from China that's been certified as safe for distribution and use.
The package comes with one power bank, one cable, and a manual.
CCC Certified
Supports small current charging
Can charge up to 3 devices simultaneously
No warranty
No LED indicator light/display screen
2. Anker PowerCore Select 20000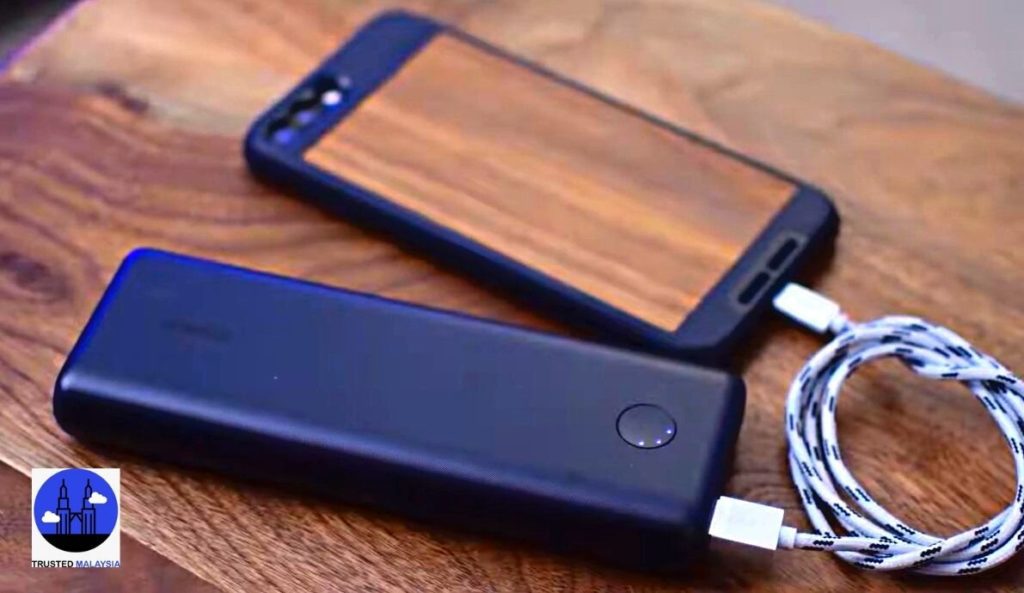 Price: RM 122.32
| | |
| --- | --- |
| DIMENSIONS | 165mm x 82mm x 23 mm |
| CHARGING CAPACITY | 20,000 mAh |
| CHARGING INPUT | Micro-USB |
| CHARGING OUTPUT | 2 |
| WARRANTY | 18-month warranty |
The Anker PowerCore Select 20000 is a fast-charging power bank in that it charges your devices quickly and recharges itself quickly. It gives 18W of power when charging a single device and can give up to 5-7 cycles of charging for phones and 1.5 charges for iPads.
It has a charging capacity of 20,000 mAh. It has dual USB charging ports so you can easily charge 2 of your devices at the same time.
This power bank uses Anker's very own PowerIQ 2.0 technology which is a chip that's able to intelligently determine the device being charged. The power bank then adjusts the power flow it gives for more effective and quick charging.
Now, for your safety, it has all sorts of added protection. This includes short circuit protection, high-voltage protection, current regulation, and static resistance.
Unfortunately, this power bank doesn't have an LCD display nor does it have any indicator lights
The package contains the Anker power bank, a micro-USB, and a manual.
Fast-charging
18-month warranty
High charging capacity
PowerIQ 2.0 technology
No USB-C input
No LED display/indicator lights
Customer Reviews
Good product, good value for money
"Good product quality Good value for money Excellent service by seller Fast delivery terbaik!!!!" -girdzkents88
Good value for money
"Good value for money" -nikmhammed
3. Remax PPL-14 Proda Series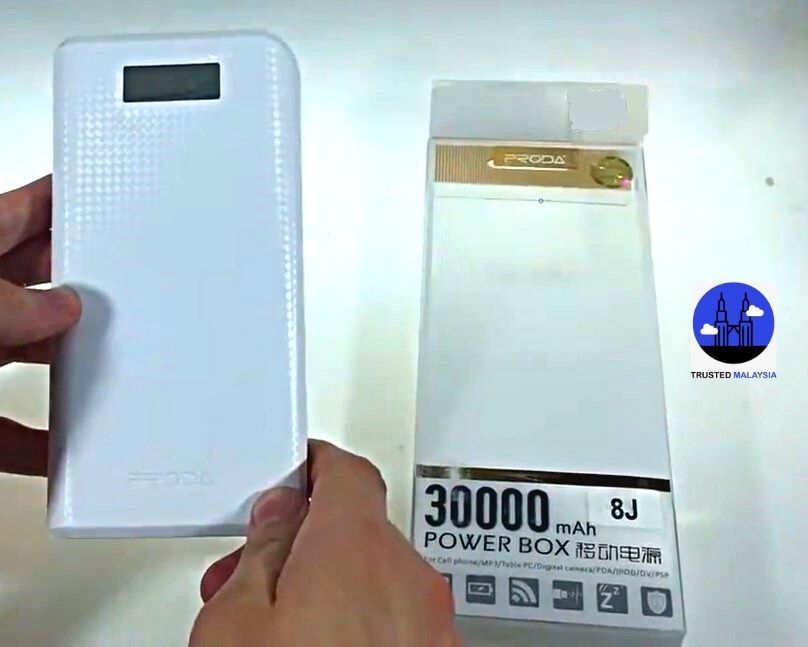 Price: RM 76.20
| | |
| --- | --- |
| DIMENSIONS | 201mm x 84mm x 26mm |
| CHARGING CAPACITY | 30,000 mAh |
| CHARGING INPUT | USB A |
| CHARGING OUTPUT | 2 |
| WARRANTY | 6 months |
The Remax PPL-14 Proda Series is a large capacity power bank with 30,000 mAh that still manages to be portable and lightweight.
It has an LED display to show you the battery life of the power bank. It also has an LED flashlight that's a pretty convenient addition and makes it stand out.
It's compatible with all sorts of devices and gadgets which makes it ideal for families. Especially considering the fact that it also has the technology to protect it from ever short-circuiting due to overcharging or overheating to keep the kids safe.
The package includes the PPL-14 power bank and its user manual. Sadly, it doesn't come with any sort of cable, not even a charging one for the power bank itself.
This product comes in either black or white and has a 6-month warranty. A warranty card also isn't required as long as you keep the original box.
LED display
6-month warranty
Comes in 2 colors
Short-circuit protection
Only 2 charging outputs
Doesn't come with a charging cable
Only 10,000mAh battery capacity
Customer Reviews
Good product quality
"Good product quality 2nd order and still the best..for my opinion maybe should change the warpper to bubble warp for more safety..👍" -shopee User
Good value for money, excellent service by seller
"Good product quality Good value for money Fast delivery Excellent service by seller" -Iyananaufal
4. GOAL ZERO SHERPA 100AC POWER BANK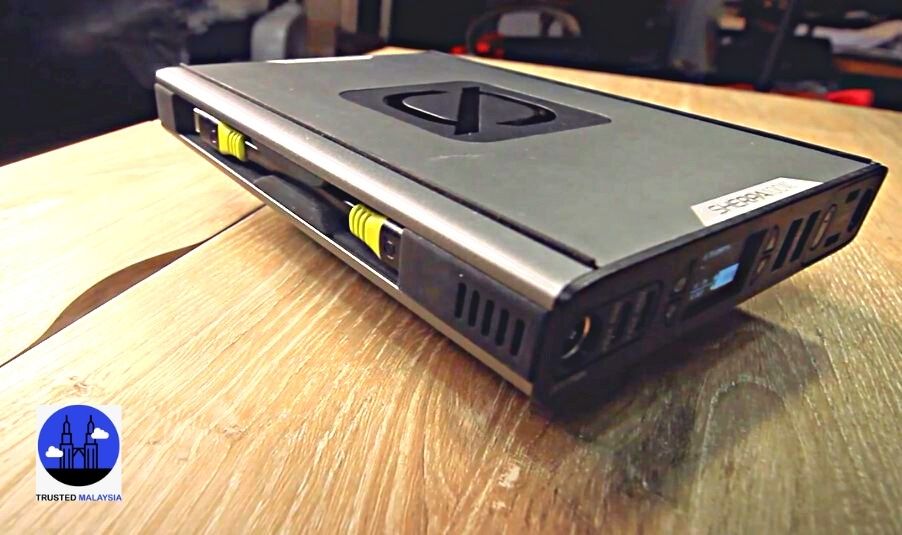 Price: RM 1,799
DIMENSIONS
190 mm X 254 mm X 144 mm
CHARGING CAPACITY
25,600 mAh
CHARGING INPUT
Input 1: USB-C PD Ports
Input 2: USB-A
CHARGING OUTPUT
2
WARRANTY
1-year warranty
If you're someone who spends a lot of their time in the great outdoors, we highly recommend the Goal ZeroSherpa 100AC Power Bank.
With a battery capacity of 25,600 mAh, you can be certain that any device you have will stay fully charged no matter where you are. Actually, even if you stay home a lot, we recommend this because it makes portable charging around your home easier.
It has fast charging, wireless charging, and a wide range of ports to help you charge all your devices. This includes devices like phones, tablets, laptops, and even DSLR cameras.
This power bank also has an interactive OLED display that shows you the battery life and detailed port information including the set roles for these ports.
The package for this power bank includes the power bank itself, a lighting cable, micro USB cable, USB-C cable, and a USB-C to USB-C cable.
Its management system is a built-in charging and low-battery protection that helps preserve the power bank's life. Take note that it has CE, FCC, and ROHS certifications.
1-year warranty
Has OLED display
Supports fast charging
Heavy-duty power bank
Supports wireless charging
CE, FCC, and ROHS certified
Expensive
Only 2 charging outputs
5. Huawei P0001 66W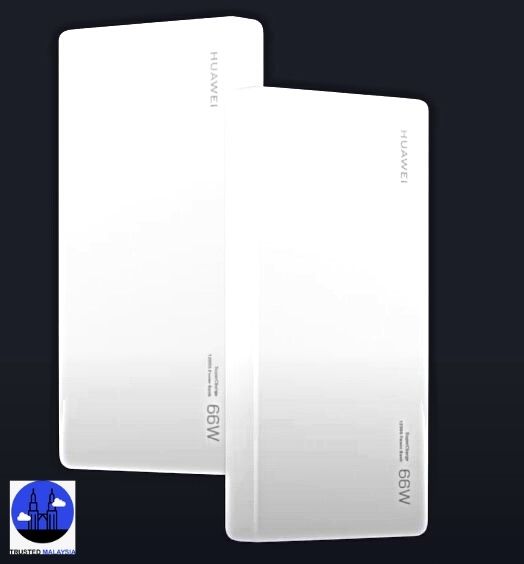 Price: RM 268
| | |
| --- | --- |
| DIMENSIONS | 135.4mm x 69mm x 15.5 mm |
| CHARGING CAPACITY | 12, 000 mAh |
| CHARGING INPUT | USB-C |
| CHARGING OUTPUT | 2 |
| WARRANTY | 3-month local supplier warranty |
The Huawei P0001 66W is a power bank that's thin, modern looking, and has a smooth outer finish. It has a battery capacity of 12,000 mAh which makes it ideal for day-to-day use.
It has 2 power bank USB ports that support fast charging but if your device doesn't support this type of charging then it will be charged at a regular speed. You can charge your tablet, smartphone, and laptop.
By the way, only laptops with USB-C charging ports can be charged using this power bank.
You'll be needing a Type-C to Type-C cable and this doesn't come with the package so you'll have to purchase one separately.
We like that this power bank used integrated lithium cobalt oxide for the battery. This is because it allows this device to be more compact and have a longer cycle life so you don't have to recharge it as much.
The package includes the Huawei power bank and a short type-C cable.
Thin, sleek design
3-month warranty
Supports fast-charging
Integrated lithium cobalt oxide batteries
Only 2 charging outputs
Only 12,000 mAh battery capacity
Doesn't come with type-c to type-c cable
Customer Reviews
Fast charging works well
"Very fast delivery. It's just take one day to arrive. I'm using mate 30 and it's really super charge 40w. Thank you seller." -snake82
Excellent product quality
"Nice seller 👍 product quality excellent trusted" -jacksonmoka
Quick charging, portable power bank
"fast delivery good packaging, quick charging and best is the powerbank size is smaller than expected which is good and comfortable to move around" -mdanialmr
Things to Consider Before Purchasing a Power Bank in Malaysia
1. Charging Capacity
The thing you should look at for a power bank's charging capacity is the mAh or the milliampere per hour. This is an indicator of how much energy it can hold.
If you plan on using your power bank for everyday use only, then low-capacity power banks with around 2,000 mAh should be enough to sustain you. Otherwise, if you are going to spend most of your time in a car or a place where outlets aren't within your reach, a high-capacity power back will be the best choice for you.
The average mAh in a power bak is around 8,000. Take note of the gadgets you'll be using too as this affects how much mAh you'll be requiring.
2. Number of Charging Ports
Having more than one port on your power bank means that you can charge multiple other devices at the same time. These come really handy when you have more than one device that needs immediate charging.
3. Size
Power banks are like portable charging outlets you can carry around with you and pull out any time when you need them. There's also a high chance you'll be charging it in your hand along with your phone while using it.
You definitely want to purchase one that isn't too heavy or too big for this to work out.
4. Features
Just like with any device, power banks have features. The most common and most useful one is a display screen that shows you how much battery life the power bank has left.
Some power banks' display screens also let you know the purposes of the multiple charging ports. An indicator is also almost as convenient as a display screen in terms of knowing the battery life.
5. Ensured Protection
Fake products are sold everywhere and power banks are no exception. You must have heard stories about products that explode and cause injuries and damages to people.
We would like to remind you to be aware of products like this. It is always better to buy products from an authentic store.
FAQs about Power Banks in Malaysia
---
That brings us to the end of our list of the best power banks in Malaysia. We hope you learned a lot and that we helped you find the power bank for you.
If you found this article helpful or you have a few unanswered questions, feel free to reach out to us! We'd also love to hear any power bank suggestions if you have any.
By the way, you might also want to check out our list of the top Bluetooth headphones in Malaysia! And, yes, you can charge them with your power bank too!