The 5 Best Plumbers in Penang
Photo Credit: The Independent
You should hire only the best plumbers in Penang to install, repair, or maintain your plumbing system. Pipes that are in tip-top condition decrease the chances of leaks, which may cause damage to your property.
Luckily for you, we've gone ahead and listed the best plumbers in Penang, according to homeowners. This list will definitely help you narrow down your choices.
1.  Ace Plumbers Service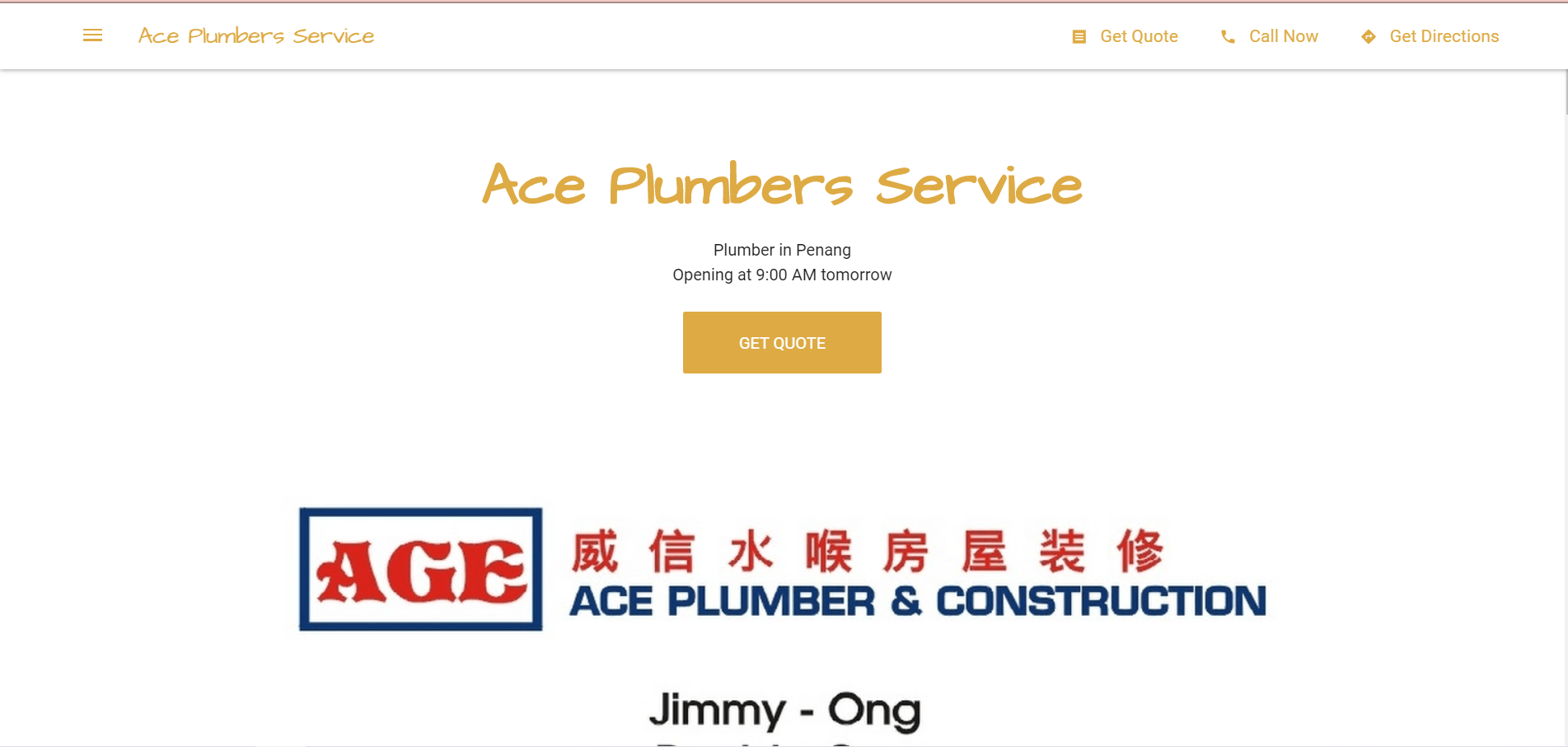 BEST FOR 
Efficient plumbing services
SERVICES
Plumbing

Construction

WEBSITE
Ace Plumbers Service
ADDRESS
Malaysia, Pulau Pinang, George Town, Jelutong, Taman Hutchings, No. 52 4408838, 邮政编码: 11600
CONTACT DETAILS
016-440 8838 | 04-281 3388 |

[email protected]

OPERATING HOURS
Monday to Saturday: 09:00 AM to 06:00 PM
Ace Plumbers Service has served various people over the years. Through their hard work, they have created a reputation for themselves as some of the most reliable plumbers in Penang.
Their team makes sure that you receive clean, running water inside your commercial or residential property. This is why people continue to choose them for their plumbing or drainage needs.
Highlights
State-of-the-art equipment
Tiling work for bathrooms
Customer Reviews
Finding the right plumber that puts your needs first can be difficult. When working with Ace Plumbers Service, you can expect a team that loves what they do and is committed to delivering superb results.
Satisfied customers left the following reviews on Google:
"Quick, professional and really nice."
-Anna
"Good service provided, resonable price as well, overall very good."
-Ling Zhen Ong
2.  GK Impian Enterprise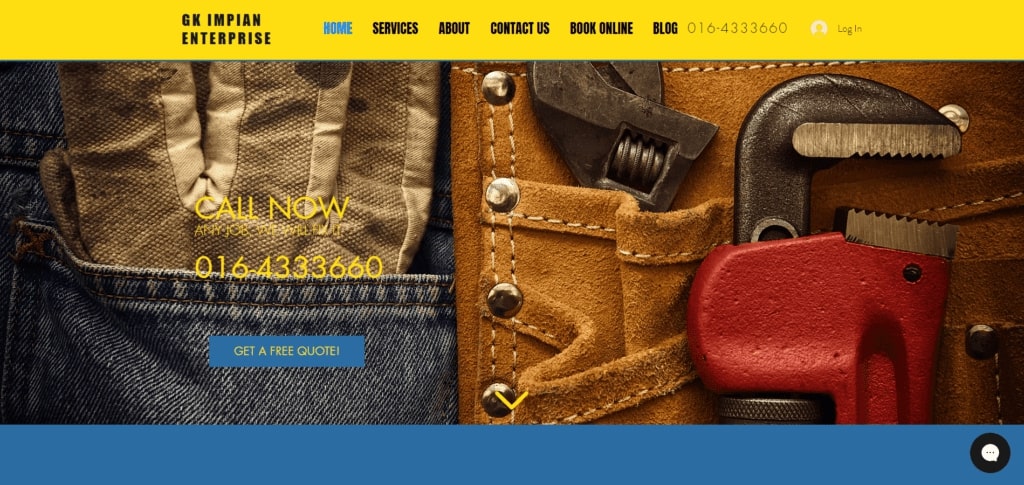 BEST FOR 
Integrating their plumbing and air conditioning services
PRODUCTS
Plumbing

Air Conditioning

Maintenance

WEBSITE
GK Impian Enterprise
ADDRESS
28, Jalan Cheah Phee, Cheok Tanjong Bungah, 11200 Pulau Pinang, Georgetown
CONTACT DETAILS
016-4333660 |

[email protected]

OPERATING HOURS
Monday to Friday: 9AM to 6PM
Saturday: 09:00 AM to 01:00 PM
Proper plumbing successfully reduces the amount of water used by toilets, taps, showerheads, and faucets. GK Impian Enterprise is one of the most trusted plumbers in Penang and would be more than happy to assist you in achieving true water efficiency at home.
Their team will make sure that your home's water supply is clean and not contaminated, for example. When you hire them, they will make sure to go above and beyond all your expectations.
Highlights
Friendly team
Free quotes
Cost-effective solutions
Customer Reviews
People appreciate the high quality of service they receive for a reasonable price when working with these plumbers. There are various glowing reviews on Google, and some of these are the following:
"Reliable and good service. It was a public holiday and they still managed to get here to fix our plumbing problem. 5 stars! :)"
-Ding Choon Hoong
"Fast, efficient and professional. And not to mention a most friendly boss, and most  importantly, very reasonable pricing. I would strongly recommend them to anyone who needs any sort of plumbing services. If there are 5 stars, I would rate them with 6. Thank you once again Mr Guna  and Mr Shankar for everything. May you guys have good business always. Nandri  Vanakam."
-Cheung Hok Choon
3.  Hooseh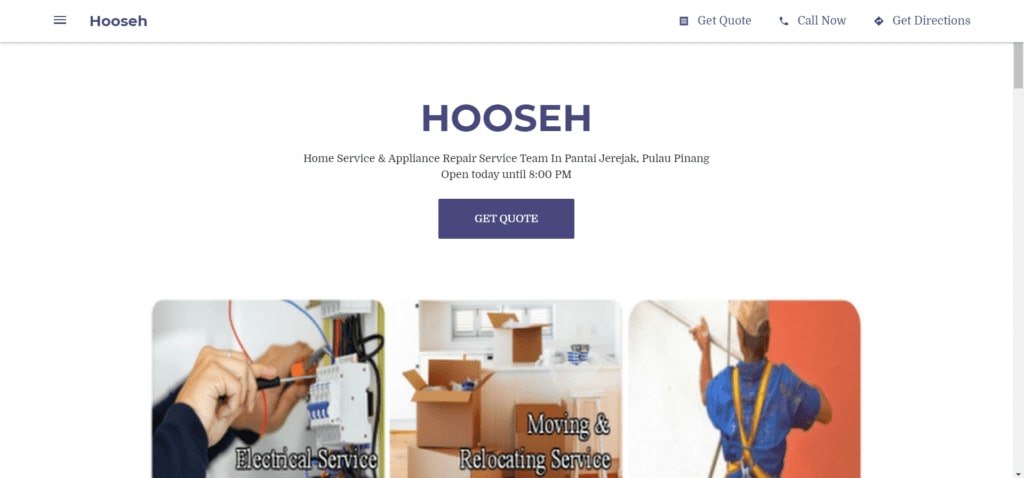 BEST FOR 
All-around home and appliance services
SERVICES
Electrical service

Plumbing service

Moving and relocating service

Air conditioning service

Painting service

WEBSITE
Hooseh
ADDRESS
5, Jalan Pantai Jerjak, Taman Pantai Jerjak, 11700 Gelugor, Pulau Pinang, Malaysia
CONTACT DETAILS
1-700-81-9887
OPERATING HOURS
Monday to Sunday: 09:00 AM to 08:00 PM
From blocked drainage and pipes to sink installations, Hooseh has everything it takes to fix various household issues. No job is too big or small for their team of experts.
They thoroughly screen their handymen and contractors to ensure that their staff consists of skilled and experienced individuals. Through continuous training, they ensure that their team is updated on all the developments in the industry.
Highlights
Wide range of services
Affordability
Transparent repairing process
Customer Reviews
As one of the most trustworthy plumbers in Penang, Hooseh has proudly served various clients. One of them has even left a review on Google:
"Hooseh services are worth the price. Some of our pipes or plugs may be very old to them, causing them to go on a wild goose chase to find the exact or similar model.  It may look very expensive at first but if you consider the time & effort taken to fulfill the request, that price is worth the service provided."
-Dale Hiroto
Another commented:
"At first the price may be expensive, however after they describe how each service represents each price. Overall, the price would be worth the service provided."
-Dale Ong
4.  Penang Plumbing Service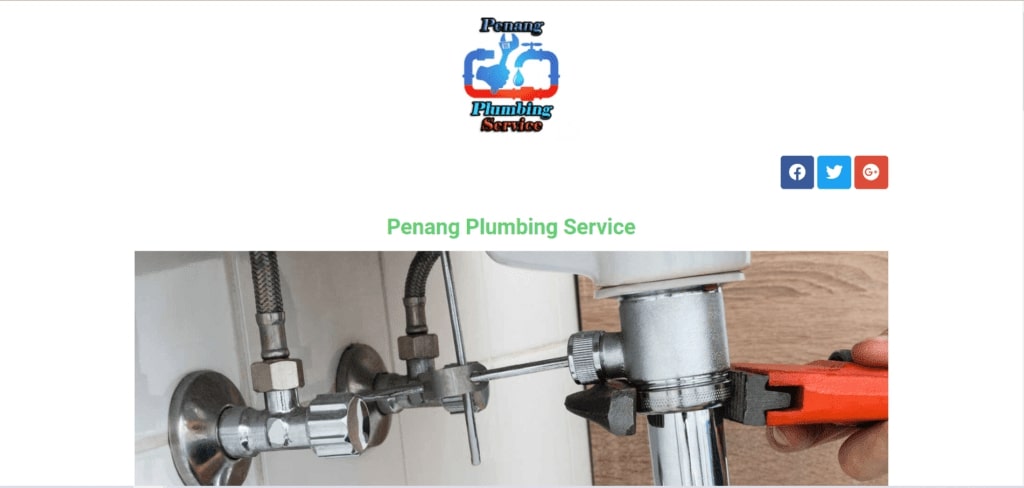 BEST FOR 
Affordable plumbing rates
PRODUCTS
General service plumbing
WEBSITE
Penang Plumbing Service
ADDRESS
No 297-C Kampong Dodol, Jalan Perak, Georgetown, Pinang, Pulau Pinang, Malaysia 10150
CONTACT DETAILS
+60 19-553 2677 |

[email protected]

OPERATING HOURS
Monday to Sunday: 24/7
Whether you need to have your sump pump repaired or a water heater replaced, Penang Plumbing Service has you covered. As some of the best plumbers in Penang, they have proudly served various clients over the years.
They strive to be your go-to company for any pipe issues you may have. You can count on their team to solve all your plumbing-related problems as quickly as possible.
Highlights
100% satisfaction guarantee
Easy scheduling process
Accurate estimates
Customer Reviews
Penang Plumbing Service is known for their team of efficient and friendly plumbers. They are always on-the-go and ready when problems arise.
Happy customers wrote their reviews on Google:
"A reliable and affordable plumbers in town. Outstanding workmanship and very reasonable price you can ever get in penang. I highly recommend everyone to contact this team in case of any plumbing need. This guys are just super good at what they are doing. Keep up the awesome job."
-Vivindran Ramesh
"Top great service. Amazing and very professional.GK enterprise plumbing for your needs done. You will be satisfied."
-Vadivelu Nadaraja
5.  KF Plumbing & Cleaning Services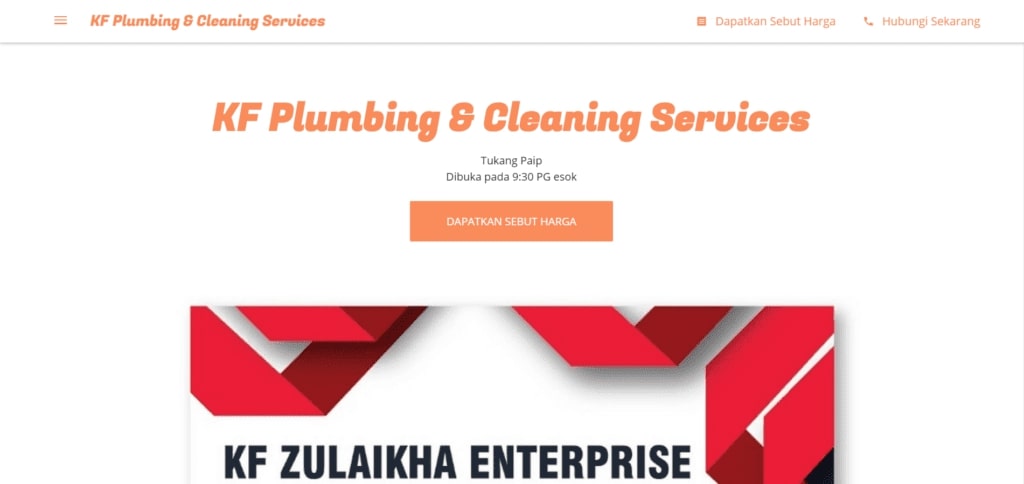 BEST FOR 
Affordable plumbing rates
PRODUCTS
[List of products sold by entry OR main product sold by entry that you're discussing in the article (if this, link to the product's page on the entry's website)]
WEBSITE
KF Plumbing & Cleaning Services
ADDRESS
N/A
CONTACT DETAILS
010-388 3955
OPERATING HOURS
Monday to Thursday: 09:00AM to 6:30PM
Friday: 09:30 AM to 12:00 PM
Saturday to Sunday: 09:00 AM to 08:00 PM
KF Plumbing & Cleaning Services is a leading company that can help you repair, install, and maintain your pipe systems. You can say goodbye to any existing issues you may have when you work with one of the best plumbers in Penang.
That's because they do their best to make people's lives easier by providing high-quality services. Just ask their customers — they'll attest to these plumbers' professionalism!
Highlights
Customer-centric approach
Professional and experienced
Customer Reviews
KF Plumbing & Cleaning Services offers comprehensive services. They can do perfect installations, and at an affordable price, at that.
Their work is considered flawless: they come on time and work as efficiently as possible. Man Botak gladly gave them five stars on Google for their services.
Anyway, that's the end of our list. So, have you found the perfect plumber for you? Leave a comment down below so we can know how it went!
If you also need help keeping your home clean, by the way, you should check out our list of the best cleaning services in Malaysia. The plumbers we listed above clean up after themselves, but it never hurts to have an extra pair of hands keeping your home pristine, right?