9 Clinics for the Best Orthodontists in Malaysia
Featured Image Source: Freepik
Do you have dental problems like crooked teeth or a misaligned jaw? If so, you need the specialized treatments that the best orthodontists in Malaysia have to offer.
With dozens of orthodontists in Malaysia, finding the best one can be challenging. After all, you'll have to search for clinics, review their services, and save all their contact details.
Luckily, we've compiled a list of the finest orthodontists in Malaysia to make your search easier. You'll find everything you need to know like their list of services, specialties, facilities, and contact details.
How Much Do Orthodontist Services Cost in Malaysia?
It's always a good idea to know how much orthodontist services cost before you book an appointment. After all, you wouldn't want to get a treatment that you can barely afford, right?
You'll find the average prices of orthodontic braces throughout Malaysia in the list below. These prices are only estimates and should only be used as a guide.
| | |
| --- | --- |
| Orthodontic Braces in Malaysia | Average Price |
| Kuala Lumpur | RM10,750 |
| Selangor | RM7,000 |
| Malacca | RM6,000 |
| Johor Bahru | RM8,000 |
| Invisalign Treatment | RM17,900 |
| Orthodontic Retainer | RM400 |
| Metal Braces | RM1,500 – RM6,000 |
How to Pick the Best Orthodontists in Malaysia
Choosing an orthodontist isn't easy especially if you've never booked an appointment before and don't know what to expect. Thankfully, we understand the difficulty so we've prepared a few tips to make your search easier.
These tips will cover everything you need to know like what to expect and what to look for. Trust us— by the end of this article, choosing the leading orthodontists in Malaysia will be easier than ever.
Consider the location of the clinic
First of all, you want to find a clinic that's close to your location or is easily accessible. Orthodontic braces require monthly visits to the clinic so you want a place that's easy to get to.
Each appointment can take an hour to finish so having a good parking spot can also make the experience more convenient.
Know what to expect
Whether it's from the pricing to the type of procedure, knowing what to expect goes a long way. After all, you can prepare your budget and choose more affordable options when you know what to look for.
For this reason, we recommend that you find out the prices of the services you're expecting to get. For example, you can go online to check for orthodontic prices or contact the clinic for a quick quote.
Check the clinic's credentials, ratings, and reviews
Finally, you want to make sure that the clinic you choose is safe and reliable. Most clinics now have websites or social media accounts that you can easily access online.
Top-quality clinics will generally include the expertise and medical background of their doctors. You can also check for customer reviews and ratings to find out how well their patients enjoyed their services.
Best Orthodontists in Malaysia
Now that you know what to look for, it's time for you to discover the best clinics near you. From braces to jaw alignment, the best orthodontists in Malaysia can do it all and more.
Without further ado, here are the best orthodontic clinics in Malaysia that help you achieve the smile of your dreams.
1. Teethos Dental Clinic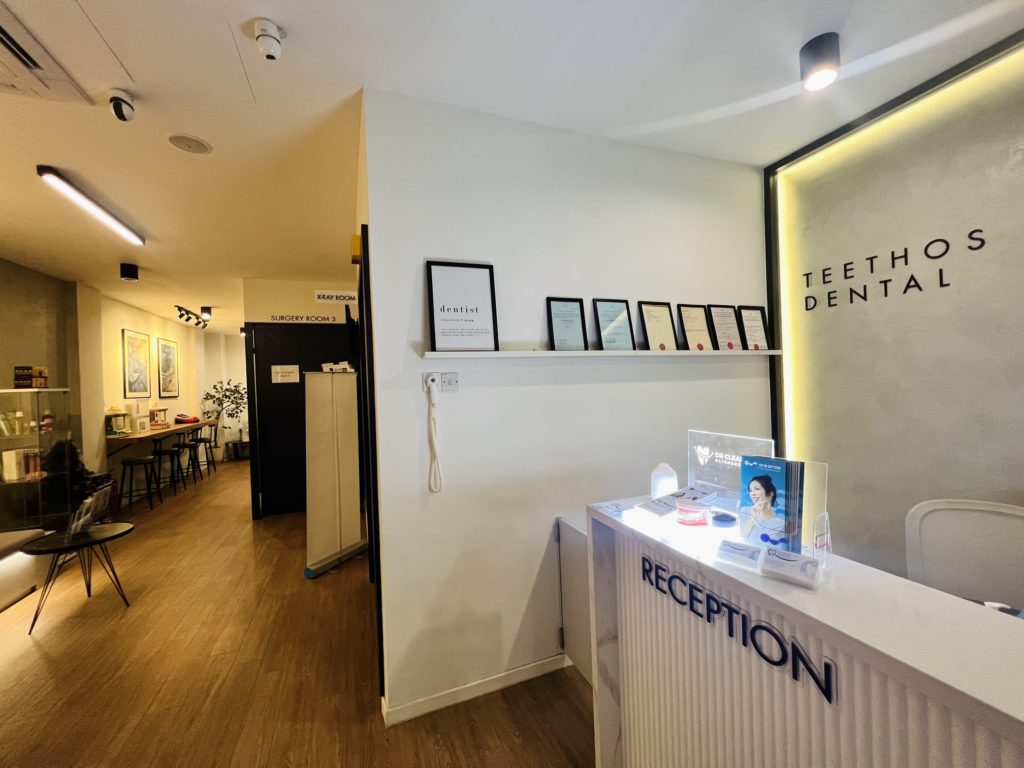 WEBSITE
https://www.teethosdental.com/
SERVICES
Braces, Teeth Whitening, Teeth Scaling, Tooth Filling, Tooth Veneer, Root Canal, Crown and Bridges, Extraction, Tooth Implant, Surgical Extraction of Wisdom Tooth, Denture, Kid's Dentistry
OFFICE HOURS
Monday to Friday
9:00am to 6:30pm
​
Saturday to Sunday
& Public Holidays
9:00am to 5:00pm
ADDRESS
15A-1 Jalan Sultan,City Centre, 50000 Kuala Lumpur
CONTACT INFORMATION
WhatsApp: https://wa.me/60176700188
The clinic prides itself on practicing digital dentistry, promising minimal pain and better accurate results. Embracing technology in their orthodontic procedures reflects a commitment to providing modern and efficient solutions for patients seeking orthodontic treatment.
The clinic has successfully created a comfortable and cozy environment, aiming to alleviate dental anxieties. Soothing music and a friendly atmosphere contribute to a relaxed dental visit, ensuring a positive patient experience.
One of the standout features of Teethos Dental Clinic is its availability seven days a week. With extended weekday hours until 6 pm and weekend hours until 5 pm, the clinic ensures flexibility for patients. The prompt response on WhatsApp or calls for appointments, along with a welcoming policy for walk-ins, adds to the convenience.
The clinic's location, just a minute's walk from the MRT/LRT/bus station Pasar Seni, linked with Kuala Lumpur KTM, ensures easy accessibility. With three large car parks nearby, including one right opposite the clinic, patients have multiple options for hassle-free parking.
Teethos Dental Clinic accepts panels from four major insurance companies, including AIA, Healthmetrics, PMCare, and Miya Care. This broad coverage simplifies the financial aspect for patients who may have insurance plans with these companies.
The availability of all-inclusive packages for invisible braces, metal braces, and whitening showcases a commitment to affordability and transparency. This allows patients to plan their orthodontic treatments more efficiently, knowing the costs upfront.
Teethos Dental Clinic sets itself apart by embracing advanced equipment and techniques to revolutionize the dental care experience. This commitment to staying technologically updated reflects a dedication to providing state-of-the-art orthodontic services.
Convenient operating hours
Comprehensive orthodontic services
Digital dentistry for minimal pain
Strategic location and accessibility
Insurance coverage
Promotional packages
Comfortable environment
State-of-the-art technology
OKU inaccessible (no lift available)
2. Mahkota Dental Centre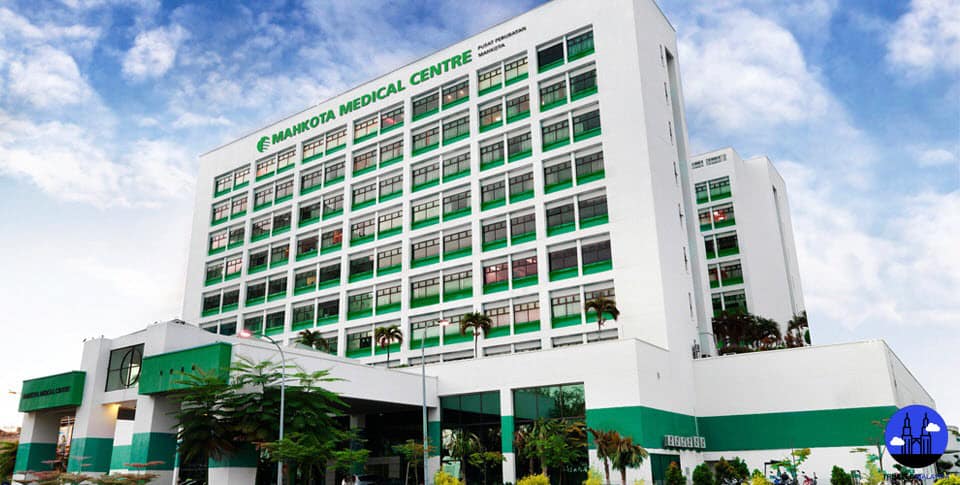 WEBSITE
mahkotamedical.com
SERVICES
Orthodontic braces, apicoectomy, crowns and bridges, dental implant, dentures, teeth whitening, and more
OFFICE HOURS
Monday – Thursday: 8:30AM – 5:30PM
Friday: 8:30AM – 12:30PM
Saturday: 2:00PM – 5:30PM
Sunday: Closed
ADDRESS
Ground floor, Mahkota Medical Centre, No.3 Mahkota Melaka, Jalan Merderka, 75000 Melaka, Melaka, Malaysia
CONTACT INFORMATION
Contact Number: +606-285 2999, +6010-228 8961 (WhatsApp)
More often than not, the lack of options forces us to compromise and settle for what's available. Luckily you won't have to do that when you book an appointment at Mahkota Dental Centre.
This clinic has a full dental team that can give you basic dental services, orthodontist treatments, and even dental surgeries. Their services include dental crowns, bridges, filling, dentures, orthodontic braces, teeth whitening, wisdom tooth extraction, and cosmetic dental consultations.
Put simply, this clinic offers comprehensive dental treatments and the option to choose what you want for yourself. Aside from dental services, the entire facility is fully-equipped to take care of all your medical needs.
You can easily book an appointment by visiting their website or calling them directly. With their extensive services and accessible location, Mahkota Dental Centre is a safe choice for your orthodontist needs.
Easily accessible location
Parking space available
Affordable braces services
Online appointment booking
Does not prioritize walk-in patients
No detailed list of orthodontic braces
3. Teh Orthodontics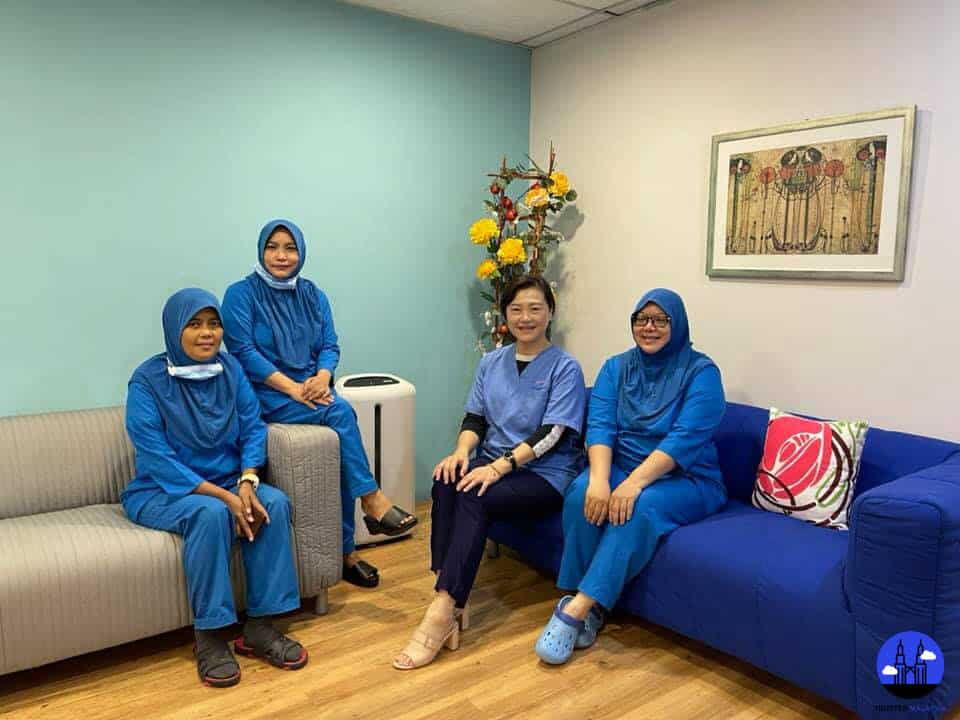 WEBSITE
tehorthodontics.com, Facebook
SERVICES
Orthodontic consultation, x-ray, dental braces, clear aligner treatment, retainers, and more
OFFICE HOURS
Tuesday – Saturday: 10:00AM – 6:30PM
Sunday – Monday: Closed
ADDRESS
No 64, Floor 2, Jalan 27/70A, Desa Sri Hartamas, 50480 Kuala Lumpur, Kuala Lumpur, Malaysia
CONTACT INFORMATION
Email:

[email protected]


Contact Number: +6032-388 2261, +6017-989 2261 (WhatsApp)
If you're looking for dental braces, Teh Orthodontics can provide the orthodontic braces that you need for a better smile. Established in 2000, this clinic specializes in orthodontic treatments as well as dentofacial orthopaedic procedures.
They have wide dental options for both adults and children like metallic and ceramic braces. They also have lingual braces, clear aligners, mouth guards, retainers, and other orthodontic options.
Whether you need fixed braces, removal retainers, or jaw surgery, this clinic ensures you get the right treatment. They use the latest dental equipment and provide consultations to help patients maintain the quality of their teeth.
All things considered, Teh Orthodontics offers premium dental braces to straighten your teeth and make your smile more attractive. If you want to book an appointment, you can call their clinic or contact them through WhatsApp.
Parking space available
Lots of dental brace options
Provides orthodontic/orthognathic surgery
Closed on Sundays and Mondays
No online appointment booking
Customer Review
One of their customers left this review:
Great! The braces are comfortable. The doctor and staffs are nice as well. The price is also okay, which costs me around RM 5000 to RM 9000."
4. Stellar Dental
SERVICES
General DentistryCosmetic DentistryOrthodonticRestorative Dentistry
WEBSITE
stellardental.my
ADDRESS
46-1, PJU 5/10, Dataran Sunway, Kota Damansara, 47810, Petaling Jaya, Selangor
CONTACT DETAILS
6011-3996 4469
https://www.instagram.com/stellardental_my/
OPERATING HOURS
Monday – Sunday, 11:00 AM – 8 PM
Stellar Dental is home to some of the best orthodontists in Malaysia. They are a thriving clinic and aesthetic dental practice in Kota Damansara and Setia Alam. Their friendly and experienced dentists can communicate in Malay, English, and Chinese, so communication is not an issue. They offer a wide range of services, from basic to specialty treatments.
Stellar Dental Clinics' founder, Dr. Alyssa Nuraina, is a dedicated dentist with local and international expertise. She has consistently prioritized her patients' needs and comfort throughout the years.
She likes educating her patients about dental health and giving them confidence in their smiles. New York University just awarded her postgraduate certification in dental implants and orthodontics.
Stellar Dental Clinic provides a comprehensive range of dental services, from restorative to cosmetic. We particularly enjoy their teeth scaling, which thoroughly cleans your teeth and removes plaque and tartar buildup.
They also provide what they call an Icon Treatment which is a significant cosmetic improvement by gently removing the appearance of white spots, brown stains and fluorosis in one simple and painless visit.
Available seven days a week
Convenient locations
Calm and welcoming atmosphere
High-end facilities
Excellent customer support
Customer Reviews
Attentive staff, great experience getting my teeth cleaned by this team
"My favourite dentist! Attentive staff, great experience getting my teeth cleaned by this team. Best part of it all is there's a kids play area with lots of snacks and drinks!" – Sarah Amer
Keep it up Stellar Dental
"This place had given me the utmost care and concern to my dental issue. Doctor and Nurses were very helpful and honest with their work. Tells you everything you need to know. I strongly recommend everyone to seek your dental issue at this Clinic. Keep it up Stellar Dental. Y'all are the best." – Darren Cruz
5. Lau Dental Clinic & Surgery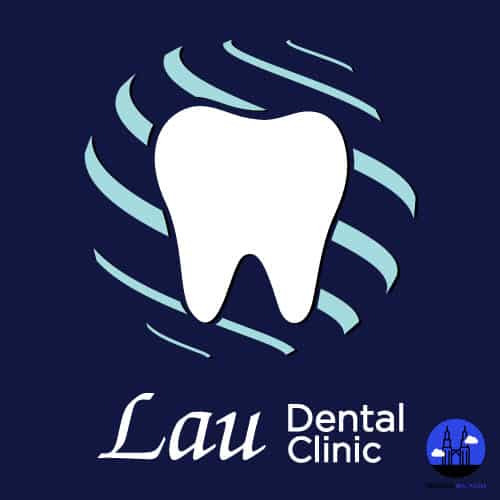 WEBSITE
laudentalsurgery.com, Facebook,
SERVICES
Dental consultations, orthodontic braces, crown and bridge, dental implants, veneers, minor oral surgery, and more
OFFICE HOURS
Monday, Wednesday, and Friday: 9:00AM – 9:00PM
Tuesday, Thursday, Saturday, and Sunday: 9:00AM – 6:00PM
ADDRESS
65-1, Jalan Radin Tengah, Bandar Sri Petaling, 57000 Kuala Lumpur, Kuala Lumpur, Malaysia
CONTACT INFORMATION
Email:

[email protected]


Contact Number: +6018-919 1433
Are you looking for a reliable orthodontic clinic in Sri Petaling? You should book an appointment at Lau Dental Clinic & Surgery.
They specialize in dental restoration procedures like implants, veneers, and orthodontic treatments. They also offer extensive dental services to help you regain your confidence and make your smile look amazing.
If you want to straighten your teeth, you can get different brace options like conventional braces, clear braces, and clear aligners. They also have advanced dental equipment for digital imaging and laser treatments and provide free dental consultations for their patients.
Together with their in-house team and visiting specialists, Lau Dental Clinic & Surgery is an all-in-one clinic for all your dental needs.
Open daily
Affordable orthodontics braces
No walk-in appointments
High traffic location
Customer Review
One patient, Damien Ng, left this review:
"Is always amazing service very quality of customer service and fantastic results. I would highly recommend to anyone! I couldn't be happier with the results. Thanks to Dr Chong!"
Another patient wrote this comment:
"The doctor will give you a good explanation and choose the most suitable medical plan for you. The doctors and nurses are very patient and are a professional team."
6. WhiteSmile Orthodontic Dental Braces Clinic

WEBSITE
Whitesmile.com.my, Facebook
SERVICES
General dentistry, gum treatment, invisible braces, orthodontic braces, and more
OFFICE HOURS
Monday – Friday: 11:00AM – 7:00PM
Saturday – Sunday: 10:00AM – 6:00PM
ADDRESS
07-32 Berjaya Times Square 1 Jalan Imbi 55100 Kuala Lumpur, Kuala Lumpur, Wilayah Persekutuan, Malaysia
CONTACT INFORMATION
Email:

[email protected]


Contact Number: +603-2725 0577, +6014-937 2577 (WhatsApp)
Do you have dental issues that stop you from enjoying a confident smile? WhiteSmile Orthodontic Dental Braces Clinic may have an orthodontist to solve your problem.
Located in Berjaya Times Square, this clinic is easily accessible to anyone via car or public transportation. They offer a complete range of orthodontic services like whitening procedures, dental braces, and clear genesis retainers.
They utilized advanced dental equipment to ensure you get quick and top-quality dental services. Whether you have gum problems or need proper teeth alignment, this clinic has got all your needs covered.
They offer a wide selection of braces such as Damon, ceramic, lingual, and Invisalign braces. They provide dentistry for both kids and adults and you easily book an appointment online or through their contact numbers.
Accessible via public transport
Wide selection of orthodontic braces
Online appointment booking
Open daily
No walk-in appointments
Separate clinic for general dental services
7. KPJ KL Dental Specialist Centre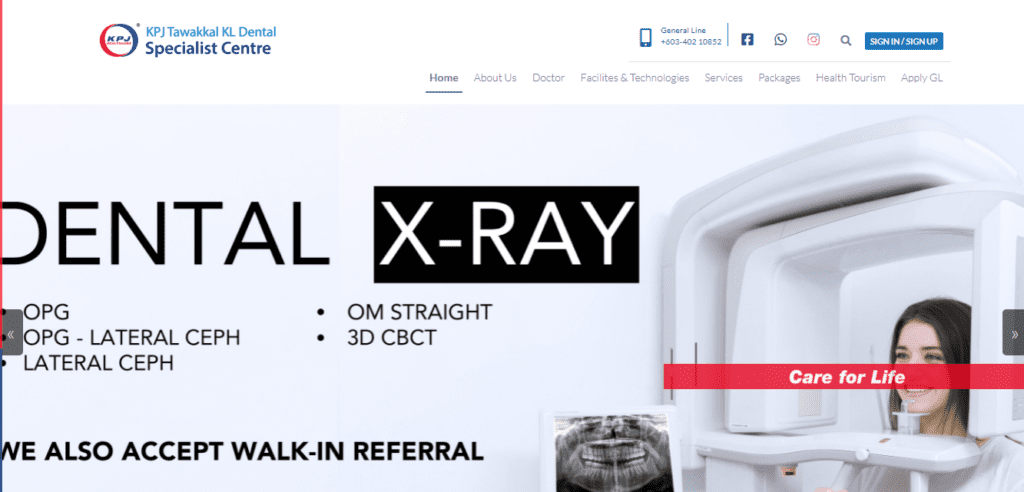 WEBSITE
https://kpjhealth.com.my/dental/
SERVICES
One Day Crown, Dental Implant, Dental Consultation & Diagnostic, General Dentistry, Orthodontic Braces, Teeth Whitening, Denture, Wisdom Tooth, Bridge, Crown, Veneer, Pediatric Dentistry, Periodontal
OFFICE HOURS
Monday – Tuesday: 8:30AM – 5:00PM
Saturday: 8:30PM – 12:30PM
ADDRESS
Level 3, 202A, Jalan Pahang 50300 Kuala Lumpur, Malaysia
CONTACT INFORMATION
+60 3-4023 3599 / [email protected]
KPJ KL Dental Specialist Centre is a facility for wide arrays of dental services that is up to the standards of several dental services that are also recognized internationally as well. They have acquired the Malaysia Society for Quality Health Dental Accreditation which comes to show off just how qualified they are for their services.
Aiming to provide only premier dental care to their clients, they have created their respective standards in accordance with highly certified standards from UK and Australia. Apart from this, all their facilities are continuously upgraded to keep up with the most innovative techniques and dental procedures in the field.
They can provide packages for dental services such as metal braces, but the price range is not available along with the other services that they offer. Making the price rates readily available would have been a big help for clients considering their budget and for them to assess if they would avail of the said service.
The website features the professionals who clients will be dealing with during their stay with them and since they are comprised of a multi-disciplinary team – consultations are more valid and reliable.
Certified and highly qualified basis for standards
Innovative techniques and facilities
Multidisciplinary team
Limited opening hours
Price rates not readily available
8. Dentalpro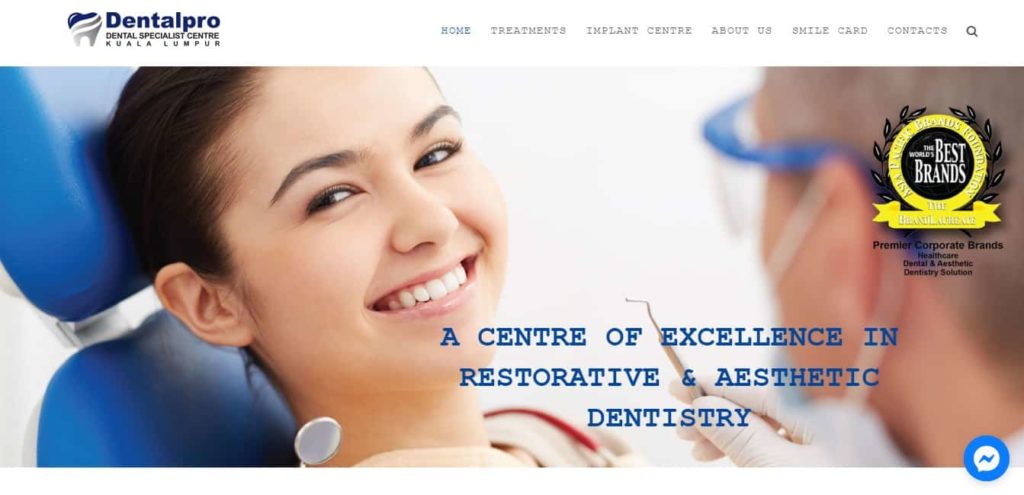 Dentalpro is a dental clinic that is established back in 2003 and has since then been providing its clients with industry-standard dental services. Considered to be a center of excellence for restorative and aesthetic dentistry to which clients can fully avail of OKU-friendly surgery and amenities.
We like that their treatments are done in adequately equipped facilities that not only support each treatment to be done but are also designed in a way that it exudes home and relaxation may they be in treatment or waiting.
Aside from this, all of their services are backed up with warranties which can cut any accidental costs that may occur along with Smilecard privileges as well.
Their clinic is also very accessible since they are in the very center of the community and even offers ample and free parking around the site for clients who are visiting the client in a vehicle.
Overall, with dental specialists readily in the clinic and modern equipment employed, we highly recommend them to clients in the area who are in need or looking for dental services.
OKU-friendly amenities
Highly experienced dentists
Accessible clinic
Closed on Sundays and holidays
9. Icon Dental Sri Petaling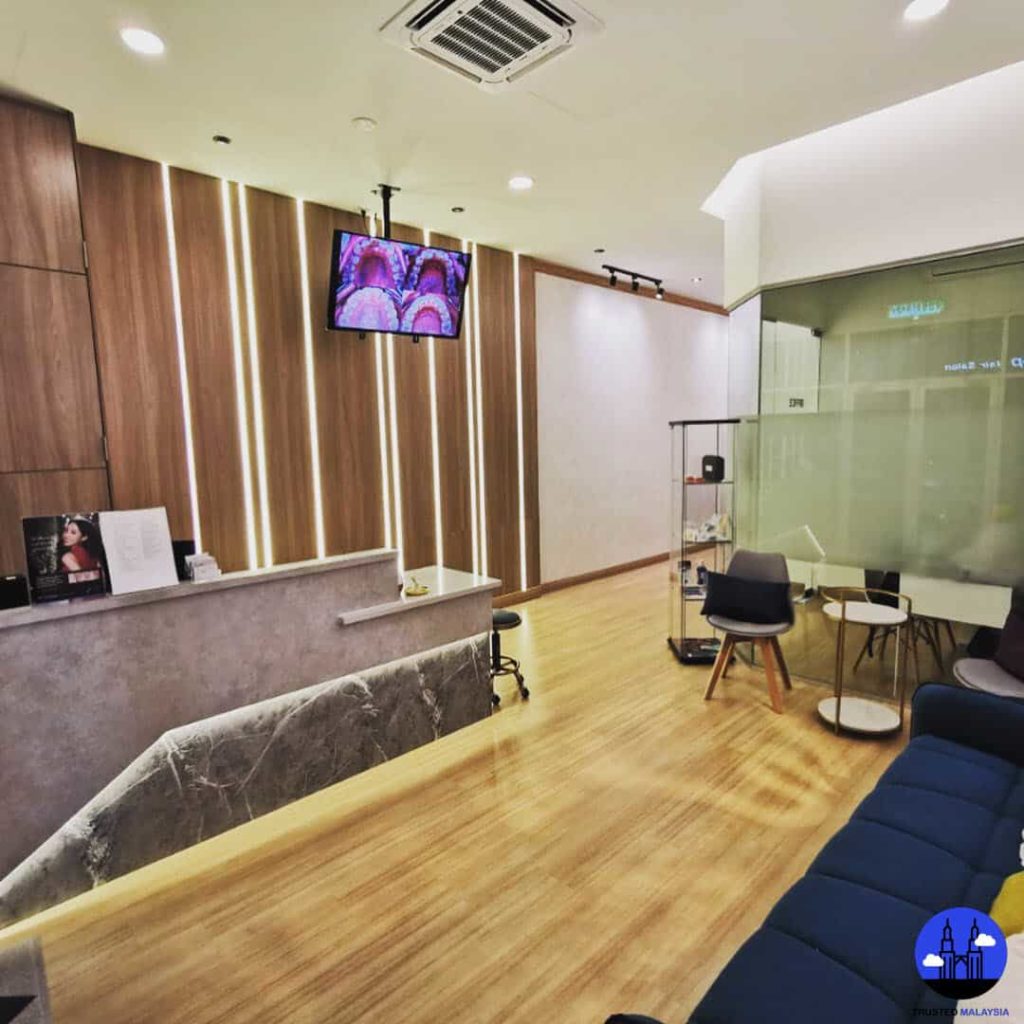 WEBSITE
icondental.com.my, Facebook
SERVICES
General dentistry, orthodontic braces, teeth whitening, dental implants, gum treatment, veneers, crown, bridge, and more
OFFICE HOURS
Monday – Friday: 10:00AM – 7:00PM
Saturday – Sunday: 10:00AM – 6:00PM
ADDRESS
8, Ground floor, Jalan radin bagus 1, Bandar Baru Sri Petaling 57000 Kuala Lumpur, Malaysia
CONTACT INFORMATION
Email:

[email protected]


Contact Number: +6016-216 5216
Whether you have problems with your gums, crooked teeth or a misaligned jaw, you should visit Icon Dental Sri Petaling. Established in 2019, this clinic offers all-around dental services with advanced equipment and a freshly furbished facility.
If you want to enhance your smile, they offer metal and invisible braces to straighten your teeth. They also provide services like teeth whitening, crown and bridge, and dental implants according to your needs.
If payment is your concern, they accept payments through credit or debit card, online bank transfer, and other payment options. With its wide list of dental treatments and comfortable facilities, Icon Dental Sri Petaling is a clinic to consider.
You can send them a message online to ask for estimated prices for their services. For bookings, you can contact their clinic directly and schedule an appointment for any day of the week.
Open daily
Disabled-friendly facility
Online appointment booking
Parking space available
High traffic location
No discounted service packages
Customer Review
One of their customers, Chris Yow, wrote this review:
"Excellent! pleasant experience getting scaling done in this clinic. Dr Chong and the nurses are nice and kind. I must say Dr Chong is patient enough to give a very detail explanation and advise on the condition of my teeth and gum. Will definitely recommend to my relatives n friend. Well done Icon Dental! Keep it up the professional services you are giving to patients… See you again in my next appointment."
FAQs About Orthodontist in Malaysia
---
Your teeth only grow back once so you should never settle for cheap and uncertified dental services. With this in mind, you should keep your teeth safe by going to a trusted orthodontist clinic in Malaysia.
Did you find this article helpful? If so, send us a message and tell us which of the best orthodontists in Malaysia caught your attention.
Did you know that having smooth glowing skin can make your smile extra perfect? After you get your teeth aligned, you should visit the clinics for the best dermatologist in Malaysia.