The 5 Best Nursing Bras in Malaysia
Pregnancy and childbirth are parts of motherhood during which a regular bra can feel uncomfortable and painful to wear due to sensitive changes in the breasts.
And so, you may need to get one of the best nursing bras in Malaysia for that and to feed your baby with ease. We researched the top products online and collated them in a list here for you.
But, if it's your first time buying one and aren't sure what to look for, you could peruse our buying guide first, which you can find after our product picks.
The Best Nursing Bras in Malaysia
Anyway, let's now begin with our best options for nursing bras in Malaysia. Kindly scroll down to see them!
1) Seamless Nursing Bra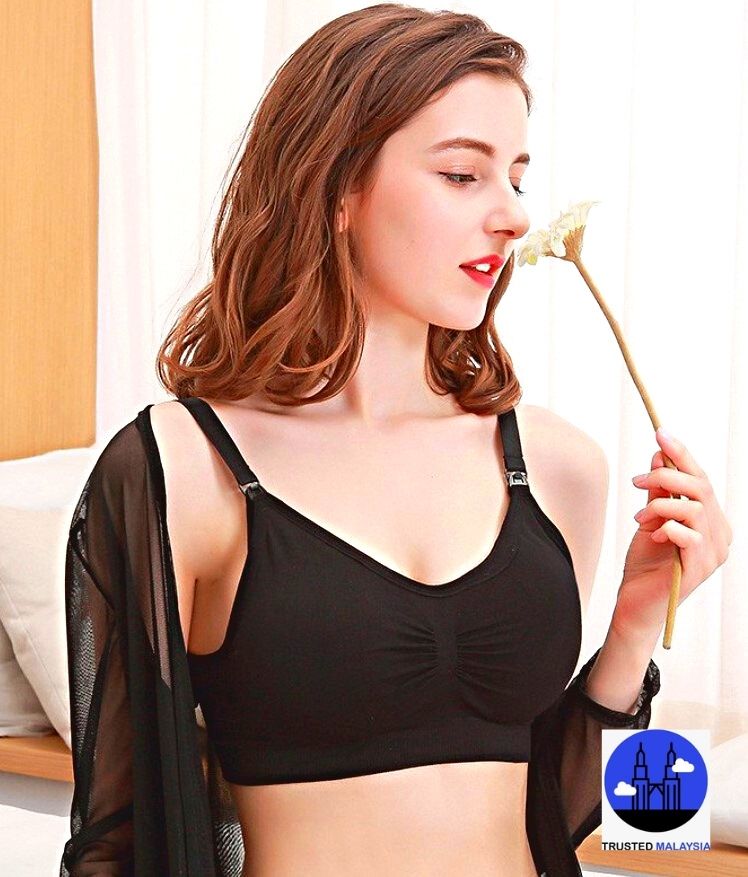 Price: RM7.65 – RM8.25
Materials
Main: 90% nylon Pad: cotton
Shoulder strap: nylon/Lycra
Bra style
Seamless
Colours available
Bean paste, skin, grey, green, blue, black, pink, purplish red, purple
Sizes available
S, M, L, XL, 2XL
Despite its low price, this seamless nursing bra feels comfortable and cool on the inside and when breastfeeding your infant. Therefore, it comes as no surprise that it's the bestselling nursing bra on Shopee with 135,000 pieces sold as of this time.
Thanks to its easy-open buckle design, the mum doesn't have to take down her shoulder straps to feed the baby.
Made of water-resistant nylon, it can resist milk spills and dry quickly so can still be used for the rest of the day. Its inner pad is made of cotton for comfort and durability, while the shoulder straps are made of either nylon or Lycra for elasticity.
On the back, it forms a classic U-shape, making it secure and flexible when worn to suit the woman's size. By the way, there are five sizes available for this bra: small, medium, large, extra-large, and 2XL.
The wire-free brassière comes in a plain but stylish design. It comes in various colours including bean paste, black, pink, purplish red, purple, skin, grey, green, blue, and white.
Being fitted, breathable, and water-absorbent, this bra can be used for doing sports or yoga, aside from just nursing a baby,
In a nutshell, if you are on a budget and want a stylish bra that lets you breastfeed your baby easily, then you should pick this seamless nursing bra.
Affordable
Comfortable to wear
Breathable and elastic fabric
Easy-open buckle design for breastfeeding
Age and wear-resistant
Not as durable as other bras on this list
Plain design
Customer Reviews
The product received rave reviews from a multitude of clients. They liked its comfort, breathability, and affordability, providing them value for money.
One Shopee buyer left this review about the nursing bra:
"The fabric is very comfortable and not hot. Delivery is fast. Only when washing, it is better to wash with soap and brush by hand. If he enters the clothes machine, he is afraid to run away from the position. 😂😂😂 … Satisfied with this purchase and Inshaa Allah later I will remember nk repeat order … ♥ ♥ ♥ "
Moreover, another user commented this:
"Good quality. Haven't try them yet but 34 size is the same as malaysian size 34, not too small & big. Can adjust accordingly with 4 hooks."
2) Mamaway Antibacterial Seamless Maternity & Nursing Bra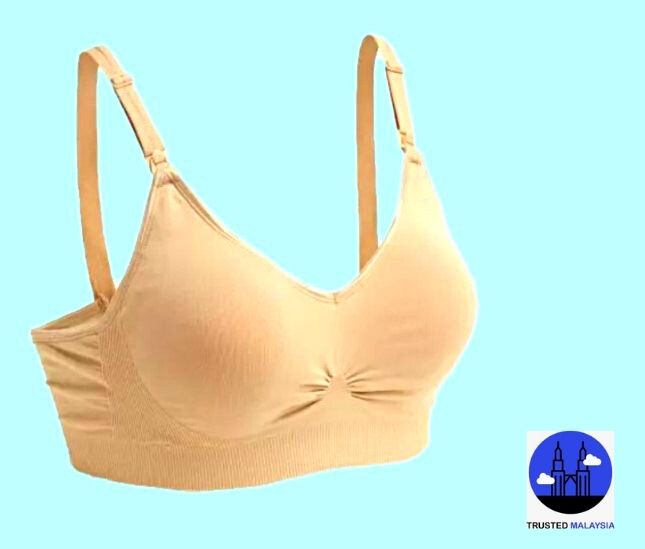 Price: RM145 – RM149
Materials
Main: 91% nylon, 9% spandex
Pad: 89% nylon, 11% spandex
Shoulder strap: 84% nylon, 16% spandex
Bra style
Seamless
Colours available
Nude, purple, black, blue, pink
Sizes available
S, XL, 2XL
Mamaway is a multi-award-winning brand that offers breastfeeding and pregnancy products. Based in Taiwan, the popular brand has expanded internationally to more than ten countries.
In the field of nursing bras, one of their innovations is the Antibacterial Maternity & Nursing Bra. Its unique aspect is that it eliminates bacteria (thanks to its silver-ion coated fibres), odours, and absorbs moisture, allowing you to use it for a longer period before needing to wash it.
The bra is suitable for pregnant and nursing women as it adapts to changing breasts as well as those with uneven breasts. That's because it's super stretchable and helps to support and shape them.
Constructed of nylon material, the bra is tough and wear-resistant. That said, it's less comfortable and soft than cotton-made bras.
With feeding clips on both sides that can be detached by one hand, breastfeeding your baby is simple and discreet. Besides that, this bra holds well at the back through its hook and eye fasteners.
Now, the drawback of this product is its expensive price. Thus, one can't likely buy two or three bras online at one time like with our previous pick—unless she is willing to splurge.
The available sizes include small, medium, large, XL, and 2XL. And depending on your style, you can get a nude, purple, pink, blue, or black bra.
On Lazada, however, sellers have limited sizes and colours for the product so you might have to search other online shops to find the one you want.
Has antibacterial properties
Ultra-stretchy cup
Stabilises breast shape
Durable feeding clips
Secure hook-and-eye back fasteners
Expensive price
Cotton material is softer and more breathable than nylon
3) Bmama Maternity Comfortable Sports Nursing Bra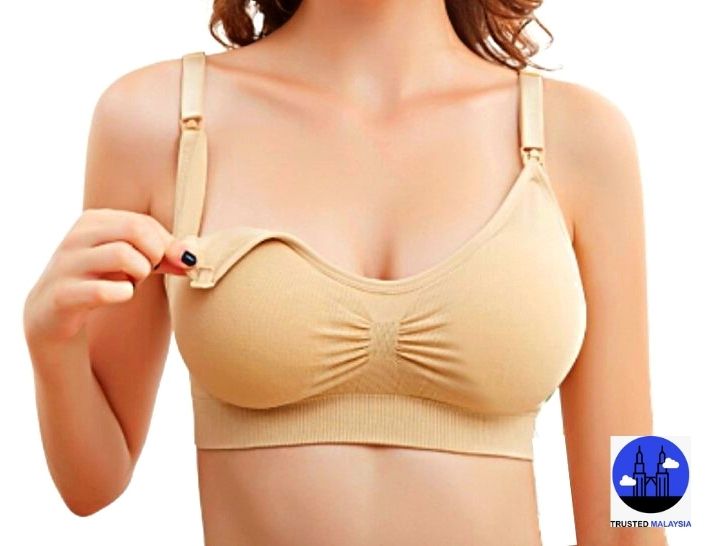 Price:RM49
| | |
| --- | --- |
| Materials | 90% nylon, 10% spandex |
| Bra style | Seamless |
| Colours available | Black, beige |
| Sizes available | M, L, XL |
Bmama Maternity is a multi award winning brand and the only maternity brand that received the Health & Wellness Award, as approved by the ministry of health in Malaysia. They offer essential maternity products that support, protect, and care for mothers who wear them.
Light and comfy to wear, the Bmama nursing bra can be used for breastfeeding, running, or on just a normal day. Its predominant fabric is nylon comprising 90% of the bra and spandex for 10%.
In effect, this bra is durable and less likely to exhibit wear and tear for years, as long as you make sure to follow the care guidelines of this product, of course.
Since it features a 3D seamless design, it won't show through your blouse or tee, unlike other bras. The anti-slip shoulder straps also allow the undergarment to stay in place every time.
It also has a front buckle and removable foam cups to feed the baby without difficulty. To fasten a strap, you simply need to drop it onto the hook until you hear a click.
One buyer said that it was comfortable to wear, though a bit hot. The spandex allows it to stretch and fit changing breast sizes for women who are nursing or pregnant.
The design is simple compared to others and doesn't have laces, a longer band, or a cool pattern on the front. However, we think that most people wouldn't mind too much about this.
Also, being branded, this nursing bra is a bit pricey even though there are unbranded ones that can probably equal its quality and features. The Bmama nursing bra is available in black and beige colours to suit your style.
Currently, the seller has medium, large, and extra-large sizes for this bra.
3D seamless design
Adjusts to your changing shape
Hook-and-eye back closures
Non-slip strap
Removable foam cups
Design isn't fancy

Relatively high price
Customer Reviews
Many buyers on Shopee were satisfied with this bra's comfort and stretchiness. In addition, they said that the product gave them value for their money.
Adila had this to say about the product:
"Love the materials! Will consider to repeat soon 🤭🤭 worth the price too. Tq seller 👍🏻👍🏻👍🏻👍🏻 fast delivery n great service ⭐️⭐️⭐️⭐️⭐️⭐️⭐️⭐️⭐️⭐️⭐️⭐️."
And another buyer left this comment as well:
"This one is really comfortable, stretchy2, wear when you want to go out or do a light workout at home. Go out anywhere, go to the checkup clinic haha. Her size is right with a chest size 80/36C coat. Tak reti really wants to think. But ngam lah. Open the clip using 1 tgn je, happy when next to tgn pgg baby👍"
4) Bravado Clip-and-Pump Hands-Free Nursing Bra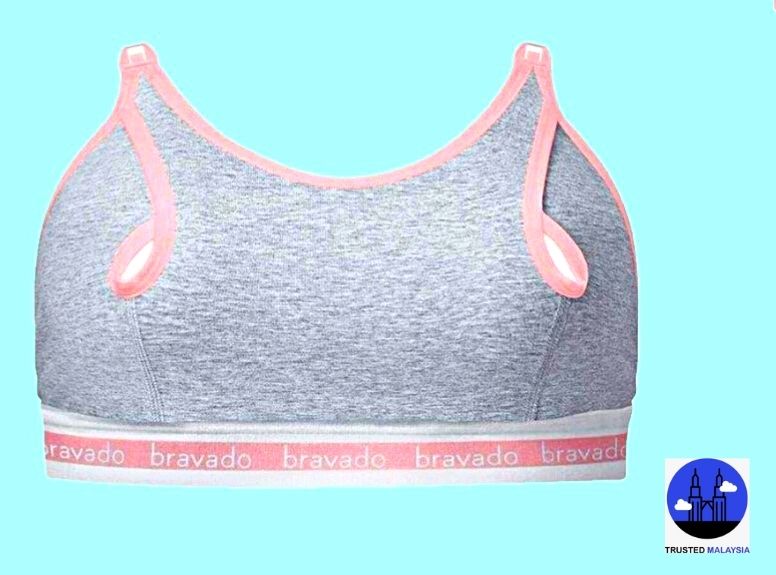 Price: RM129
| | |
| --- | --- |
| Materials | Cotton |
| Bra style | Accessory pump bra |
| Colours available | Dusted peony |
| Sizes available | S, L, XL |
It can be hard to keep up with your schedule of breastfeeding the baby. But, thankfully, there's the Bravado Clip-and-Pump Hands-Free Nursing Bra, which you can use at home or even at work.
This is actually a nursing bra accessory that goes together with the Bravado nursing bra. That said, using your regular nursing bra in place of it is fine.
It's made of pure cotton with a large and stretchy band plus hook-and-eye fasteners on the back, providing the wearer with great comfort and flexibility.
The top-up nursing bra is ingeniously designed with a patented figure-8 opening, from which milk can be pumped onto the bottles. Also, the bra's elastic opening grip will keep the bottle in a stable upright position without having to be supported by your hands.
What we like about this product is that it's easy to wear over a nursing bra. You just need to unbuckle both straps of the bra underneath and clip them onto those of the Bravado, and that's it.
And while wearing this, you can use the pump on one side while nursing your little angel on the other. This can save you time since you have a reserved bottle for the baby to drink for later on.
As buyers will agree, it's one of the very best nursing bras in Malaysia being easy, discreet, and convenient to use. However, you would need to spend more on this bra compared to our other choices, plus no other colours are available except grey with pink.
Very comfortable to wear
Simple to set up
Patented figure-8 opening
Soft and breathable fabric
Adjustable hook-and-eye back closures
Wide and flexible bottom band
Expensive
Requires a nursing bra underneath it
Black variant isn't available on Shopee and Lazada
Customer Reviews
Lazada and Shopee buyers say that they're satisfied with this product. They wrote that it felt comfortable, worked well, and was very convenient to use both in the home and workplace.
One client named Carol wrote this review:
"Very fast delivery and item as described. Convenient product to be used on top of existing nursing bra for hands-free pumping. Seller ran out of black option and contacted to confirm colour change before sending."
Also, Laura shared her experience in using it:
"I'm an exclusive pumper for my 8 month old baby girl. I pump at work where I wear business professional clothing. I've tried every bra and hands free straps out there and this one is by far the best. I tried kindreds new nursing/pumping bra and I was initially very excited. The big problem was that the pumping portion of the bra was so thick that you could see it through EVERY shirt you own. I tried baggy, sweater, cardigans, adding more layers like my nipple pads. Everything! Nothing worked it was so awful looking that I was constantly pulling at my shirt. I ordered this as a last resort because I'm tired of looking down and seeing the outline of my pumping bra. I'm actually using this product right now and while it is another thing you have to add on to your pumping routine to me it's totally worth it to look professional at work. Must have for my EP moms!!"
5) Shapee Sassy Nursing Bra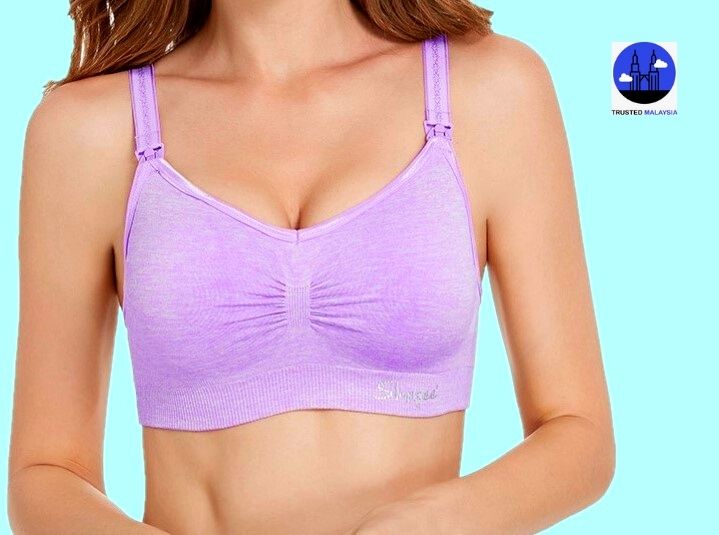 Price: RM41.60
| | |
| --- | --- |
| Materials | Carom cloth |
| Bra style | Seamless |
| Colours available | Black grey |
| Sizes available | S, M, L, XL |
Shapee's Sassy Nursing Bra has all the makings of the best nursing bras in Malaysia. As you'll see in a bit, this bra is as great as it looks.
Its material is carom cloth, which is a combed wool yarn that gives a smooth and luxuriously comfy feel. Its design is 3D seamless that can provide outstanding comfort that feels like your second skin.
The bra is also flexible and supportive to align with the breasts in the rapid growth stage. It can accommodate up to three cup sizes more than that of the wearer.
At the same time, you can adjust the bra to your liking with four incremental eye-and-hook closures. The clip at the front can be unstrapped with one hand, allowing for quick and easy nursing.
This bra from Shapee also features a wider band and straps adding to the comfort that you feel. And the unique bit: it allows you to attach the straps in a classic or criss-cross fashion, which is more fitted for running or gym training.
Despite its good points, some clients complained about its size as it was smaller than expected. Additionally, another said that the straps kept gliding off even after having adjusted it.
On Shopee, black is the only colour available for now. However, all of its bra sizes are complete from small to extra large.
If you want value for money and a stylish and comfortable nursing bra, then we totally recommend this product.
3D seamless design
Supports changing shape
Convertible criss-cross strap
Has four hook-and-eye extensions
Non-slip straps
Removable foam cups
Complaints about the size and gliding straps
Relatively higher price
Customer Reviews
Thus far, buyers said that the nursing bra felt comfortable and soft. Furthermore, they praised the support it gave and its affordable price.
One Shopee user noted this:
"good product! the price is cheaper than in a regular store..I've used it and I like it .. sorry, the picture has to do with it 🤗"
Check out another user's feedback below:
"Item safely arrived in a good condition. Fast delivery. The material is very comfortable. The size is just nice. Overall I'm satisfied with the purchase. Highly recommend. Good value for money, good product quality."
What to Consider When Buying a Nursing Bra
If you intend to buy a nursing bra, you have to consider these essential factors to find the right one for you:
1) Material and Comfort
A nursing bra can be made of different materials like cotton, nylon, silk, or a mixture of them. Your chosen material dictates the level of comfort, flexibility, and durability of your nursing bra.
The best bra fabric to get is cotton as it's not only comfortable and soft but also breathable. This way, you won't feel hot as you breastfeed the baby often or go about your day.
Whereas, those with a nylon blend may last longer because the material used is durable and tear-resistant, even better than cotton in this regard.
Also, if you have an active lifestyle, there are nursing bras that double up as sports or yoga bras, which wick away sweat.
Therefore, knowing what kind of bra you're comfortable with and the routine activities you do will help you find the right nursing bra.
2) Support
Traditional bras merely cover breasts without supporting them. But newer brassières incorporate supportive features to 'lift and separate' or shape the breasts.
Apart from this, it can also enhance the comfort, coverage, and breathability of the bra. And not to mention, this allows you to look more fashionable when nursing the baby.
A bra with good support is important since breasts tend to lose their shape and drop down without it or after nursing. You have to pick one that won't make you feel pain or discomfort.
3) Features
There are a lot of features that come with a nursing bra. Here are some of the popular ones:
3D Seamless Design – As well as bringing tremendous comfort, a 3D seamless bra is invisible under the clothing, unlike a regular bra. It often has a moulded cup to shape and retain the breasts' shape.
Front buckle and drop clicks – This allows the mother to breastfeed without taking off the whole undergarment. It also clicks securely when the breast shield is put back to its original position.
Hook-and-clip lock – This feature allows you to put on the bra around your body and lock it in place. It also assists to fit different breast sizes as well as emphasise the shape of the breasts.
Removable cups – Removable cups allow easier breastfeeding. Its other functions are for coverage and to enhance the breast shape of both smaller and larger women.
Antibacterial bra – Anti-bacterial bras kill odour-causing bacteria, which helps the bra to stay fresher for a longer time. Depending on the product, these can also prevent allergies and skin chafing.
Breast pumps – Some nursing bras come with a breast pump to facilitate lactation. Some even let you pump on one side and breastfeed the baby with the other.
Likewise, it's vital to know your needs to figure out which features in a nursing bra you should have.
4) Design
With a plethora of nursing bra shapes and sizes available, you can take your pick from them while also considering the other factors we mentioned.
There are seamless types, lingerie types, those with a breast pump, sports/nursing bra combo, and the like. It's up to you to find one that appeals to you and that you can enjoy using for a year or more.
5) Price
Nursing or maternity bras in Malaysia can cost anywhere from RM4 to RM200. You can get one for a low price, but it's important to note that not all of them have good quality.
To be safe, go for branded ones or those that have been given positive reviews by clients. Also, read about what they said to know whether or not a nursing bra is for you.
FAQs about the Top Nursing Bras in Malaysia
---
And that's all for the top nursing bras in Malaysia! These will allow you to nurse at your home or workplace easily and discreetly.
Did you find anything you like among our picks? We hope you did and if you have any questions, don't hesitate to send them over to us, and we'll sort you out promptly.
Plan to stroll outside or travel with your baby? In that case, you might be interested in the best baby strollers in Malaysia as well!