Photo credit: Shutterstock
By Aisya binti Ahmad
Whenever you find yourself moving to another city or country, it's best to be on the safe side and hire professionals to handle your things. And what better way to relocate than with the help of the companies that have the best Johor Bahru movers?
With expert movers, your things will be handled with utmost care, because they know how to pack and unpack things properly, how to wrap fragile items, and what materials to use.
To further help you out with this, we've put together a list of the best Johor Bahru Movers below. Check it out!
1.  Mover Compared
Finding a moving company that you can count on to transport all your items from one location to another can be difficult. At Mover Compared, they can help you get in contact with one with just a few clicks.
Deciding to pack up and move is never an easy decision. You have to consider numerous variables, including where you would move to, the different establishment in the area you'll be transferring to, and lastly, the moving company you'll want to use.
Mover Compared can provide you with a list of companies that meet the needs of your residential and commercial move. They have helped over one million clients, so it is inevitable that you find the perfect company with their help!
Rest easy knowing that they make sure that all the companies they partner with are highly reliable.
Highlights
Get matched to up to 6 movers in just 2 minutes
Find the right mover for you by comparing multiple options
230+ mover companies
Customer Reviews
Here's what some people have to say about them:
"We are always looking for the best value for our money. Very efficient and easy to use. It was just a matter of picking the quote request that suited us best! Smooth and excellent service. Thank you!" – A Gosbell
"I was looking for the best price for moving our furniture to our new apartment. movercompared.com helped us find the best quotes in just a couple of minutes!" – Peter Wilson
2.  Yes Movers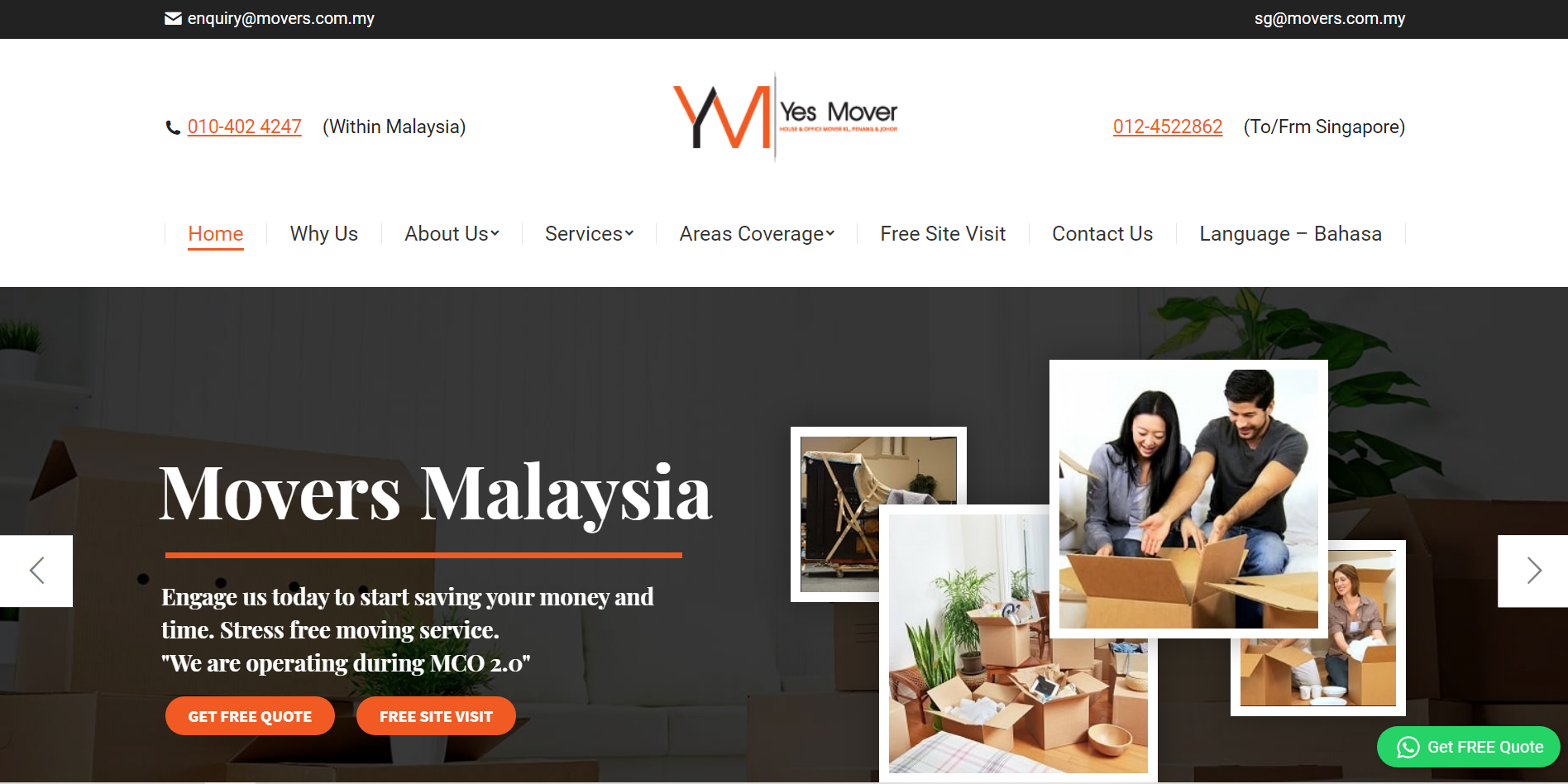 | | |
| --- | --- |
| BEST FOR  | Moving Partner |
| PRODUCTS | Residential and commercial relocation |
| WEBSITE | https://www.movers.com.my/ |
| ADDRESS | Malaysia |
| CONTACT DETAILS | 010-402 4247 |
| OPERATING HOURS | 24/7 website |
At Yes Movers, they have a team of professionals that follow a tried and trusted process to be able to move your items from one location to another. They have a wide range of experience in the field, most of them being move consultants, lifters and movers, expert packers, and truck load drivers.
When you choose their company to help you in your next relocation, you can be sure that your items are in good hands. Each package will be delivered to your new doorstep in the exact condition you sent it in.
Highlights
Free quote
Worry-free moving services
3.  Gooday Mover
Founded in 2009, Gooday Mover offers moving services to households, office spaces, factories, shops, restaurants, showrooms, events, and more.
The company also provides home packing solutions, including proper handling and unpacking installations.
As one of the best Johor Bahru movers, Gooday Mover secures your items by using bubble film, moving blankets, cartons and bags. They can even discard old furniture and appliances that you don't use anymore.
Highlights
Transportation service
Home mover
Cargo and freight
Customer Reviews 
Gooday Mover is recommended for their great service, friendly and responsible staff, and for doing their job well. Some clients wrote reviews:
"Great services ~ Professional and friendly mover. Quick response upon request. Thank you very much for the advice too. 😀👍"
"Workers are orderly and attentive to get goods, and work efficiency is very good. The charges are also very reasonable and trustworthy 👍"
4.  Lori Sewa Murah
Lori Sewa Murah is a professional moving company that offers truck rentals, home moving, office and room services, and more.
They offer relocation solutions at inexpensive rates, and their trucks include 1 ton, 3 ton, and 5 ton rentals, to give you more space and options to choose from.
As one of the best Johor Bahru movers, Lori Sewa Murah is made up of a professional team of engineers who handle modern machinery and industrial equipment. They're a great option if you're on a budget but still want help from the pros!
Highlights
Transportation service
Storage facility
Home mover
Customer Reviews 
Lori Sewa Murah is recommended by their customers for their good rates, fast service, and excellent work.
Some customers wrote reviews:
"good service. Honest and reliable. recommended for their service.. all furniture and goods are safe and sound.. please keep up the good work… 5 stars" 
"Been using their services since 2015, easy to deal, fast reply, no hassle, friendly and hardworking staffs, conveniently low cost & highly recommended."
5.  The Lorry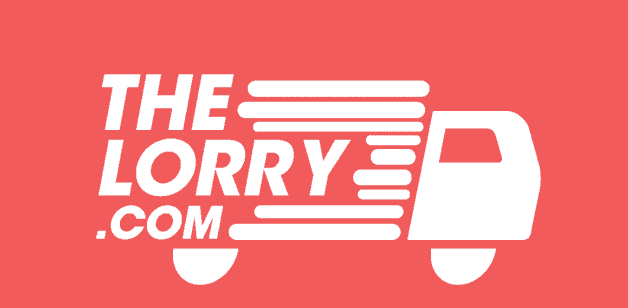 | | |
| --- | --- |
| BEST FOR  | All-in-one premium moving service |
| PRODUCTS | https://business.thelorry.com/ |
| WEBSITE | https://thelorry.com/my |
| ADDRESS | Jalan Angkasa Mas 1, Kawasan Perindustrian Tebrau 2, 81100 Johor Bahru, Johor, Malaysia |
| CONTACT DETAILS | Tel: +60 16-299 2189 |
| OPERATING HOURS | Mon to Sat: 9:00am-6:00pm |
The Lorry offers professional and in-demand moving services to all kinds of business enterprises to better manage their supply chain and keep their businesses running. The company aims to become the most reliable logistics platform and market leader in South East Asia.
As one of the best Johor Bahru movers, The Lorry caters to leading international corporations with modern, personalised, logistics solutions. This is to develop useful transport methods and to minimise cost.
Highlights
Instant quotation
Extra services
Driver matching
Customer Reviews 
The Lorry is recommended by their customers for their friendly and punctual service, and safe method of transporting items.
Some customers wrote reviews:
"Very good, efficient, and even arrived earlier than expected. You guys are amazing. All the plaudits are absolutely well-deserved." 
"Helpful and responsible driver. Kept calling me to confirm the timing. Would totally recommend this service to anyone!"
6.  Professional Packers & Movers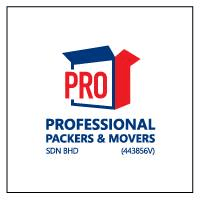 Established in 1991, Professional Packers & Movers offers professional services in industrial and machinery moving, wood crating, office relocating, and international and interstate house moving.
The company is locally owned, and because of their years of experience in the industry, they have become renowned as one of the best Johor Bahru movers.
Professional Packers & Movers also offers temporary storage, loading and unloading containers, and door-to-door services to give clients a complete moving package.
Highlights
House moving
Machine moving
Office moving
Customer Reviews 
Professional Packers & Movers is recommended by their clients for their careful staff during packing and loading, successful moving process, and reasonable prices.
One customer wrote a review:
"Engaged this company for my house move from JB to KL (packing & transportation) The move was done professionally & efficiently. Friendly staff & overall it is worth it. Highly recommend !"
7.  GPS Home Movers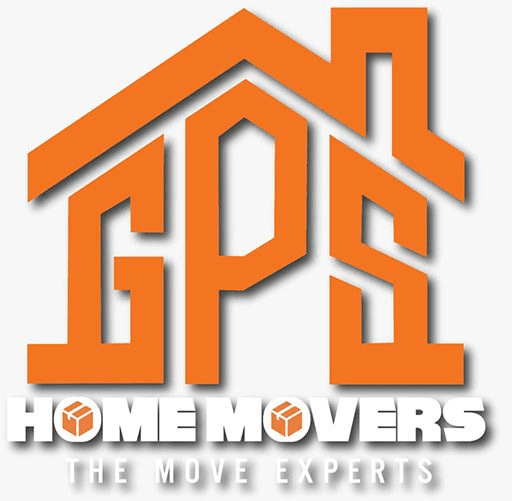 GPS Home Movers is a licensed and insured moving company run by a team of specialists. They offer customised plans to suit all your moving needs.
With their reasonable prices and quality service, there's no wonder both households and businesses come to them for help. So whether you're a business owner or homeowner looking for a moving service, they're a good choice.
And as one of the best Johor Bahru movers, GPS Home Movers can even help you move overseas. Whether you're bringing your piano or other antiques, they have everything you need.
Highlights
Hassle-free service
Professional team
Simple moving methods
Customer Reviews 
GPS Home Movers is recommended by their customers for their professional service. One client wrote a review:
"Recently move from singapore to johor good job home movers"
So whether it's moving just a couple of blocks from your home or an hour or two away from your hometown, it's better to hire professional movers. Because not only do you get to save money, but your mind will be at ease knowing your precious things are in good hands.
Were you able to talk to the movers yet? Leave your comments down below and let us know which company you liked best. We'd love to hear from you!
If you want more options, by the way, try our list of the best movers in Malaysia. Not all of them may be available in Johor Bahru, but many are!