6 Best Ice Cream Shops in Perak
Travelling around Perak on a hot and humid day to visit its natural beauty can take the wind out of your body. Thankfully, this Malaysian state houses a variety of ice cream parlours where you can cool off and regenerate your energy for more adventures.
In this review, we will list down some of our most recommended ice cream spots around Perak. Stick around to find out more about them!
How We Chose the Best Ice Cream Spots in Perak
To filter the best of the best ice cream spots in Perak, we've decided to pick our choices based on the following criteria:
1. Mokti's Taiping (Ice Cream Gula Apong Sarawak)

Test
Info
PRODUCTS

Ice cream, cookies, waffles, etc.

WEBSITE
https://www.facebook.com/MoktisTaipingBandarWarisan/
ADDRESS
Jalan Panggong Wayang, Taiping, Malaysia
CONTACT DETAILS
+60 11-2079 5808
OPERATING HOURS
Sun-Thurs: 11:00 AM to 7:00 PM

Fri: 11:00 AM to 1:00 PM; 2:00 PM to 7:00 PM
| | |
| --- | --- |
| Criteria | Ratings |
| Menu | ★★★★★ (5/5) |
| Variety of flavours | ★★★★★ (5/5) |
| Taste | ★★★★★ (5/5) |
| Premises | ★★★★☆ (4/5) |
| Cleanliness | ★★★★★ (5/5) |
| Interior decor | ★★★☆☆ (3/5) |
| Customer service | ★★★★★ (5/5) |
| Affordability | ★★★★★ (5/5) |
Located near the Taiping Mall is a charming little ice cream parlour called Mokti's Taiping (Ice Cream Gula Apong Sarawak). When we visited it, there was a noticeable line of customers so we decided to see what all the fuss was about.
As soon as we entered their store, we were impressed by the variety of options they offer to make the otherwise mundane dessert extra special. They served them by the cup or cone, but we had to try their famous waffle ice cream sandwich.
We weren't disappointed with this choice as the combination of the freshly cooked waffle went perfectly with the cold ice cream. Plus, the powdered sugar added more sweetness to the overall treat which we loved.
Another dish of theirs that we tried was the Mokti's X Famous Amos collab
oration. This offering combines the former's classic ice cream and the latter's freshly baked cookies, and it tasted amazing.
As for their premises, we liked its classic ice cream parlour look but there is still room for improvement since it's lacking in the design department. Other than that, it was neat and well-ventilated thanks to its wall fans and air conditioning.
The only lowlight that we noticed aside from its lacklustre interior decor was that some of its offerings weren't available. We don't know if this was just a one-time thing during our visit or if it's something that's been happening for a while.
Wide variety of flavours and versions
Delicious and creative combinations
Neat and well-ventilated premises
Lacklustre interior decor
Some of the items from their menu are sometimes unavailable. 
Customer Reviews
Apong Asli
"Delicious!! You guys should try their Apong Asli. Very unique taste! Good with their toppings. Friendly owner of the franchise also. Will come again hehe" —Zulhelmi Abd Rahman, Google Reviews
Caring and friendly staff
"Very tasty. Menu according to the day. So if you want to come, you can survey the menu first. But all the menus I've tried are all delicious. Special blended is also highly recommended! "—Nidhal Mudrik, Google Reviews
2. MyKori Dessert Cafe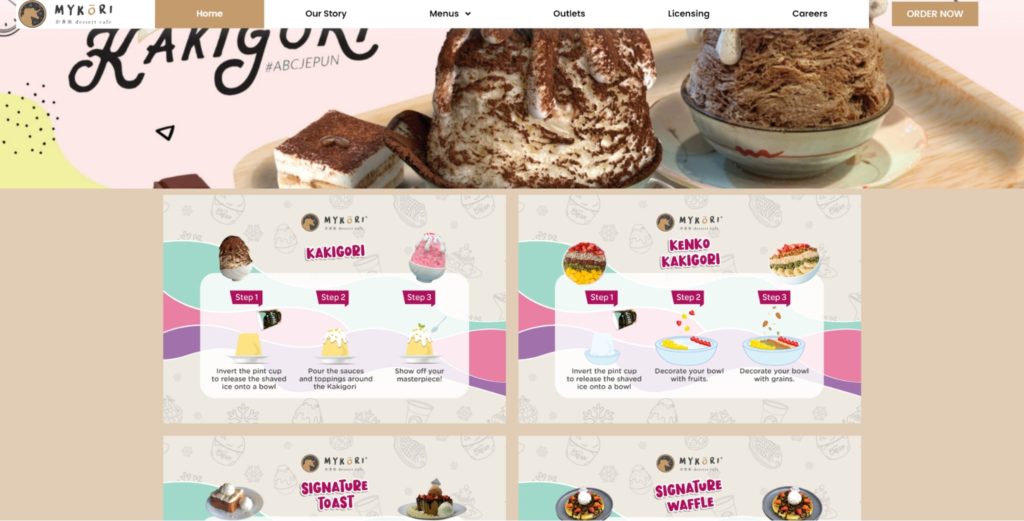 Test
Info
PRODUCTS
Ice cream, bingsu, coffee, waffle, etc.
WEBSITE
https://mykori.my
ADDRESS
B-G-1, Soho Ipoh, Jalan Sultan Iskandar, 30000 Ipoh, Perak, Malaysia
CONTACT DETAILS
+60 11-2420 0468
OPERATING HOURS
Mon-Thurs: 2:30 PM to 11:30 PM

Fri-Sun: 1:30 PM to 11:59 PM
| | |
| --- | --- |
| Criteria | Ratings |
| Menu | ★★★★★ (5/5) |
| Variety of flavours | ★★★★☆ (4/5) |
| Taste | ★★★★★ (5/5) |
| Premises | ★★★★★ (5/5) |
| Cleanliness | ★★★★★ (5/5) |
| Interior decor | ★★★★☆ (4/5) |
| Customer service | ★★★★★ (5/5) |
| Affordability | ★★★★☆ (4/5) |
MyKori Dessert Cafe is the ultimate paradise for people with a sweet tooth, and we're one of them. That's why we decided to visit it during our search for the best ice cream in town and fortunately, it paid off.
Right off the bat, we were greeted by their widely varied menu of desserts but of course, we had to order their delicious ice cream. We ordered the one where it was served on top of some freshly made waffles.
We have to say, this ice cream and waffle combo was a match made in heaven, for several reasons.
For starters, the waffle was cooked to perfection in our opinion as it wasn't too fluffy and burnt on the outside. Secondly, we found that their selection of ice cream flavours was more than enough to satisfy our sweet tooth.
Last but not the least, we appreciated the inclusions that came with the dish itself, namely powdered sugar and some maple syrup.
We also wanted to try their shaved ice dessert called kakigori as we found it interesting. There were different flavours but we went with chocolate since we believe that one can never go wrong with it!
On the downside, one drawback that we noticed from our experience was the slightly longer waiting time. However, we couldn't really tell if this was a normal thing for them as we visited during peak hours.
Also, parking was a bit difficult but it was expected since the spot is famous. Other than that, we enjoyed our experience with MyKori Dessert Cafe, especially with its charming interior and friendly staff.
Wide variety of flavours and versions
Delicious and creative combinations
Neat and well-ventilated premises
Slightly long waiting time
Parking is difficult
Customer Reviews
Dine in | Other | RM 1–20
"Good food and tasty. Have a wide variety of kakigori to choose from. The staffs are nice and provide good customer services.
The downside was the bowl is a bit small and so when the shaved ice was piled up high, once we scooped the shaved ice, the bits got scattered everywhere outside the bowl. Memang bersepah la makan senang kata.
Great ambience but sadly the staffs were a bit noisy at the back area of the shop. It would be great if they refrain from shouting here and there.
Overall, it was a nice food trip.
Parking: Parking is a bit hard to find considering that the area is a foodie area. We were lucky to find a spot directly in front of the shop. " —Hawanie, Google Reviews
Family-friendly
"This shop is easy to find using Google Maps. The eating space is comfortable even though it was not too spacious and the interior design is pretty too. The food were priced moderately. This cafe is also family-friendly, suitable to bring kids alongside."—Nurul Atikah, Google Reviews
3. Crazy Ice Cream & Salad House

Test
Info
PRODUCTS
Rice meals, ice cream
WEBSITE
https://www.facebook.com/CrazyIceCreamHouse
ADDRESS
39, Persiaran Greenhill, Kampung Jawa, 30450 Ipoh, Perak, Malaysia
CONTACT DETAILS
+60 11-2420 0468
OPERATING HOURS
Tues to Sun: 10:30 AM to 11:00 PM

Mon: 11:00 AM to 10:30 PM
| | |
| --- | --- |
| Criteria | Ratings |
| Menu | ★★★★★ (5/5) |
| Variety of flavours | ★★★★★ (5/5) |
| Taste | ★★★★☆ (4/5) |
| Premises | ★★★★☆ (4/5) |
| Cleanliness | ★★★★☆ (4/5) |
| Interior decor | ★★★★☆ (4/5) |
| Customer service | ★★★★☆ (4/5) |
| Affordability | ★★★★☆ (4/5) |
During our search for the best ice cream spots in Perak, some people in our team became famished. Fortunately, our next stop, Crazy Ice Cream & Salad House in Persiaran Greenhill, as they also offered amazing dishes aside from their delectable ice cream offerings.
As we sat down in one of their comfortable chairs, we took this chance to observe the ambience. It wasn't anything special as it didn't feature any eye-catching decorations and designs.
However, we appreciated its simplicity and cleanliness which were enough to convince us to check their menu. Fortunately, we did because their selection of dishes and ice cream was impressive.
The hungry members of our team ordered their sweet and sour chicken rice, since it was recommended by the staff. Overall, it was pretty good—but this wasn't what we came here for!
That's why for our main event, we ordered this monstrous dessert which consisted of multiple scoops of ice cream served in a watermelon that has been cut in half. Crazy Ice Cream & Salad House does indeed live up to its name, as this particular dessert was extremely crazy.
It took us several minutes to finish it, and thankfully, it didn't feel like a chore. We think the entire thing was topnotch.
One thing that we noticed, however, was that Crazy Ice Cream & Salad House was busy from the moment we sat down until we left. This made the service a bit slower to our liking, but it wasn't too bad to the point when we grew impatient.
Creative presentation of desserts
Wide selection of offerings
Clean premises
Slightly slow service
Slightly pricey items
Customer Reviews
Good offers, decent food, but crazy parking…
"Local friends suggested coming here for lunch, as it is a popular place.
Came in here and ordered various items from their menu. One needs to read the menu carefully as when the order has reached a certain amount, the offer is getting to choose one of the dishes for the price of MYR1
So, our orders did surpass the stated amount for the offer.
Food is decent, portions are considered generous for the price to pay.
As it is very popular with the lunch crowd, looking for an available table can be a challenge, and may need to wait for an available table.
The downside of this place is crazy street parking. Not easy to find an empty spot as the shops along this place are fully occupied. Advice to come early or park in any available parking space that may be far away and walk to the restaurant." —Long M, Tripadvisor
Nice food
"Tasted their salted egg chicken chop. It is nice, creamy, and have a rich salted egg taste. Many varieties of food, they also have set orders which is cheap and worthy."—YAPJIAMUN, Tripadvisor
4. Komorebi Desserts

| | |
| --- | --- |
| Criteria | Ratings |
| Menu | ★★★★★ (5/5) |
| Variety of flavours | ★★★★★ (5/5) |
| Taste | ★★★★★ (5/5) |
| Premises | ★★★★☆ (4/5) |
| Cleanliness | ★★★★☆ (4/5) |
| Interior decor | ★★★★☆ (4/5) |
| Customer service | ★★★★★ (5/5) |
| Affordability | ★★★★☆ (4/5) |
If you're anywhere around Taiping and you're craving gelato, one of the best places we recommend is Komorebi Desserts. This place offers one of the most varied menus that we've ever seen in Perak which is why it's still a go-to spot for us today.
One of the things that immediately caught our attention the moment we stepped inside was their colourful selection of gelato flavours. They were displayed behind the glass on the counter and each of them looked delicious and freshly made.
We decided to get different flavours in cones and cups. They offered numerous versions but we eventually ended up with yoghurt and raspberry, mint chocolate chip and Belgian chocolate.
We can't say that much about these flavours other than they were magnificent. They truly nailed down everything about their gelato from the texture down to the taste and presentation.
One thing that we didn't particularly like about this establishment was its limited seating and plain interiors. There were only a few tables and most of them were occupied already, which is understandable as it's more of a grab-and-go kind of place.
For what it's worth, however, we did appreciate the small space that it had as it was clean and simple. Plus, it had air conditioning which was a reprieve from the humidity.
Wide variety of flavours
Clean and comfortable dine-in experience
Reasonable prices
Limited seating
Plain interiors
Customer Reviews
Tastes like real tiramisu
"Ice cream is excellent, for once I can actually eat ice cream that tastes like real tiramisu and not just sugar. Can't get enough of their Tiramisu flavour, one of their best flavours in my opinion, worth every cent. Definitely, a must-visit in Taiping!" —Boba, Google Reviews
Consistent quality
"Komorebi never fails me! I've had the pistachio and the quality is consistent, considerably light yet creamy. The nut gives it a splendid crunch and bite."—Lau Wen Kai, Google Reviews
5. Chakori

Test
Info
PRODUCTS
Gelato, waffles, sorbets, cakes
WEBSITE
https://www.facebook.com/chakori2/
ADDRESS
35 Jalan Market, Ipoh 30000 Malaysia
CONTACT DETAILS
+60 16-902 5191
OPERATING HOURS
Fri-Sun: 10:00 AM to 1:00 AM

Mon-Wed: 10:00 AM 12:00 AM
| | |
| --- | --- |
| Criteria | Ratings |
| Menu | ★★★★★ (5/5) |
| Variety of flavours | ★★★★★ (5/5) |
| Taste | ★★★★☆ (4/5) |
| Premises | ★★★★★ (5/5) |
| Cleanliness | ★★★★★ (5/5) |
| Interior decor | ★★★★★ (5/5) |
| Customer service | ★★★★★ (5/5) |
| Affordability | ★★★★☆ (4/5) |
A hipster cafe in Ipoh that caught our attention is Chakori. This establishment offers different kinds of desserts, but one that we really love is its gelato.
Chakori's selection of colourful gelato immediately piqued our attention as soon as we entered the doors.
We couldn't pick between the flavours since each one looked so good, and we ended up getting three cups: pistachio, wine raspberry and mont blanc. We're happy to report that they didn't let us down, and they tasted as good as they looked!
Although, one thing we commend about Chakori's gelatos is their consistency. Out of all these three flavours, none of them was bad in terms of flavour and texture.
On the downside, the price may seem a bit steep for some people, especially those that can't be bothered to pay too much money for ice cream.
Nonetheless, with the serving size and quality that we got, we felt that the price was reasonable.
Ambience-wise, we loved its cool and hip vibe, and it's one that's definitely worthy of being featured in our personal Instagram accounts. The shop mostly features a combination of white walls and wooden finishes which is simple but enough to make the place look neat and cosy.
Aside from gelatos, Chakori also has a variety of other desserts like cakes and other pastries. As for drinks, we ordered coffee but found it lacklustre compared to the overly delicious gelato that we just ate.
Wide variety of flavours
Cool and hip interior
Clean establishment
Various dessert options
Slightly pricey
Subpar coffee
Customer Reviews
Very satisfied
"Drop by this place for a quick early dinner and I felt so happy with my order. Their food has a home-cooked feeling. Simple say… HEALTHY TASTE! Yam fresh milk taste creamy, rich, refreshing and important the sweetness taste just perfect for me. I hope this restaurant can maintain its standard.
Overall: very satisfied
Ambience: Good n Cozy" —P Ho, Google Reviews
4 out of 5 experience points
"I recently visited ChaKori Cafe and had a pleasant experience. The atmosphere of the café was nice and inviting, with comfortable seating and modern decor. The ambience was great and I felt relaxed and comfortable.
The latte I had was excellent. It was well-crafted with a smooth and velvety texture. The espresso was strong and bold, but not overpowering, and perfectly balanced with the steamed milk. The latte had a nice foam and the taste was well-balanced.
The creamy butter chicken and tamago rice were also delicious. The chicken was tender and flavorful, and the rice was fragrant and perfectly cooked. The food is a great comfort food.
The Tie Guan Yin tea waffles were a unique and pleasant surprise. The waffles were crispy and fluffy, and the tea flavour was subtle yet delicious. It was a nice combination of sweet and savoury.
The only downside is that the food comes out a bit slow and their staffs are all extremely overwhelmed. They could use more staff during busy hours or better plan the timing of the food.
Overall, I would rate my experience at Chakori Cafe 4/5. The atmosphere is pleasant, the food is excellent, and the unique tea waffles are a nice touch. The only downside is the slow service, but it doesn't detract too much from the overall experience."—Jonathan Lee, Google Reviews
6. Baskin-Robbins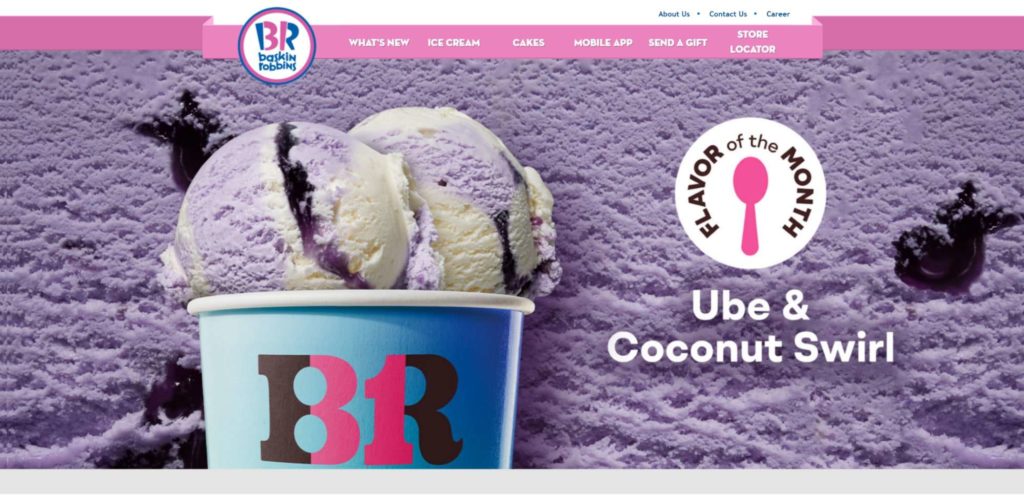 Test
Info
PRODUCTS
Ice cream, sorbet, yoghurt
WEBSITE
https://www.baskinrobbins.com.my
ADDRESS
Lot F-10 & F-11, First Floor AEON Mall Taiping, Jalan Kamunting, 34600 Taiping, Perak, Malaysia
CONTACT DETAILS
+60 5-804 8431
OPERATING HOURS
Fri-Sun: 10:00 AM to 1:00 AM

Mon-Wed: 10:00 AM 12:00 AM
| | |
| --- | --- |
| Criteria | Ratings |
| Menu | ★★★★★ (5/5) |
| Variety of flavours | ★★★★★ (5/5) |
| Taste | ★★★★★ (5/5) |
| Premises | ★★★★★ (5/5) |
| Cleanliness | ★★★★★ (5/5) |
| Interior decor | ★★★★☆ (4/5) |
| Customer service | ★★★★★ (5/5) |
| Affordability | ★★★★☆ (4/5) |
One of the most famous ice cream chains around the world is Baskin-Robbins, so it was a no-brainer to visit it during our search in Taiping. First of all, we loved how accessible this place was as it's located inside the AEON Taiping Mall.
From the get-go, what we immediately noticed was their wide selection of flavours. This was amazing to see in person even though we know that having 31 flavours or so is their main shticks.
We had a bit of trouble choosing which flavour would suit us best, but thankfully, the friendly staff allowed us to taste as many as we wanted before ordering. Out of all of them, however, we think that the best flavour was the 'Chocolate Caramel Sweetheart'.
This flavour is worth highlighting for two main reasons. Firstly, we loved its chunky texture, which can be attributed to the thick and creamy ice cream itself and the chocolate bits that have been mixed in.
What we didn't like about this ice cream parlour was its extremely limited seating which can be attributed to its small space.
As for the said space, it was alright. It's the typical Baskin-Robbins store that follows a colour scheme of white and the two prominent colours of their logo: purple and pink.
Numerous ice cream flavours
Free samples before ordering
Reasonable prices
Limited seating
Small space
Customer Reviews
Nice and clean
"Place is very bright with pink & white colors. Limited space for dine in because its too small. Nice & clean. Ice cream was delicious, got varieties. Price quite expensive but worth it."—hidayu hassan, Google Reviews
Friendly staff
"Fast service, very friendly staff. There are many promotions"—Veknes Chin Boon, Google Reviews
FAQs about Ice Cream Shops in Perak
That wraps up our top recommendations for the best ice cream spots in perak. These cool cafes and parlours are the best places to visit if you're looking to beat the heat and treat yourself to something sweet at the same time.
Make sure to visit them whenever you find yourself in Perak!
---