The 16 Best Halal Restaurants in Kuala Lumpur
Since Malaysia is a predominantly Islamic country, it's no surprise that you'll find countless halal-friendly restaurants. One area, in particular, where you'll find a plethora of these establishments is none other than the capital itself, Kuala Lumpur.
Being at KL for several years has led us to discover almost every halal-friendly restaurant that this place has to offer. And in this review, we're going to share some of our top picks so that you can try them out for yourself!
How We Chose the Best Halal Restaurants in Kuala Lumpur
Here's how we ended up with our top picks for the best halal restaurants in Kuala Lumpur:
1. Suki-Ya
If you're a big fan of hot pots just like us, we recommend checking out this restaurant called Suki-Ya. It's located in one of the most famous shopping centres in KL so you won't have trouble reaching it!
Suki-Ya offers numerous tantalising hot pot packages but our favourite out of them all has got to be the shabu shabu. It features a generous serving of thin beef slices that are the perfect size and portion to dip into our soup of choice.
Once these razor-thin beef slices emerge from our hot pot, they turn into this delicious and juicy meat chunks. If you want to do it like us, try wrapping them in the fresh lettuce that the package comes with, it's a game changer!
Aside from the hot pot itself, we also like to order some sushi rolls on the side, which are halal-friendly as well. They're the perfect bite-sized sides that complete the whole hot pot experience.
Everything about our experience here at Suki-Ya was swell aside from the waiting time. More often than not, you're going to deal with long queues, which makes sense considering that it's an affordable hot pot place and it's located in the Pavilion Mall.
The crowdedness is also a reason why you may experience slow service from time to time. Although it's not to the point where you'll grow irritated, it's still worth mentioning.
Customer Reviews
Dine in | Lunch | RM 40–60
"You have to choose 2 types of soups. They have a variety of choices, no actual seafood and no grill. The taste is good.
Price-wise: weekend/weekday/lunch/dinner all are different prices. To me, it's a bit pricey (if you're not the type who eats a lot)
The queue was about 15 mins only, I guess I was lucky as the staff told me that we have to queue for 1 hour." —Miralalalol, Google Reviews
Well worth it
"Amazing place for hot pot and shabu shabu. you pay one price for unlimited meat: lamb, chicken and beef as well as a vegetable buffet and sushi. absolutely delicious. the staff are slightly unstaffed although other than that it's always a great experience that definitely fills you up." —siobhaindoyle, Tripadvisor
2. Amber Chinese Restaurant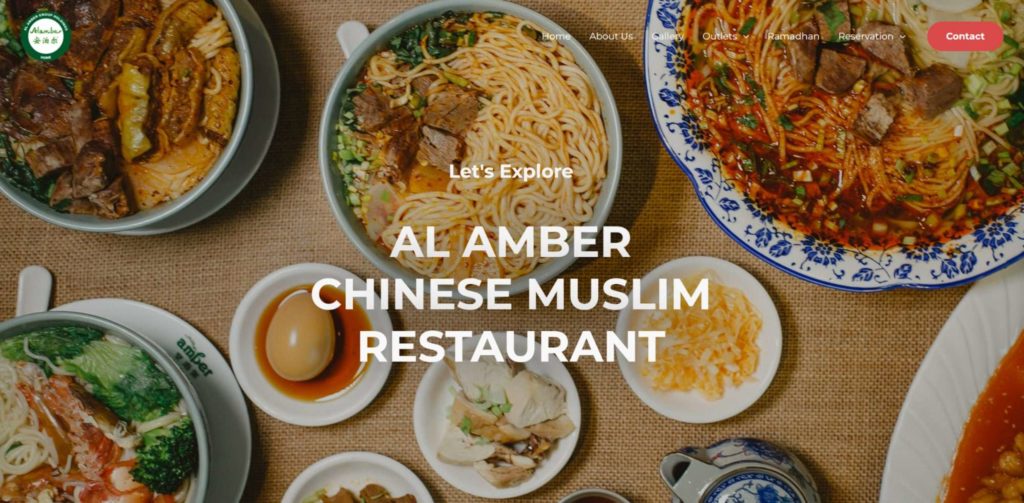 Amber Chinese Restaurant is a famous halal establishment that has a couple of outlets across Kuala Lumpur. It's a nice place to dine in because of its elegant interior decor and of course, delicious halal-friendly Chinese dishes.
We've had the pleasure of trying this restaurant out first-hand and we've got a lot of points we want to highlight. For starters, we appreciated how beautiful the interior of this place was.
It featured elegant lighting pieces, wooden finishes, cool paintings and more. Furthermore, it also helped that the place was spacious enough to give us our own personal space even though the restaurant was quite packed at that time.
The main highlight of this restaurant, however, is the menu, which is served in a buffet-style set-up. It featured a wide variety of Chinese favourites including spring rolls, dumpling beef, cold noodles and more.
It's also impressive how they're able to maintain a somewhat reasonable price for these dishes. One thing we didn't like about the place was the inconsistent quality of the various types of food being served there.
Some were homeruns such as the dumplings and chicken while others could use some improvement. For instance, we found that their noodles were a bit dry to our liking which didn't leave a pleasant texture in our mouths.
Nonetheless, we still think that this restaurant is a must-try, especially if you're craving halal-friendly dishes from the diverse Chinese cuisine. Plus, it's a great spot to take pictures to post on your social media because of its elegant interior.
Customer Reviews
Good Halal Chinese food
"This is my first time visiting for having a company dinner here. Their food turned out well. I'm not used to some of the regional food in China but I like this. Our colleagues from China also give a thumb up." —JCH794, Tripadvisor
Dine in | Lunch | RM 120–140
"One of the best Chinese Muslim restaurants ever! You must put this on your must-try list. Try out its dumplings and numerous types of mee tarik which come with their special sides. I will definitely be coming to this place again and again. The taste is tip-top. Waiting time is short and bearable. Cleanliness is good.
Parking: Ample parking places are available" —Syazuin Sazali, Google Reviews
3. Halab Gate
One of the best shawarma spots we know that we think you'll love as well is this place called Halab Gate in Bukit Bintang. However, don't head to this spot thinking that you're going to get a fancy dining experience, as this place only features street-side seating.
Sitting on the street amongst a crowd of people while munching on a delicious wrap of beef along with its typical fix-ins hits differently here at Bukit Bintang. For us, this is one of the best and most authentic ways of eating here in Kuala Lumpur.
Our favourite item to order from their menu is the cheesy beef shawarma, which is exactly what it sounds like. It mixes the savoury tender beef chunks with its in-house cheese sauce, creating this delicious meaty and gooey goodness.
As for its downsides, the most obvious one is its lack of interior. This could bother some customers who are looking to sit inside somewhere comfortable while eating their Middle Eastern dishes,
It doesn't feature air conditioning as well but is made up for by the airy atmosphere of the streets.
Also, serving time can be a bit too long, especially when the place starts to get swarmed by hungry customers. It also doesn't help that you won't get a dedicated and comfortable spot to stay while waiting.
All in all, Halab Gate is your typical hole-in-the-wall eatery that has perfected its specialty over the years. It's been a staple establishment in Bukit Bintang and we still visit it from time to time to get our fix of shawarma on the go.
Customer Reviews
Juices are oozing out
"Meat (Beef) Cheese Shawarma was really good. The meat was a bit dry but still, the juices are oozing out. Comes with garlic cream sauce. With good condiments such as onion and cilantro too. This was RM15.00." —Jen Chong Wong, Google Reviews
Excellent Shawarma in a street-side cafe
"We ordered both chicken and beef shawarma and both were excellent. It was juicy and the condiments were good. Rice was tasty as well. Fresh fruit juice from the stand next door is a perfect compliment. No inside seating. Just benches outside. Good value for the money."—oldfolksadventure, Tripadvisor
4. Pokok
Hands down, one of the most beautiful cafes we've ever dined at is Pokok. We visited this place once or twice now and it never fails to impress us with its amazing interior and exterior decorations.
Among all its design elements, however, our favourite is its all-glass ceiling. Dining underneath this beautiful ceiling feels magical, especially when it rains as you can kind of see individual droplets slide down to the edges of the roof.
As for their menu, we can say that it's varied enough to cater to different kinds of customers. The place serves everything from brunch staples to local favourites such as nasi lemak, and a fairly good selection of beverages.
Quality-wise, however, it could use some improvements, as some of the dishes we've ordered were a bit of a hit or miss.
Don't get us wrong, there was nothing wrong with them to the point where they were inedible. It was just that some dishes were nailed to a tee while others felt like they could've been improved upon.
For instance, there was this one time when we ordered their rosemary chicken and it was a bit too charred to our liking. Then, we ordered their carbonara pasta, which for us had a much better quality than the chicken.
Regardless, we still loved our time in their quaint little cafe. We think it's a great spot to chill while eating some halal food with your friends, families, partner, etc.
Customer Reviews
Nice hidden gem
"Amazing and insta-worthy place. Good food with a nice presentation. The price is reasonable for the portion. Can share. We ordered nasi lamak, pasta and salmon with 2 orange juice. All costs RM115." —WeiWei34567, Tripadivsor
Dine in | Lunch | RM 20–40
"First time coming back here after the MCO lifted. The decor is still stunning as usual. This time, the order is via QR.
Service was indeed fast. We came during weekday lunch. Packed as usual. This time we ordered Smoked Salmon Benedict, Scramble Egg Croissant, n Rosemary Chicken.
The Croissant and the Rosemary Chicken were nice. My fave here gotta be the Smoked Salmon Benedict. Have had their pasta before and it was delicious.
I ordered their Hot Matcha Latte as well. Loved this. Didn't order any desserts or cakes though. We were full." —Effa Ezzwin, Google Reviews
5. Damascus
Another great place to get shawarma is Damascus, which is located in the WOLO Hotel. We love going to this establishment because we think that they offer one of the most varied Middle Eastern menus in KL.
Out of all their offerings though, two dishes that we keep coming back for are the kebabs and shawarmas. There's something in the way they cook their meat, as the ones we order are always extra tender and flavourful.
It's also worth noting that they can cater to people with different diets as well. This is thanks to their vegetarian menu which consists of soups and salads that are, of course, free from meat but not lacking in flavour.
What's more impressive for us is that even with the quality of the dishes they offer, they still charge relatively affordable prices. This is such a breath of fresh air compared to the countless restaurants around KL that charge ridiculous prizes for subpar dishes and drinks.
The only thing that we didn't like about our experiences with dining here thus far is the ever-present crowd. You should always expect that there's a long queue in this establishment before you even arrive as it's something that never changes.
Customer Reviews
Dine in | Dinner | RM 20–40
"We recently visited Restaurant Damascus Bukit Bintang and were blown away by the authenticity of the food and atmosphere.
The restaurant has a viral reputation for serving some of the best shawarma meat I've ever tasted. The meat was cooked to perfection and packed with bold, flavorful spices. The staff were also very friendly and attentive. The restaurant decor, ambience, and the name itself, Damascus, added to the authenticity of the dining experience.
The only downside to my visit was that we had to queue for an hour before being seated, but it was completely worth it. The food and experience were outstanding. If you're looking for a truly authentic Arabic dining experience, Restaurant Damascus Bukit Bintang is the place to go. I highly recommend giving it a try, even if it means waiting in line for a bit" —Faisall Uddin, Google Reviews
Superb shawarma.
"Had the beef shawarma, falafel and a bottle of Barbican to go. And this is after trying a shawarma from across the road closer to Lot 10. But this one is so much nicer! The filling was generous, moist and so tasty! The falafel was crispy on the outside and moist on the inside. The dips/ sauces were really yummy too.
Just be prepared for a bit of a wait as it is very popular." —florenceoh2015, Tripadvisor
6. Seoul Garden & Seoul Garden Hot Pot
Hot pots and Korean barbeques are everywhere in Kuala Lumpur. Thankfully, several of these establishments are halal certified, and one prime example of this is a chain called Seoul Garden.
This restaurant has several branches across the country but we always visit their branch in Paradigm Mall because of its spacious area. We love this branch because we never have trouble finding a table, as it can accommodate over 120 customers.
We personally like going to this restaurant because of the wide selection of offerings for their grill, soup and steamboat. If you want to try our favourite combination, order the spicy bulgogi beef, kimchi jjigae and prawns.
Ambience-wise, this place is more pleasant to dine at as opposed to other Korean barbeque places. It features a nice interior design and the staff manages to maintain cleanliness no matter how many customers come in.
If we were to choose something we don't like, however, it would be the inconsistent freshness of the seafood. We've been here a couple of times and we noticed that some of their seafood are less fresh than others.
Aside from that, we don't experience that many problems when dining here. It's a solid hot pot/Korean barbeque spot that guarantees a full tummy by the time we leave their doors.
Customer Reviews
Dine in | Dinner | RM 60–80
"Went there during the new year public holiday. Their normal menu is the same as the rest of the franchise. Their superior buffet menu however is something you must try. The beef/lamb slices are tender, juicy and fatty as if you are eating wagyu-level beef. You can feel the meat melt in your mouth. If you want to try Seoul Garden, you should try their superior buffet."—srsbsns, Google Reviews
Great food and ambience!
"Went here with boyfriend and had a good time. The staff was helpful and friendly, the food was fresh and since Paradigm Mall is not a busy mall, there were not many people here so the vibe was calm and enjoyable. Recommended if you want an affordable and quality buffet/steamboat experience with plenty of choices of ingredients etc. Love the Tomyam Kimchi soup and the mint choc chip ice cream" —IrinaNthings, Tripadvisor
7. Jibby By The Park
A great chill spot we know that serves delicious halal dishes while offering beautiful sights is Jibby By The Park. This nice cafe surrounds you with beautiful architecture and interior decor as you feast on its tasty breakfast/brunch offerings.
This has been one of our go-to places whenever we want to chill with our friends over some well-made coffee and flavourful brunch dishes.
Among all their offerings, we recommend the Champion Brekkie which is a meal that's as complete as it gets. It's essentially a plate that's loaded with different stuff such as grilled Australian beef, potato hash, a sunny-side-up egg and flatbread.
The price is relatively cheap as well, especially considering the generous servings they give with each item on their menu. Not to mention that these dishes taste superb as well!
The only thing we didn't like about this place is that they only give customers an hour and a half to finish their meals. Though we could understand this rule because they need to cater to a lot of people, it's still something that we felt like mentioning.
Overall, we still enjoy eating here at Jibby By The Park. They offer delicious dishes, beautiful sights, affordable prices and great customer service.
Customer Reviews
Food tastes fresh
"This place is nice for breakfast. The portions are good and the food tastes fresh, the poached eggs were not that good though since you can strongly taste the vinegar. The prices are on the high end, but at least the coffee is worth the price, very rich taste. The waiters are friendly but they need to be more attentive. The desserts are good too." —Doaa Skaik, Google Reviews
Dine in | Dinner
"This place has a very nice deco and impressive range of food selection. I've been here twice and only ordered the pasta which was very good! The interior is very spacious with the double volume ceiling and mezzanine floor (looked like more seats and possibly an event place available but you will need to call to clarify). There are ample seats outdoors too with a lovely view of the park. Food price is in the mid-high range which is quite typical for this kind of restaurant in KL. Recommended" —Ton Mohamad Nazmi Ton Jaafar, Google Reviews
8. Blonde
Another cafe-type restaurant that has always been on our radar for the best halal joints in KL is this place called Blonde. It features an expansive menu that's filled with superb dishes that can cater to customers with different beliefs, diets, etc.
Personally, we love coming to this place because aside from the food, they also have a nice hipster interior that's great for taking photos. Furthermore, having a pleasant and neat space like this makes the dining experience extra special, or at least in our opinion.
As for the dishes themselves, we appreciate the variety of their menu. From what we ordered so far, we can say that they know what they're doing in the kitchen.
Some of our favourites from their kitchen include the aglio olio pasta and fish and chips. We've ordered these two dishes a bunch of times and they've never disappointed once.
It's also worth noting that these dishes arrive at our tables quickly thanks to the world-class customer service. Their staff is attentive and patient, which we observed when we were asking plenty of questions about their menu.
There are only two things that we don't like that we can see being make-or-break factors for future customers: the parking and the prices. The underground parking was expensive and the same problem can be said about their menu.
Although the quality and quantity of the dishes were there, the prices are above average compared to other restaurants of the same level. Nonetheless, if you're willing to pay this much for a meal of this calibre and a cool ambience, this will be a perfect experience for you.
Customer Reviews
Dine in | Dinner | RM 60–80
"Restaurant is cozy, classy and very perfect for celebration, party or events. Dinner served was so good and my friends and I all enjoyed the experience. Would come here again for a brunch experience.
Service: excellent service from the crews and they were very friendly and helpful.
Parking: underground parking is quite expensive. You can park outside nearby the street but park at your own risk.
Reservation: you can reserve a table beforehand, and choose which table you wanted. However, when we arrived the table we reserved had already been occupied and they were considering to give another table to us. We didn't mind but at that point, I just think it's pointless to reserve the table want before" —N. L., Google Reviews
Brunch with besties!
"Went there for brunch with my friends, and yeah luckily we went a lil bit early coz for the weekend it's quite a full house at Blonde…suggest making a reservation a day before. But we manage to get a table for 3!
I had Pooched Eggs with Slow-cooked Beef Brisket; honestly, it's so good! Really recommend this…And lemonade for my drink.
I ordered BBQ Chili Lamb Belly Kebab for our sharing main dish; the crowds keep coming! And this dish was awesome as well, it comes with basmati rice…we shared it coz the brunch almost made us full!" —jackezam, Tripadvisor
9. Positano Risto
A nice Italian place we recommend in Kuala Lumpur that serves 100% halal dishes is Positano Risto. It's located in the Publika Shopping Gallery, making it an easy-to-visit spot whenever you crave some authentic pasta, pizza and more.
Right as we entered this place, two things immediately caught our attention the aroma coming from the kitchen and the interior decor. Whatever they were making back there, we wanted our hands on it so immediately grabbed their menu.
We ended up ordering the fettuccine carbonara and the five-cheese pizza since they looked and sounded appetising on paper. It was a good decision though, as we were treated to two of the most authentic-tasting Italian dishes here in KL.
The carbonara wasn't too creamy and we could really taste the egg yolk being part of their sauce. As for the pizza, it was such a treat to eat each slice of it thanks to the different kinds of gooey and stretchy cheese.
They also had a variety of refreshing drinks and sweet desserts, which we treated ourselves to as well.
We didn't run into any problems during our time here except for maybe the slightly slow service due to the crowdedness of the place at that time. Furthermore, we feel like the prices are a bit too high even though their dishes tasted great.
Customer Reviews
Dine in | Dinner | RM 60–80
"Truly amazing. Went here for a family dinner get-together with my relatives and to celebrate a birthday. The servers were very friendly and very attentive. The food was great, the best carbonara I've ever had! Perfect ambience, there are indoor and outdoor tables. With the pricing, I would say it's worth every penny." —Natasha A., Google Reviews
Bussin'
"Everything was perfect. Our waiter Jeeva was very attentive and deserves a raise for real. I would 100% recommend this place to everyone looking for a restaurant with good food and a great ambience. Loved being called señorita, 5 stars." —Voyager45271425288
10. Al-Halabi Gourmet Restaurant
Middle Eastern food has always been a staple here in KL. Countless establishments have tried to make it right, but for us, one of the best places to try them is at Al-Halabi Gourmet Restaurant.
For starters, they offer a varied menu consisting of all-time favourites such as kebabs and shawarmas. We've been here a couple of times now and two dishes that never fail to impress us are the slow-cooked lamb and beef kebab.
Both these dishes are cooked perfectly, which helps develop the ultra-tender texture of their meat chunks. Then, they're only made better by accompanying them with the sauces they come with.
We also wanted to highlight their in-house yoghurt. It may be a simple thing but few restaurants can actually pull off this Middle Eastern staple dish.
Ambience-wise, we can't really complain about anything, as the establishment was a pleasant place to dine at. The design was tasteful and the facilities, including the washroom, were all clean.
Lastly, since this restaurant turns your favourite Middle Eastern dishes gourmet, you can expect that they'll charge a bit more compared to typical shawarma shacks. However, we felt that the quality of these dishes and the serving size they come in make them worth every single penny.
Customer Reviews
A real treat
"This restaurant is a joy to visit. Repeated visits only improve my opinion of the place. It's a great place for a leisurely meal with friends. The ambience is great and the staff are well trained and serve you with a smile. If you like middle eastern food it's a real treat. The food is always fresh and delicious." —Robin Mitha, Google Reviews
A must-visit for me when in KL
"Relaxed and authentic Arabic (more Turkish) environment. The owner/ manager is always there to help and recommend. The place of all things serves "sheesha" something we in Singapore hold very dear. The food is exquisite. Have tried multiple dishes and nothing has disappointed me. Just eat there" —saket70, Tripadvisor
11. Kayra Kerala Cuisine
If you're looking to splurge on Indian food, we recommend checking out Kayra Kerala Cuisine at Bangsar Village. We've only visited once and we think that it's the best fine-dining experience we had that had a focus on Indian cuisine.
They have tons of dishes that are worth highlighting, as each dish was presented creatively. One of our favourites out of the bunch is the prawn mango curry, which we were a little hesitant to order at first.
Upon tasting it, however, we were blown away by the delicious combination of flavours brought by the mango and coconut milk. These two ingredients may have been the last two things we think of when it comes to cooking prawns but we couldn't be more wrong.
Since this is a fine-dining establishment, you'll find that the restaurant itself consists of elegant decorations. These design elements paired with the slow jazzy music make for a great combination for building a nice and classy ambience.
Of course, the main downside of dining at a place like this would be its price. It's not cheap indeed, but for us, it's well worth it because of the world-class service, ambience and food.
Customer Reviews
Will love to go again
"First time here. They have a friendly environment and serve a variety of dishes. The mango prawn curry had an amazing flavour.
Give their dosa tacos, beetroot fritters and pani puri a try! We loved the desserts but one came and it was not so fresh, the chef agreed when we complained and they didn't charge us for that. Nice place overall. Will love to go again!" —Shab MM, Google Reviews
Good Kerala Food
"This restaurant is located on the first floor of Bangsar Village I. The ambience is very nice as it has a rustic feeling as you walk into the restaurant. They also have an open-air area (balcony sort of concept) facing Bangsar Village II and other restaurants on Telawi Street.
The staff are very attentive and they are quite well versed in the food when asked to explain the dish. Service is good as we need not wait too long for our food. The restaurant overall is looking clean and that is what we want the most as a customer.
As for the food, we loved it very much. The roast chicken and the prawn masala were superb and we had it with chapati and Multigrain roti.
Their serving portion is good and enough for us. As for the price, they are a bit pricy but then again, they are a fine dining restaurant with good food and service, why complain. We will definitely go there again." —Rachel Log
12. Soul Sacrifice
If you're looking for a hipster cafe that can satisfy your caffeine fix and cravings for delicious brunch meals, check out Soul Sacrifice. It's a great spot to spend a chill afternoon feasting on amazing halal dishes, and the best part is it doesn't break the bank!
Their brunch menu is fairly varied, featuring dishes ranging from sandwiches to falafels, rice meals and more. We also love their catalogue of desserts which has never failed in satisfying our sweet tooth.
There was one thing that we noticed with their offerings, however, and that is the quality can sometimes change. For instance, the falafel we ordered was noticeably dry, which didn't ruin the overall dish, but it was something that we didn't entirely like.
Aside from their delectable offerings, our absolute favourite thing about this place is its ambience. Featuring a rustic interior complete with exposed brick walls and metallic furniture, this place oozes hipster vibes.
Lastly, we want to commend the staff of this establishment, as they were highly attentive and accommodating to every customer that entered their premises. We also liked how patient they were, as we were asking different questions about their menu.
Customer Reviews
Dine in | Lunch | RM 20–40
"The place is quite cozy.. we brought our little one there to have early lunch. The food was all superb! Love the French toast.. the bread used is so soft and fluffy.. and the spicy beef cold noodles were delicious! It's like a Vietnamese noodle salad but better.. didn't expect to get such good food here. Will definitely come back! The Lady boss was very friendly too.. but the food smell in the restaurant was quite strong. We walked out smelling like food lol." —Chloe Yun Ting, Google Reviews
Best breakfast…
"First visit and a great treat. Scrambled eggs on toast, mushroom taco, and egg and cheese brioche bun were all fantastic. Fresh pressed juices and nice coffee were all delivered with a smile. Best breakfast in a casual setting in KL…. give it a try." —visit11, Tripadvisor
13. Atmosphere 360
What we love about KL is it's filled with spots that offer unique dining experiences. A prime example of this is Atmosphere 360, a restaurant that lets its customers dine 282m above ground level.
If you're wondering where their halal certification is, don't worry! All the dishes they served are halal certified but because they also offer alcoholic drinks, they can't be eligible for an official certification.
The main highlight of this restaurant, of course, is its revolving nature. We've dined here once and our eyes were glued to the beautiful skyline of Kuala Lumpur, as we were feasting on their delicious dishes.
This restaurant features buffet-style dining consisting of various international, Asian and Malaysian dishes. Personally, we think that the prices they charge for these buffets are a bargain because of the variety of dishes they offer.
However, there's one thing that we wished the establishment could've improved upon. We found that some of the dishes from their buffet weren't hot enough, as most of them were just warm.
Furthermore, we thought that the customer service has some room for improvement as well. It wasn't terrible but we wished that they'd smile more while serving us and other customers on their premises.
All in all, dining here is a great experience, especially if you're looking for a unique way to eat your favourite halal dishes. The vibe and views are unmatched and the buffet spread is fairly varied to different kinds of preferences.
Customer Reviews
Dine in | Dinner | RM 200+
"Great view up at the revolving restaurant – if can go up early so you got a day view and a night view of the city of Kuala Lumpur. The ride up is fast and the service was quite OK. The buffet spread is good but I felt the food quality was just OK but usually when coming to a place like this, I don't expect too much on the food."—Andrew Chan, Google Reviews
Very nice atmosphere
"It is located at the top of KL Tower. One can visit the observatory deck after the email. It was a one-of-a-kind revolving experience. The food is ok but the service is good. Waiters sing birthday songs for the guests, together with complimentary cakes with candles. Very nice atmosphere.—JKWD, Tripadvisor
14. Qureshi
One of the best fine-dining experiences we've ever tried in Kuala Lumpur was presented by Qureshi. This restaurant is located at a prestige golf course and it puts its focus on the vast cuisine of India.
Everything, from the ambience down to the dishes themselves, was nailed to a tee. Plus, we also had the pleasure of being served by their amazing staff.
During our time here, we were a bit overwhelmed by their menu, which is why we stuck to the classics such as chicken biryani, mutton and more. Thankfully, we made the right decision, as each dish was executed perfectly, from the flavour to the texture.
Please embed: <https://www.instagram.com/p/qyba9cKPvS/?hl=en>
As for the ambience, we got everything we expected from a fine-dining establishment like this. We've got to say, we haven't seen a place as quite lavish as this and we were in awe of the interior the whole time we were here.
Of course, an experience of this calibre will come at an expensive price, which can rub other people the wrong way. However, we can say that it's well worth the price considering the quality that we experienced when we dined here.
Customer Reviews
Dine in | Lunch | RM 60–80
"Great ambience amidst a beautiful golf course. Very comfortable seating. Food is quite expensive at this premium resto but the portion size is decent. Appreciate the complimentary appetizers. Chicken Tandoori is very tasty and succulent. Loved the mutton biryani and the portion is quite large for 3-4 pax. Didn't like Chicken tikka masala gravy. They have a small party place within the restaurant." —Pritesh Shetty, Google Reviews
Superb Royal Indian Food
"Excellent service, ambience and food. Loved all the food that we ordered that night ie butter chicken masala, tandoori chicken & paneer tikka, dhal curry, pani puri, aloo gobi, biryani and garlic naan. Totally recommended and I will definitely be back!" —Low H, Tripadvisor
15. Podgy
Minimalistic cafes have seen a resurgence over the past couple of years, but one that we have been visiting frequently is this place called PODGY. It's located in a residential area which makes it kind of a hidden gem that we think more people should know about.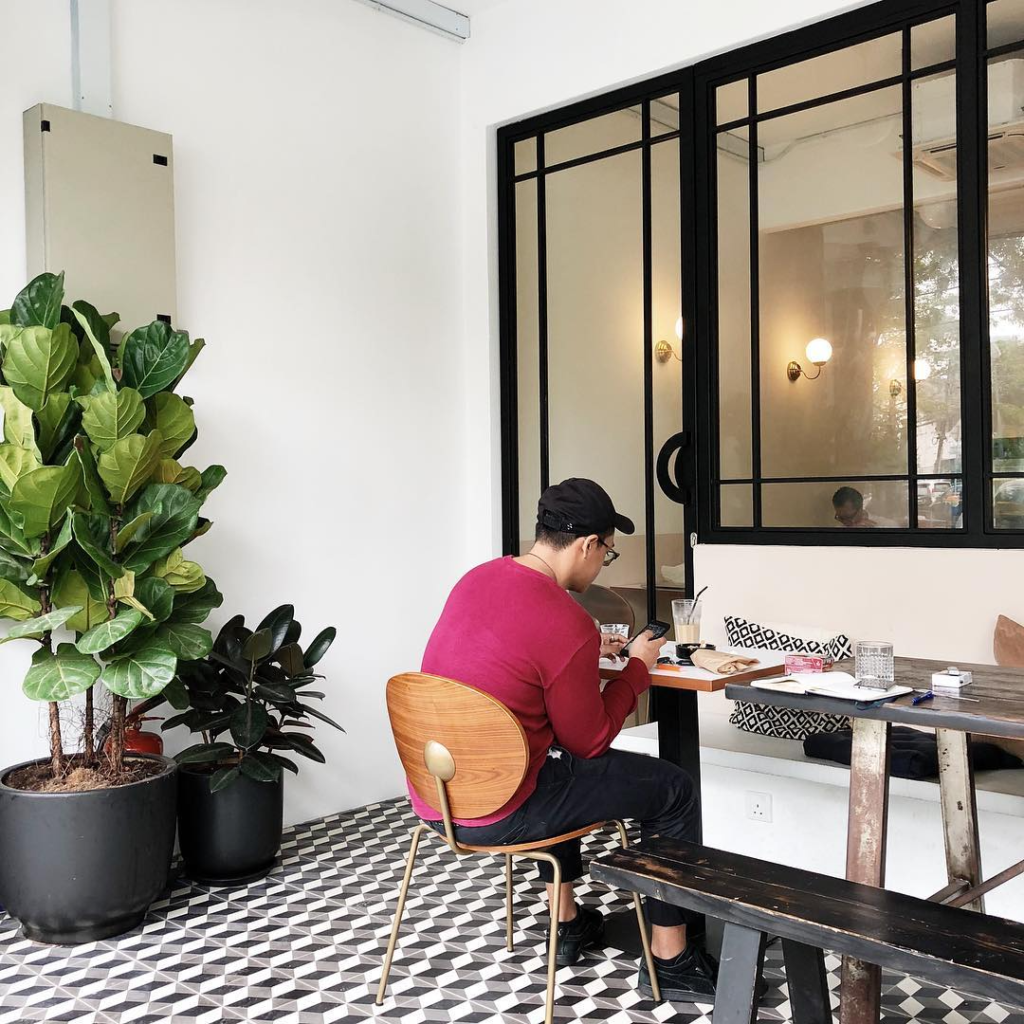 We absolutely adore the ambience of this place, as it's the perfect representation of the saying, less is more. It features a simplistic black-and-white colour palette with the occasional wooden finishes for its chairs.
Aside from the ambience, however, we also want to highlight its amazing food. They offer a variety of halal-friendly brunch meals that we're suckers for such as the chicken avocado sandwich and Alfonso's salad.
Our only gripe about this place is the parking which isn't necessarily the establishment's fault, as it's more of a location problem. Since it's located in a residential area, parking is quite limited and more often than not, it's already packed when we arrive.
Furthermore, we think that the place could use some more tables, as we find it a bit limited, especially during peak hours. During these busy hours, you'll be left waiting for a couple of minutes.
Customer Reviews
Dine in | Breakfast | RM 20–40
"The atmosphere here was beautiful and peaceful; Outside was shaded by trees so it was cooling while the inside was minimalistic. We came here after a light rain and it definitely improved the atmosphere severely.
The blueberry butter cake we had was sweet and fluffy, it wasn't too oily nor heavy.
The drink I had was Berry Highland, which I assume was inspired by Cameron Highland due to the main ingredient being strawberry, which was enjoyable. It wasn't too sweet and had plenty of strawberry chunks. It was definitely refreshing.
The waffles were nice too, it was crunchy where they needed to be and chewy on the inside. It had plenty of berries and granola to pair with. The only two critics I have on this are the ice cream and the blueberries. The ice cream was too sweet to finish with an already sweet dessert, while the blueberries were definitely not fresh because it was squishy and dried up.
Lastly the pasta dish. It was okay, nothing too out of the ordinary. Just alright as it is.
The service was good. They were patient while taking our orders and served our food periodically. There were also jugs of water we could take to our table to drink." —Fion Lim, Google Reviews
The best neighbourhood cafe in KL
"Podgy Kurau is brilliant. I love the long table outside that gives you enough space and then some, the coffee is spot on, and the location is in a nice and quiet, idyllic neighbourhood. The staff is super friendly.
However, I dunno about the name, because everybody who works there is pretty skinny, but hey, it works too." —kitaroony, Tripadvisor
16. Pizza Mansion
If you're looking for the best halal pizza in town, we recommend this pizzeria called Pizza Mansion. It's a relatively small shop but it doesn't fail in satisfying our cravings for our favourite pizza pies whenever we're in Bukit Bintang.
Aside from these delicious pizza flavours, they also offer various pasta. Our favourite out of the bunch is undoubtedly the baked mac and cheese.
You can easily get lost in their selection of pizza flavours but the ones we mostly recommend are the Neapolitan and pepperoni. Both these flavours have never let us down thanks to their perfect balance of flavours.
This dish is unbelievably good, and it may be because of its cheesy goodness. At the same time, however, we liked how the cheese wasn't too overpowering to the point where it was all you can taste in the dish.
The only thing we didn't like about their menu is the limited salad options. What's worse was that the serving size for the salad we ordered was noticeably smaller compared to the other dishes.
Nonetheless, we still love eating in this local pizzeria. They got a good vibe going on, thanks to the lively and friendly staff, as well as the cool atmosphere brought by the interior design.
Customer Reviews
Dine in | Dinner | RM 20–40
"Unexpectedly got an excellent pizza! Not only that the dough was excellent but also the rest of the ingredients were of extremely high quality!
Taste-wise, you felt like you were in Italy. The staff was attentive and the order was taken quickly. Until the pizza came, no 10 minutes passed, although the restaurant was well attended.
Can unfortunately not make any statements about the quality of the cheese, as I opted for the vegan option. Price-wise, the pizza with 23RM is also perfectly within the range and also the other pizzas with cheese remain in a fairly measured price range. All in all, a highly recommended location!" —Nik Bloomquist, Google Reviews
Dine in | Dinner | RM 20–40
"When I first went to the pizza mansion I thought the truffle Mac and cheese was delicious. Now I don't look at it; it's been overshadowed by the delicious pizza!
I've had the PM and the margarita pizza! Both are amazing! The sauce is interesting and different, and the pizzas are always fresh and served quickly. All of this is accompanied by solid service!
Honestly, I'm in love with this place and I hope it never changed!" —Seher Mohsin, Google Reviews
FAQs about the Best Halal Restaurants in Kuala Lumpur
More Resources on Restaurants in Kuala Lumpur:
---