13 Companies for the Best Digital Signage in Malaysia
Paragraph
Source: Étienne Godiard via Unsplash
Source: Étienne Godiard via Unsplash
The digital age has certainly changed things for many industries, but for advertising, going digital seems to be for the better. Today, having the best digital signage in Malaysia can significantly increase your sales or improve your reputation in event organizing.
Whether you're looking for a firm that could give you the best LED billboard spot for a digital ad or looking to purchase an entire system of digital signages, this list below has the right digital signage partner for you.
1. BluPepper

BEST FOR:

Cloud Digital Signage Software

PRODUCTS:
Retail Outlet Digital Signage
Education and School Digital Signage
Café & Restaurant Digital Signage
Dealership Digital Signage
Hotel Digital Signage
Office and Workplace Digital Signage
WEBSITE:
https://blupepper.my
ADDRESS:
B-2-3, Block B, 2nd Floor IOI Boulevard, Jalan Kenari 5, Bandar Puchong Jaya, 47170, Puchong, Selangor, Malaysia
CONTACT DETAILS:
OPERATING HOURS:

MON – FRI  9AM – 6 PM

 
When it comes to Digital Signage Software , there is no forgetting Blupepper.
Blupepper is known for offering cloud-based digital signage solutions to various industries in Malaysia, particularly retail sectors. Their software works with any regular or commercial grade TV spanning across different TV brands.
Moreover, Blupepper's team consists of highly skilled, flexible individuals who can accommodate clients from various industries. Since it first began operating, Blupepper has consistently helped business owners to manage their entire digital signage screens making it easy for them to manage anything from a single menu board to a full corporate scale ad campaign.
Aside from flexibility, Blupepper is also the only company that offers their clients 99.5% server uptime guarantee and secure connection thus delivering high standard and quality cloud infrastructure. 
Blupepper is an easy-to-use platform that allows users to upload, manage, and schedule contents to their digital signages.
Highlights
Works with ANY screens and sizes

Easy to use software with Secured Cloud Connection 

Competitive pricing

Provides a 99.5% server uptime guarantee 

Many key features
Customer Reviews
Here is a comment left by a satisfied client of BluPepper:
"…We have more than 100 outlets all over Malaysia, and Blupepper has made it easy for us to manage all of our ad campaign from our HQ. Training and support is good "
Thomas,
REDone Mobile.
2. Image Media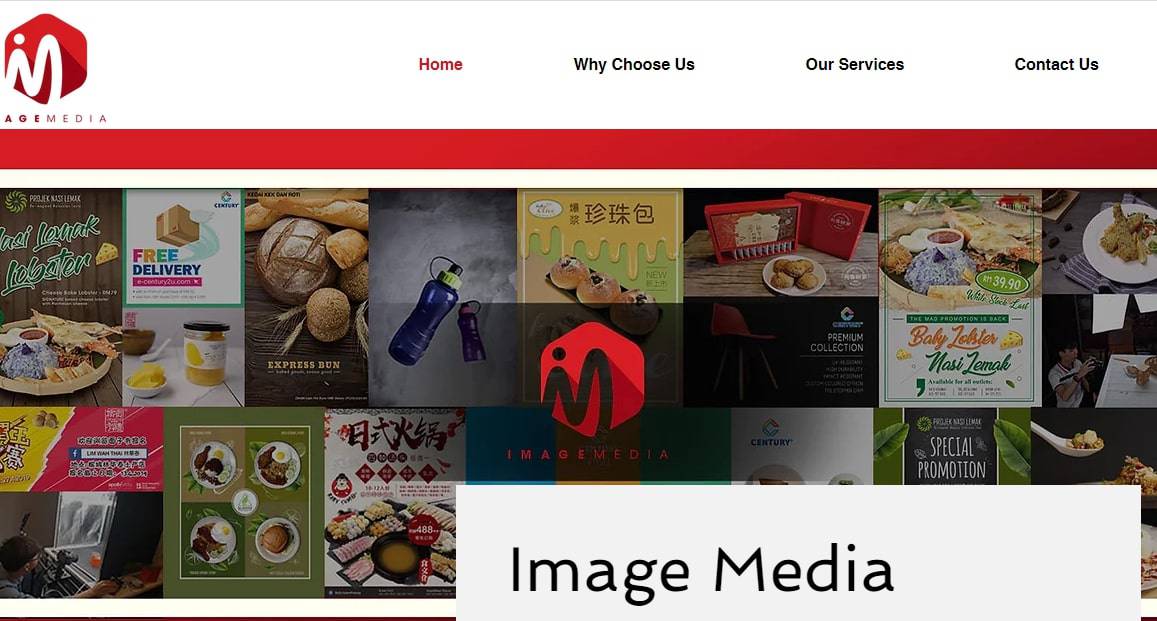 Those who want their sales to go up should go to Image Media, an advertising firm that has conquered both traditional and digital billboard advertisements in northern Malaysia.
Their LED screens are strategically located in areas that experience high vehicular or foot traffic on the daily. For instance, their huge digital billboard in Auto-City is seen from all corners of the T junction and the site sees heavy traffic even on weekdays.
This firm for the best digital signage in Malaysia also creates custom designs for their partners and provides unlimited design revisions for advertisements.
Highlights
Advertising firm
Conquered digital billboard ads in northern Malaysia
Strategically located, areas with heavy traffic
Custom designs
Unlimited revisions
3.  DOREMi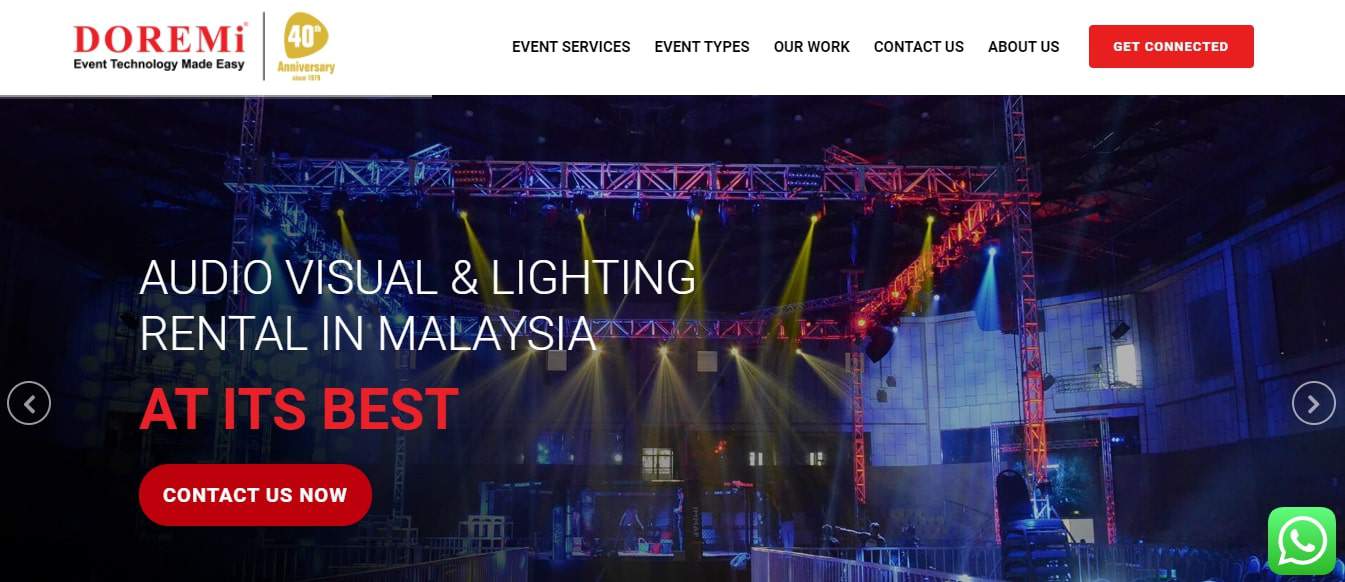 Events rental service provider DOREMi has some of the best digital signages in Malaysia for your business.
This firm understands that LED screens are in demand because an LED screen relays information in the easiest, most eye-catching manner. They try to provide their clients a wide array of solutions to fit their clients' advertising needs.
From television screens in various sizes to the best, high-ansi lumens projectors, DOREMi has the right technology for you to widen your business's reach. They have spot-on attention to detail, too, providing you the best angles and the sharpest pixels for your ads.
In its dedication to providing clients the best digital signage in Malaysia, they also offer touch- and gesture-based displays, more interactive ways to introduce your products or services.
Highlights
Events rental
Wide array of solutions
TV screens of various sizes
High-ansi lumens projectors
Attention to detail
Touch- and gesture-based displays
4.  Screenplify
If you're looking for a digital signage and interactive touchscreen software, Screenplify is your absolute best bet. It is a layout editor, content manager, media player and analytics monitor in one!
This software is easy to install and use. Plus, it supports a wide range of file extensions so you'd be able to display images, videos, directories, and maps without any hassle.
It works with any screen resolution and size and you can also sync multiple displays..
At this firm for the best digital signage in Malaysia, you can purchase only the software and use a screen of your own or avail of a complete hardware and software bundle.
You can choose from their 42-inch vertical kiosk or 42-, 47-, or 55-inch all-in-one horizontal touchscreen for your hardware. You can use these as information kiosks for your events, marketing screens at your retail stores, menu board, and more!
Highlights
Easy to use software with a wide range of features
Works with any screen size and resolution
Can sync multiple displays
Use your own screen or get a hardware/software bundle
42-inch vertical kiosk or 42-, 47-, or 55-inch horizontal touchscreen hardware options
Customer Reviews
Jason Ng of the TEDxKL event shared:
"Screenplify kiosks were exhibited throughout the TEDxKL event. It was synergistic to have the kiosks as directional guides, to display relevant information and even beautify the event area.
Truly important use of space and I am very sure any event would find Screenplify kiosk a great addition."
5.  Eumedia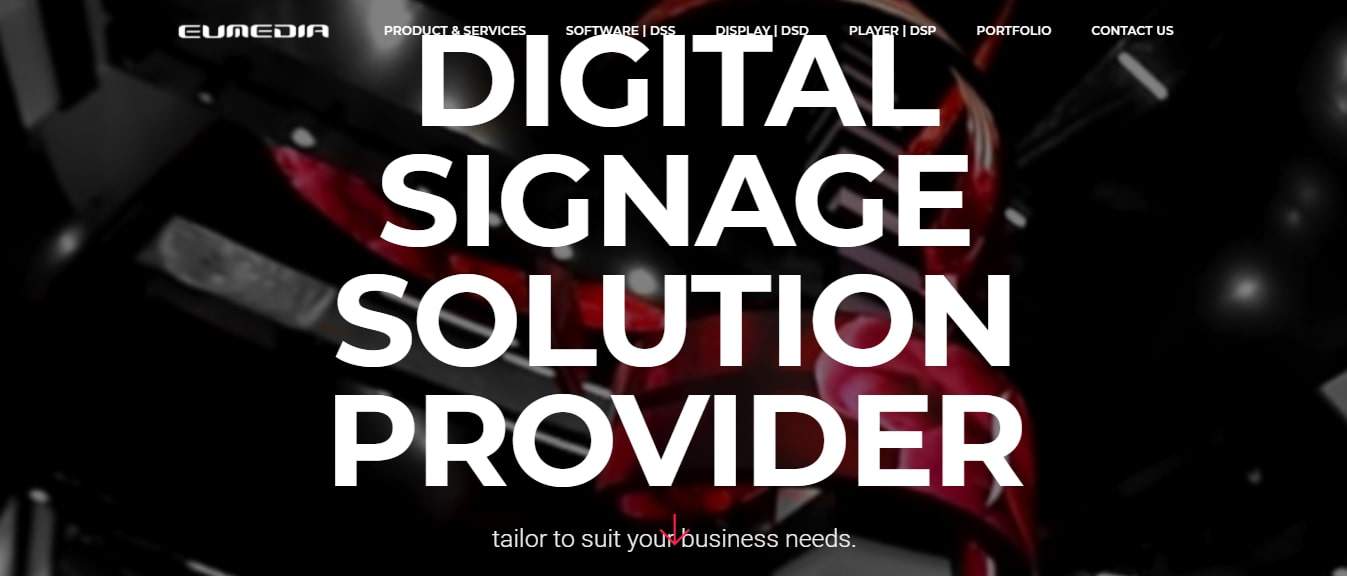 With clients ranging from retailers and restaurants to colleges, corporate offices, oil companies, and many more, Eumedia offers economical digital signage solutions that suit any of your business needs.
Eumedia Digital Signage Software (DSS) software is powerful, speedy, and easy to use. Among their many impressive features are custom resolution, unlimited layouts, unlimited presets, and frame-synced playbacks.
The firm also offers commercial-grade Digital Signage Displays that can easily handle such a powerful application. Specifically, they offer single displays, video wall displays, and ultraslim floorstands.
Showing true dedication in providing the best digital signage in Malaysia, Eumedia provides installation and after-sales services to their clients, made possible by a team of certified engineers and programmers.
Highlights
Wide range of clientele
Powerful, easy to use software
Commercial-grade digital signage displays
Installation and maintenance services
6.  Israk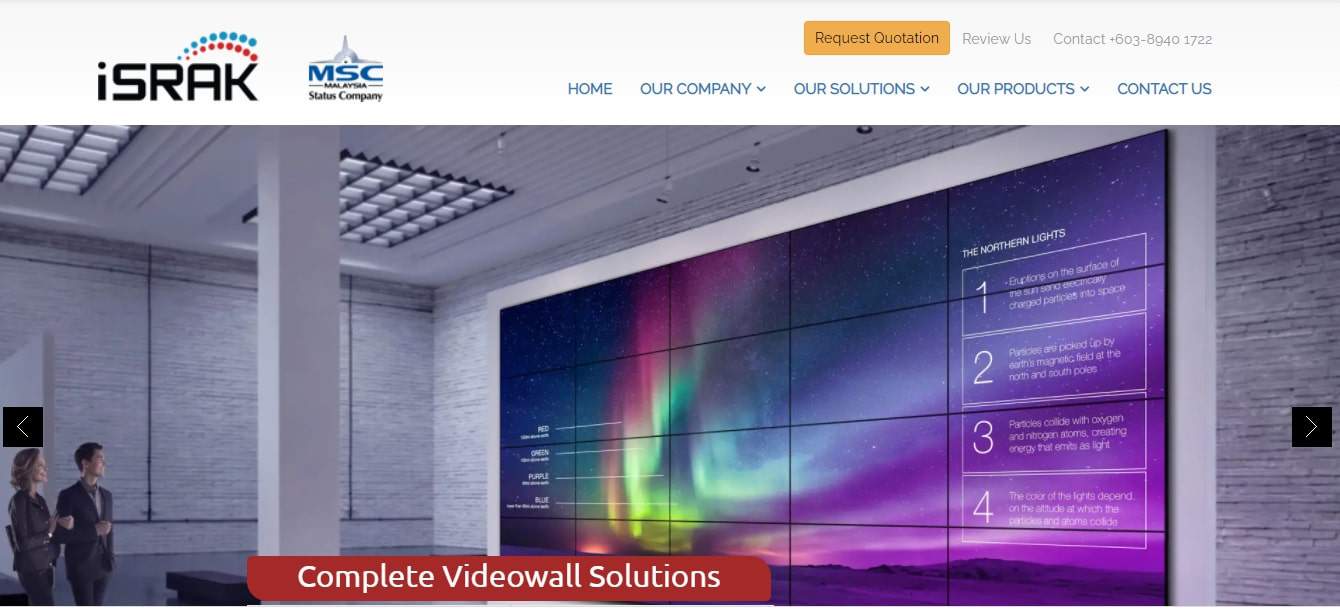 | | |
| --- | --- |
| BEST FOR: | Top quality at a low cost |
| PRODUCTS: | https://www.israk.my/ |
| WEBSITE: | https://www.israk.my/ |
| ADDRESS: |  43-1, Jalan PUJ 3/3, Taman Puncak Jalil, 43300, Seri Kembangan, Selangor, Malaysia |
| CONTACT DETAILS: | 03-8966 2405 |
| OPERATING HOURS: | Mon to Fri 8:30am-6:00pm |
Since 2012, Israk has provided only the top products and services as a digital media organization in Malaysia. Anyone who wants to pull off a successful project at a low-cost should definitely go to them for help!
Among this firm's wide range of offers are digital signages, video walls, touchscreen kiosks and interactive smartboards to help you get across your message to your audience easily, creatively and seamlessly.
Truly one of the firms for the best digital signages in Malaysia, it is also trusted by many government agencies and private organizations.
Highlights
Top quality, low cost
Wide range of offers
Digital signages, video walls, touchscreen kiosks, interactive smartboards
Easy, creative, seamless
Trusted by government agencies and private organizations
7. Seed Digital
At Seed Digital, they are committed to helping their clients embrace the digital transformation with out-of-the-box digital strategies and state-of-the-art technology solutions. They appreciate that every client is unique, which is why they provide customized digital solutions that suit your business objectives and needs. They strive to deliver the best results to their clients.
Their touch screen solutions allow you to make a job easier, engage with your customers via interactive content and bring your presentation to next level. They provide hardware supplies and interactive content design and development which is tailored to your requirements. The commercial grade touch screens equipped with interactive content created with multitouch technology, bring a long-lasting and engaging experience to your audience.
Highlights
Provides full-service, end-to-end solutions
Works with partners from various expertise to ensure the success of their clients' project
Maintains a close-knit relationships with their clients
8. Votigo
BEST FOR:
Helps you broadcast your message digitally
PRODUCTS:
https://www.votigo-systems.com.my/digital-signage-solutions
WEBSITE:
https://www.votigo-systems.com.my/
ADDRESS:
Unit 2-1, Level 2, The Podium, Tower 3, UOA Business Park,
No, 1, Jalan Pengaturcara U1/51a, Seksyen U1,
40150 Shah Alam, Selangor
CONTACT DETAILS:

[email protected]

| +03 2935 8188
OPERATING HOURS:
 
With diverse experience in audio visual systems, Votigo focuses on offering their clients with video wall solutions and customised digital signage experience covering retail outlet, corporate office, schools, factories etc. They believe that the digital content will create an unprecedented wave in attracting consumer attention and in real-time information sharing.
Votigo will ensure the smooth implementation and consistent after sales service so that you will have peace of mind to focus on what you do best!
Highlights
Professional and dedicated team
Provide total AV solutions
Proven track record
Good value for your money
Customer Reviews
Here's what some people have to say:
"Very good service, patient to teach user, setup, programing, solution to user, tutorial and even provide tailor made special manual for using it. Very reasonable pricing. Keep it up. Thank you Mr. Tang & Kelvin." – Calvin Au
"Really easy to setup and manage the signage solutions. The team has provided good deployment and support. Thanks Mr Tang and Kelvin" – Yuzaimi Abdullah
"Fast response and well experienced with technical knowledge and able to provide solutions that able to solve my issues. Able to provide new solutions & ideas for new office experience. Highly recommended" – changkit wong
"Engaged with Votigo Systems for many occasions, it always pleasure to dealing with. It always being able to solve the technical issues with prompt and accurate solutions. Definitely will support them in future.. Great job.." – Lee KS
9. Greenscapes
Greenscapes is a system integration company nestled in Kuala Lumpur. They have been in the industry for over 15 years.
At Greenscapes, you have a vast range of digital signage hardware, software and integration services to choose from.
Highlights
Comprehensive project management

Prompt services

Professional expertise and experiences
10. Keng Design
BEST FOR:
Digital Screen Advertising Service
PRODUCTS:
Digital Outdoor Advertising, Digital Out-Of-Home Advertising, and DOOH Advertising
WEBSITE:
www.ledscreenads.com
ADDRESS:
No. 56 & 58, Jalan Ampang, Kampung Masjid Jamek, 31900 Kampar, Perak, Malaysia.
CONTACT DETAILS:
Customer Service. : +6 016 380 0080
OPERATING HOURS:
9.00 am – 6.00 pm Monday – Friday
​9.00 am – 1.00 pm Saturday (Public Holiday OFF)
Keng Design was established in 2006. Their team provides various types of digital screen advertising networks service such as street lamp post digital panels, highway digital billboards, airport digital screens and TVs, shopping mall digital screens, petrol station digital screens, worldwide capacity digital screens, and more.
Whether you're a big or small business, they will have a service and package that will surely meet your needs and budget.
Highlights
Since 2006
Their team provides various types of digital screed advertising
Customer Reviews
Here's a review from one of their past customers:
"The staff provide a great communication throughout the digital outdoor advertising entire process. Awesome company and great experience."
Here's another one:
"Digital outdoor advertising service attitude is very good, attentive and efficient. i recommend their service to all big or small business."
11. Southpaw
BEST FOR:
Multitouch Interactive Solutions
PRODUCTS:
Omnishow, Software Development, Multitouch solutions, Multitouch Video Walls, SP Signage, Object Recognition, SP Sensorkit
WEBSITE:
http://www.southpaw.com.my/
ADDRESS:

Unit 6, Level 4, SetiaWalk Mall (Block K), 47160 Puchong, Sel, Malaysia

CONTACT DETAILS:
+6012 663 0088 / 

[email protected]

OPERATING HOURS:

Mon – Fri: 10AM – 6 PM

 
Southpaw is a company that specializes in delivering innovative digital solutions that will transform your digital experience once you get to work with them. The company is founded back in 2008, they are driven to offer and provide solutions and methods to you in which will not only engage your audience on the digital platform but also forge a way for an interactive interface with them.
They are comprised of a team that specializes in Multitouch and Interactive technology solutions so you can be sure that the individuals you work with are adequately-trained experts in the field which know their way around it. They offer a wide array of services such as Omnishows, Software Development, Multitouch Solutions, Video Walls, SP Signages and Object Recognition services among others.
They capitalize on the use of the senses such as touch in order to explore these digital platforms in order to connect to your audience and tell your story the way you want it that still caters to the large scope of viewers. You can easily inquire about their services by requesting a consultation with them that is completely free and for your own convenience.
We recommend this company for your digital solution needs due to their impeccable niche of using technology in order to connect with your audience and share your desired information the way you want it while not sacrificing its quality and transcends the borders of virtual platforms.
Highlights
Free consultation
Innovative digital solutions
Servicing ever since 2008
Customer Reviews
Here is a review from their client:
"Superb satisfied including their services."
12. Digital Signage Malaysia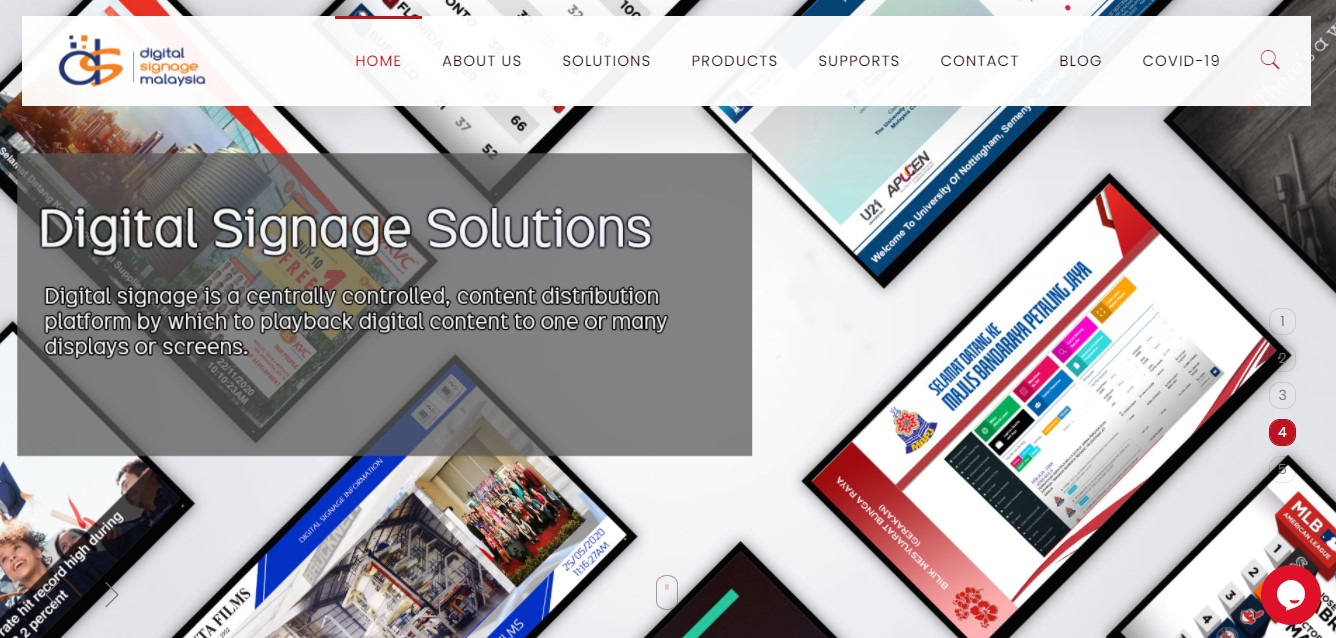 Since 2007, MegaScreen by IDS Beyond Media has been providing digital signage in Malaysia. They are one of the best digital display solution providers who are also the pioneers of the Large Format LED Display.
Generally, they offer solutions in digital display, display technologies, media, content, commercial aspect & project delivery. We like that they work together with their clients to transform vast ideas into reality.
Additionally, they can provide their services in different conditions. Their custom signages can be placed indoors or outdoors for different purposes like advertising, feature walls, and digital menu boards.
To add to their credentials, MegaScreen by IDS Beyond Media is partnered with Samsung and Neirolis. Two of the biggest brands in the industry trust the company as partners in various projects.
For the convenience of their clients, they have a portfolio on their website to showcase their past projects. From an observer's point of view, they excel at what they do and the end result of their projects are what is expected of their performance.
Highlights
Over a decade of experience
Offers a wide array of services in digital signages
Visible projects and portfolio
Works with big brands in the industry
—
Were you able to find the firm that would give your business or event the best digital signage in Malaysia in this list? Let us know in the comments.
If you're planning to change the overall look of your business as well, check out our list for firms for the best commercial interior design in Malaysia.