The 5 Best Debt Consolidation Companies in Malaysia
Loans are one of the biggest stressors in just about anyone's life and the worst thing is we can't avoid them. It can be tricky managing the payment of all these different types of loans that you have, especially when you're too busy working to pay off these loans.
But since we want to help you out, we've listed the best debt consolidation companies in Malaysia here for you.
But before we proceed to our list, let's first talk about the cost of debt consolidation in Malaysia.
How Much Does Debt Consolidation Cost in Malaysia?
You may be wondering how the interest rates work. While this depends on the bank itself, they all still follow a general formula for the computation of these. The interest rates clients are charged will be based on four things.
These are their occupation, monthly income, loan amount, and repayment tenure:
Monthly income and occupation – These two determine how high they can loan because they're clear indicators of the client's financial capacity in terms of repayment.
Loan amount – The higher an amount a client borrows, the higher the interest rate because the interest rate is usually based off of the percentage of the amount borrowed.
Repayment tenure – The longer the client chooses to pay off the loan, the higher the interest rates go up because there's a likelier chance that they won't pay the loan back. This may be due to various possible reasons but it just becomes riskier for the lender so this is a safeguard for them.
These policies are all in place to ensure the financial safety of the bank or financial provider that is giving the loan.
Companies usually have fixed interest rate percentages based on repayment tenures which you'll see down below.
Best Debt Consolidation Companies in Malaysia
While there are a lot of debt consolidation loan companies in Malaysia, we want you to find the right one for you. For us, this meant going through numerous companies and comparing them side by side.
For you, it just means scrolling through this article and choosing among the best companies in your country!
1. Mudah Pinjaman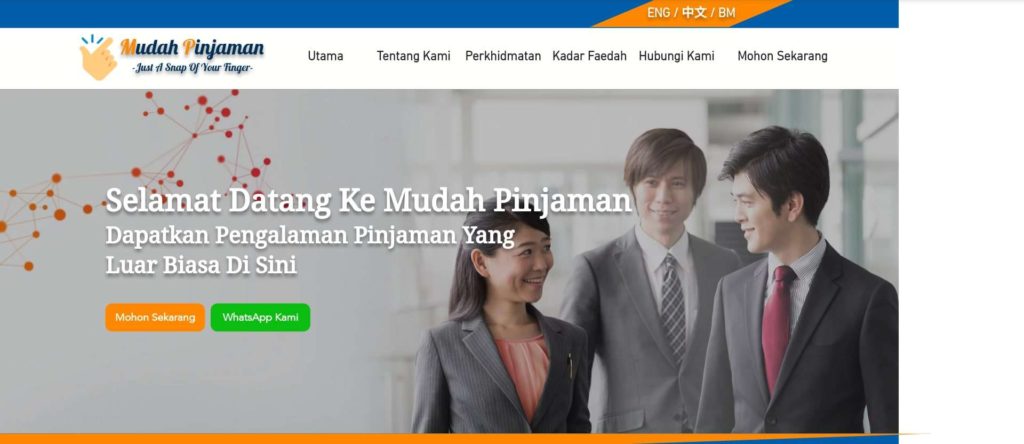 SERVICES
Business Loans, Personal Loans
WEBSITE
mudahpinjaman.com
ADDRESS
Wisma Selangor Dredging, 15th Floor, West Block, 50450 Kuala Lumpur
CONTACT DETAILS
WhatsApp: 017 793 9052
Email:

[email protected]
Mudah Pinjaman is a debt consolidation loan company located in Kuala Lumpur. They've been in the business for 11 years at the time of writing!
They offer two different types of loans: personal loans and business loans. With that being said, they're both handled differently.
For personal loans, they give a guarantee of approving your loans in 2 hours. This makes them ideal for those in a hurry to pay back a partial debt or those in need of bill payments for the day.
Mudah Pinjaman also gives you the time allowance you need to pay back your loan. Apparently, you being blacklisted in the financial world doesn't matter to them, all they care about is loaning you your needed cash.
For business loans, they're a bit more thorough. They require an assessment of your business and your situation to help you out of the rut then from there, it's the same as with the personal loans— they give you suitable interest rates and as much time allowance as you request.
Their interest rates are at a fixed 8%-12% and the repayment tenures range from 6 months to 60 months. The high-interest rates are definitely to make up for the ease it takes to loan money from them in this give and take situation.
Online application
Flexible payback times
Quick approval time
Can apply even if blacklisted
High-interest rates
Assessment may take long for businesses
Customer Reviews
Here are a few reviews of Mudah Pinjaman's satisfied clients:
You brought back my freedom! Really tq so much! -Hamis
Bank rejected my loan so i fund this company, really good job, recommend! -Siti
2. Standard Chartered Malaysia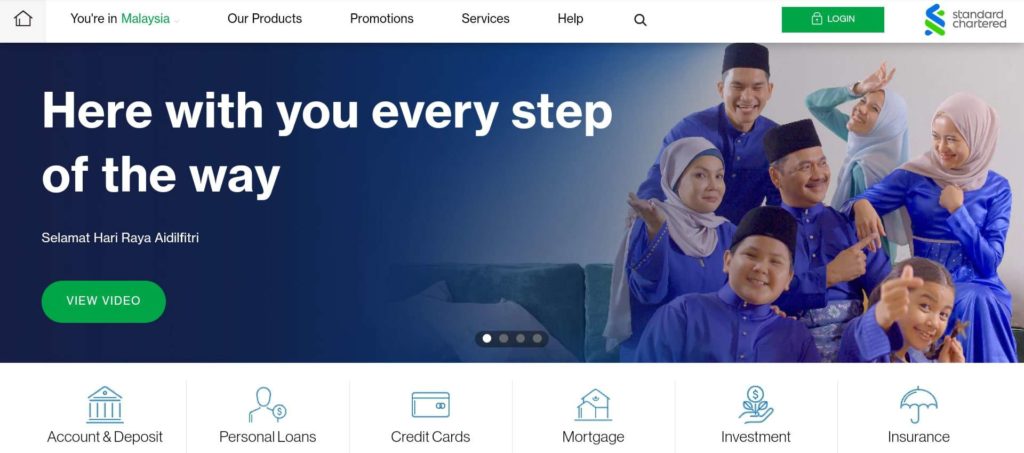 | | |
| --- | --- |
| SERVICES | Personal Loans, Business Loans |
| WEBSITE | sc.com/my/ |
| ADDRESS | Level 26, Equatorial Plaza, Jalan Sultan Ismail, 50250 Kuala Lumpur |
| CONTACT DETAILS | 603 2117 7777 |
| OPERATING HOURS | Mon- Fri 9am-5:00pm |
Standard Chartered is a financial services company with its head office based in London. Their Malaysian branch, Standard Chartered Malaysia, was founded in 1875 and can be found in Kuala Lumpur.
One of their programs is their CashOne Debt Consolidation which you can apply for online. With their debt consolidation plan, you can consolidate up to 5 unsecured credit facilities.
They require you to provide them with an Employees Provident Fund accompanied by its payslip and your latest credit card statement or other personal finance statements from other banks to apply for their loans.
This is on top of their general requirements which require you to be aged 21-60 for salaried clients and 21-65 for self-employed clients. With this being said, you need to have an annual income of at least RM 36,000 and a valid Malaysian phone number.
This makes them ideal for those who are thinking more on the long-term payments when it comes to paying off their debts but those who need loans right away or can't reach their standards have to keep on scrolling.
They determine the interest rate by your principal amount and other factors of eligibility. Their repayment tenures range from 12-84 months.
Online application
Trusted financial provider
Slow approval rate
Requires a minimum salary rate to be able to loan
3. My Personal Credit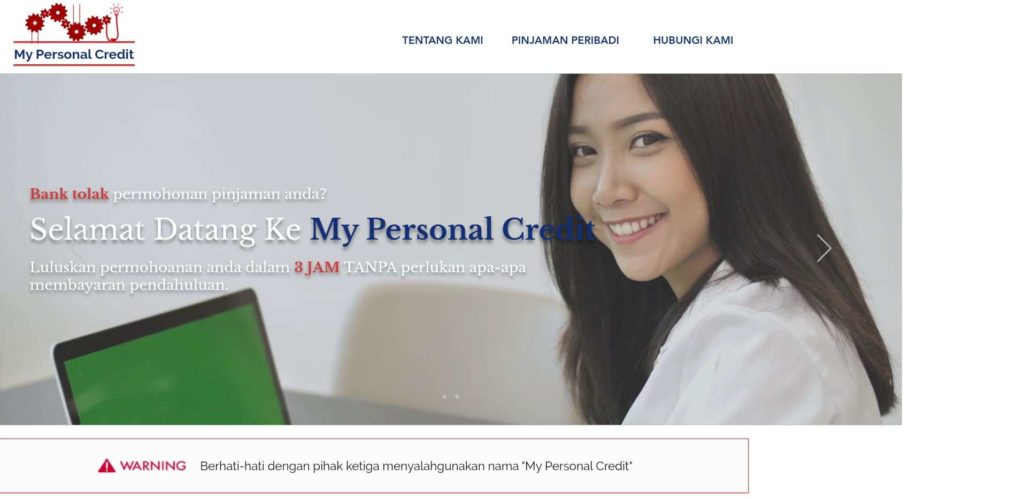 My Personal Credit is a debt consolidation loan company in Malaysia that seeks to make borrowing money quick and easy for those in need.
Those who are blacklisted and bankrupt are eligible to apply for loans at My Personal Credit! The whole process of applying takes around a minute with the approval time being around an hour.
They promise no hidden fees and don't require a lot of documents to be able to process your application. However, they don't specify what documents they do require which can be a bit troubling if you really are in a rush.
Their interest rates are at a fixed 7%-12% and the repayment tenures range from 12 months to 72 months. They have pretty high-interest rates but the ease and speed it takes to loan from them despite any situation you're in make up for it.
Easy application process
Fast approval time
No hidden fees
Blacklisted and bankrupt applicants are eligible
Complaints about customer service
No contact number
4. MPK Loan

| | |
| --- | --- |
| SERVICE | Personal Loans |
| WEBSITE | mpkloan.com |
| ADDRESS | 75-76, Changkat Bukit Bintang, Bukit Bintang, 50200 Kuala Lumpur |
| CONTACT DETAILS | [email protected] |
MPK Loan seeks to provide personal loans to every client that walks through their doors. They try to make every client's experience an easy one but the process varies depending on the client.
Those with stable employment go through a much easier time compared to those who are paid on a cash basis or self-employed clients who have to go through a screening process. Those who are blacklisted are also eligible to apply but will go through the screening process as well.
The good thing is that no matter what your employment status is, the only required document is an SSM registration form! Their application process takes around 2 minutes, the approval time is 30 minutes, and you can claim your cash in an hour.
MPK Loan offers interest rates as low as 1.5% to 4% and their repayment tenures range from 6 months to 72 months.
Minimal documents required
Fast approval time
Low-interest rates
Screening process may take long
5. Maybank2u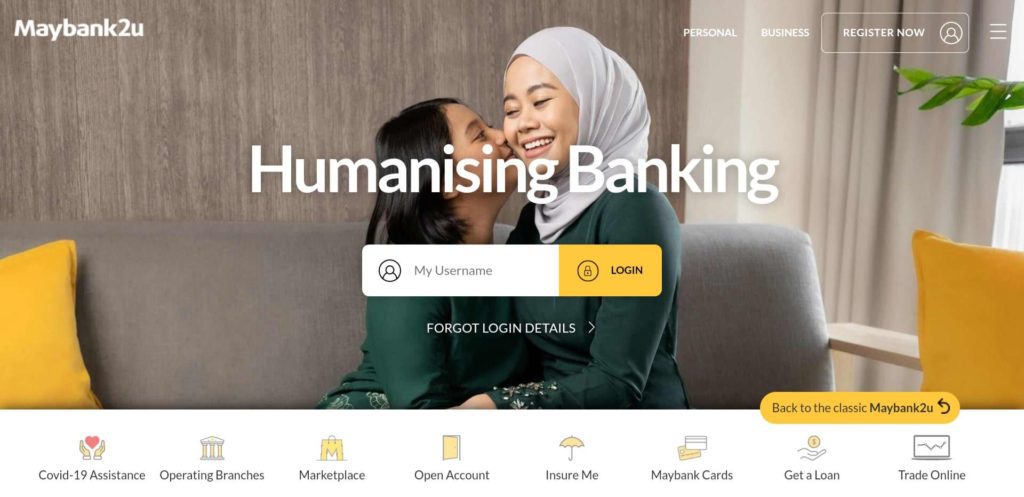 Maybank2u is one of the many branches of the well-known and well-trusted Maybank. One of its services is offering personal loans to help you finance the life you want.
This debt consolidation plan is best for clients with high monthly incomes and who are needing loans for long term plans rather than on the spot loaning. This is because of the various documents, requirements, and the time it takes to apply.
Maybank2u offers a fixed monthly instalment with their minimum loan amount being RM5,000 and their maximum loan amount being RM 100,000.
The interest rates are pretty high at 11.53% to 14.68% per annum but this depends on the loan amount and tenure. Their repayment tenures stand at a minimum of 24 months and a maximum of 72 months.
No processing fee
Fast approval time
High interest rates
High minimum loan amount
FAQs about Debt Consolidation in Malaysia
---
We know that dealing with debt can be frustrating for anyone but we want you to know it's all about trusting the right people and the right companies. With that, we conclude our list of the best debt consolidation companies in Malaysia!
If you'd like to recommend any debt consolidation companies or tell us about your experience with any of the companies in this list, please don't be shy to send us a message! We'd love to hear from you and review your company of choice.
After all this debt business, we're sure you want to start learning more about savings accounts so be sure to check out our article on the best savings accounts in Malaysia.