5 Shops to Find the Best Cookware Sets in Malaysia
The first step in cooking impeccable dishes is to find the right cooking tools. Fortunately, there are many options available for you here in Malaysia.
However, having a lot of choices can sometimes be confusing and overwhelming. Therefore, to help you narrow your search, we've listed our favorite stores with the best cookware sets in Malaysia. 
The Cost of Cookware Sets in Malaysia
The price of cookware sets varies depending on their material. Here is the average price for each type:
| Material | Average Cost |
| --- | --- |
| Stainless Steel | RM 400 |
| Copper | RM 200 |
| Carbon Steel | RM 200 |
| Cast Iron | RM 100 |
| Ceramic | RM 200 |
Best Stores for Cookware Sets in Malaysia
We looked into cookware stores in Malaysia and assessed them in the following areas:
1. Ella Cookware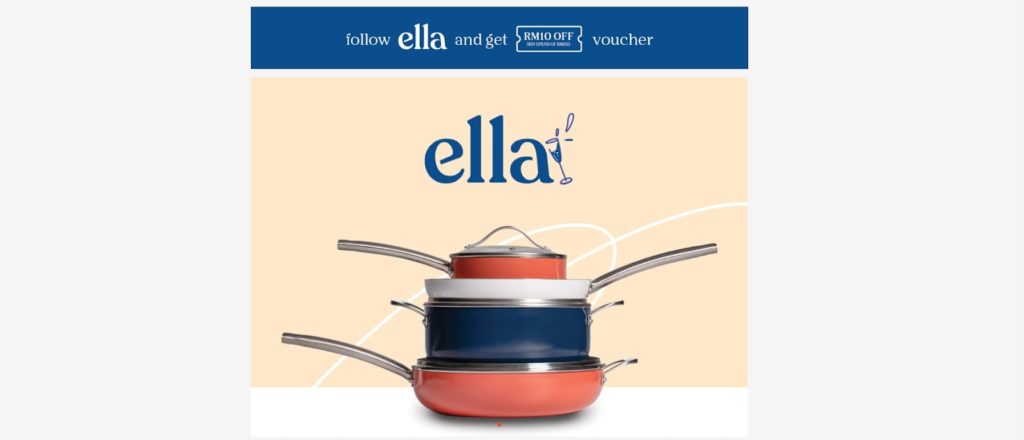 | | |
| --- | --- |
| Quality of service | ★★★★☆ (4/5) |
| Product selection | ★★★★☆ (4/5) |
| Performance | ★★★★★ (5/5) |
| Availability | ★★★★☆ (4/5) |
| Customer service | ★★★★☆ (4/5) |
| Cost | ★★★★☆ (4/5) |
Ella Cookware is known for its colorful ceramic non-stick pans and casseroles.
We like that all their products are non-stick and are made of non-toxic materials. In addition, their products have a mineral-based coating, thus preventing toxic chemicals from mixing into your food.
In addition, its non-stick feature saves you from using butter or oil if it isn't necessary.
Notably, their cookware sets are for all stovetops like ceramic, induction, electric, and gas ranges.
Furthermore, Ella Cookware sets are easy to clean and do not require regular maintenance or seasoning.
However, Ella Cookware has a limited selection since they only focus on ceramic non-stick products, and their store doesn't have other kitchenware like utensils.
Also, we noticed that their prices are slightly pricier than other stores. But we figure it's because of the product's quality, such as using German-made ceramic coating, aluminum cores, and stainless steel handles.
Fortunately, we like that you don't have to worry about shipping fees since it's 100% free.
Lastly, we appreciate that Ella Cookware provides one-year warranties and 30-day returns. So, you can have it replaced due to defects or return it if you aren't satisfied with the sets — free of charge.
Offers free shipping
Provides warranties and accepts returns
Products are non-toxic
Slightly pricier than other
Limited product selection
Customer Review
Works like magic
"Best cookware I've ever had! Pan is beautiful, non stick works like magic.
Definitely recommend to friends and family." – f*****i
Good value
"I am loving this cookware set! It is made well, sturdy and safe." – Ck Chan
2. Carote Official Store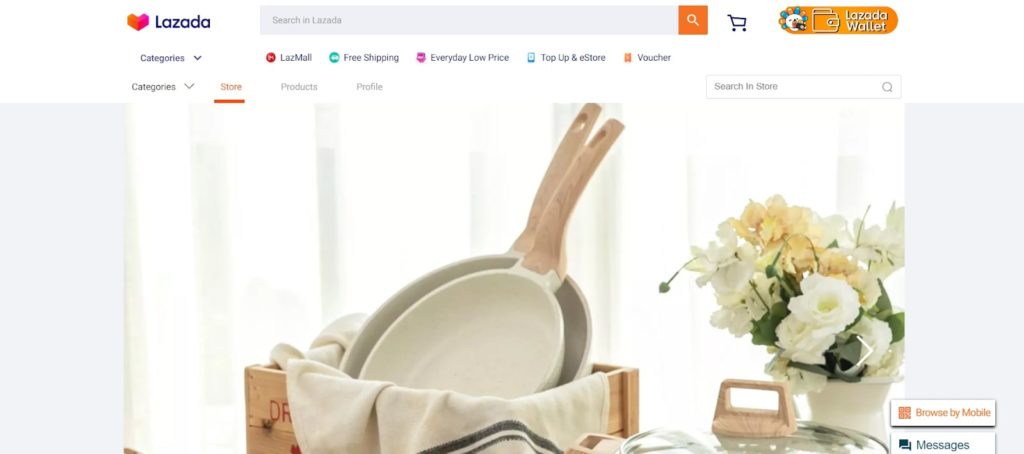 | | |
| --- | --- |
| Quality of service | ★★★★☆ (4/5) |
| Product selection | ★★★★☆ (4/5) |
| Performance | ★★★★★ (5/5) |
| Availability | ★★★★☆ (4/5) |
| Customer service | ★★★★★ (5/5) |
| Cost | ★★★★☆ (4/5) |
Carote Official Store provides kitchen-related products like cookware sets, woks and pans, kitchen appliances, utensils, and pots and saucepans.
We learned that the material for their cookware sets is mainly granite, which we like since it is non-toxic and non-stick.
On that note, we are impressed that their products are FDA-approved, making their claims of no lead and no harmful chemicals more credible.
On the downside, we noted that their cookware sets are only mainly made of granite, so cast-irons or stainless steel sets aren't available.
But, we have to give it to them because the durability of the granite-coated surface is much longer than iron pans, and it also warms up quickly and holds in heat well. Thus, it conserves energy, especially with gas and electricity.
Another thing we like is their fast response time and delivery services. For instance, a customer contacted the Carote Official Store concerning a missing lid, and they sent one immediately and received it within two days.
Apart from this, they also provide a 15-day return policy if you decide you don't want it. We also appreciate their one-year product warranty, granting customers the peace of mind they need.
Finally, we commend their logistics, particularly with their well-packaged products, to ensure that your cookware sets arrive in good condition.
Offer FDA-approved products
Provides 1-year warranties and return policies
Fast response time and delivery 
Well-packed products
Limited product material selection
Customer Reviews
Beautiful cookware
"I bought a set of Carote to use in our vacation home and decided to try it out before taking it there. That was it! This cookware was staying home for everyday use. Besides the fact that it is gorgeous, it cooks and cleans like a dream. I'll purchase a second set for the cabin!" – Diane Vishnia
Outstanding
"I highly recommend that you buy Carote cookware! I had bought the Brown Granite 10pc set it matches my kitchen perfectly. This cooking set is remarkable! Fantastic! Very, easy to clean and superior to cook with. I will be buying the Off-White Set also." – Tracy Johnson
3. Dafeike Official Store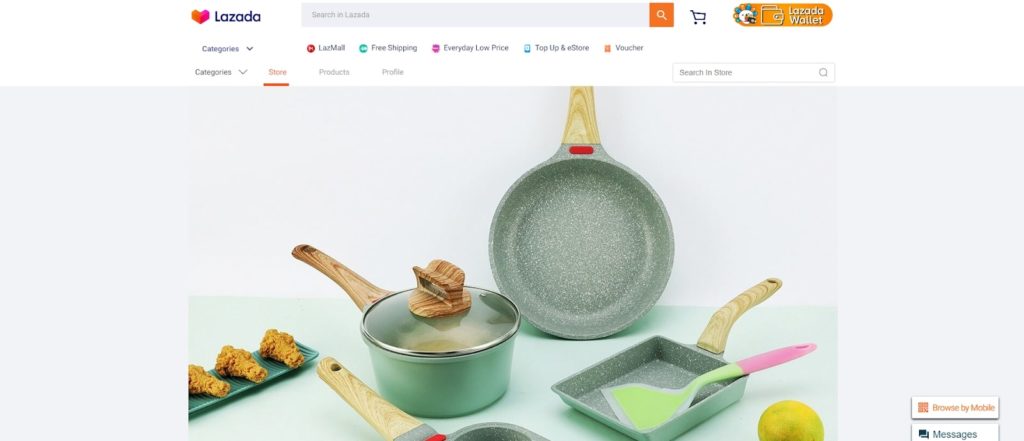 | | |
| --- | --- |
| Quality of service | ★★★★☆ (4/5) |
| Product selection | ★★★★☆ (4/5) |
| Performance | ★★★★☆ (4/5) |
| Availability | ★★★★☆ (4/5) |
| Customer service | ★★★★★ (5/5) |
| Cost | ★★★★★ (5/5) |
Dafeike Official Store sells many kitchen- or cooking-related products and accessories. Some products include cookware sets, utensils, baking accessories, and dish racks.
They lean towards non-stick marble-coated pans and carbon steel woks, for which we heard great feedback regarding their function and quality from customers.
What we like most about them is their affordable and competitive pricing, like five-piece cookware sets for as low as RM77.10! We think their prices make it more accessible to the masses.
On top of that, Dafeike offers many deals and discounts, given that most of its products are already affordable. We are also appreciative of the freebies they include for selected products.
But, we are a bit concerned after hearing some reports of minor product damages, such as dented lids or poor packaging.
And unfortunately, we found that Dafeike doesn't provide warranties for their products. That's why we suggest customers thoroughly inspect the product once it arrives so you can qualify for their seven-day return policy if there are any defects or issues.
On a positive note, we are pleased with their customer service and responsiveness — a 100% response rate!
Overall, we think Dafeike Official Store is a solid choice to buy cookware sets if you want high functionality while on a tight budget.
Very responsive seller
Has competitive pricing 
Offers many deals and discounts
Some minor damages 
No warranty 
Customer Review
Good value
"Good value for money! I will buy again." – E***e
Worth it
"Fast delivery. Really non-stick at all. Cheap and worth it. Buy it." – Tiffanny L.
4. Tefal Certified Store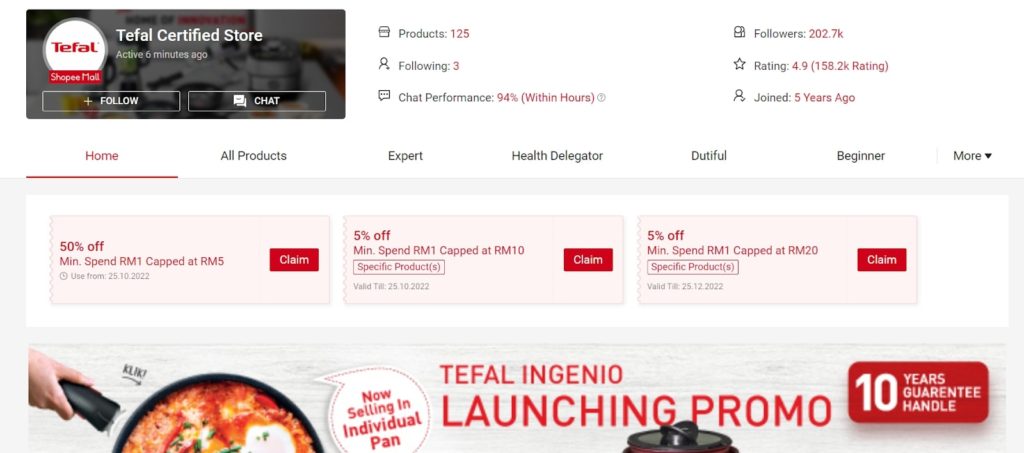 | | |
| --- | --- |
| Quality of service | ★★★★☆ (4/5) |
| Product selection | ★★★★★ (5/5) |
| Performance | ★★★★☆ (4/5) |
| Availability | ★★★★☆ (4/5) |
| Customer service | ★★★★★ (5/5) |
| Cost | ★★★★☆ (4/5) |
Tefal Certified Store offers various cookware and kitchenware, electrical cooking, linen care, and home cleaning products.
We like that they have a wide selection of cookware sets, from three-piece to eight-piece deals. Most of them are made of aluminum with a non-stick titanium coating.
Remarkably, many cookware sets have thermo-signal technology, wherein a spot on the pan lights up to indicate an ideal temperature to start cooking.
We also give props to their products since they are approved by the European Food Safety Authority. This is helpful because we think it is crucial for customers to feel safe with what they use for cooking.
However, we are a bit iffy with their inconsistent delivery duration, which is usually due to their logistics.
In addition, we noted reports about their poor packaging causing minor damages to some products.
Fortunately, they provide a two-year warranty for their cookware sets, so rest assured you won't have to spend extra on getting a replacement.
Lastly, we like to highlight that Tefal has physical service centers to address concerns and complaints. Thus, if your cookware coating starts to peel off after you receive it or even use it for more than a month, you can head to the service center to resolve it.
Has a wide selection of cookware sets 
Products approved by European Food Safety Authority
Provides two-year warranties
Has physical service centers
Can improve on the packaging
Some slow delivery complaints
Customer Reviews
Easy to clean
"The frying pans are durable and extremely easy to clean. The first time I used the pan, I cooked scrambled eggs and it was very easy to clean afterwards." – Sandi
Super
"It was super! It heated evenly and cooked well. Did not have any issues with cleaning." – Kristie
5. 168 Idea Concept Sales

| | |
| --- | --- |
| Quality of service | ★★★★☆ (4/5) |
| Product selection | ★★★★☆ (4/5) |
| Performance | ★★★★☆ (4/5) |
| Availability | ★★★★☆ (4/5) |
| Customer service | ★★★★★ (5/5) |
| Cost | ★★★★★ (5/5) |
168 Idea Concept Sales provides many products, such as cookware sets, plates and bowls, food containers, cutlery, furniture, bedding, wall decor, and bottles.
Apart from these, we also like that they have multiple options for their cookware sets, from stainless steel to enameled cast iron pots, pans, and casseroles.
Furthermore, it's also a plus that the prices of their two to ten-piece cookware sets are very affordable and highly competitive than most on this list. And we noticed that the quality is reasonable and good, given its low price.
On the downside, we have noted multiple complaints about product damages, specifically with dents on stainless steel sets.
We also think it's a shame that 168 Idea Concept Sales doesn't provide warranties for their products.
That said, we highly encourage you to assess the products you receive and return them within seven days if there are any issues to qualify for their policy and get a refund.
Conveniently, we like that they are very responsive, so don't hesitate to enquire or relay any concerns through online chat. For instance, the store assisted a customer who had issues with the courier, which was resolved soon after.
Ultimately, 168 Idea Concept Sales is best for those who plan on buying many cookware pieces at the lowest price possible without sacrificing its quality.
Has a wide selection of cookware
Has competitive prices
Very responsive
Product damage complaints 
No warranty
Customer Review
Better than expected
"Good quality material. Better than expected. Very useful." – R***
Love it
"Excellent product! I love it." – J***
FAQs about Best Cookware Sets in Malaysia
---
Are you looking for a more versatile way to cook? Check out our list of some of the best slow cookers in Malaysia for more convenience in the kitchen!