5 Firms for the Best Condo Interior Design in Malaysia
Featured Image Source: Zaji Kanamajina via Unsplash
Condominiums are typically more affordable than houses at the cost of having smaller spaces to work with. This means that you'll need a lot of planning and creative skills to create an interior design that maximizes your space and is aesthetically pleasing and comfortable to live in.
To help you bring out the best qualities of your unit, we've listed down the leading firms that offer the best condo interior design in Malaysia. We scoured the country for the coolest-looking condo designs, checked the firms responsible, reviewed their portfolio, read through their achievements, and noted down their details to give you the best recommendations possible.
Best Condo Interior Design in Malaysia
Are you renting out your unit or planning to live in it? Either way, the design firms on our list can give you the finest condo interior design in Malaysia that suits your specific needs.
From trophy cabinets to gaming rooms, your place can be an extension of your personality when you choose the right designer for the job. So without further ado, here are our favourite firms that can help you achieve the best condo interior design in Malaysia.
1. ATAP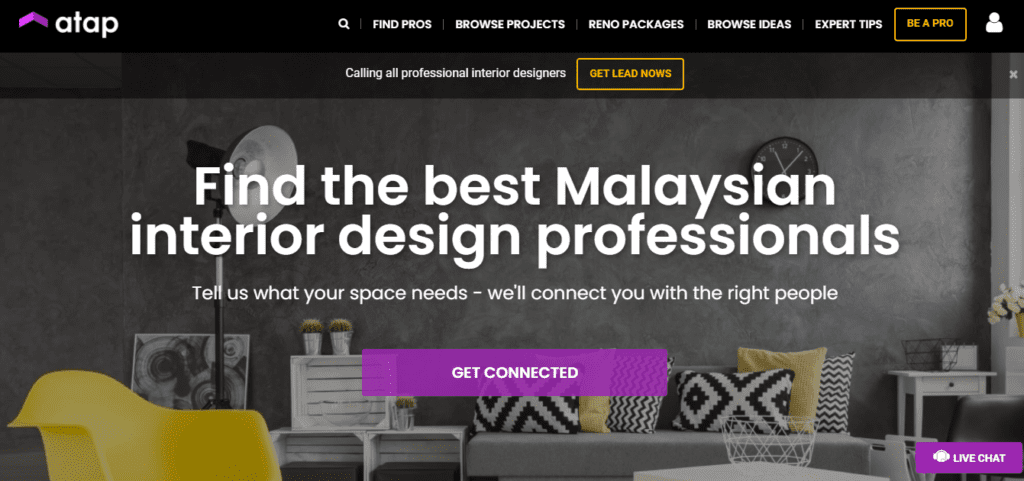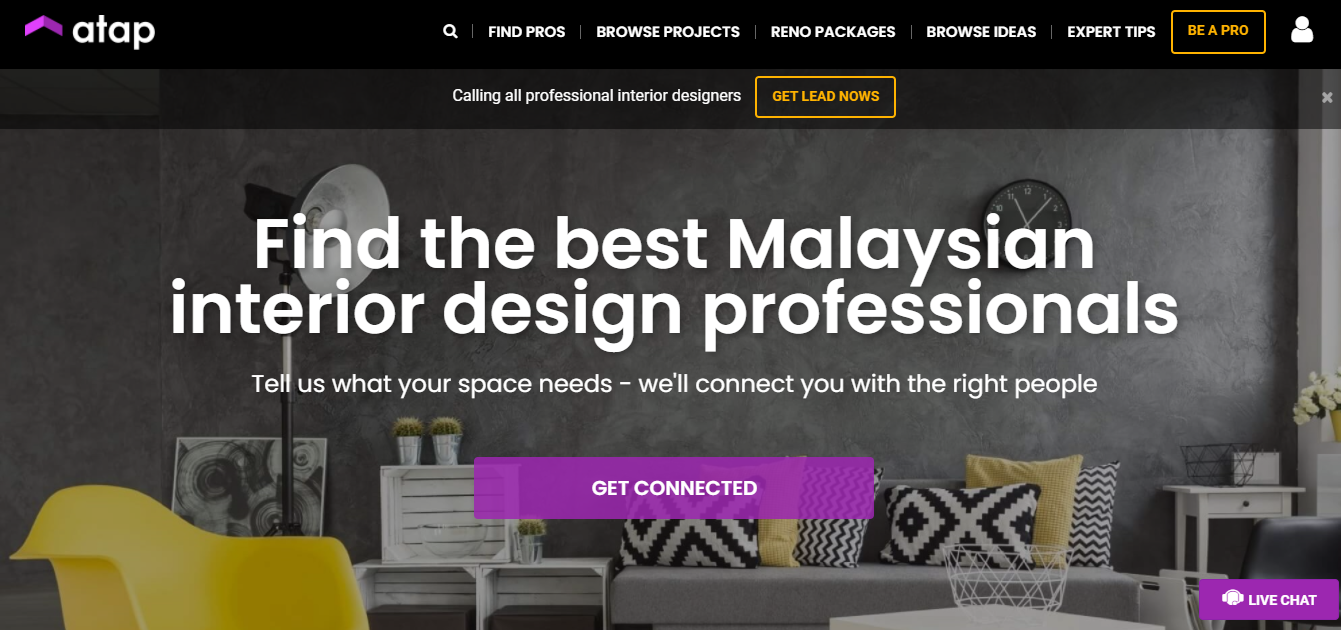 Designing interiors so that they have the Scandinavian style is no easy feat. You have to take into account various things, such as the colors, shape of the tables, structures of the chairs, and more.
This is where ATAP can help you. They are an interior design and renovation consultation service that can help you look for a professional who can decorate your home so that it is characterized by minimalism, simplicity, and functionality– all the factors that are found in Scandinavian interior design.
Unlike other companies, when you work with them, you can expect that they will take into account your various insights when providing you with a list you can choose from. This includes what your property type, size, and location is as well as your budget and preferred interior style.
We definitely recommend them if you want to figure out how to make the best out of your space!
Offers free quotes
Wide range of interior designers to pick from
Prompt services
Contact number is not available
2. TODO DESIGN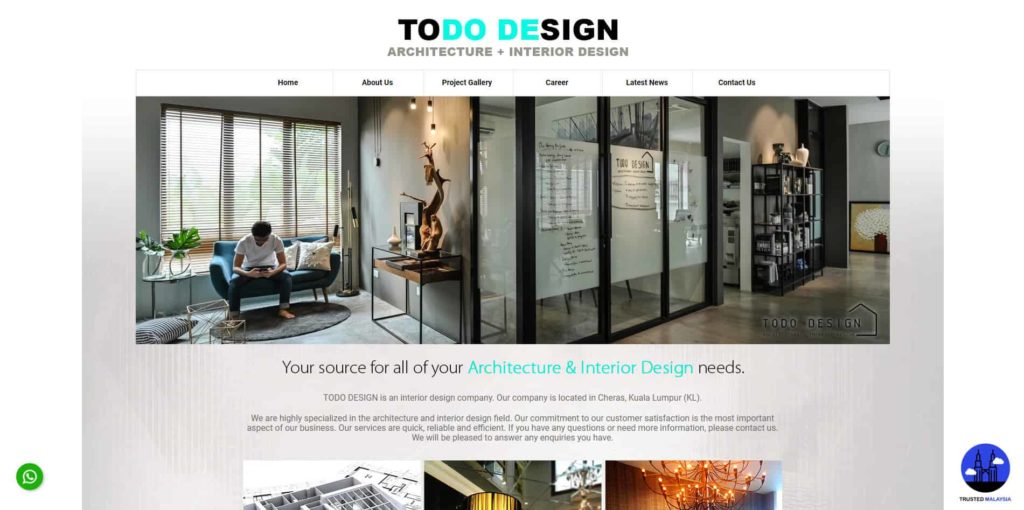 WEBSITE
tododesign.com, Facebook, Instagram
SERVICES
Interior design, architectural design
OFFICE HOURS
Monday – Friday: 9:00AM – 7:00PM
Saturday – Sunday: Closed
ADDRESS
15, Jalan Suasana 5/3, Tun Hussein Onn, 43200 Cheras, Selangor, Malaysia
CONTACT INFORMATION
Email:

[email protected]


Contact Number: +6012-331 8314, +603-9547 4897
Are you looking forward to owning your dream home? TODO Design studio can help you transform your condo unit into your dream home in the most cost-efficient way possible.
To ensure the quality of their projects, their interior design work includes carpentry, plumbing, wirings, painting, furniture, and more.
They provide comprehensive interior design work including carpentry, plumbing, wiring, painting, and furniture to ensure the quality of each project. They are also well-experienced in project areas like bedrooms, dining rooms, balconies, and study rooms, so you're sure that their designs work seamlessly from room to room.
If you check their website and social media accounts, you'll see a handful of their condominium projects that have clean, elegant, and minimalist designs.
Even though they have flexible styles, you can tell that their speciality lies heavily in modern design concepts that use lines, texture, and colours to create a sleek and luxurious space.
Their projects range from RM35,000 condominiums to RM500,000 commercial spaces that have modern styles that will not disappoint.
If you want your place to have a clean, minimalist, professional, and modern-classical look, TODO Design studio is the right company for the job.
Specialize in home projects
Creates designs that blend classic and modern styles
Also provides exterior design services
Offers budget-friendly designs
No online quotation
Limited details on price and project time frame
3. Millimetre Design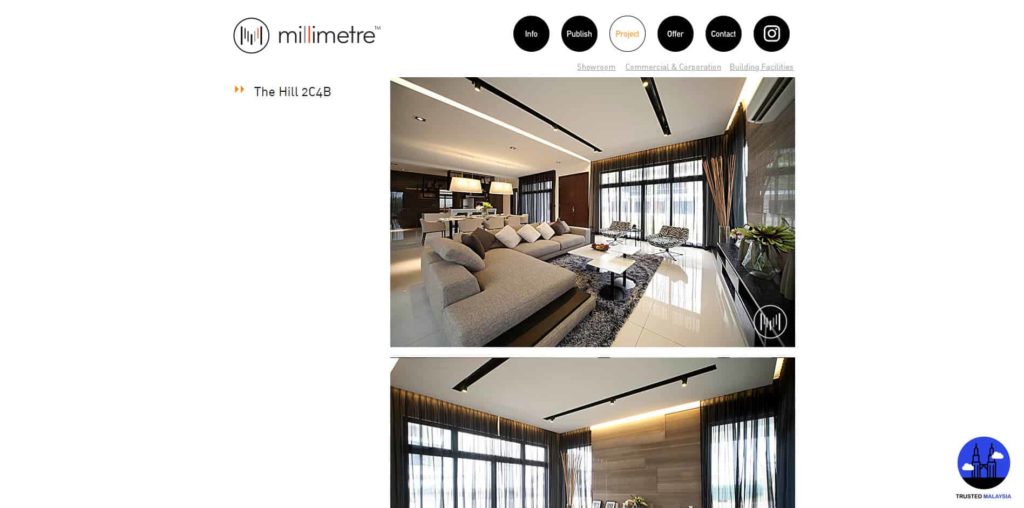 WEBSITE
mmdesign.com, Instagram
SERVICES
Interior design, consultancy, renovation, contract management
OFFICE HOURS
Monday – Friday: 10:00AM – 7:00PM
Saturday – Sunday: Closed
ADDRESS
No.J7-3, Pusat Perdagangan Bandar Bukit Jalil, Jalan Persiaran Jalil 1, Bukit Jalil, 57000 Kuala Lumpur, Malaysia
CONTACT INFORMATION
Email:

[email protected]


Contact Number: +603-2770 7008, +603-2770 7018
If you want to have a unique looking place, Millimetre Design studio is perfect for the job. They made our list primarily for their creative designs that stand out from the competition and leave lasting impressions.
Despite their contemporary and minimalist style, they still find ways to add interesting elements that give each of their projects a unique characteristic. Whether it's from colorful rugs, unique adornments, colorful furniture, or unexpected color schemes, they know how to make a room stand out.
To achieve a personalized style, they provide design conceptualizations and consultancy services for their clients. This means that you can expect close collaborations with their team to create a space that incorporates your taste and exceeds your initial vision.
They also provide renovation fit-out which means that you can transform your newly-built condo unit into the space of your dreams. Their services cover things like wirings, cables, carpentry, personalized decor, and furnishings so you can use your space as soon as possible.
As a design firm that deals with residential, commercial, corporate, hospitality, and other types of projects, you can expect top-quality results from them. Though they may charge higher than your average firm, they do provide detailed service coverage as well as an impressive portfolio to back up their price.
Provides a detailed list of services
Diverse portfolio
Very unique interior designs
No online quotation or inquiry services
High project budgets
4. inD'finity Design (M) Sdn Bhd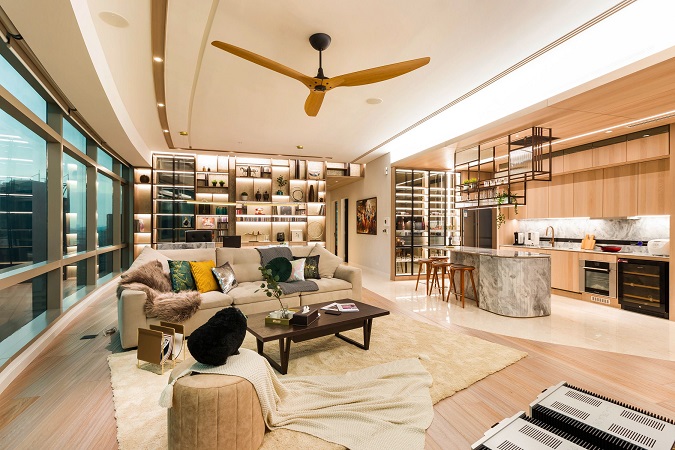 WEBSITE
indfinitydesign.com, Facebook
SERVICES
Interior design, architectural design, space planning, onsite supervision, installation, budget management, and more
OFFICE HOURS
Monday – Saturday: 9:00AM – 5:00PM
Sunday: Closed
ADDRESS
No.A-3A-3, Level 6, Block A, Menara Uncang Emas (UE3), No.85, Jalan Loke Yew, 55200 W.P. Kuala Lumpur, Malaysia
CONTACT INFORMATION
Email:

[email protected]


Contact Number: +603-9283 0992, +6011- 5921 8665
You don't have to worry about where to hang your jacket or place your umbrella because the designers in inD'finity Design will do all that for you. Their attention to detail is very evident in their portfolios as every piece of furniture has a functional purpose hidden behind their aesthetic appeal.
They mainly provide interior design services for residential and commercial spaces all over the country. Their services cover internal space planning, conceptual design, schematic design, detailed interior design documentation, evaluation, construction, installation, site supervision, cost management, and more.
The most unique aspect about this firm is its versatility when it comes to interior design because they use various types of design concepts like a modern classic, contemporary, urban luxury, and colonial tropical style. This means that they can give your condo a refreshing look that you won't typically find in Malaysia.
With over 40 talented and qualified personnel and various projects overseas, this design firm has the experience to create the interior of your dreams. Their wide range of services also ensures that you get a precise and hassle-free renovation.
Shows the time frame of their projects
Provides budget-friendly designs
Diverse design concepts
Open on Saturdays
No online quotation and inquiry services
Customer Review
One of their customers, KaniShen Balakrishnan, wrote this comment:
"I have seen their works personally and will vouch for this company….beautiful design and aesthetically pleasing"
5. Zyon Interior Design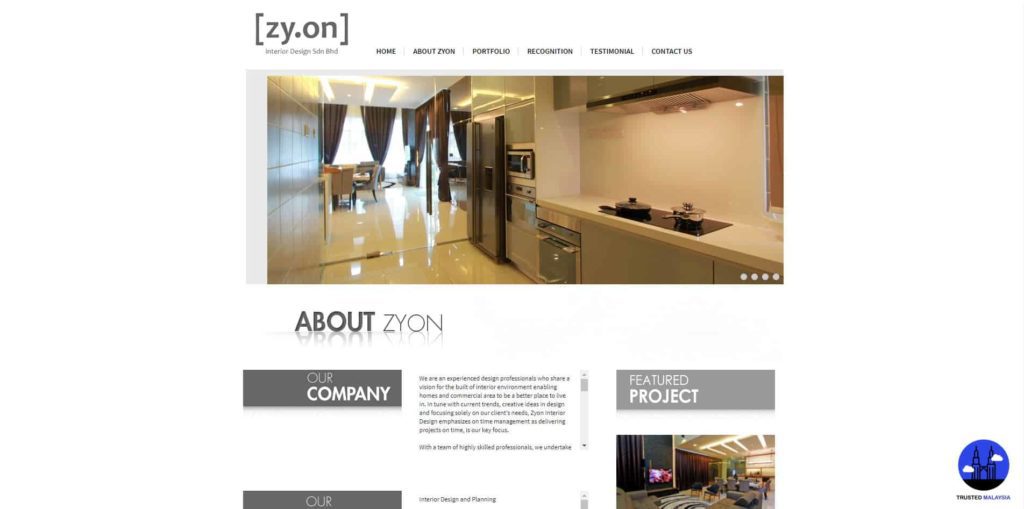 WEBSITE
zyon.com, Facebook
SERVICES
Interior architecture, conceptual design, space planning, furniture design, project management, cost consultation, and more
OFFICE HOURS
Monday – Friday: 9:00AM – 6:00PM
Saturday: 9:00AM – 1:00PM
Sunday: Closed
ADDRESS
42-3, Jalan PJU 5/9, Dataran Sunway, 47810 Petaling Jaya, Selangor, Malaysia
CONTACT INFORMATION
Email:

[email protected]


Contact Number: +603-6148 1989, +6012-929 7629 (Zoe), +603-6148 2989 (Fax)
The first thing you should look for is to find a sense of calmness within a space as soon as you enter the room. The designers in the Zynon Interior Design can pull that off perfectly through their fondness of wide spaces, minimalist design, light colour scheme, and unobtrusive furniture choices.
They provide extensive services from detailed planning to project management and final delivery so that you don't have to spend hours inspecting the progress every day. Their services also include architectural planning, conceptual design, furniture design, and cost consultation to keep your project in check.
You can find dozens of their residential projects on their website that showcase very clean, modern, and spacious interior designs.
Most of their designs have wall-mounted TVs, wide living rooms, minimalist furniture, matt or textured walls, and chromatic color schemes, to name a few.
They use current trends and contemporary design concepts to find solutions for their client's needs and also focus on completing projects on time. This makes them a perfect choice if you want a quick renovation to make your place look as good as the best condominiums in town.
A lot of photos of residential projects
Easy-to-navigate website
Open on Saturdays
Online inquiry and booking available
No details like project budget and time frame online
No detailed list of services
No online quotation
Customer Review
Their client, Rajan Gomez, wrote this review:
"I love the professionalism as they always try to meet within the promised time frame. What makes Zyon diffrent is that they really make the effort to understand their clients' needs and expectations. Defiantely look forward to work with them on future projects."
FAQs About the Best Condo Interior Design in Malaysia
---
Whether you're planning to rent your condo or live in it, you can fully enjoy your space with the best condo interior design in Malaysia. And with the help of our recommendations, your luxurious dream home is only a call away from becoming a reality.
Did you find our list of the best condo interior design in Malaysia helpful? Tell us your thoughts by sending us a message and we'll get back to you as soon as possible.
Interior designers are great for condo renovations, but you'll need an architect for bigger projects that need to be built from scratch. To help you build structures from the ground up, we can recommend the best architecture firms in Kuala Lumpur who can help you out.