The 6 Best Car Rental Services in Kuala Lumpur
Whether you're renting a car in Kuala Lumpur for work or for pleasure, a good car rental service is the key. It makes the whole process from inquiring to the handling of documents to actually driving the car becomes much less of a headache.
This is why we put together this list of the best car rental services in Kuala Lumpur. Come and learn everything there is to know about it!
How Much Does Car Rental Cost in Kuala Lumpur?
While each car rental service is different, the price you pay is generally largely dependent on the type of car you're planning on renting. Here's the average cost of car rental payment per day in Kuala Lumpur:
| | |
| --- | --- |
| Car Type | Average Cost per Day |
| Economy | RM 91.53- RM 145.62 |
| Intermediate | RM 241.31- RM345.32 |
| Full-size | RM 282.91- RM 482.62 |
| SUV | RM 224.67- RM 449.33 |
| Van | RM 237.15- RM 361.96 |
The Best Car Rental Services in Kuala Lumpur
Now that you know how much these services could be, let's learn all about the best car rental services in Malaysia themselves!
1. NEXX Car Rental
SERVICES
Car rental, service apartments, chauffeur, airport transfer, road trips, and weddings.
WEBSITE
https://nexxcarrental.com/
ADDRESS
726, Off Jalan Ipoh Batu 4 1/2,51200 Kuala Lumpur Malaysia.
CONTACT DETAILS
+6010-562-1195 (express WhatsApp booking)
[email protected]
OPERATING HOURS
Monday – Saturday, 9:00 AM – 10 PM
Sunday, 9:00 AM – 3 PM
RESERVATION HOURS
Monday – Friday, 09:00 AM – 5:00 PM
Nexx Car Rental is a humble company that provides car rental services to international and local travelers visiting Kuala Lumpur, Malaysia. They offer one of the most competitive rental rates with the addition of providing a fuss-free customer experience.
The cars they possess are assured to be well-maintained and of great quality, ensuring they are up to high standards. You can select from a variety of cars from super sports, economy, premium, or sports luxury cars.
We were astonished by their fast response on taking in reservations, it made the booking process smooth from start to finish. It is also easy to get a last-minute car although the chat response for non-reservations might be a bit late.
The renter's requirements are minimal, you just need a passport / MyKad / IKad, a diverse license, utility bills, and a form of identification such as a work I.D. or student I.D.
It is important to take note that cancellations on public holidays, the festive season, early returns, and last minutes are non-refundable. You can only get a 100% refund if you were to cancel 14 days before the rental date.
Wide variety of cars to choose from
All cars are clean and deliver high performance
Provides wedding car rental 
No 24/7 service
Cancellation is non-refundable during public holidays and festive seasons
Customer Reviews
Very responsible and fast response
"Andrew is a very responsible, fast response young man. He will take care from A to Z for my request on the Hyundai Starex Grand. The Car was delivered and pick up service from my house. (with no charge). The car condition is tip top, most important is clean. I will highly recommend to my friends and family members." – Hew Cody
Really good experience!
"Really good experience!! Always get a response in a timely manner. The owner go all out to make sure I get the car within my budget. Experienced a minor hiccup once and it was solved without much hassle. Keep it up!!" – Fatimah Hani Hassan
2.   Suria Car Rental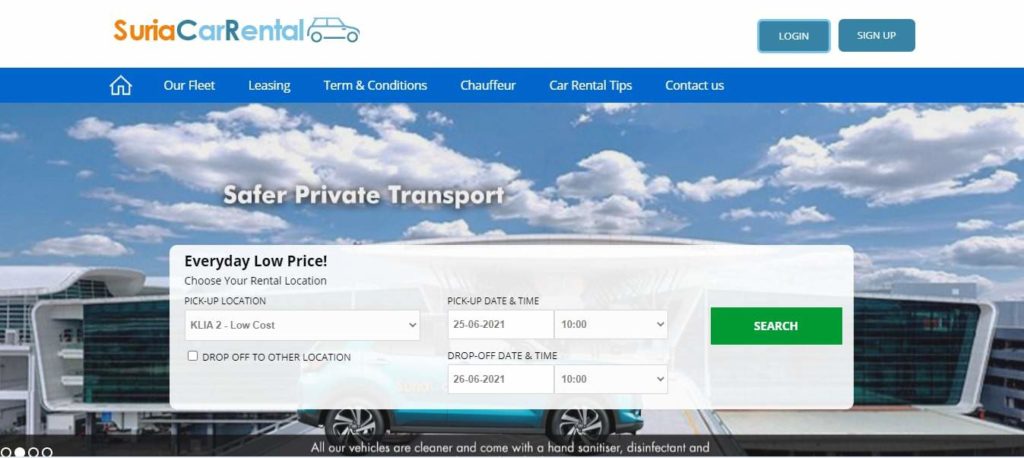 | | |
| --- | --- |
| RENTALS | Small cars, Medium cars, Full-Size cars, Small MPVs, Fullsize MPVs, Luxury MPV, Van, SUV |
| WEBSITE | https://suriacarrental.com.my/ |
| ADDRESS | No 22 Jalan CTA 2 KLIA, Sepang, 64000 Sepang, Selangor, Malaysia |
| CONTACT DETAILS | +60 12-307 2273 |
| OPERATING HOURS | Open 24/7 |
Suria Car Rental offers its car rental services in Johor, Sabah, Pulau Pinang, and Kuala Lumpur.
Unlike most car rental services, they offer a minimum contract of one day. This makes it ideal for those who need the car on a more short-term basis.
For short-term rentals, they charge different cancellation fees which can be a hassle to keep track of. However, their steep prices range from RM 68 to 158 so we recommend being sure before booking anything with them.
In contrast, their long-term leases face hassle-free termination. For long-term leases, you get to enjoy regular servicing, 24-hour breakdown service assistance, accident management, and insurance and road tax.
You can get a quote by going on their website and inputting the required details in the search bar that's located conveniently on the left.
Online booking
Regular servicing of the vehicle
Wide range of cars available
Insurance of up to RM 10,000 available
No fixed rate
No delivery of the car to your location
Customer Reviews
Read these reviews left by a few customers of Suria Car Rental:
Very easy and friendly to rent a car online. Strongly recommended to book online before you arrival. They open 24 hrs. Cars are new and perfect condition. Economical rates with best cars. Easy approach at airport. Friendly staff. Even they provided me Toll plaza card as a compliment. -Shani
"Thumbs up for these guy, friendly staff, amasing experience, good and clean cars, mature service, excellent response. Economical rates and good price compared to others. Provide touch n go toll card (which is very useful in KL tolls and paid parking location) with balance 35 rm but i pay them the same amount." -Fahad
3.   WS Rent-A-Car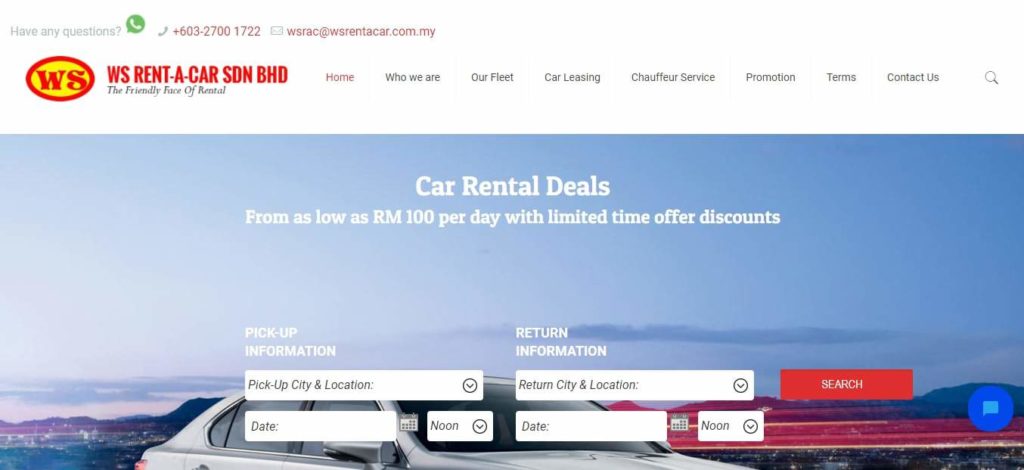 RENTALS
Economy, Compact, Sedan, MPV, SUV
WEBSITE
https://www.wsrentacar.com.my
ADDRESS
G-6, KL Trillion, 338, Jln Tun Razak, 50400 Kuala Lumpur, Malaysia
CONTACT DETAILS
+603-2700 1722
OPERATING HOURS
Mon-Fri 9:00am – 6:00pm
Sat 9:00am – 1:00pm
Based in Kuala Lumpur, WS RENT-A-CAR SDN BHD (WSRAC) has been serving Malaysian tourists and locals alike since 2002.
They have flexible lease options of up to 5 years that come with no hidden fees. Everything's pretty upfront and customers always rave about their customer service.
They give you a free replacement car during times they need to do maintenance on the car or in the event of an accident. Also, in case of issues or emergencies, they provide 24/7 customer service with their Auto Assist (WSAA) team at +1700819910.
For long-term rentals, they give you a fixed monthly cost that already covers the insurance, service and maintenance with unlimited mileage.
Now, let's talk about their insurance. Rental rates already cover theft protection, third-party property damage of up to 3 million, and an unlimited amount in case of third-party injuries.
For additional personal insurance, you can avail of their PAI which covers up to RM 100,000 at RM 10 per day.
They also offer a chauffeur service around Malaysia if you'd be more interested in having someone drive you around.
Check out their average rates per day in the table below:
| | |
| --- | --- |
| Rental Type | Average rate per day |
| Economy | RM 75 |
| Compact | RM 90 – RM 110 |
| Sedan | RM 140 – RM 200 |
| MPV | RM 100 – RM 350 |
| SUV | RM 140 – RM 225 |
Online booking
24/7 customer service
Comprehensive insurance coverage
Charges a 6% service tax
Doesn't offer any luxury cars
Customer Reviews
Here are a few reviews left by satisfied customers of WS Rent-A-Car:
"I always rent car from this company. Their price and service are excellent. They have ability to consult your needs and create plan for you. Staff are nice and friendly. My special thanks to Elina. She always helped me." -Takeshi
"Very friendly and profesional car rent center. And the variety of cars for rent are superb ! All cars are well maintain, as here, there are profesional and experienced mechanics at this center at all time to take care of all cars." -Wong
4.   Europcar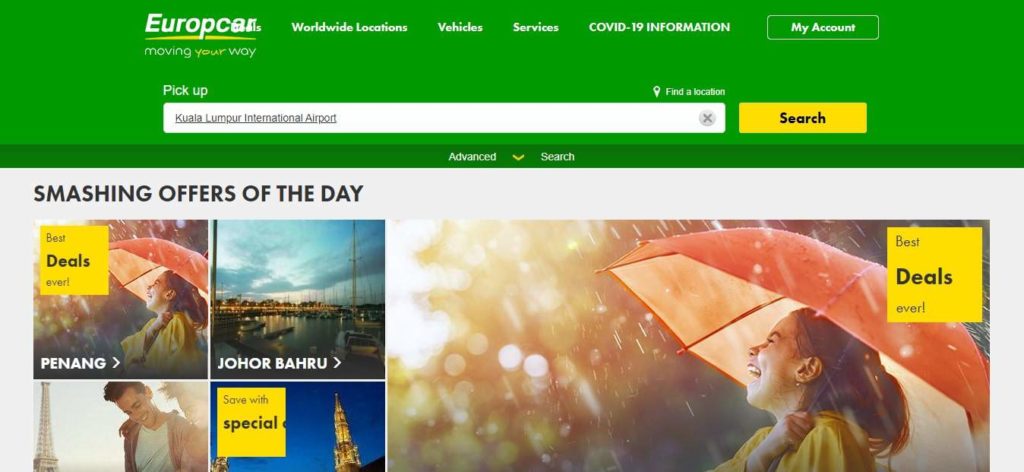 PRODUCTS
Compact, Family, Luxury/SUV
WEBSITE
https://www.europcar.com.my/
ADDRESS
Primary
17-2, Level 17 Wisma UOA II, Jalan Pinang, 50450 Kuala Lumpur, Malaysia
Secondary (Kuala Lumpur International Airport)
Ground Floor Block D, Car Rental, Parking Lot, Sepang, Selangor, 64000 Kuala Lumpur, Malaysia.
Tertiary (Kuala Lumpur International Airport 2)
L1-A08, Level 1, Car Rental Counter, Kuala Lumpur, Malaysia
CONTACT DETAILS
+60 12-329 3070
OPERATING HOURS
Daily (Primary) 8:30am – 5:00pm; 5:01-8:00* (with extra charges)
Daily (Secondary) 9:00 am – 6:00 pm
Daily (Tertiary 9:00 am – 6:00 pm
This international car rental service began in France and has made a home in Malaysia for the past 10 years.
Europcar is mainly marketed towards tourists or those who travel a lot for work. They have 3 addresses in Kuala Lumpur (two of them being in the airports), which can make pick up and drop-offs easier.
They don't have any defined rates on their website. To get their rates, you have to input the pick-up and drop-off location of the car and the dates you'll be renting it out, then they'll be showing you the available cars on those dates.
The average age of their cars is only one year so you can be sure you're getting one that has no issue to make your trip hassle-free.
To unlock free hires, check out their discounts, and get priority check-in, you should consider becoming a Privilege member. You can learn how by checking their website.
The best thing about Europcar is, since they're international, they have locations in France and Australia. If you ever find yourself in those countries, you can always take advantage of your Privilege membership there too!
Award-winning car rental service
Perfect for frequent travelers
Available for daily, monthly, or yearly rentals
Only available for pick up and drop-off
Very limited range of rentals
5.   The KL Driver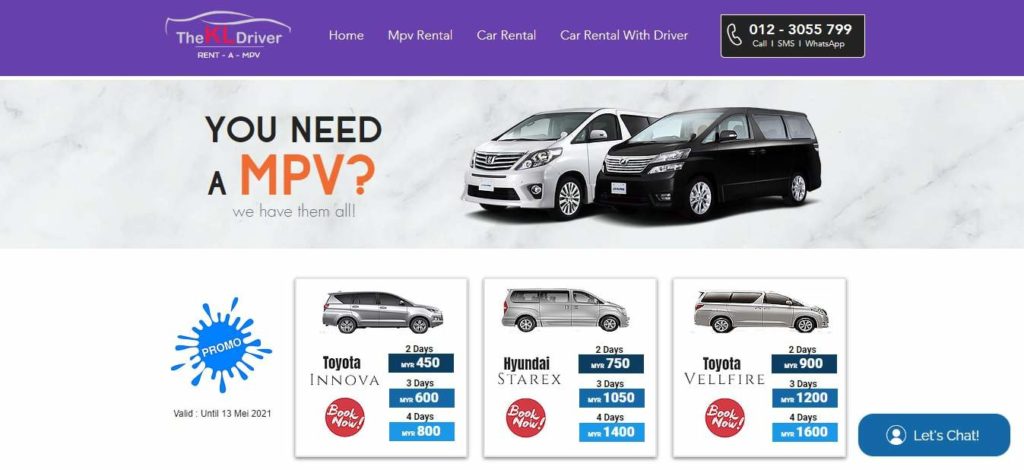 The KL Driver offers 2 to 30-day car rentals in Kuala Lumpur at competitive rates. They also offer free deliveries and pickups as long as it's in Kuala Lumpur.
However, they do have 13 branches all over Malaysia which still makes it easier for pickups and dropoffs especially if you ever go out of town with the car.
They have a limited range of cars compared to other services but, as long as you find what you're looking for, this shouldn't really be a problem. All of their cars have automatic transmission and run of petrol which will save you a couple of ringgits every time you gas up.
Their main clientele is corporate and private clients in Kuala Lumpur and Selangor which is why all of their MPVs are high-class. Now, in line with this, their main service is their car rentals with drivers.
Their chauffeur service is one of the leading ones in Kuala Lumpur so if you're ever in need of one, this might be your top choice.
| | |
| --- | --- |
| Rental Type | Average rate per day |
| Car | RM 550- RM 1100 |
| MPV | RM 225 – RM 550 |
Online booking
Free delivery and pick up within Kuala Lumpur
24-hour breakdown service
Minimum 2-day rental
Maximum 30-day rental
Requires hefty refundable deposit of RM 400
Customer Reviews
Here's a review left by a satisfied customer of The KL Driver:
"booking for group holiday on april. Great service. MPV in good condition. thank you" -Arnie
6.   KLCR Kuala Lumpur Car Rental Service – Rent-A-Car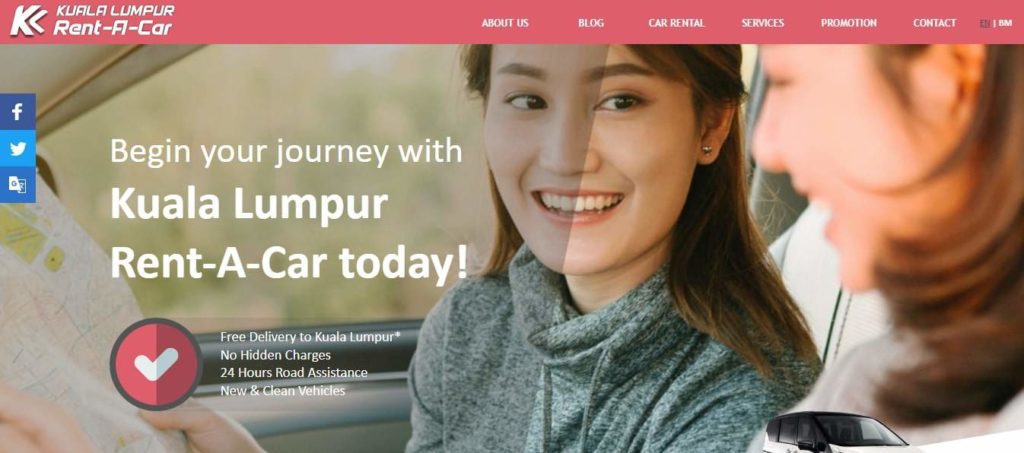 | | |
| --- | --- |
| PRODUCTS | Economy, Premium, Sports luxury |
| WEBSITE | https://www.kualalumpurcarrental.my/ |
| ADDRESS | 726, Jalan Sultan Azlan Shah, Batu 4, 51200 Kuala Lumpur, Wilayah Persekutuan Kuala Lumpur, Malaysia |
| CONTACT DETAILS | +60 10-562 1195 |
| OPERATING HOURS | Open 24/7 |
KLCR Kuala Lumpur Car Rental Service – Rent-A-Car provides budget-friendly car rentals in Kuala Lumpur for a minimum of 2 days.
They require a minimum contract of two days but you can still request a single-day rental. However, this will cost you an extra RM 50 which is pretty expensive.
For those with contracts 30 days and above, they get free petrol and free service and maintenance. Quite a good deal, if you ask us.
Now, if you're ever in need of a car delivery, KCLR offers free deliveries to your exact location. Whether this is at a hotel, airport, train station, or your home.
They also provide 24-hour customer assistance in case of any emergencies.
Note that they have a refundable security deposit that's dependent on the type of car you rent. They also have tons of promotions on their website that you should check out.
Here are the average rates of each car per day:
| | |
| --- | --- |
| Rental Type | Average rate per day |
| Economy | RM 100 – RM 290 |
| Premium | RM 290 – RM 700 |
| Sports Luxury | RM 600 – RM 4000 |
Free delivery to your location
24-hour customer assistance
Free petrol and maintenance for 30 days and above
Lots of promotions available on the website
Requires 100% advance payment for reservations
Charge of RM 50 for 1-day rentals
Customer Reviews
Check out these two reviews left by customers of KLCR Kuala Lumpur Car Rental Service – Rent-A-Car:
"Friendly and Good service. Recommended." -Nur
"clean and cheap car rental. thank you. see you again." -Uma
FAQs about Car Rental Services
---
Now that you know which car rental services to look out for, we hope you have a much easier time planning your trip or deciding which long-term rental you want as you stay in the city.
Please don't hesitate to reach out and let us know which one of our suggestions you decided to go with. It'd be great to hear from you!
Also, if you ever find yourself needing translation services while you're in the city, check out our article on the best translation services in Kuala Lumpur!