The 12 Places with the Best Breakfasts in Penang, Malaysia
Breakfast in Malaysia via Flickr
To jumpstart our day right, we need to eat like kings during breakfast. The most important meal of the day calls for a hearty and wholesome spread of food on the table from the places with the best breakfasts in Penang, Malaysia.
While Penang may not be hailed yet as the official Food Capital of Malaysia, it's a place teeming with good eats and rare finds. We guarantee you the best gustatory experience from these eight best breakfast places in Penang.
1.  MAJ Muslim Food
BEST KNOWN FOR 
Chapati flat bread
OTHER SPECIALTIES
Curry, biryani with curried chicken/beef/mutton, and teh tarik
ADDRESS
47 Ah Quee Street (Lorong Ah Quee), 10300 George Town, Penang
OPERATING HOURS
Monday – Saturday 7:30 AM – 6:00 PM

Sunday: Closed
Penangites flock to this humble resto that's home to the delightful chapati bread. Make sure that you get to the place before the break of dawn because the queue can be long for a freshly-made chapati.
The chapati bread is made right on-the-spot — kneaded and griddle-cooked in front of you. Pair it with some of the best-selling curry of the place for some satisfying comfort eating.
If you stay a bit longer for lunch, you can also get yourself some Tamil-style biryani, another house specialty.
2.  Nasi Kandar Kampung Melayu
While it's quite unusual in other places in Malaysia to eat nasi kandar for breakfast, it's actually a commonplace thing to do in Penang. This hidden gem in Kampung Melayu is one of the best places to get it, in fact.
Compared to other restos that also offer nasi kandar, Nasi Kandar Kampung Melayu gives a hefty serving of rice, chicken, squid, and long beans — all slathered with kuah banjir. Because of the flavourful, masterfully-balanced spices, you'll surely get yourself a second serving.
Nasi Kandar Kampung Melayu serves around 15-20 dishes every day. However, its menu always changes. It's only the Nasi Kandar that remains a staple in it.
And if Nasi Kandar is a bit too heavy for you for breakfast, try its roti canai, which is also a favorite among the restaurant's loyal patrons.
Customer Reviews
Nasi Kandar Kampung Melayu has a pretty big following. As two shared in a review post on Facebook:
"Nasi kandar masa aku membesar, rasa tak ubah sama sampai skrg. Lauk daging dia must a try."
"authentic indian muslim dishes in Penang, Malaysia"
3.  Mee Goreng Bangkok Lane
BEST KNOWN FOR 
Mee goreng
ADDRESS
280, Jalan Burma, George Town, Penang
OPERATING HOURS
Open Daily: 8:00 AM – 6:00 PM

***Except Monday
Get your Mee Goreng fix at this famous food stall in Jalan Burma in Penang. Hailed as the oldest Mee Goreng stall (it was serving Penang even before Malaysia's independence), this Mee Goreng is another crowd favourite.
Managed by a father and son tandem, the Mee Goreng is cooked in large batches and mixed with the usual ingredients like shrimp, potatoes, and yam, including a secret sauce that makes the dish a delicious treat for breakfast.
Make sure you get to the stall really early in the morning because you would not want to wait for half an hour for your generous serving of Mee Goreng. Either way, it's worth the wait.
4.  Roti Canai Sabai Menanti at Gemas Road
BEST KNOWN FOR 
Roti canai
OTHER SPECIALTIES
Curried beef/chicken and teh tarik
ADDRESS
Gemas Road Roti Canai, No. 51, 29, Jalan Gemas, Northeast Penang Island District, Penang, 10200, Malaysia
OPERATING HOURS
Tuesday – Sunday 7:00 AM – 12:30 PM

Tuesday, Wednesday, and Friday 7:00 AM – 12:30 PM and 5:30 PM – 9:00 PM

Monday: Closed
Roti Canai is another hidden gem in Penang at Gemas Road. Start your day right with breakfast that looks light on your plate, but hefty in your tummy and big in flavour and taste.
Located in a narrow off-road in Penang, Roti Canai should not be missed. Delight in eating its famous roti canai with chicken, sunny side-up egg, and onions.
You can also choose to eat your Roti Canai with a big serving of kuah dalca and kuah daging mix. Your day is a sure winner with breakfast at this place.
5.  Bee Hwa Cafe
BEST KNOWN FOR 
Halal food
OTHER SPECIALTIES
Curry mee, Hokkien mee, hailam mee, and birthday mee
OFFICIAL FACEBOOK PAGE
https://www.facebook.com/beehwacafe/?tn-str=k*F
ADDRESS
10 Lebuh Dickens, George Town, Malaysia 10050
CONTACT DETAILS
+60 4-263-6092
OPERATING HOURS
Monday – Friday 7:00 AM – 5:00 PM

Saturday: 7:00 AM – 3:00 PM

Sunday: Closed
Bee Hwa Cafe serves you the best street food and Halal breakfast you can ever have. Serving Penang since 1992, the Bee Hwa Cafe is frequently visited by all who also want to get a taste of traditional Hainanese kopi tiam.
Have your fill of shrimp fried rice with vegetables, topped with fried egg. If that's too much for you, go get yourself a pork-free breakfast sandwich paired with cold espresso to perk you up for the day.
Customer Reviews
Trust the word of mouth and recommendations of customers who've tasted the delicious dishes of Bee Hwa Cafe:
"Best place to eat in Penang for those who want good food but don't want a huge line. The char kweh tiaw is amazing, so hard to find halal chineese style ones and the Hokkien Mee can be served to kings sia. It was that good. Loved the patrons and the aunty cooking in front was so nice to watch. 100% would recommend this place to anyone and hope your business flourishes!!!"
"THE must eatery in Penang with the best authentic CharKoayTeow and flavourful food."
6.  Toh Soon Cafe
| | |
| --- | --- |
| BEST KNOWN FOR  | Kaya toast |
| OTHER SPECIALTIES | Nasi lemak, sambal, and fried ikan bilis |
| ADDRESS | Campbell St., Off Penang Rd., George Town 10100 George Town, Malaysia |
| OPERATING HOURS | Monday – Saturday 8:00 AM – 3:30 PM |
The best breakfast places in Penang are usually the ones that are practically local secrets. This is an example.
Although it's located in a narrow alley, you'll often find hordes of people in queue, waiting to be seated in this rare find in Penang. Trust us when we say you want to join them.
Toh Soon Cafe prides itself on making kaya toast the traditional way — flipped over charcoal. The smell of warm toast and the fragrant kaya are both worth the wait.
Sink your teeth into the buttery kaya toast that's paired with lightly soft-boiled eggs for a wonderful breakfast on the go. Take a sip of your hot coffee with milk in between bites!
Customer Reviews
It's easy to see why Toh Soon Cafe is such a crowd favourite in Penang, Malaysia. As two patrons shared in a review post on Facebook:
"Was our first time here. Definitely a great combination of kaya toast and half boiled eggs. They were busy but we were in and out by 8:30am. Good price too"
"Go here for amazing kaya toast! The bread is toasted over charcoal so it stays light and fluffy on the inside while getting golden and toasty on the outside . The perfect amount of butter and kaya spread over melt into yummy goodness. Then, if you want to get closer to heaven, order a half boiled egg for dipping. Hot coffee with milk is icing on the kaya toast cake. Service can be a bit surly, and seating can be difficult because the place is so popular. But well worth the wait. I'll be back again next time I'm in Georgetown"
7.  Sri Weld Food Court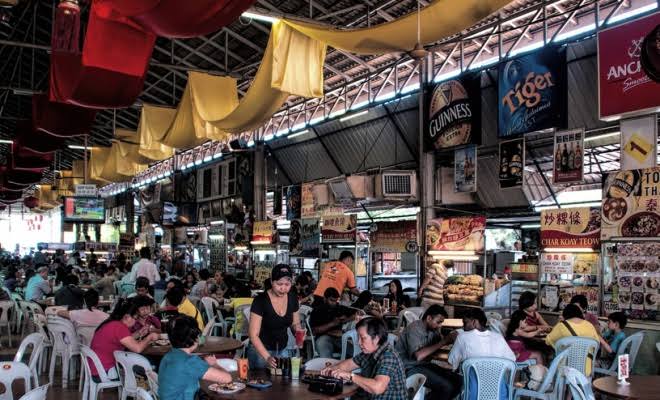 BEST KNOWN FOR 
Char koay teow, beef koay teow, Hokkien prawn noodle, koay teow soup
ADDRESS
21 Lebuh Pentai, George Town, 10200 George Town
OPERATING HOURS
Monday – Saturday 9:00 AM – 3:00 PM

Sunday: Closed
Located on Beach Street, Sri Weld Food Court is another crowd favourite in Penang. It's claim to fame is its breakfast and lunch, both of which are savoury and affordable.
It comes as no surprise that crowds of office workers and tourists alike flock to this food court for some serious eating. While Sri Weld Food Court may not look as attractive as the other food courts in Malaysia, it is filled with a myriad of food stalls to choose from.
You won't fall short of choices in nasi lemak, nasi kandar, laksa, beef noodles, and curry noodles, to name a few. Take your time choosing the food you want from any of the stalls, then have your fill.
Oh, the place comes with a free WiFi, too!
Customer Reviews
Those who've tried the stalls at Sri Weld Food Court are all raving about how delicious and affordable its meals are. Take a look at these two reviews:
"It's a descent food court with lots of hawker stalls near the jetty. Try char koay teow in every hawker stall in Penang is must!"
"Located at Beach Street, this hawker centre is most popular for two things: nasi lemak and beef kuay teow. Nasi Lemak is a fragrant coconut rice dish served with condiments such as a spicy sambal (chilli paste), boiled egg, deep fried peanuts and anchovies, and cucumbers. Beef Kuay Teow on the other hand, is a mild beef soup that has flat rice noodles, and different parts of the cow or buffalo such as the meat, intestines, liver, tripe and etcetera."
8.  55 Cafe
BEST KNOWN FOR 
3D coffee art
OTHER SPECIALTIES
Tapas, desserts, grilled salmon with teriyaki sauce, beef tenderloin with roasting jus, and beef cheeks
ADDRESS
47-55 Lorong Stewart Georgetown 10200 Penang, Malaysia
WEBSITE
https://coffeeatelier.com/55-cafe/
CONTACT DETAILS
+604 261-2261 |

[email protected]

OPERATING HOURS
Monday – Sunday 8:00 AM – 6:00 PM
If you're craving a continental kind of breakfast in Penang, head on to 55 Cafe for some Mediterranean-inspired cuisine. You can get local dishes here too, though.
For example, you can sink your teeth on some kaya toast with fried egg and fruit salad here. For a more western kind of breakfast, choose salmon and eggs, coupled with bacon and toast, or some salmon croissant and scrambled eggs.
Those who are on a diet can have fro-yo parfait with berries and tropical fruits. Don't miss out on its cute customised coffee with foamy bunnies or teddy bears as froth, paired with sweet macarons.
55 Cafe gives you the beautiful combination of great food, coffee, art, and company. Need we say more?
Customer Reviews
Those who've been to 55 Cafe shared their experiences in these reviews:
"This place is together with a gallery and 6 room Hotel (Coffee Atelier). The whole place is a true preserved heritage. Food is nice… breakfast of the guest is being served here with a personal touch of the staff."
"This place is a cute and relaxt place for having breakfast and digging trough your Lonely Planet while enjoying a good cup of coffee. If I was a author of the Lonely Planet I would put 55 café in it. Ruby was a spontanious and good waitress. She also helped us out with out travelplans at Penang. Restroom is clean. Thanks for a 3 days of good breakfast with good crêpes and lots of fresh fruit."
"Very good food, excellent coffee and best staff ever!! I have tried breakfast there as it was next door to my guesthouse. Well, I went back EVERY morning for the next two weeks! The girls are absolument adorable, always polite and smiling. They get to know you and your little habits, and taste… They go out of their way to offer the best of service. My best memories of Georgetown actually! Thanks a million girls. Miss you. :-)"
9.  Auction Room
| | |
| --- | --- |
| BEST KNOWN FOR  | |
| OTHER SPECIALTIES | Afternoon Tea, Set Lunch Menus, Exclusive Auctions |
| ADDRESS | No.36, G-02 Jalan Sungai Ujong, 10100 Georgetown Penang |
| WEBSITE | https://kimberleyhotel.com.my/dining/ |
| CONTACT DETAILS | +604 263 6688 | [email protected]om.my |
| OPERATING HOURS | 7:00 am – 10:00 pm |
We all want good food at affordable prices, which is why Auction Room at the Kimberly Hotel is a must-go for anyone who wants a taste of a wide selection of delicacies that mix the finest ingredients that Penang has to offer with international and local flavours.
Their Fatty Auctions, for example, is the best way to start the day, especially if you have a full one ahead of you. It features baked beans, chicken and turkey ham, and toast alongside a slew of healthy vegetables to get your daily nutrient fix.
If you're looking for something warm and filling still for lunch, then the Lam Mee is the perfect choice for you. The stock used is homemade, infused with the flavours of vegetables and the sea. The dish is served with tiger prawns, chicken meat, and egg.
Aside from the extensive menu, Auction Room also boasts a comfortable ambiance and great service. Not only that, but they also hold exclusive auctions for rare antiques at the location every month. This restaurant is truly a must try for both locals and tourists alike.
Customer Reviews
Those who've been to Auction Room shared their experiences in these reviews:
"Everybody says the food in Penang in amazing, but I wasn't really impressed until I ate at the Auctions Rooms. Finally, to find some hot freshly cooked food, and salads and vegetables, what a saviour! Have the spaghetti with mushrooms! But what's better than the food is the service. Ask for the waiter, Jamal, he is such a great guy!"
"I'm a hotel guest at the Kimberly Georgetown hotel and therefore I visit this cafe everyday during my stay as it is next to the hotel. Food and drinks are excellent with good price. The restaurant is very cosy and I often sit here for around 2 hours to do my work. They also provide a very good service. Waiters are friendly. Jamal is a very dedicate waiter and he's been so helpful to customers. I'll definitely come back here if I visit Georgetown again."
10.  Black Kettle
BEST KNOWN FOR 
Fresh Pastries
OTHER SPECIALTIES
Fusion Food, International Cuisine
ADDRESS
105, Beach St, Georgetown, 10300 George Town, Penang
WEBSITE
http://www.blackkettle.com.my/
CONTACT DETAILS
[email protected] | +604 251 9270
OPERATING HOURS
9:00 am – 11:30 pm (Sundays to Thursdays)

9:00 am – 12:00 mn (Fridays and Saturdays)
Black Kettle is one of the most well-rounded dining experiences in all of Penang. The cafe, while quaint looking, boasts a large space with various seating arrangements possible. High stools, regular chairs, and sofas — they've got it all.
But the calming ambiance isn't the only reason people flock to the cafe. Their food is exceptional as well, the menu boasting a slew of different flavours — ranging from local tastes, to fusions and international flavours.
Their pastries are literally to die for, especially the croissants! All are fresh made and created with the finest ingredients that Penang has to offer. Pair it with their coffee, and it'll be one of the best breakfasts you'll have yet.
If you want something heavier, their menu also offers different types of eggs for breakfasts, and meal dishes for the rest of the day. This is truly the best food package you can get locally.
Customer Reviews
Those who've been to Black Kettle shared their experiences in these reviews:
"This is a lovely café. I took a whole bunch of kids here on a trip. The owner of the café was super nice and the selection of cakes and pastries was great. It's less busy than China House down the road and just as good."
"Don't let the frontage fool you. As you enter this corner cafe, you are greeted with a view of a spaciousness. Rows of pastry-lined up accompany your walk inside. This is a rather unique was of greeting guest… I like 😉 The menu is well designed and very interestingly curated. Chill over coffee and finish the evening with dinner; that is what I would do and actually did 🙂 Choose from a variety of seating arrangement; high stool high table, cafe chairs, benches, casual dining etc. I took the one on the right-hand side beside the green 'living' wall with a high air well; spaciousness. All in all a rather beautiful and delicious sojourn at the Black Kettle.ps: I heard they have a rubber stamp of their logo for your journal."
11.  Sim Nam Huat Roasted Chicken and Duck Rice
BEST KNOWN FOR 
Roasted Chicken
OTHER SPECIALTIES
Duck Rice
ADDRESS
10C AYER ITAM MK 16
PULAU PINANG
11500 AYER ITAM
Pulau Pinang
Malaysia
WEBSITE
https://sin-nam-huat-roasted-chicken-and-duck.business.site/?utm_source=gmb&utm_medium=referral
CONTACT DETAILS
012-626 4829
OPERATING HOURS
9:00 am – 9:00 pm
Sin Nam Huat's Roasted Chicken is a must-try for anyone who wishes to fully immerse themselves in local flavours. While a humble establishment, Sin Nam Huat more than makes up for it with their food, which is typically made to order with large portions as well.
Allergic to Chicken? They also offer a wide variety of meat dishes, starting with their other best-seller, the Duck Rice.
If you want Malaysian food without the glitz and the glamour affecting the quality of the meals, then Sin Nam Huat is the perfect restaurant choice for you.
Customer Reviews
Those who've been to Sim Nam Huat shared their experiences in these reviews:
"Just drop by here to get a nice bbq and honey roasted pork & chicken combination. The taste was good with superb soy sauce combination. Waiting time is not that long although a lot of people. Don't forget to order the soup call 'chai boey' will make your appetite great!!"
"Awesome service. I asked for a solo meal since I was alone and hope to optimise my variety,, and the staff got me a plate of char siew, roasted pork, and chicken. The char siew was great, deeply flavorful and i was sad there were only 3 pieces (well at least I got to try a bit of everything). Chicken is well marinated; not just the kind roasted with sauce. Got the sweet and sour soup, full of veggie and dissolved meat and its flavors."
12.  Kim Haus Cafe & Bar
BEST KNOWN FOR 
Savory and sweet brunch menu
OTHER SPECIALTIES
Fresh bread
ADDRESS
No. 5, Lintang Pantai Jerjak
Sungai Nibong
11700 Penang
WEBSITE
https://www.centurybayprivateresidence.com/kim-haus
CONTACT DETAILS
Tel: +604 659 1515
Fax: +604 659 5115
OPERATING HOURS
Found in Century Bay Private Residence, Kim Haus is a loft-style area featuring an eatery that acts as a restaurant, cafe, and bakery all at once.
The menu features a wide array of food items, ranging from the well known Eggs Benedict and Full English all the way to menu exclusives such as Salmon de Gardo and Prawn Arribiata. If you're uninterested in heavy meals, perhaps you can be enticed by the bread that Kim Haus offers, all of which are baked fresh on a daily basis.
Have you tried any of the best breakfast places in Penang on this list? If you have, let us know which dishes you had and whether or not you liked them!
We'd love to hear from you, so please don't be shy about getting in touch with us to relate your experiences. Happy eating!