The 5 Best Baby Strollers in Malaysia
There's something about buying baby essentials that excite not only the parents but even the aunties and uncles who will also be a part of this journey. Baby clothes, toys, and equipment that fit perfectly to your baby's needs will not only ensure comfort but more importantly, safety.
We understand how it feels that's why we came up with this list of the best baby strollers in Malaysia. Taking babies outside and letting them see new surroundings is essential for their development so hope this helps you take the next milestone confidently.
The Best Baby Strollers in Malaysia
A baby stroller is an extension of parents and babysitters in taking care of the child, that's why we're giving you only the best options on baby strollers in Malaysia!
1. Sweet Heart Paris ST88T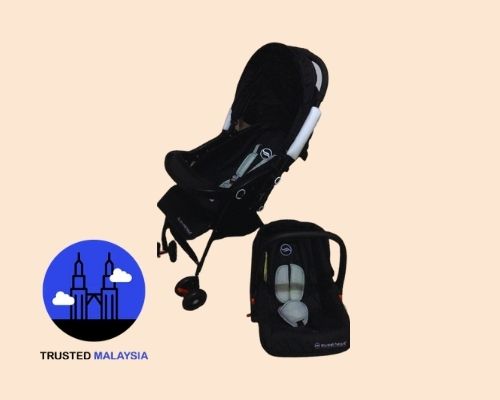 Price: RM419.00
BABY AGE RECOMMENDATION
0-3 years
BABY WEIGHT
0-15KG
PRODUCT WEIGHT
Stroller: 5.54KG, Car Seat: 2.5KG
DIMENSIONS
Open: 100cm x 79cm x 46cm
Folded: 95cm x 28cm x 46cm
WARRANTY
1 Year Local Manufacturer Warranty
The Sweet Heart Paris ST88T is a 2-in-1 stroller and carrier with a padded seat unit that ensures maximum comfort for your baby as you take them around for a spin.
The 3 point safety harness has cushioned shoulder and crotch pads so it doesn't put too much pressure on your baby while still making sure they're safe. It also has an adjustable backrest and leg so your baby can sit and lay down as comfortably as they need to.
One of its best features is its two-way push. All you have to do is unlock the handlebar to easily make the stroller front-facing or back-facing as you walk.
There's an adjustable canopy to provide full sun protection. From your view, though, there's a mesh viewing window on this canopy so you can keep an eye on your baby fully even when you're using the forward-facing push.
Now, the handlebar is sponged for your comfort and there's a shopping basket underneath the stroller where you can keep baby supplies. The removable armrest also doubles as a snack tray.
It has a lock button to ensure you can safely attach the carrier to the stroller, a fully functioning foot brake, and EVA wheels. These EVA wheels work well with any pavement where it's rock, tactile, tar, or even over speed bumps because of their shock-absorption technology.
2-in-1 stroller and carrier
Mesh viewing window
2-way push
3 safety features
Not compact
Not lightweight
Customer Reviews
Here are a couple of reviews left by happy parents who decided to use Sweet Heart Paris ST88T:
"Worth the money, easy to handle with 1 step folding and the weight is light. Received the stroller and carrier in good condition, no defect at all. Satisfied! " -M
"Stroller and car seat come in good condition. Fast delivery. On time. Very satisfied with the stuff. I gave 5 star! " -Amira
"A lil light for my preference but overall is good. Value product" -Anon
2. U-Baby PRO UW-ST Y1 Compact Baby Stroller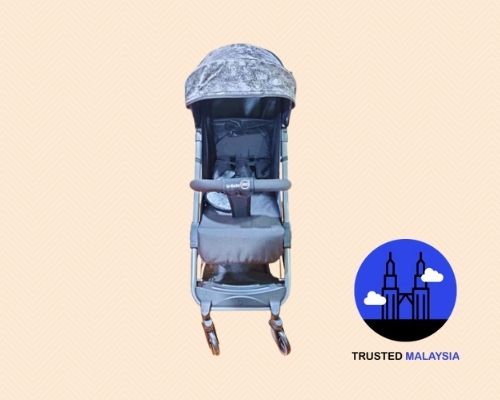 Price: RM299.00
BABY AGE RECOMMENDATION
0-4 Years
BABY WEIGHT
0-20KG
PRODUCT WEIGHT
6.5KG
DIMENSIONS
Open: 100cm x 49cm x 63cm
Folded: 100cm x 40cm 54cm
WARRANTY
1 Year Nationwide Warranty
The U-Baby PRO UW-ST Y1 Compact Baby Stroller is a stroller that comes in two different colours: grey and blue.
It has a one-hand folding and unfolding system that makes storing the stroller uncomplicated. All you have to do is unlock it before pressing the trigger and it folds or unfolds automatically.
This is especially perfect for those who tend to multitask or go out alone because then you can carry your baby in one hand and open the stroller with the other. When closed, it's a cabin size stroller with a luggage handle that is optimal for travellers.
The removable armrest makes it easy to sit your baby down in the stroller. It also has adjustable recline positions and an adjustable footrest.
It has a 5-point safety belt to make sure that your baby is both secure and comfy. Another security feature is the double brake system.
The absorber wheels reduce bump impact so as to not stress your child out as you're going out and about. Additionally, this product also comes with a free mosquito net cover!
Portable
Affordable
Lightweight design
One-press folding and unfolding system
No mesh viewing window
Safety bar is not removable
Manual reclining of backrest
Customer Reviews
Here's a review left by a satisfied user of the U-Baby PRO UW-ST Y1 Compact Baby Stroller:
"Penghantaran yg cepat, selesa, berkualiti n i love it😊..tq seller👍" -Farrah
3. Joie Litetrax 4 Multi-mode Stroller | 3in1 Stroller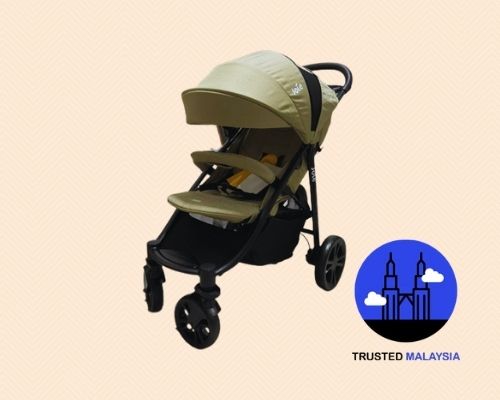 Price: RM799.00
BABY AGE RECOMMENDATION
0-3.5 Years
BABY WEIGHT
0-15KG
PRODUCT WEIGHT
11KG
DIMENSIONS
Open: 93cm x 59.4cm x 103cm
Folded: 59.3cm x 31.5cm x 82cm
WARRANTY
15 Days Return on Shopee
If you're looking for a stylish and trendy stroller, we suggest checking out the Joie Litetrax 4 Multi-mode Stroller. It has a compact design when folded which makes it easy to stuff in the car.
The one-hand instant fold option closes it up in seconds and makes for easy packing. Another one of its one-hand functions is its recline system that's really smooth to make sure it doesn't disturb your baby.
The reclinable backrest makes this stroller suitable for babies as young as newborns. Older babies can benefit from the adjustable leg rest that can provide different types of cosy resting options.
There's a 5-point safety harness system with SoftTouch technology that your baby will feel really comfortable in. For additional comfort, there's an extendable canopy that protects your baby from the sun's rays while giving them privacy as they sleep.
All the wheels have suspensions that provide a smoother ride no matter how rough the surface you're strolling across is. Finally, it has a ShoeSaver brake which is a one-step system that keeps your shoe scuff-free and also makes setting the breaks hassle-free.
Compact design
Shopping basket below stroller
Smooth reclining system
One-step brake system
Not lightweight
Safety bar isn't removable
Expensive
Customer Reviews
Read this short but nice review of a user of the Joie Litetrax 4 Multi-mode Stroller:
"Good product quality. Items received in good conditions. Thanks" -Loh
4. Sweet Cherry Compact Fold Baby Stroller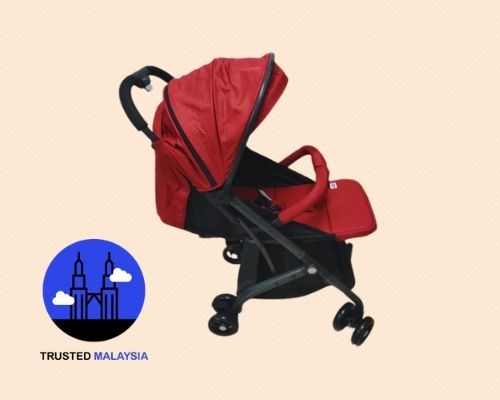 Price: RM279.00
BABY AGE RECOMMENDATION
0-3 years old
BABY WEIGHT
0-15KG
PRODUCT WEIGHT
7.0KG
DIMENSIONS
Open: 100cm x 62cm x 49cm
Folded: 30cm x 56cm x 49cm
WARRANTY
1 Month Local Supplier Warranty
If you're just looking for a light and easy-to-use stroller, the Sweet Cherry Compact Fold Baby Stroller is a pretty good option to consider.
It has a single-hand folding system that makes it easy for you to pack it up as you and your baby make your way back home. It's both lightweight and compact which makes it perfect for travelling.
This stroller has a 5 point safety harness system that keeps your baby fastened properly into the stroller. For their comfort, the stroller is fully padded and has an adjustable backrest that can be used for 3 functions that either sleeping, laying or, fully sleeping.
For your convenience, this stroller has a basket where you can place all your baby supplies. The mesh top also makes it possible for you to keep an eye on your baby completely for, again, added safety.
We also like how they use a one-step brake system so it's not at all a hassle to make sure the stroller stays in place when you stop.
Affordable
Lightweight and compact
One-step brake system
Single-hand folding system
Mesh viewing top
Only one-way push
Safety bar isn't removable
Manual reclining of backseat
5. Chicco Goody Auto-folding Compact Stroller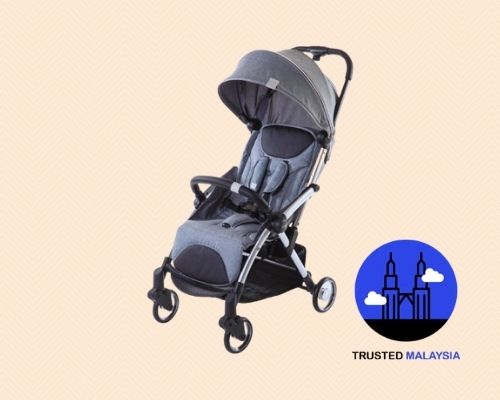 Price: RM1,099.00
BABY AGE RECOMMENDATION
0-5 years old
BABY WEIGHT
0-20KG
PRODUCT WEIGHT
6.9KG
DIMENSIONS
Open: 46,5cm x 105cm
Folded: 46.5 x 56cm x 25cm
WARRANTY
1 Year
Finally, we have the Chicco Goody Auto-folding Compact Stroller. Now, you probably know all about the famous brand Chicco that's known for its high-quality baby products so there's not much question about this stroller's quality.
The thing about this stroller is its Chicco's first one with an auto-folding system. Like most on this list, the auto-folding system takes just one hand to open for accessibility.
To ensure that your baby is all snug as you go about your day with them, it has a reclining backrest and an adjustable footrest that's easy to manoeuvre. Additionally, there's an extendable sun canopy to ensure good sun protection.
For your baby's safety, there's a 5-point safety harness that is adjustable to how big they are. This keeps them in place along with the non-detachable safety bar.
The handlebar is made of premium eco-leather that has a non-slip grip design so that it feels good on the hand.
Eco-leather handlebar
Lightweight
One-hand auto-folding system
Has a capacity of 22kg
Expensive
Safety bar isn't removable
Things to Consider Before Getting a Baby Stroller in Malaysia
1. Types of Stroller
Strollers can be lightweight, full-sized, or made for jogging and they all have their pros and cons.
Lightweight, for example, is ideal for families who travel a lot because of its portability. However having lightweight strollers usually means there are less functions like they don't have a motorized reclining system or a carrier with it.
There are also double strollers for twins or if you have children of the same age bracket. Today, most baby strollers are also detachable car seats but you can still get one particularly designed for that purpose.
2. Safety
Wherever you put your baby in, safety should also be in mind. Some of the basic safety features you can look for are a five-point safety harness, reliable breaks, and high-quality materials for the wheels.
You should also consider the material used for the pram, whether it's hypoallergenic or if the fabric is not harsh to the skin. There should also be no sharp edge bumps that might be harmful to your kid.
3. Convenience
The best stroller in terms of convenience are ones you can easily fold, lift, and fit into your car. They should also fit the doorways of your home or the usual places you go to without any bumping.
Choosing a stroller with a fabric that is machine washable or can even be cleaned with wipes is also a good purchase. Keep in mind that a stroller should make everyone's daily chores easier and more efficient.
4. Storage
Strollers with a good amount of storage are a steal. Do you plan to go on a family picnic on the weekends? Then your baby stroller should have a space for the diaper bag, snacks, and extra clothes.
It would be sweet to have a stroller that has a cup holder for your drinks or pockets for your phones and keys!
FAQs about Baby Strollers in Malaysia
---
The most important thing when shopping for strollers is to get one that you can trust fully when it comes to durability and safety. We guarantee that everything in this list checks off those two factors.
If you have any suggestions for strollers that you'd love first-time parents to try out as well, please let us know and we'll be sure to include them in this list. For now, happy shopping!
By the way, Penang readers, we believe it's never too early to start planning for your child's education. If you feel the same way, check out our article on the top kindergarten schools in Penang!