Photo credit: Shutterstock
Improving your appearance is more than just looking good, it's also about feeling good and confident about yourself. Luckily, you can go to the best aesthetic clinics in Malaysia if you need help achieving your ideal look.
Getting a facial, getting a botox, a cosmetic surgery, or fillers done are just some of the endless options you have when visiting an aesthetician. And with the best aestheticians, the results for any of those can be spectacular!
To further help you decide what to get done and where to get it, check out our list of the best aesthetic clinics in Malaysia below, so you can start planning your next appointment!
(Note: This list is in no particular order.)
1.  Da Vinci Clinic
Da Vinci Clinic is an aesthetic skin and surgical center established in 2013, and was founded by Dr Lim Yew Cheng and Dr Tristan Tan.
The clinic is devoted to treating patients who have problems with their appearance, giving them the extra confidence they need in order to achieve the look they want.
Da Vinci Clinic is also recognised as one of the best aesthetic clinics in Malaysia, offering a helping hand to all men and women seeking physical improvement through their wide range of aesthetic treatments.
Highlights
Stem cell therapy
Skin restoration
Hair regeneration
Aging wellness
Customer Reviews 
Da Vinci Clinic is recommended by their patients for having patient and kind doctors, helpful and friendly staff, and professional and experienced services.
Some patients wrote reviews:
"Dr Tristan is always available, he has personalized service and goes out of his way to "problem solve" of my skin using all of his skill and knowledge to offer multiple solutions. I would highly recommend Dr. Tristan M.G. Tan to anyone!" 
"Had a great experience with the clinic. Dr Tan and Yoga were very kind and professional. All my questions were answered and they did an amazing job. highly recommended"
2.  Premier Clinic
Premier Clinic was founded by Dr Chen Tai Ho, who has had more than 18 years of experience in the field of aesthetics.
They offer an all-inclusive array of non-surgical aesthetic methods and advanced laser treatments through the use of up-to-date procedures.
Premier Clinic is also recognised as one of the best aesthetic clinics in Malaysia because they offer quality aesthetic services to both local and international clients. They achieve this with the help of their team of highly experienced doctors.
Highlights
Fractional laser
Facial augmentation
LE shape for fat reduction
FUE hair transplant
Customer Reviews 
Premier Clinic is recommended by their patients for having nice and friendly staff, nice and professional doctors, and a calm environment.
Some patients wrote reviews:
"My experience with Premier Clinic KL City has been great! Great value for money, friendly doctor and staff, great after-sale service also. I did chemical peeling treatment, and I must say it has been really helpful on my skin! Highly recommended 👍🏻"
"I came to Premier Clinic twice and the staffs were so nice to me. The doctors treated me so well with profession!! I was totally satisfied by everything here. I would definitely come back again! 😍"
3.  RJ Clinic
RJ Clinic is led by Dr Renee, a medical aesthetic practitioner and managing director, in partnership with Dr Cheok Jia Rhong.
Together, they run an award winning clinic that offers a variety of private, professional, and customised aesthetic services and laser treatments.
With over 3,000 successful procedures, RJ Clinic is considered one of the best aesthetic clinics in Malaysia. They also offer non-invasive and minimally invasive procedures to patients.
Highlights
Dermal fillers
Face slimming
Double eyelid
Customer Reviews 
RJ Clinic is recommended by their patients for having a cozy and comfortable environment, enjoyable treatment, reasonable prices, and professional service from doctors and staff.
Some patients wrote reviews:
"OMG!! They gave me great nosejob!! Totally loving it! Must try their nose filler + thread! Thanks RJ, will be back "
"I highly recommend this clinic, the best place I could have found to get the treatment i wanted. Excellent professional service and very good follow up!"
4.  Clique Clinic
Founded in 2012, Clique Clinic is led by medical director Dr Tingsong Lim. They offer high-quality medical aesthetic and regenerative treatments with the help of cutting-edge equipment.
They are also the leading clinic when it comes to the latest aesthetic solutions and studies, and are ahead in various fields of medical aesthetics.
As one of the best aesthetic clinics in Malaysia, Clique Clinic has become the centre for current medical aesthetics in the country. They continue to train professional aesthetic physicians and nurses in order to give their patients the best and most trusted aesthetic treatments.
Highlights
Body sculpting and contouring
Melasma treatment
Face lift
Customer Reviews 
Clique Clinic is recommended by their patients for having a good environment, professional doctors, attentive and patient staff, and great service.
Some patients wrote reviews:
"Brilliant service! Dr Lim's approach to my care has been professional and friendly. His team is fantastic, too – very knowledgeable and experienced. Both my friend and I have been to the clinic and would highly recommend their treatments. Thank you, Dr. Lim!" 
"Extremely professional services and high quality equipment. Being an expat living in Kuala Lumpur, I would highly recommend this clinic to others."
5.  Dr Abby Clinic
Dr Abby Clinic is a private cosmetic medical clinic led by Dr Abrizah Ousman. They provide an array of services ranging from aesthetic to anti-aging services.
The clinic's staff also work hard to become the most trusted experts in the city, and they rely heavily on successful results for their fame. They offer personalised treatments in cosmetic dermatology, anti-aging, and holistic wellness.
And as head of one of the best aesthetic clinics in Malaysia, Dr Abby believes that each individual should look good and feel good, and be confident with their own skin.
Highlights
Laser hair removal service
Skin care service
Customer Reviews 
Dr Abby Clinic is recommended by their patients for their great services, helpful doctors and staff, and excellent results.
Some patients wrote reviews:
"Great service provided! Amazing staff who explained the process well and were friendly throughout. Clinic was clean and easy to find. Would highly recommend!"
"Great experience here coupled together with full range services and skillful doctor. Highly recommended for all your beauty needs. 👌🏻👌🏻"
6. Peters Radiant
Photo credit: Peters Radiant Website
Using modern aesthetic treatments, Peters Radiant is dedicated to helping enhance your natural beauty. Their team of experts understand that each of their patients' needs and preferences are different.
This is why they make sure to listen to you attentively, so your treatment goes exactly how you want it to.
Highlights
Free consultation
Personalized treatments
Comprehensive services that use all-natural products
Customer Reviews 
Peters Radiant is recommended by their patients for their great services, helpful doctors and staff, and excellent results.
Some patients wrote reviews:
"Did consultation with doctor Thina. She's very friendly. I did carbon laser treatment. Best! Pretty sure, if i have time, i will come again to continue the treatment"
"Dr Thina was super friendly and The treatment was great!! I did aqua silk and carbon laser treatment.. The treatment was almost painless and I could see immediate results after the first treatment.. will definitely come again!"
7. Astute Clinic
Photo credit: Astute Clinic Website
Astute Clinic is situated in upscale Damansara City Mall, Damansara Heights of Kuala Lumpur. Their facilities consist of state-of-the-art equipment and highest grade products to ensure their clients get the best quality treatments.
Their clinic is led by Dr Jason Yip, who is a leading Doctor in the specialized field of aesthetic medicine in Malaysia. Rest easy knowing that they use a specialised range of products that has been approved by the FDA to give you the best and safest results.
Highlights
Cutting-edge beauty solutions
Personalized treatments
Award-winning clinic
Customer Reviews 
Astute Clinic is loved by various people for their effective treatments and friendly staff.
8. Beau & Hans
Photo credit: Beau & Hans Website
At Beau & Hans,they can help improve your dermatological concerns, including acne, acne scars, skin pigmentation, general skin whitening and fairness, and skin allergies. Their doctors are very much experienced with lasers to help with new collagen stimulation and tightening.
They take a holistic approach for every patient, which is why they also provide dietary consultations, skin care consultations, and the latest treatments to improve your general well being.
Highlights
Medical aesthetics
Well-maintained clinic
Effective treatments
Customer Reviews 
Beau & Hans is loved by various people for their amazing services. Here are a few thing people have to say about them:
"I am happy that after receiving treatment for dark circles, my panda eyes indeed improved a lot. And the doctor was honest enough to inform me about having a good lifestyle will help maintaining the result. Highly recommend this aesthetic clinic if you have dark circle issue like me."

9. Yap's Clinic
Photo credit: Yap's Clinic Website
Yap's Clinic believes that the core of aesthetic medicine is to experience subtle change. Their experts are dedicated to improving the appearance of their customers in a gradual manner, so much so that others will notice your changes but no one will know how you did it!
Dr Yap combines his creative talents with his scientific medical aptitude to provide excellent nature and refined aesthetic result for his patients.
Highlights
More than 22 years of experience in the industry
Offers a full spectrum of advance non-surgical facial aesthetic treatments and general medical treatments
Customer Reviews 
Yap's Clinic is loved by many. Here are a few thing people have to say about them:
"Doctor is very friendly, staff is very attentive. Good service and fantastic result."
10. Xeoul Clinic Sdn Bhd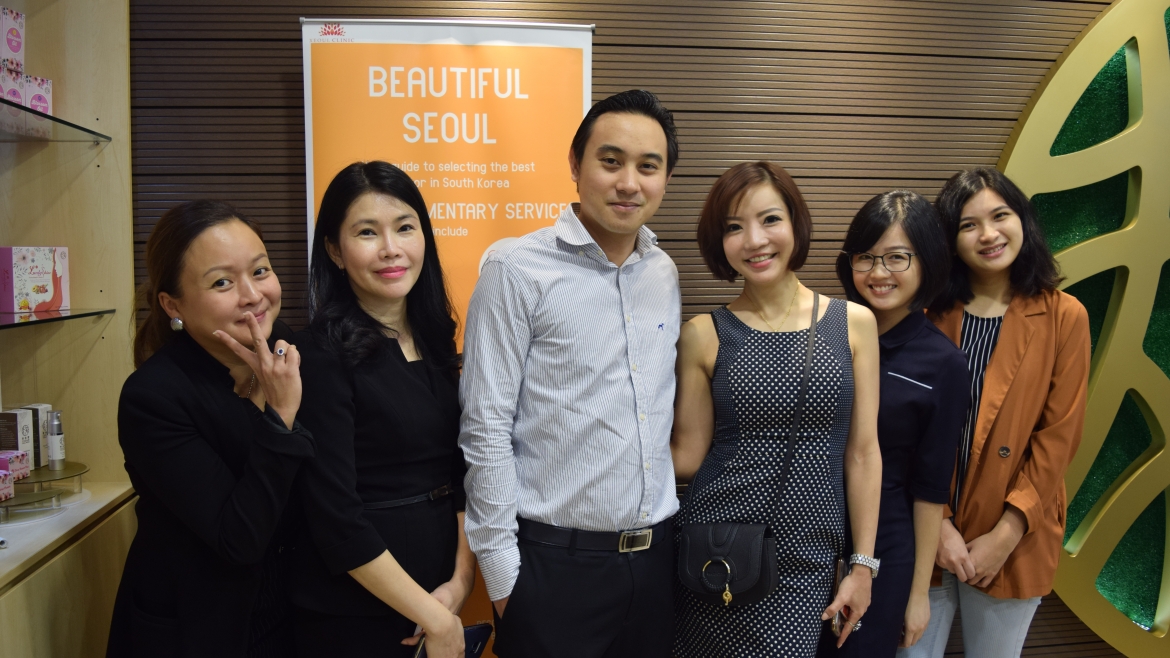 Photo credit: Xeoul Clinic Sdn Bhd Website
At Xeoul Clinic Sdn Bhd, their medical team is dedicated to providing patients with safe and effective aesthetic treatments for all areas of the face and body. Their board-certified aesthetic physicians focus on the relationship they build with each patient while helping them understand the procedure process.
Rest easy knowing that you, your beauty, and your well-being are in good hands.
Highlights
Board certified and experienced
Highest standards of excellence
Safe and reliable
Customer Reviews 
Here's a review from one of Xeoul Clinic Sdn Bhd's clients:
"Thanks to Xeoul Clinic for the wonderful results. I have now more defined face contours from Botox Masseter and Chin Filler. I feel more confident as well during my belly dancing performances as my keloid scar post caesarean had improved after a few treatments."
Here's another one:
"I love my BOTOX Masseter results! I can't wait to complete my Vanquish ME sessions to burn my stubborn fat over my abdomen so that I look great in my photoshoots. It's really not about losing weight but gaining definition."
Were you able to find a clinic that suits your preferences? Leave a comment down below and let us know how your appointment goes. We'd love to hear from you!
In addition to that, if you ever find yourself dealing with hair-related concerns, check out our list of the best hair transplants in Malaysia. Great hair can do a lot for anyone's looks, after all!