The 10 Best Estate Lawyers in Malaysia
To put your assets in order for your family to inherit after you've gone, you need to write a will of testament. It may sound simple to do, but not if your estate situation is unclear or complex.
Fortunately, we have listed down the best estate and probate lawyers in Malaysia for you here. They are known to be professional, responsive, and caring to work with from the outset.
Now, before we go on to our top lawyer list, we'll quickly look through the average cost of hiring an estate lawyer. This will give you a good idea of how much you have to pay them.
How Much to Spend for an Estate Lawyer in Malaysia?
An estate or probate lawyer in Malaysia can charge their clients using one of these three pricing models: hourly, flat, and percentage rates.
With an hourly rate, you can expect to pay between roughly RM627 and RM836 each hour. Lawyers with a higher rank and experience level charge higher but are often more efficient.
Some clients are more comfortable with lawyers offering a fixed price model. That's since they won't have to worry about the price metre going up.
But note that these aren't likely to include court and appraiser fees. And if the case is more difficult, let's say, a will court battle or an estate tax return, you'll likely pay a higher cost.
And the third one, the percentage pricing structure is where the lawyer will earn a certain percentage of the value of your estate, once the legal issue has been resolved.
So, below is a table showing their corresponding rates and values. This is as per the Public Trust Corporation Act 1995 and the Probate and Administration Act 1959.
| | |
| --- | --- |
| Estate Value | Fee |
| For first RM25,000 | 1% |
| RM25,000 – RM225,000 | 2% |
| RM225,000 – RM250,000 | 3% |
| RM250,000 – RM500,000 | 4% |
| RM500,000+ | 5% |
The Best Estate Lawyers in Malaysia
With that in mind, let's now proceed to the best estate lawyers in Malaysia!
1) Low & Partners

SERVICES
Divorce & family law
Employment law
Real estate
Will, probate & estate administration
Dispute resolution/civil litigation
Commercial & corporate
Foreign service desk
Intellectual property & technology
WEBSITE
http://www.lowpartners.com/
ADDRESS
5, Jalan SS 21/23, Damansara Utama, Petaling Jaya, 47400, Selangor, Malaysia
CONTACT DETAILS
+60 3-7729 5293
OPERATING HOURS
Monday – Friday: 9:00 AM – 6:00 PM
Saturday – Sunday: closed
Established in 2009, Low & Partners is a full-service law firm that can assist you on a broad range of legal matters from family law to commercial disputes, including trusts, wills, and probate.
Their lawyers have decades of combined experience, consisting of those that have served as the board of directors, have advised industry groups, and have authored textbooks.
In the area of estate and probate, they can handle will writing, probate application, letter of administration application, and small estate distribution application. Plus, they can reseal probate and letter of administration and advise and represent clients in estate disputes.
Its advantage is found in its client-focused approach, wherein they strive to answer queries, explain the case in simple and clear terms, and provide constant updates to make you aware.
However, there had been complaints regarding their delayed response and lack of experience. But, for the majority, the lawyers were great and professional in dealing with their cases.
Now, an interesting fact is that when you choose them to work with you, the whole team, including the Senior and Partner lawyers, is at your disposal. They aren't also hesitant to approach external help to provide the best practical solution to your case.
Given this, they should be one of the best estate lawyers in Malaysia. Besides, the company is a 2019 finalist law firm in Malaysia and Southeast Asia, as named by the Asian Legal Business.
Asian Legal Business finalist law firm
Decades of legal experience
Constant client communication
Has blog articles online
Doesn't take WeChat Pay and AliPay for payment
Customer Reviews
Very professional and quality service
"Low & Partners lawyer is very professional and good quality. Especially specialist in family matters and estate administration. Awsome ⭐️⭐️⭐️⭐️⭐️" -Jocelline
Generous in educating the client about their estate
"Very generous in giving public education on estate planning. Professional and enthusiastic. Hope we can have chance of working together next time !" -Suellen Goh
2) Tam Yuen Hung & Co

SERVICES
Divorce & family law
Will-writing & estate planning law
Conveyancing & property law
Litigation & dispute resolution
Immigration law
Business law
Contract/agreement drafting
Civil law
Media law/internet law
Personal data protection law & attestation of documents
WEBSITE
https://www.tyhlawfirm.my/
ADDRESS
21, Jalan Puteri 9/1, Bandar Mahkota Cheras, 43200 Cheras, Selangor, Malaysia
CONTACT DETAILS
+60 16-947 3338
OPERATING HOURS
Monday – Friday: 9:00 AM – 5:00 PM
Saturday – Sunday: closed
If you want a professional, efficient, and responsive lawyer, Tam Yuen Hung & Co is a superb choice. They specialise in divorce settlements but are also competent in different practice areas.
Their lawyers are highly qualified and extensively experienced, whether you need them for estate planning, conveyancing, immigration advice, or data privacy defence.
They can ensure that your will is concise and complete with your intentions and wishes for your beneficiaries. Also, they can assist with trust deeds, probates, and letters of administration.
However, we found that they didn't offer crucial and related services like estate administration and distribution and resealing of probate. Or at least, they did not mention them online.
You won't have much of a language barrier with their multilingual lawyers. That's since they are fluent in English, Bahasa Malaysia, Cantonese, Mandarin, and one can even speak Tamil.
Thanks to their free quote system online, you can instantly get an accurate price from them. Using this can save you tremendous time, effort, and costs in consulting with this lawyer.
What's more, their site is full of useful information, valuable tips, and frequently asked questions to help you know the best course of action concerning your situation.
Most of all, their prices are relatively affordable coupling perfectly with their excellent service. And that is why we chose them as one of the top probate lawyers in Malaysia!
Affordable rates
Free quoting system
Helpful articles online
Can speak in English, Bahasa Malaysia, Cantonese, Mandarin, and Tamil
Fewer services in estate planning and probate
A bit shorter working hours
Customer Reviews
Efficient and professional lawyer
"Very professional, efficient and helpful. They explained the process well without being intrusive. A great and affordable online service." -May Song
Excellent will-writing service
"I have engaged this legal firm for Will writing service and find them efficient and professional. My thanks to Wilson and Pew Yiaw for your excellent service." -Doreen Dorville
3) Teh & Yu
SERVICES
Real estate & property conveyancing
Family & divorce matters
Succession & estate planning
Corporate & commercial
WEBSITE
https://www.tehyulegal.com/
ADDRESS
S-29-12, Wisma YNH, Jalan Kiara, Mont Kiara, 50480 Kuala Lumpur, Malaysia
CONTACT DETAILS
+60 3-6419 1888


[email protected]

OPERATING HOURS
Monday – Friday: 9:00 AM – 6:00 PM
Saturday – Sunday: by appointment only
Public holidays: by appointment only
Teh & Yu is one of the most comprehensive and reliable estate lawyers in Malaysia you can call. Their services span estate planning and succession matters from will-drafting to property transfers.
Their specialists understand that each client situation is unique. Therefore, they provide a tailored, precise solution to bring about the best possible outcome regarding your estate.
Additionally, they can put forth the effort and go the extra mile for clients. This is something that other law firms would not do.
They make themselves available round-the-clock to assist their clients via WhatsApp. That includes answering all questions, updating the client, and assisting with the case.
If you need face-to-face consultation, though, you can visit their office during weekdays. But if you have to see them on weekends or public holidays, you can just book an appointment with them.
Their process is systematic and starts with setting an appointment and discussing your needs, followed by the signing documents, court hearing, and then completion — all of which takes from two weeks to a few months or more.
Also, you can get a no-obligation quote from the law firm online. And you can pay your bill from them using Visa, Mastercard, or FPX bank transfer.
There were only a couple of complaints about them on Google about their price and customer service. Other than that, this one received acclaim from most clients, and thus, is worth trying out.
Offers bespoke legal services
Complete service list
Round-the-clock open lines
Accepts Visa, Mastercard, and FPX
Can assist clients on weekends and holidays
No blog articles
Complaints about customer service and price
Customer Reviews
Reasonable price and great communication
"Very good, very efficient, just ask through WhatsApp, completely solve all my questions and problems, the same problem, the price is more reasonable than that of several lawyers before, it is highly recommended." -Annie Law
Hardworking and dedicated lawyer
"Used this legal firm once so far on a civil matter. Mr Teh kept me well updated and advised throughout the legal process. He gave me realistic expectations on the possible outcomes of my case and I could see effort was being made to go the extra mile and achieve the outcome in my best interest. I have every intention to keep this firm as my legal advisor.going forward." -Guardial Singh
4) Ng Kee Way & Co

SERVICES
Individuals & families
Corporate
Dispute resolution
Employment
WEBSITE
https://ngkeewaylegal.com.my/
ADDRESS
No. 29-2, Tingkat, 2, Jalan Puteri 5/7, Bandar Puteri Puchong, 47100 Puchong, Selangor, Malaysia
CONTACT DETAILS
+60 3-8060 0267


[email protected]

OPERATING HOURS
Monday – Friday: 9:00 AM – 6:00 PM
Saturday – Sunday: closed
Having 16 years of combined legal experience, Ng Keeway & Co is another premier family, real-estate, business, and employment lawyer based in Puchong, Selangor.
Its will, trust, and probate services are classified further into a grant of probate, letter of administration, wills, trusts, and estate administration, matters which they can assist you with.
About your will preparation, they offer packages of basic, conditions precedent, and testamentary trust.
Essentially, these three are the same in their inclusions, from consultation mode to will-signing witnesses, except for specifying will clauses or conditions, as suggested by the package names.
Furthermore, they offer will add-ons including on-location signing, amendment, and lifetime storage.
Lifetime storage is where your original will is kept in a fireproof safe and a digital copy is saved on secure servers. This ensures that your kin or beneficiary will receive the assets you intend for them after you pass on.
Since the prices aren't transparent unlike with their other services, you would have to consult with them. You can do this through their instant chat widget or by giving them a ring.
The company is proud of its almost impeccable review score on Google and they strive to treat each customer as part of their family.
Plus, you can also use more payment methods with them. Among them are Visa, Mastercard, JCB, UnionPay, AliPay, and WeChat Pay, eliminating the hassle of settling your bill.
16 years of combined lawyer experience
Offers will service packages and add-ons
WhatsApp chat widget online
Has helpful online articles
Accepts several payment modes
Doesn't take FPX bank transfers
Limited services in relation to estate and succession
Customer Reviews
Patient, fast, and efficient lawyer
"Thank for handling my late father estate matter within a month time. Very fast and efficient. Thank you to Mr Ng, a very nice lawyer and explain to me the matter in very patient manner. Location of office also ba e plenty of car parks very convenient." -Edmund Lee
Quick process for the letter of administration
"My father pass away in June. I went for other law firm told me will take half year to get me a letter of administration to handle my father estate. Luckily my friend Derrick told me this law firm can do in a month. Thank for help me to get the letter of administration so fast. As our family need that urgently as we want to move back to Australia." -Benghee Lim
5) MahWengKwai & Associates
SERVICES
Individuals & families
Employment
Dispute resolution
Corporate
WEBSITE
https://mahwengkwai.com/
ADDRESS
Level 10-1, Tower B, Menara Prima, Jalan PJU 1/39, Dataran Prima, 47301 Petaling Jaya, Selangor, Malaysia
CONTACT DETAILS
+60 17-887 2702
OPERATING HOURS
Monday – Friday: 9:00 AM – 6:00 PM
Saturday – Sunday: closed
Since 1985, MahWengKwai & Associates has grown and earned the right to be deemed as one of the best probate lawyers in Malaysia!
It is a family and SME lawyer that has been recognised by prestigious industry organisations, such as Legal500, Asialaw, Asian Legal Business, IFLR1000, and Benchmark Litigation.
Their services encompass all aspects of wills, trusts, and probate. Their lawyers can advise or represent clients on will-writing, setting up of trust, property inheritance, executor breach of contract, grant of letter of administration and reseal of probate, and many more.
Throughout the service, you get to work with supportive, kind, and knowledgeable lawyers. They can provide an efficient legal service that can fulfil all your requirements concerning the safekeeping and future distribution of your money, property, and belongings.
With their instant chat system, you can get in touch with them anytime during their business hours. Unfortunately, though, they aren't open on the weekends, even by appointment.
Interested in their services? You can scroll to the bottom of their web page and fill out the required fields to set up a free meeting with them.
What's more, you can pay your invoice online after the completion of their service. You may use Visa, Mastercard, and FPX payments, in addition to virtual currencies or bitcoins.
In a nutshell, if you want an efficient and satisfying service relating to probate and estate, we recommend this law firm highly!
Award-winning law firm
Free consultation
Has an instant chat system
Accepts Visa, Mastercard, FPX, and bitcoins
Publishes news and blog articles
Not open on the weekends; by appointment
Doesn't take WeChat Pay and AliPay
Customer Reviews
Tailored and swift will-drafting service
"I'm a Belgian national living in Malaysia under the MM2H programme. As the time passed, I felt the necessity to write a properly worded will to protect my interests. I was referred to Ms Prisilla Chong and Mr Chew Jin Heng of MahWengKwai & Associates. It turned out to be the right choice. Despite all the MCO hindrances, we were able to proceed and finalise my will which was tailored to my specific requests. I would like to thank Prisilla and her team for their efficiency. The will was finalised swiftly and to my full satisfaction. I will recommend Prisilla and MahWengKwai & Associates to my friends." -Jean-Jacques Manigart
Supportive and professional lawyers
"I would like to thank Prisilla Chong for her steadfast effort in handling my estate case. She is indeed a kind, professional lawyer, and was always there to provide support and advice when I was most needed it. Also, please extend my appreciation to Darren Tan who also relentlessly provided me with the same support and encouragement. I truly appreciate your assistance throughout this period and I would not hesitate to recommend you/your firm." -Vivien Ong
6) Donny Wong & Co.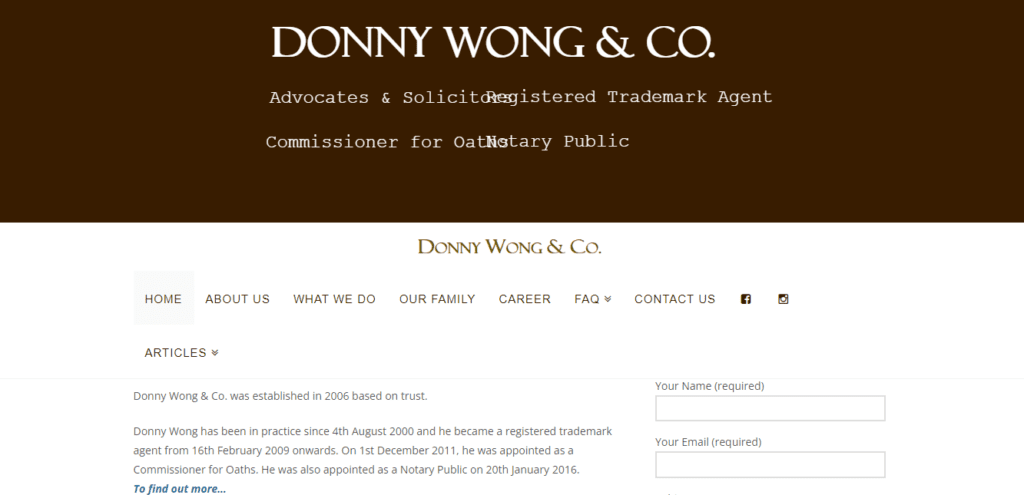 Donny Wong & Co. is a company that specializes in trademark services and is founded by Donny Wong who is a duly registered trademark agent and has been in the field ever since 2000. He was also appointed as a Commissioner of Oaths and a Notary Public which only adds to his credibility as a professional and as a founder of this equally trustworthy company established back in 2006.
They offer a wide range of interrelated services such as Estate Planning, Trademark Services, and Notary Public among others in which they have served and had numerous transactions and experience with clients all over the world particularly from China, Taiwan, Hong Kong, Japan, South Korea, Australia, United States of America and the United Kingdom. Since they recognize the significance of regular updates to you, they are also especially fluent and able to communicate in Mandarin and Cantonese which helps bridge the gap between their clients.
They capitalize mainly in building their relationships on trust and transparency and so rest assured that you will be thoroughly updated and treated as a partner in every job that you have for them. Furthermore, their extensive knowledge of the law ensures that all of their services are credible, reliable, and is delivered to you with utmost professionalism.
We recommend this firm for you due to their commitment to safeguarding your best interests while at the same time producing results that will meet if not exceed your expectations which will be an excellent value for your money.
Transparent services
Fully accredited lawyers
Professional delivery
Customer Reviews
Here are some reviews from their clients:
"Great experience with Donny getting some documents notarized during MCO. Very professional and efficient."
"Service par excellence! The best firm in the nation!"
7) Richard Wee Chambers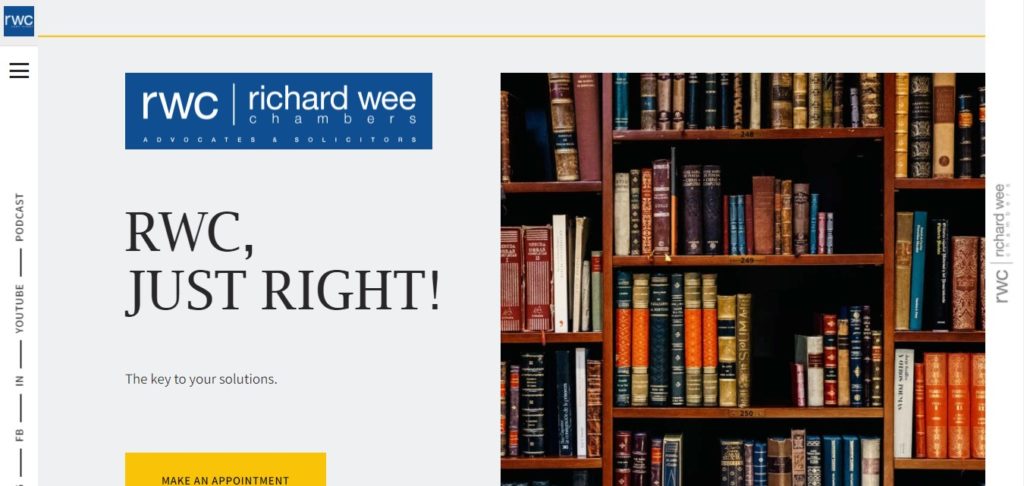 Richard Wee Chambers was founded by Richard Wee, with his partner Darren Lai. They pretty much offer almost all the services anyone can need.
Similar to other law firms, they know that each client has special and distinct needs and with this, they always tailor their services. Talking about their property transactions, the most common deals they do include sub-sale of properties, tenancy agreements, and power of attorney.
Fortunately, they have also encountered sale and purchase agreements of land and tenancy for shopping malls. This allowed them to be a step further ahead of other law firms.
The only catch here is that there is no information on their website regarding the process they do for this type of service. They also have more experience in other types of law services they offer.
6-member team
Wide array of services
No in-depth explanation of their service
Customer Reviews
Here is one review from their Facebook page:
"a very capable advocates and solicitors"
8) Tay Chambers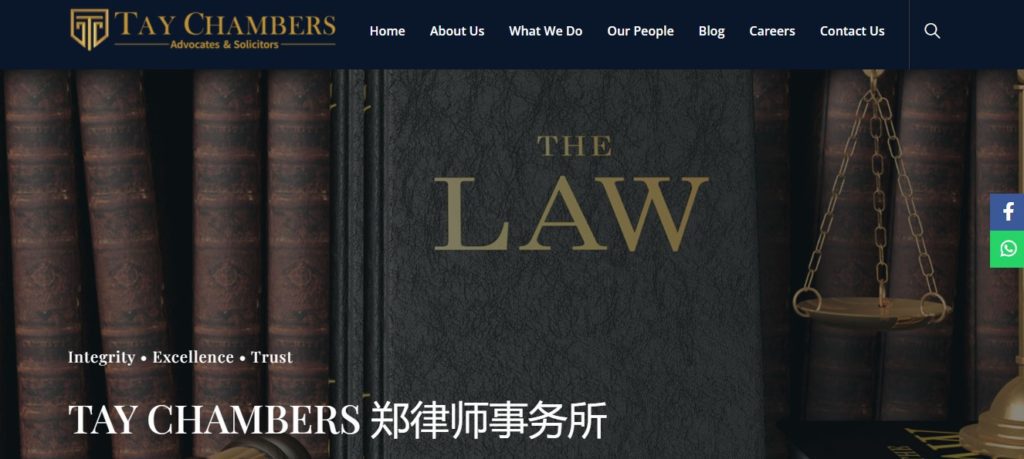 SERVICES
Real Estate and Conveyancing, Dispute Resolution and Litigation, Corporate, Commercial, and Business Advisory
WEBSITE
http://www.taychambers.com/
ADDRESS
No. 7-02, Jalan Molek 1/29, Taman Molek, 81100 Johor Bahru, Johor.
CONTACT DETAILS

[email protected]

| +607 361 2283 | +6019 738 8420
OPERATING HOURS
Monday to Friday: 9:00 – 17:30
Saturday: By Appointment
Sunday: Closed
With Tay Chambers, no matter how complicated the matter already is, they will handle it. What's great about them is their team that is always ready to assist their clients in filling out numerous forms and paperwork as these can overwhelm you.
Given their years of experience, they can ensure you that your real estate transaction will be done as smoothly as possible.
What makes them stand out from other law firms is how they are entrusted with the advisory and structuring of joint development ventures between local and foreign developers. Just by this fact, you can already see how well established they already are in the country.
Whether you are buying, selling, leasing, or transferring properties, it can be done easily with Tay Chambers.
Has numerous sub-practice areas
Caters to local and international clients
Base rates are unavailable
Customer Reviews
Here's what some people have to say about them:
"Highly recommended for their excellent legal services and very knowledgeable in advising me on the point of law 👍 thump up 👍"
"Highly recommended. My first time engaging Tay Chambers. Tay is an excellent and experienced lawyer. Tay gave me prompt advice and commercially oriented solutions for my business. No hassle when dealing with Tay. Thumbs up."
9) Chia, Lee & Associates (Commissioner for Oaths only)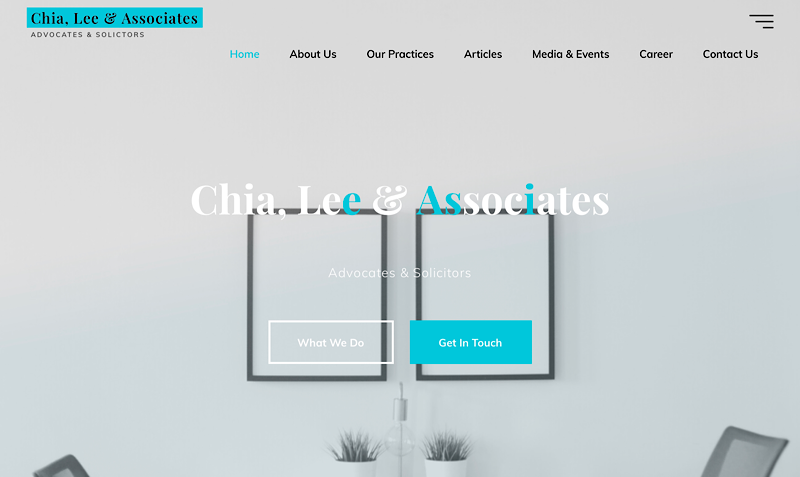 SERVICES
ConveyancingCommercial
Corporate
Dispute Resolutions
Employment Advisory
Employment Litigation
Family Relation
Immigration & Citizenship
Technology, Media & Telecoms (TMT)
Will, Trust, Probate & Administration of Estate
Intellectual Property
Personal Data Protection & Privacy
Training & Seminars
Commissioner of Oath
WEBSITE
https://chialee.com.my
ADDRESS
E-05-05, Blok E, Mont' Kiara Plaza, Jalan Kiara, 50480 Kuala Lumpur, Malaysia
CONTACT DETAILS

[email protected]

| +6012 828 2198
OPERATING HOURS
Monday to Friday: 9:00 – 19:00
Saturday: By Appointment
Sunday: Closed
Founded in 2016, Chia, Lee & Associates became an established law firm based in Kuala Lumpur, Malaysia.
The law firm offers the following services in various practice areas such as commercial, corporate, and dispute resolutions as they aim to cater to the different kinds of sectors that seek legal assistance.
Chia, Lee & Associates also instills its core values in order to perform the righteous practice of law, speak their client's language, assure and protect their clients, become a fearless institution, be persistent in the cause, and build a sustainable legal career. These values should reflect their work ethic in handling their clients' cases.
In 2022, Chiia, Lee & Associates were featured in Trusted Malaysia as one of the recommended employment lawyers in the country. Its partner, Chia Swee Yik, was also recognized by Sin Chew Daily in 2021 for the advancement of legal protection to proprietors whose properties were illegally used by its existing tenants.
Chia, Lee & Associates is available from 9:00 am – 7:00 pm on Mondays to Fridays. An appointment is a must during Saturdays.
Knowledge in various services in the different fields of law
Featured in Trusted Malaysia
Inquiries can be directly made on their website
Accredited lawyers available
An appointment is required for Saturdays
Does not open on Sundays
No rates are available for viewing
No payment alternatives mentioned
Customer Reviews
Chia, Lee & Associates received an all 5-star rating from its Facebook page. Some of which are:
Responsiveness and Good Rapport with Clients
"Mr. Chia is very responsive and helpful along the way in providing professional advices and yet easy to understand and work together.
Highly recommend!"
Knowledge and Promptness
"Whenever I have legal questions and issues I can always count on Mr. Chia to give me the answers and clarification. He is knowledgeable, care about his clients and always return calls promptly. Highly recommended!"
10) Shang & Co Advocates & Solicitors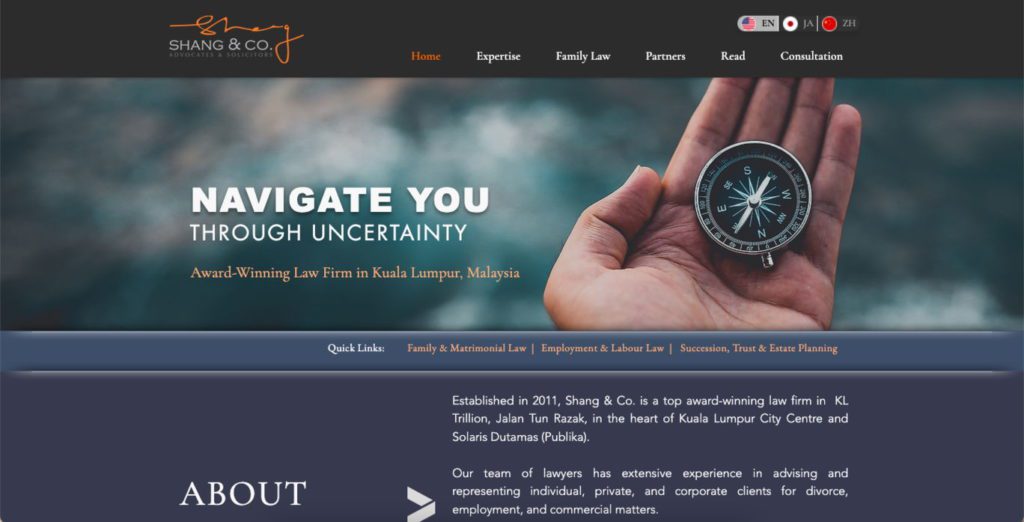 SERVICES
Estate Planning
Real Estate
Family Law
Defamation & Tort Law
Employment Law
Contract, Commercial & Company Law
WEBSITE
https://www.shangco.com.my/
ADDRESS
C-27-1 KL Trillion
No.338 Jalan Tun Razak
50400 Kuala Lumpur Malaysia
–
C3-3-15, Solaris Dutamas
No. 1, Jalan Dutamas 1
50480 Kuala Lumpur
CONTACT DETAILS
Phone: +6010-2354768
WhatsApp: +6011-12439435
–
03-6411 8871
OPERATING HOURS
9:00 AM to 6:00 PM on business days
Shang & Co. is an award-winning law firm consisting of lawyers who are competent in advising and representing individual, private, and corporate clients.
Their key areas of practice are Estate Planning, Real Estate, Family Law, Defamation & Tort Law, Employment Law, and Contract, Commercial & Company Law.
The legal services they offer for these areas include Advisory Services, Court Representation (Litigation), Mediation, Negotiation, Vetting and Drafting Agreements, as well as giving Legal Opinions.
They come up with strategic approaches, which gets them to close difficult cases. Their clients constantly commend them for their professionalism.
Their lawyers are experienced and knowledgeable, thus they are able to provide the necessary information and solutions that their clients need.
There have been complaints by some that they received late responses from the lawyers. Though these cases are isolated, and overall, people highly recommend them.
You can book an initial consultation with them where you will be able to discuss the legal process, legal rights and entitlement of parties, likely outcomes and possible costs. Don't worry because they will ensure confidentiality.
So, if you need legal help, no matter how complicated your case is, chances are Shang & Co. can help you.
Experienced lawyers
Offers a wide range of legal services
Professional
Offers an initial consultation with their lawyers
Only open on business days
Base rates unavailable
Customer Reviews
Here are some testimonials from their clients on Google Reviews:
"Shang & Co. is very professional in giving advice and solutions. They were extremely helpful and patiently guided me in through my options and needs. I will definitely recommend to my friends and family for any legal issues." – Stephanie Wong
"Very good lawyer which will give very good advice and solution according to our need. His confident and ability is beyond our expectations." – KC Chan
FAQs about the Top Estate Lawyers in Malaysia
---
So those were our top estate or probate lawyers in Malaysia! As you can see, working with them won't give you more stress than you already have in estate planning.
Any questions or comments about them? If you do have one, please send us a message and we'll get back to you as fast as we can.
Decide to go your separate ways with your spouse? You can ask for help from the best divorce lawyers in Malaysia and hopefully, your issue can get resolved in the best way!